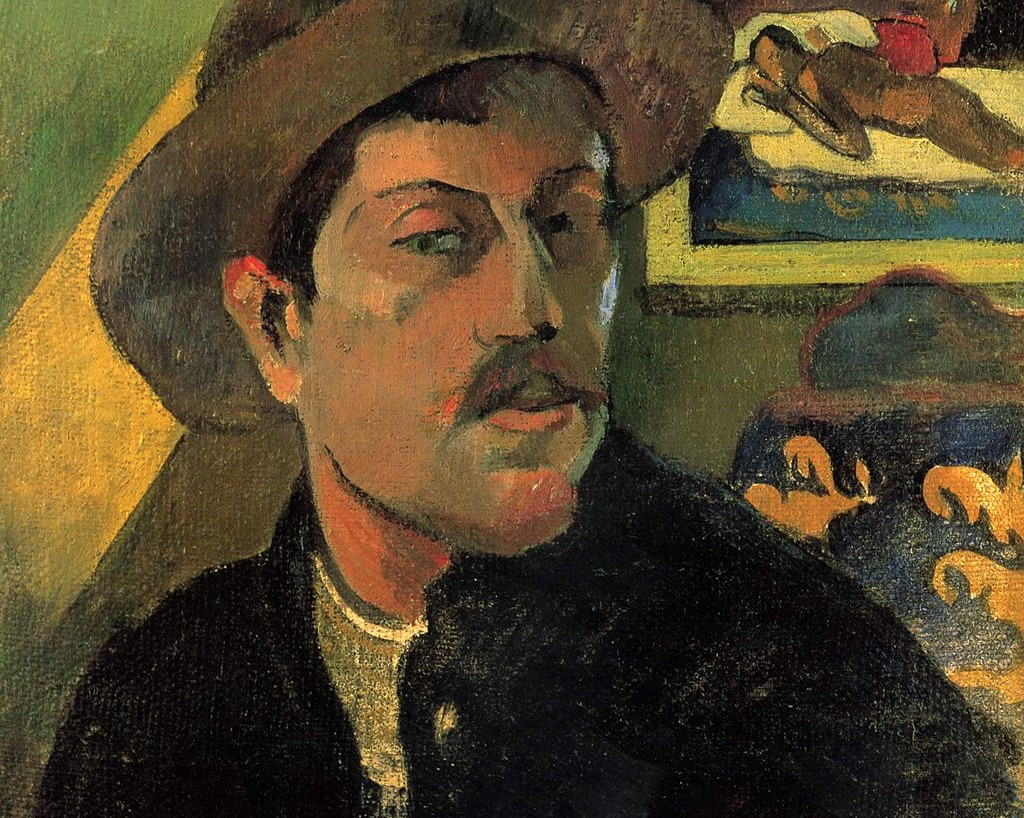 Paul Gauguin Biography
Eugène Henri Paul Gauguin (June 7, 1848 – May 8, 1903) was born in Paris, France. Painter. Considered one of the most prominent exponents of post-impressionism with Vincent van Gogh, Paul Cézanne, Henri Matisse, Georges Pierre Seurat, Camille Pissarro, and Paul Signac, among others.
Gauguin began to be interested in art in the early 1870s, at which time he acquired various works of impressionist art and took classes, later he comes into contact with artists such as Camille Pisarro with whom he began working. His first works influenced by Impressionism were exhibited at the Impressionist Exhibition of 1879. By the end of that decade, he faced serious economic and family problems, which affected his reputation. During this period his work changed radically, an event that was influenced by his relationship with Vincent van Gogh and his trip to Martinique. His most famous paintings are: The Seine on the Jena Bridge, (1875), Rouen, blue roofs, (1884), Laundresses of Arles (1888), The Green Christ (1889), Manao Tupapau (1892) and where we come? About us? Where we go? (1897).
Early years
Son of Clovis Gauguin and Aline Chazal, his father was a French journalist and his mother was a native of Peru. After the coup d'etat of Napoleon III in 1851, the family moved to Peru, where he lived for four years. He was raised in a middle-class family. While growing up he was attracted to the sea, which led him to enroll in the merchant marine with only 17 years, later joined the Navy. At that time, he visited different countries in South America and Europe.
By the beginning of the 1870s, he returned to Paris, where he began working at a financial company, shortly afterward he married Mette-Sophie Gad, with whom he had five children. Thanks to his work he was able to live with his family comfortably. At that same time, he began to be interested in painting and Parisian art, which is why he took painting classes and bought various works by impressionist painters such as Camille Pissarro, Édouard Manet, Paul Cézanne and Claude Monet.
Artistic career
After taking classes and coming into contact with the Parisian artistic environment, he began painting his first works, in which the influence of impressionism is reflected. The first of these was the lake in the plain (1874). The following year he became friends with Camille Pissarro, an impressionist painter with whom he began working since then. During these years, Gauguin made various paintings such as The Seine on the Jena Bridge (1875), Autumn Landscape (1877), Mette Gauguin Sewing (1878), Garden Under the Snow (1879) and The Hortelanos de Vaugirard (1879). These consolidated the career of the young artist. Upon gaining recognition from other impressionist artists he was invited to the Impressionist Exhibition of 1879, in which works by Monet, Pissarro, Edgar Degas, and Mary Cassat were exhibited.
In the following years, he was part of the Impressionist exhibitions, which became the center of the debate of the movement; recognized painters such as Jean-Louis Forain, Berthe Morisot, Henri Rouart, Victor Vignon, Georges Seurat and Paul Signac participated in these.
In 1883, the Parisian stock market collapsed, so Gauguin decided to make his passion for art his profession. Dedicating himself completely to this artistic activity. The following year he moved with his family to Copenhagen, the city where his wife's family lived. During his stay, he sought financial support from the family. However, his attempts failed, shortly after he abandoned his wife and children, an event that affected his reputation. In the following years, Gauguin was rejected by the society of the time.
Gauguin and post-impressionist painting
Towards the end of the 1880s, his paintings and ideas changed. He began to move away from impressionism, without completely denying it. His new style was within the framework of what became known as synthesism, a term used by post-impressionist painters to distinguish their work from impressionism. This turn that his work had was influenced by his relationship with the Dutch painter, Vincent Van Gogh, who at that time visited his brother in Paris. This short stay on the island of Martinique also influenced this change.
Between 1886 and 1888 he followed Van Gogh, impressed by his work he traveled to Arles with him in 1888, where he hoped to work together. However, the personalities of these collided leading to this project to fail. From this period, the works stand out: Four Bretons (1886), Still Life with a Profile of Laval (1886), Near the Sea II (1887), Conversation in the Tropics (1887) and Portrait of Madelaine Bernard (1888).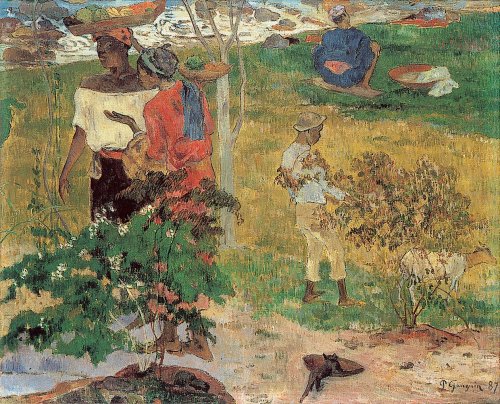 After he failed in Arles he returned to Paris, where he began to deepen his interest in popular art influenced by his friend Émile Bernard. During this period, he developed with Bernard the style that distinguished them from the Impressionists, the synthesis. A style that was characterized by the delineation of the color zones, which contrasted strongly in the painting, likewise, it did not seek to represent impressions or imitate scenes. This style rejected the techniques and bases of Impressionism.
In the last years of his career, Gauguin traveled and spent a long time in the Marquesas and Tahiti Islands. While residing in these islands he painted scenes of daily life and scenes that alluded to the culture and beliefs of the inhabitants of the island, such as La Orana Maria (1891), On the beach (1981), Upaupa, The dance of fire (1891) The house of the hymns (1892), the canoe (1896), The idol (1897), Where do we come from? About us? Where we go? (1897) and invocation (1903). During these last years of his career, the painter's health deteriorated, he died on May 8, 1903, in the Marquesas Islands.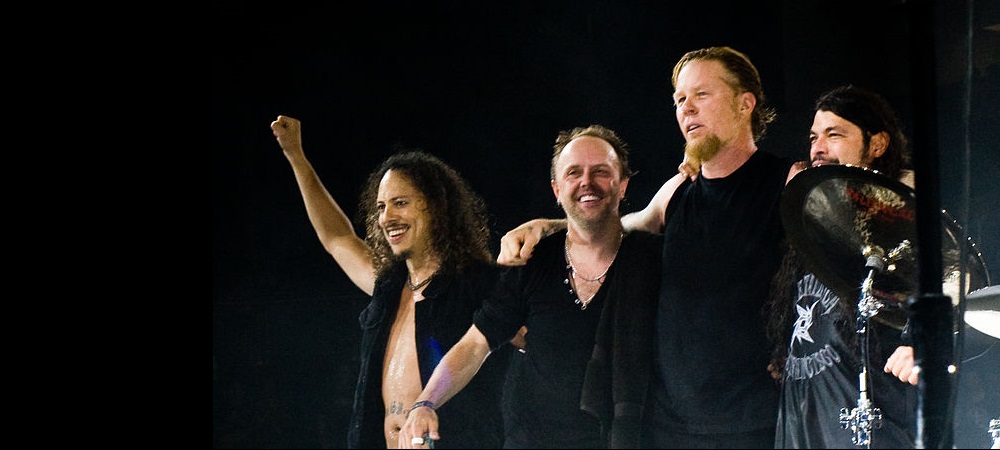 Metallica history
Metallica is an American thrash metal band from Los Angeles and based in San Francisco. It is considered one of the leading groups in the subgenre and throughout its 35-year career it has won numerous awards, including 9 Grammys, 2 American Music Awards, 2 MTV awards, 2 Billboard awards, and a star on the Hollywood Walk of Fame.
1980 – Beginnings
The history of the band begins in 1980 when Lars Ulrich, the son of tennis player Torben Ulrich, placed an ad in the magazine Recycler looking for a guitarist for a metal band influenced by the British New Wave of Heavy Metal. James Hetfield responded to the ad and joined Ulrich as the first members of the band. Ron McGovney joined as bassist and Lloyd Grant as lead guitarist. With this first formation, the band recorded its first demo, Hit the Lights, considered one of the first thrash metal songs. However, they soon realized that the lineup was not working and Lloyd was replaced by Dave Mustaine.
Despite the early disastrous performances due to the lack of experience of the members, the band continued and released No Life 'till Leather, showing a more aggressive sound. Additionally, Ron McGovney was replaced by Cliff Burton as bassist and Dave Mustaine was replaced by Kirk Hammett due to his alcohol addiction. Since then, James Hetfield has taken on both the role of rhythm guitarist and singer.
1983 – Release of 'Kill 'Em All'
With this new lineup and having Johnny Zazula as their manager, the band released in 1983 Kill 'Em All, which gained notoriety in the metal scene and sold more than 300,000 copies. After a tour of the United States and a concert in Holland where they reached their largest audience to date, with 5,000 people, the band released the album Ride the Lightening with Megaforce Records in 1984, which received critical acclaim for its melodic sound.
"1991 – Release of the 'The Black Album'"
After this work, the band released Master of Puppets in 1986 and embarked on a promotional tour that was cut short by an accident in which the bassist Cliff Burton died. After reflecting on their future, the band incorporated Jason Newsted and recorded …And Justice for All, an album with a denser sound that, despite its commercial success and a Grammy nomination, received criticism for being unoriginal and moving away from heavy metal. However, it wouldn't be until the release of their album Metallica in 1991, known as The Black Album, that they reached great success, selling half a million copies in the first week of sales in the United States and reaching the top of the Billboard chart. This work led to two similar albums, Load in 1996 and ReLoad in 1997, which received negative reviews for their proximity to alternative rock and their distance from traditional heavy metal, disappointing their older fanbase.
"2001 – Documentary, Tours, Awards"
In 2001, Jason Newsted left the band and Metallica struggled to find a suitable replacement for some time. Therefore, they had to record their next album, St. Anger, with their producer Bob Rock playing bass. However, Robert Trujillo soon joined the band's lineup. Three years later, the documentary Some Kind of Monster was released, which portrays the recording process of the last album and the internal conflicts that the band had with Dave Mustaine. After a tour in 2006 in which they played Master of Puppets again to celebrate its 20th anniversary, and the release of a compilation of their videos titled The Videos, Metallica was inducted into the Rock and Roll Hall of Fame. Later, they released Death Magnetic in 2008 and the conceptual album Lulu in 2011, which was poorly received by their fans. In 2012, the band founded their own record label, Blackened, and performed a concert in Antarctica to raise awareness about polar melting and environmental crisis. In 2016, they released Hardwired… to Self-Destruct. Currently, the band is still active.