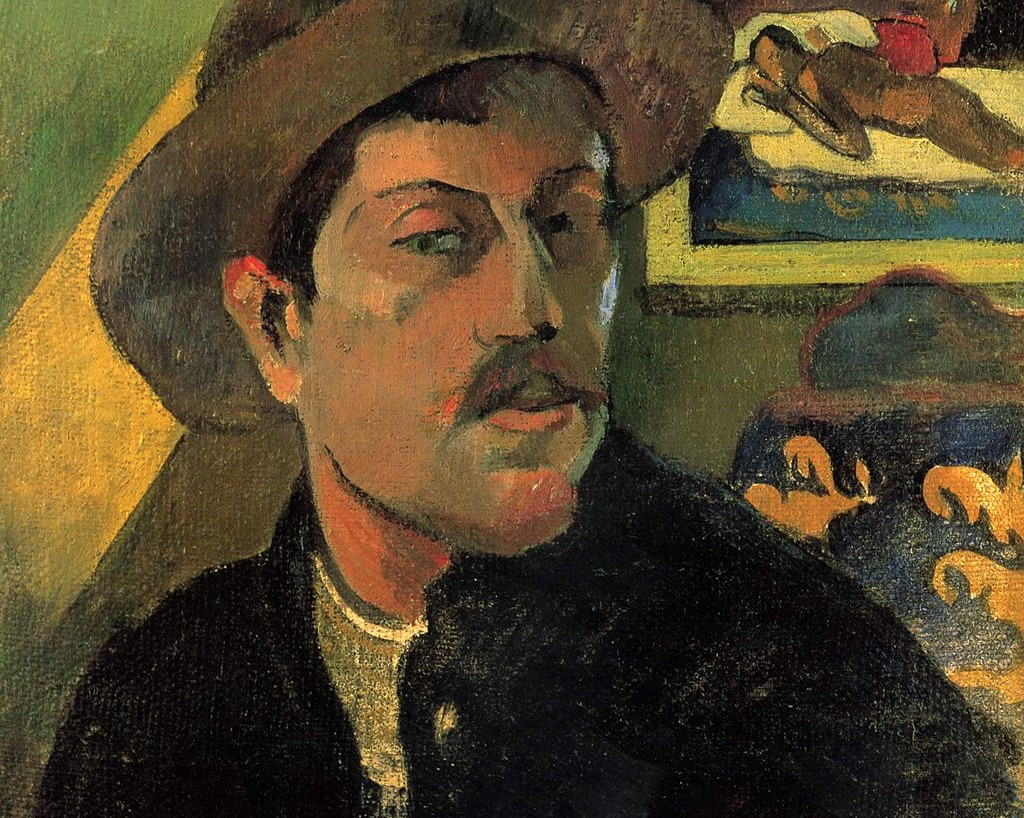 Paul Gauguin Biography
Eugène Henri Paul Gauguin (June 7, 1848 – May 8, 1903) was born in Paris, France. Painter. Considered one of the most prominent exponents of post-impressionism with Vincent van Gogh, Paul Cézanne, Henri Matisse, Georges Pierre Seurat, Camille Pissarro, and Paul Signac, among others.
Gauguin began to be interested in art in the early 1870s, at which time he acquired various works of impressionist art and took classes, later he comes into contact with artists such as Camille Pisarro with whom he began working. His first works influenced by Impressionism were exhibited at the Impressionist Exhibition of 1879. By the end of that decade, he faced serious economic and family problems, which affected his reputation. During this period his work changed radically, an event that was influenced by his relationship with Vincent van Gogh and his trip to Martinique. His most famous paintings are: The Seine on the Jena Bridge, (1875), Rouen, blue roofs, (1884), Laundresses of Arles (1888), The Green Christ (1889), Manao Tupapau (1892) and where we come? About us? Where we go? (1897).
Early years
Son of Clovis Gauguin and Aline Chazal, his father was a French journalist and his mother was a native of Peru. After the coup d'etat of Napoleon III in 1851, the family moved to Peru, where he lived for four years. He was raised in a middle-class family. While growing up he was attracted to the sea, which led him to enroll in the merchant marine with only 17 years, later joined the Navy. At that time, he visited different countries in South America and Europe.
By the beginning of the 1870s, he returned to Paris, where he began working at a financial company, shortly afterward he married Mette-Sophie Gad, with whom he had five children. Thanks to his work he was able to live with his family comfortably. At that same time, he began to be interested in painting and Parisian art, which is why he took painting classes and bought various works by impressionist painters such as Camille Pissarro, Édouard Manet, Paul Cézanne and Claude Monet.
Artistic career
After taking classes and coming into contact with the Parisian artistic environment, he began painting his first works, in which the influence of impressionism is reflected. The first of these was the lake in the plain (1874). The following year he became friends with Camille Pissarro, an impressionist painter with whom he began working since then. During these years, Gauguin made various paintings such as The Seine on the Jena Bridge (1875), Autumn Landscape (1877), Mette Gauguin Sewing (1878), Garden Under the Snow (1879) and The Hortelanos de Vaugirard (1879). These consolidated the career of the young artist. Upon gaining recognition from other impressionist artists he was invited to the Impressionist Exhibition of 1879, in which works by Monet, Pissarro, Edgar Degas, and Mary Cassat were exhibited.
In the following years, he was part of the Impressionist exhibitions, which became the center of the debate of the movement; recognized painters such as Jean-Louis Forain, Berthe Morisot, Henri Rouart, Victor Vignon, Georges Seurat and Paul Signac participated in these.
In 1883, the Parisian stock market collapsed, so Gauguin decided to make his passion for art his profession. Dedicating himself completely to this artistic activity. The following year he moved with his family to Copenhagen, the city where his wife's family lived. During his stay, he sought financial support from the family. However, his attempts failed, shortly after he abandoned his wife and children, an event that affected his reputation. In the following years, Gauguin was rejected by the society of the time.
Gauguin and post-impressionist painting
Towards the end of the 1880s, his paintings and ideas changed. He began to move away from impressionism, without completely denying it. His new style was within the framework of what became known as synthesism, a term used by post-impressionist painters to distinguish their work from impressionism. This turn that his work had was influenced by his relationship with the Dutch painter, Vincent Van Gogh, who at that time visited his brother in Paris. This short stay on the island of Martinique also influenced this change.
Between 1886 and 1888 he followed Van Gogh, impressed by his work he traveled to Arles with him in 1888, where he hoped to work together. However, the personalities of these collided leading to this project to fail. From this period, the works stand out: Four Bretons (1886), Still Life with a Profile of Laval (1886), Near the Sea II (1887), Conversation in the Tropics (1887) and Portrait of Madelaine Bernard (1888).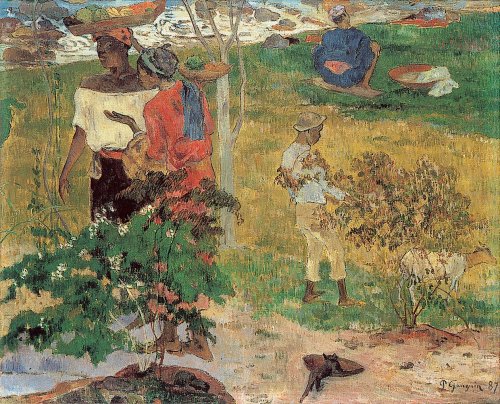 After he failed in Arles he returned to Paris, where he began to deepen his interest in popular art influenced by his friend Émile Bernard. During this period, he developed with Bernard the style that distinguished them from the Impressionists, the synthesis. A style that was characterized by the delineation of the color zones, which contrasted strongly in the painting, likewise, it did not seek to represent impressions or imitate scenes. This style rejected the techniques and bases of Impressionism.
In the last years of his career, Gauguin traveled and spent a long time in the Marquesas and Tahiti Islands. While residing in these islands he painted scenes of daily life and scenes that alluded to the culture and beliefs of the inhabitants of the island, such as La Orana Maria (1891), On the beach (1981), Upaupa, The dance of fire (1891) The house of the hymns (1892), the canoe (1896), The idol (1897), Where do we come from? About us? Where we go? (1897) and invocation (1903). During these last years of his career, the painter's health deteriorated, he died on May 8, 1903, in the Marquesas Islands.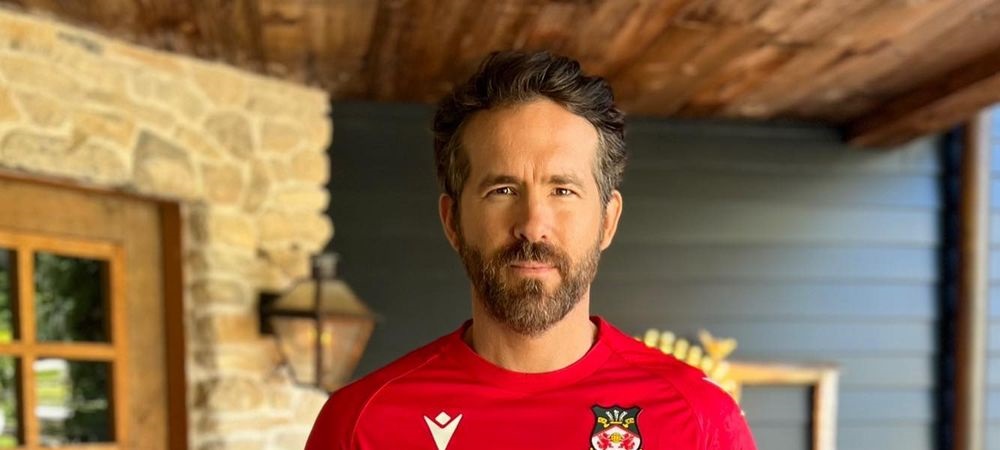 Biography of Ryan Reynolds
Ryan Rodney Reynolds was born on October 23, 1976 in Vancouver, Canada, and he is a well-known actor. When Ryan was born, his mother, Tammy, was a student and a salesperson, while his father, Jim, worked in wholesale food sales and also excelled as a semi-professional boxer. In addition, Ryan has three older siblings.
He studied in his hometown of Vancouver until 1994 when he decided to join a theater group as an extracurricular activity while attending Kwantlen College. However, his passion for acting became a vocation, and Ryan dropped out of college to devote all his time and energy to his acting career.
Debut as an actor
He quickly landed small roles in successful and memorable TV series such as "Sabrina the Teenage Witch" and "The X-Files". In 1998, his big break came with the series "Two Guys, a Girl and a Pizza Place", which ran until 2001 and catapulted him to fame. The show became very popular thanks to its great comedic content, an area where Reynolds demonstrated perfect skill, but this was not the first time that Ryan had made a name for himself in a Hollywood comedy, as he had already been in "Life During Wartime" in 1997.
Films
After working in several minor jobs, Ryan got his first major role as a protagonist in the crazy "Van Wilder – Animal Party", where he played a college party organizer. The success of the film opened doors for him to work alongside Michael Douglas in "Till Death Do Us Part", support Wesley Snipes in "Blade Trinity" or star in the horror movie "The Amityville Horror". However, at this stage of his career, Ryan stood out mainly as a protagonist in comedies such as "Just Friends", "Waiting" and "Harold & Kumar Go to White Castle". This led him to want to leave his comedic side behind, getting involved in different projects such as the thriller "Smokin' Aces", the independent film "Adventureland" and the action film "X-Men Origins: Wolverine". Later on, he also participated in romantic films such as "The Proposal" and "Definitely, Maybe". However, recognition of his acting ability did not come until Ryan was nominated for a Goya Award for his demanding role in "Buried". It is worth noting that he also brought to life the comic book hero "Green Lantern" and the renowned "Deadpool".
Contracts, curiosities
Prestigious brands like Hugo Boss have not been oblivious to Ryan Reynolds' popularity, charisma, and good looks, offering him contracts to be the face of one of their fragrances: Boss Bottled Night, a fragrance that, through great advertising, managed to convey an irresistible seductive effect.
Two curiosities can be highlighted from his work: first, the nearly 10 kilos of solid muscle he gained thanks to rigorous physical training to bring Hannibal King to life in "Blade: Trinity"; and second, his appearance on the animated TV series Zeroman, in which he lent his voice to the character Ty Cheese. In addition, like many Hollywood stars, Ryan Reynolds has an eccentricity outside the world of entertainment: a great passion for motorcycles, of which he owns three collector's items, one of which was designed exclusively for him and is none other than a Harley Davidson.
Romantic relationships
Regarding his personal life, Ryan Reynolds was in a romantic relationship with singer Alanis Morissette from 2002 to 2007. The couple got engaged in 2004, but in July 2006, People magazine reported that they had separated, although neither of them officially confirmed the news. Shortly after, in February 2007, they decided to end their engagement by mutual agreement. In May 2008, Reynolds announced his engagement to actress Scarlett Johansson, and they got married on September 27 of the same year. However, in December 2010, the couple announced in a statement to People magazine that they had decided to end their marriage.
So, on September 9, 2012, he married the actress Blake Lively in Mount Pleasant, South Carolina. In October 2014, they announced that they were expecting their first child, and in December of that same year, Ryan Reynolds and his wife Blake Lively became parents with the birth of their daughter: Ines. Later, on April 14, 2016, his wife's second pregnancy was confirmed, and on September 30, 2016, he became a father for the second time to a boy named James.