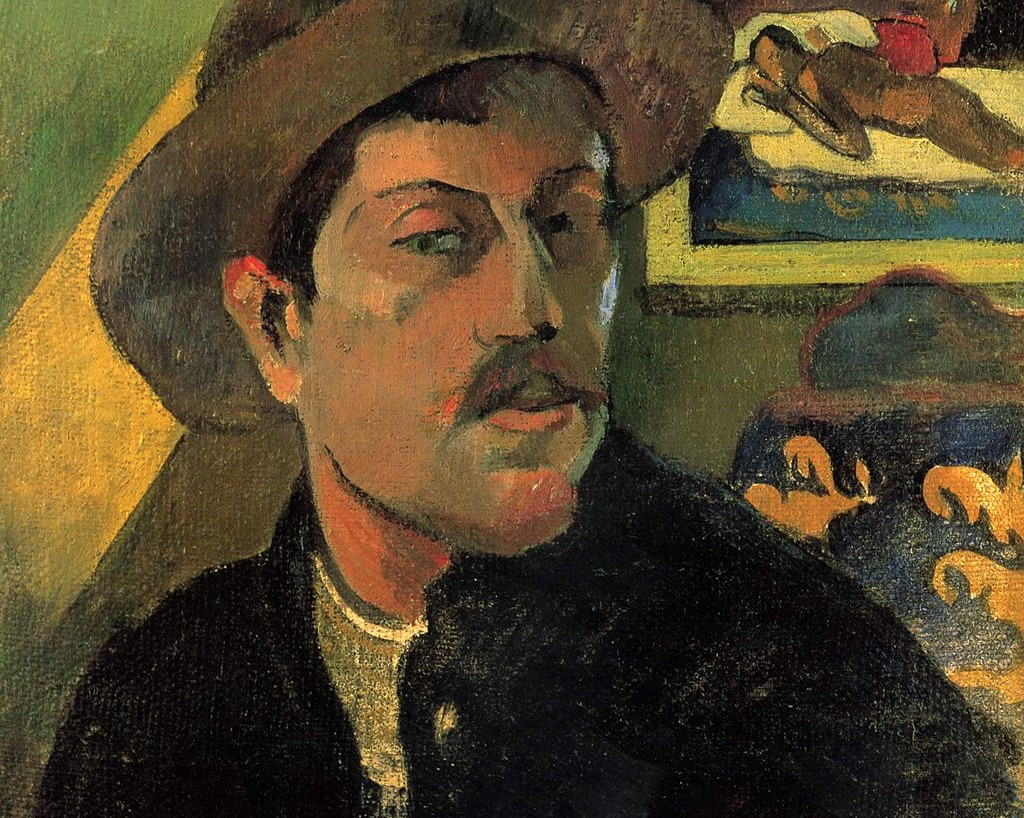 Paul Gauguin Biography
Eugène Henri Paul Gauguin (June 7, 1848 – May 8, 1903) was born in Paris, France. Painter. Considered one of the most prominent exponents of post-impressionism with Vincent van Gogh, Paul Cézanne, Henri Matisse, Georges Pierre Seurat, Camille Pissarro, and Paul Signac, among others.
Gauguin began to be interested in art in the early 1870s, at which time he acquired various works of impressionist art and took classes, later he comes into contact with artists such as Camille Pisarro with whom he began working. His first works influenced by Impressionism were exhibited at the Impressionist Exhibition of 1879. By the end of that decade, he faced serious economic and family problems, which affected his reputation. During this period his work changed radically, an event that was influenced by his relationship with Vincent van Gogh and his trip to Martinique. His most famous paintings are: The Seine on the Jena Bridge, (1875), Rouen, blue roofs, (1884), Laundresses of Arles (1888), The Green Christ (1889), Manao Tupapau (1892) and where we come? About us? Where we go? (1897).
Early years
Son of Clovis Gauguin and Aline Chazal, his father was a French journalist and his mother was a native of Peru. After the coup d'etat of Napoleon III in 1851, the family moved to Peru, where he lived for four years. He was raised in a middle-class family. While growing up he was attracted to the sea, which led him to enroll in the merchant marine with only 17 years, later joined the Navy. At that time, he visited different countries in South America and Europe.
By the beginning of the 1870s, he returned to Paris, where he began working at a financial company, shortly afterward he married Mette-Sophie Gad, with whom he had five children. Thanks to his work he was able to live with his family comfortably. At that same time, he began to be interested in painting and Parisian art, which is why he took painting classes and bought various works by impressionist painters such as Camille Pissarro, Édouard Manet, Paul Cézanne and Claude Monet.
Artistic career
After taking classes and coming into contact with the Parisian artistic environment, he began painting his first works, in which the influence of impressionism is reflected. The first of these was the lake in the plain (1874). The following year he became friends with Camille Pissarro, an impressionist painter with whom he began working since then. During these years, Gauguin made various paintings such as The Seine on the Jena Bridge (1875), Autumn Landscape (1877), Mette Gauguin Sewing (1878), Garden Under the Snow (1879) and The Hortelanos de Vaugirard (1879). These consolidated the career of the young artist. Upon gaining recognition from other impressionist artists he was invited to the Impressionist Exhibition of 1879, in which works by Monet, Pissarro, Edgar Degas, and Mary Cassat were exhibited.
In the following years, he was part of the Impressionist exhibitions, which became the center of the debate of the movement; recognized painters such as Jean-Louis Forain, Berthe Morisot, Henri Rouart, Victor Vignon, Georges Seurat and Paul Signac participated in these.
In 1883, the Parisian stock market collapsed, so Gauguin decided to make his passion for art his profession. Dedicating himself completely to this artistic activity. The following year he moved with his family to Copenhagen, the city where his wife's family lived. During his stay, he sought financial support from the family. However, his attempts failed, shortly after he abandoned his wife and children, an event that affected his reputation. In the following years, Gauguin was rejected by the society of the time.
Gauguin and post-impressionist painting
Towards the end of the 1880s, his paintings and ideas changed. He began to move away from impressionism, without completely denying it. His new style was within the framework of what became known as synthesism, a term used by post-impressionist painters to distinguish their work from impressionism. This turn that his work had was influenced by his relationship with the Dutch painter, Vincent Van Gogh, who at that time visited his brother in Paris. This short stay on the island of Martinique also influenced this change.
Between 1886 and 1888 he followed Van Gogh, impressed by his work he traveled to Arles with him in 1888, where he hoped to work together. However, the personalities of these collided leading to this project to fail. From this period, the works stand out: Four Bretons (1886), Still Life with a Profile of Laval (1886), Near the Sea II (1887), Conversation in the Tropics (1887) and Portrait of Madelaine Bernard (1888).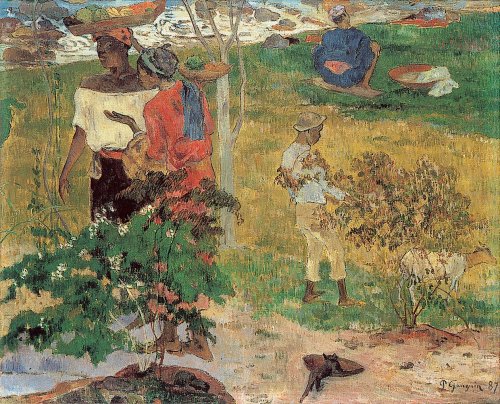 After he failed in Arles he returned to Paris, where he began to deepen his interest in popular art influenced by his friend Émile Bernard. During this period, he developed with Bernard the style that distinguished them from the Impressionists, the synthesis. A style that was characterized by the delineation of the color zones, which contrasted strongly in the painting, likewise, it did not seek to represent impressions or imitate scenes. This style rejected the techniques and bases of Impressionism.
In the last years of his career, Gauguin traveled and spent a long time in the Marquesas and Tahiti Islands. While residing in these islands he painted scenes of daily life and scenes that alluded to the culture and beliefs of the inhabitants of the island, such as La Orana Maria (1891), On the beach (1981), Upaupa, The dance of fire (1891) The house of the hymns (1892), the canoe (1896), The idol (1897), Where do we come from? About us? Where we go? (1897) and invocation (1903). During these last years of his career, the painter's health deteriorated, he died on May 8, 1903, in the Marquesas Islands.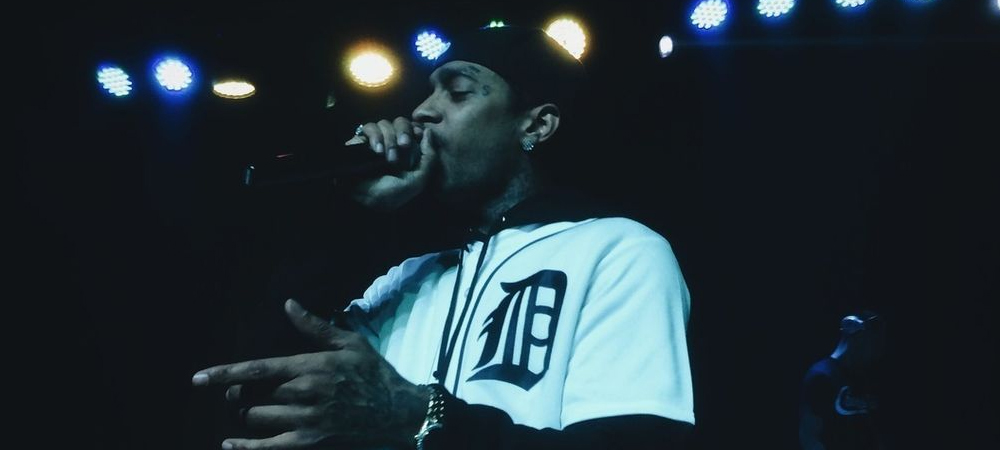 Nipsey Hussle Biography
Ermias Asghedom (August 15, 1985 – March 31, 2019), better known as Nipsey Hussle, was an American rapper, businessman, and community activist, who rose to fame in 2018 with his debut album Victory Lab. Nipsey began his career towards the mid-2000s releasing several successful mixtapes such as Slauson Boy Volume 1, Bullets Ain't Got No Name series and The Marathon. His fame came to him, along with his first Grammy nomination, with his debut album in 2018. He had previously created his label All Money In No Money Out (2010).
Following his death, he received two posthumous Grammys for the songs Racks in the Middle and Higher. He was known for his social work on behalf of the Crenshaw community.
Early years
He was born in Los Angeles, United States, on August 15, 1985. Son of Angelique Smith and Eritrean immigrant Dawit Asghedom, he grew up in Crenshaw, a neighborhood located south of Los Angeles, with his siblings Samiel and Samantha. He attended Hamilton High School but dropped out before graduating. Since he was little he looked for a way to help around the home, so over time, he began to work selling different products on the street.
After leaving school he became involved in the world of gangs, however, he turned away from it when he realized that it was not what he expected for his future. Decided then to dedicate himself to music, he sold everything that linked him to the gangs and worked for a time to buy his own production tools. After finishing his studies, he began to write and produce his own mixtapes, which he sold from a car. After finding inspiration from a trip he took to Eritrea with his father and spending time in prison, Nipsey turned fully to his career and business. He always looked for ways to start and help the community in which he grew up: giving jobs, helping students, renovating public spaces, etc …
Community activist
Nipsey was admired for his work at Crenshaw because instead of moving or investing in hedge funds, he preferred to help the community by boosting the local economy.
Career
In late 2005, Nipsey Hussle released his first mixtape, Slauson Boy Volume 1, independently, to great local success. By then he already had a fan base at the regional level, so it took him a while to sign a contract with the Epic Records and Cinematic Music Group labels. Later, the first volumes of the Bullets Ain't Got No Name series appeared, with which he expanded his popularity. Burner on My Lap, Ridin Slow, Aint No Black Superman, Hussle in the House and It's Hard out Here, were some of the songs included in the series.
By 2009, Nipsey would make a name for himself collaborating with Drake on Killer and with Snoop Dog on Upside Down. He also released Bullets Ain't Got No Name vol.3 and in 2010, he left Epic and opened his own label All Money In No Money Out. Under this label, he would soon release The Marathon, a mixtape in which hits such as Love ?, Mr. Untouchable, Young Rich and Famous and Late Nights and Early Mornings appeared. He also created The Marathon Clothing at that time, a sports and casual clothing brand that was based in his neighborhood. He then released the mixtape The Marathon Continues (2011), participated in the We Are the World 25 for Haiti campaign, and was featured in the popular XXL Magazine Annual Freshman Top Ten.
In 2013 came Crenshaw, a mixtape that would become famous because Jay-Z himself bought 100 copies for $ 100 each.
Victory Lap
After many delays, Nipsey would release his long-awaited debut album Victory Lap, on February 16, 2018, to great success. It was praised by critics and received a Grammy nomination for best rap album of the year. It was such a success that many singles entered the Billboard and Itunes charts. However, Nipsey did not enjoy much fame.
Death
Hussle was assassinated on March 31, 2019, outside his store in South Los Angeles. He was shot multiple times by a man he had previously clashed with, he was arrested and charged with murder on April 2 of the same year. After his death, many personalities expressed the pain caused by the news. It is worth mentioning that the Mayor of Los Angeles himself gave his condolences to the family, recognizing Hussle's social work in Crenshaw.
He was the partner of actress Lauren London and was the father of two children.
Sales strategies and greatest hits
Hussle was known for his sales strategies, since, he used to upload his singles in free download and then sell some limited editions for a cost of 100 to 1000 dollars. It promoted the sale of his work with campaigns such as Proud2Pay and Mailbox Money, in which he gave special incentives (autographed photos, dedication calls, tickets to his studio, and special events) to buyers. His revolutionary ideas promised him a fruitful career.
Some of his greatest hits
Rose Clique
Forever On My Fly Shit
Thas Wat Hoes Do Proud of That (with Rick Ross)
Face the world
Bless, 1 of 1
Where Yo Money At
Fuck Donald Trump
Higher
Young Rich and Famous