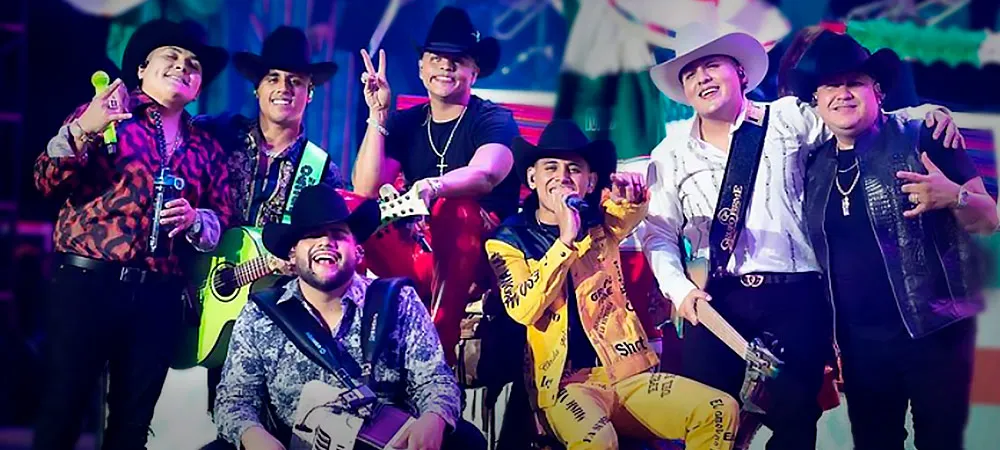 Personal information
Full name

Grupo Firme

Nationality

Mexican

Genders
Mexican regional
Members

Eduin Cazares
Joaquín Ruiz
Jhonny Caz
Abraham Hernández
Christian Téllez
Dylan Camacho
Fito Rubio
History of Grupo Firme
Grupo Firme is a musical group of Mexican regional music from Tijuana. It was created in 2014 and its members are: Eduin Cazares (leader and vocalist); Joaquín Ruiz (bass guitar); Jhonny Caz (vocalist), Abraham Hernández (second voice); Christian Téllez (bass); Dylan Camacho (accordion); and Fito Rubio (drums). Initially they made themselves known on social networks with some covers and in 2017 they made their debut with their first album Past, Present, Future. In 2018, their first hits, Pídeme, El Roto and Juro Por Dios came out and a year later they became famous with the hit El Amor No Fue Pa' Mi, among other hits. Currently they are seen as the new fashionable group.
The beginnings
United by their love of music and coming from different parts of Mexico, the seven members of the group met in Tijuana. They grew up and began their careers in this city as members of different groups, although they knew each other from their work in the artistic industry. The founders of the group were Eduin and Joaquín, who coincidentally joined various groups before founding the group in early 2013 or 2014.
Joaquín and Eduin started in the group Reto Sierreño, then moved on to the groups Aventado2 de Tijuana and Los 4 de la frontera, and finally coincidentally joined the group Fuerza Oculta. This last group became, after some changes, the Grupo Firme, although it was initially called Grupo Fuerza. Because many groups had the same name, the members decided to opt for a synonym and chose "Firme".
This is how Grupo Firme was born, with Eduin as the vocalist and leader, Joaquín on the bass guitar, Abraham and Jhonny as second voice, Christian on the bass, Dylan on the accordion, and Fito on the drums.
With the help of their manager and representative Isael Gutiérrez, who is also the head of the Music VIP Entertainment label, the group took its first steps in bars and events. At the same time, they made themselves known on social networks and other platforms by uploading covers of recognized artists, such as Los Tigres del Norte, José Alfredo Jiménez, Los Tucanes de Tijuana, and others. Often, the group uploaded songs at the request of the public, so they didn't take long to have their own fanbase.
Grupo Firme: debut and career
In April 2017, after three years of performances and covers on social media, the group released its debut album, "Past, Present, Future". This album consisted of twelve songs, highlighting "De Sol a Sol", "Metas Cumplidas", "Perdóname", and "El de los Huaraches". Although the album was not very successful, it managed to make the group known. A few months later, the group returned with "El Barco" (2017), a fifteen-song album with the tracks "El Bueno de Tijuana", "Dile", "Gente de Verdad", and "La Interezada".
In addition, that year, the group collaborated with Los Buitres de Culiacán Sinaloa on the album "En Vivo Desde Tijuana los Buitrones y los Firmes" (2017). Success finally arrived in 2018 with the singles "Pídeme", "El Roto", and "Juro Por Dios". That year, the group was quite active, releasing singles, collaborations, and making several appearances. They even went to Colombia, where they were well received and recorded their "En Vivo desde Medellín Colombia" (2018). The album, which included the tracks "El Teclas", "El Peña", and "El Flaquito", was quite popular within and outside of Mexico.
The group finally achieved fame in 2019 thanks to the releases of "Me Cansé de Amarte" and the hit "El Amor No Fue Pa' Mí" (ft. Banda Coloso). Later came the successful "El Muelas", "En Realidad" with Banda Coloso, "Lujos y Secretos" with Quinto V Imperio, and "Porque Te Quiero" with Luis Alfonso Partida "El Yaki". They also released that year the singles "Qué Me Vas A Dar Si Vuelvo", "El Panal", and "A Ti Te Conviene" with Calibre 50.
The successes continued in 2020. The group began the year by releasing the single "La Estoy Pasando Mal", and later collaborating with Enigma Norteño on the song "Mi Pretexto de Borracho". Later they appeared on the single "Yo Diría" by Uziel Payan and collaborated with Marca MP on "El Güero". In March, "Acábame de Matar" was released and in April they premiered "Quiero Pistear" with Luis Ángel "El Flaco".
Their second live album, "En Vivo Desde Anaheim, CA", was released in July of this year, including their biggest hits: "Pídeme", "Que Me Vas a Dar Si Vuelvo", "El Roto", "Descuide", "Porque Te Quiero", "El Amor No Fue Pa' Mí", among others.
In 2022, the news is released that the band, Grupo Firme, breaks the attendance record with more than 280,000 people in Mexico City's Zócalo. In this way, this renowned band surpasses the record that belonged to Vicente Fernández, who had 217,000 people. Prior to these last two, Justin Bieber and Shakira had the record, with the attendance of 210,000 people present in the Zócalo.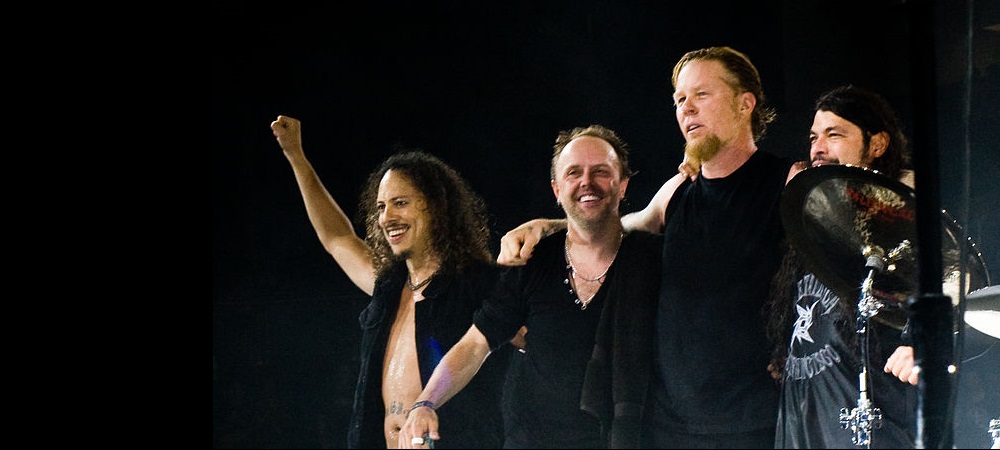 Metallica history
Metallica is an American thrash metal band from Los Angeles and based in San Francisco. It is considered one of the leading groups in the subgenre and throughout its 35-year career it has won numerous awards, including 9 Grammys, 2 American Music Awards, 2 MTV awards, 2 Billboard awards, and a star on the Hollywood Walk of Fame.
1980 – Beginnings
The history of the band begins in 1980 when Lars Ulrich, the son of tennis player Torben Ulrich, placed an ad in the magazine Recycler looking for a guitarist for a metal band influenced by the British New Wave of Heavy Metal. James Hetfield responded to the ad and joined Ulrich as the first members of the band. Ron McGovney joined as bassist and Lloyd Grant as lead guitarist. With this first formation, the band recorded its first demo, Hit the Lights, considered one of the first thrash metal songs. However, they soon realized that the lineup was not working and Lloyd was replaced by Dave Mustaine.
Despite the early disastrous performances due to the lack of experience of the members, the band continued and released No Life 'till Leather, showing a more aggressive sound. Additionally, Ron McGovney was replaced by Cliff Burton as bassist and Dave Mustaine was replaced by Kirk Hammett due to his alcohol addiction. Since then, James Hetfield has taken on both the role of rhythm guitarist and singer.
1983 – Release of 'Kill 'Em All'
With this new lineup and having Johnny Zazula as their manager, the band released in 1983 Kill 'Em All, which gained notoriety in the metal scene and sold more than 300,000 copies. After a tour of the United States and a concert in Holland where they reached their largest audience to date, with 5,000 people, the band released the album Ride the Lightening with Megaforce Records in 1984, which received critical acclaim for its melodic sound.
"1991 – Release of the 'The Black Album'"
After this work, the band released Master of Puppets in 1986 and embarked on a promotional tour that was cut short by an accident in which the bassist Cliff Burton died. After reflecting on their future, the band incorporated Jason Newsted and recorded …And Justice for All, an album with a denser sound that, despite its commercial success and a Grammy nomination, received criticism for being unoriginal and moving away from heavy metal. However, it wouldn't be until the release of their album Metallica in 1991, known as The Black Album, that they reached great success, selling half a million copies in the first week of sales in the United States and reaching the top of the Billboard chart. This work led to two similar albums, Load in 1996 and ReLoad in 1997, which received negative reviews for their proximity to alternative rock and their distance from traditional heavy metal, disappointing their older fanbase.
"2001 – Documentary, Tours, Awards"
In 2001, Jason Newsted left the band and Metallica struggled to find a suitable replacement for some time. Therefore, they had to record their next album, St. Anger, with their producer Bob Rock playing bass. However, Robert Trujillo soon joined the band's lineup. Three years later, the documentary Some Kind of Monster was released, which portrays the recording process of the last album and the internal conflicts that the band had with Dave Mustaine. After a tour in 2006 in which they played Master of Puppets again to celebrate its 20th anniversary, and the release of a compilation of their videos titled The Videos, Metallica was inducted into the Rock and Roll Hall of Fame. Later, they released Death Magnetic in 2008 and the conceptual album Lulu in 2011, which was poorly received by their fans. In 2012, the band founded their own record label, Blackened, and performed a concert in Antarctica to raise awareness about polar melting and environmental crisis. In 2016, they released Hardwired… to Self-Destruct. Currently, the band is still active.