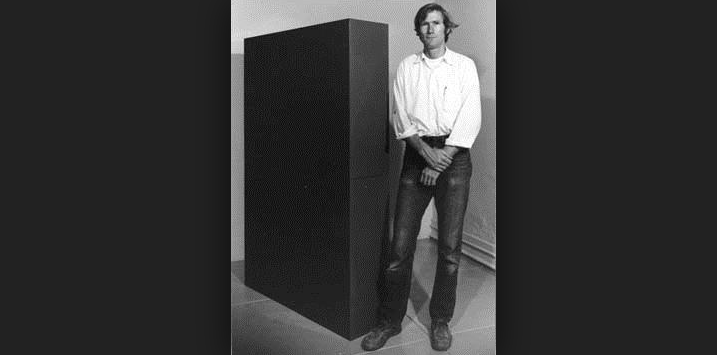 John Harvey McCracken Biography
John Harvey McCracken (December 9, 1934 – April 8, 2011) minimalist artist. He was born in Berkeley, California, United States. He excelled in sculpture and was a reference to the Minimalist Movement. He dedicated four years of his youth to serve in the United States Navy. Subsequently, he entered the California School of Arts and Crafts in Oakland.
Obtaining a BFA in 1962 and completing most of the work for an MFA. Academic life allowed him to meet characters like Gordon Onslow Ford and Tony DeLap. He was hired at several recognized universities where he taught different art subjects, worked at the University of California, School of Visual Arts, University of Nevada, University of California, Santa Barbara, among others.
His first sculptural work was done with the minimalists John Slorp and Peter Schnore, and the painters Tom Nuzum, Vincent Perez, and Terry StJohn. Dennis also known Oppenheim, enrolled in the MFA program at Stanford. He began to experiment with increasingly three-dimensional canvases, McCracken began producing art objects made with industrial techniques and materials such as plywood, spray lacquer, pigmented resin, resulting in striking minimalist works with highly reflective and soft surfaces. He applied similar techniques in the construction of surfboards.
Later, McCracken was part of the Light and Space movement composed by artists such as James Turrell, Peter Alexander, Larry Bell, Robert Irwin, and others. The biggest influences of the art circle were Barnett Newman and the minimalists like Donald Judd, Dan Flavin, and Carl Andre. Thanks to this space, his sculptural work began to walk between the material world and design. He was the first to conceive the idea of ​​the plank. The artist combined aspects of painting and sculpture in his work and many experimented with impersonal and elegant surfaces. In addition to the planks, the artist also created independent wall pieces and sculptures with different shapes and sizes, worked in highly polished stainless steel and bronze.
In McCracken's work, it is usual to see solid colors in bold with its highly polished finish, it is a way that takes work to another dimension. His palette included pink gum, lemon yellow, deep sapphire and ebony, which he applied as a monochrome. He also made objects of stained wood, highly polished bronze and reflective stainless steel. For several years he relied on Hindu and Buddhist mandalas to make a series of paintings, they were exhibited at Castello di Rivoli in 2011.
His wife was the artist Gail Barringer, she revived to a certain extent her husband's artistic career, and earned her the recognition of a younger generation of artists, merchants, and curators. Unfortunately, he died on April 8, 2011. Years before, his work had been honored in Documenta 12 in Kassel.
EXHIBITIONS
"Primary structures" in the Jewish Museum (1966)
"American sculpture of the sixties" at the Los Angeles County Museum (1967).
"Inverleith House" at the Royal Botanic Garden Edinburgh (2009)
AUCTION
His top ten auction prices exceed $ 200,000, including his high auction mark for a Black Plank, in polyester resin, fiberglass and plywood, which sold for $ 358,637 at Phillips de Pury & Company London in June 2007. More recently, Flash (2002), a red-board piece of firefighters, sold for $ 290,500 at Christie's New York in 2010.
WORKS
Nine Planks V, Blue column, Plank, Don't tell me when to stop, Mykonos, Pyramid, Blue Post and Dintel I, Love in Italian, Right, Blue Post and Dintel, Yellow pyramid, The Absolutely Naked Fragrance, Violet Block in two parties, you won't know which one until you've been to All of Them, Red Plank, Ala (Aile), among others.

Anime history
Japanese anime or animation emerged at the beginning of the 20th century influenced by animation and the world of cinema developed in the United States, later it was modified and claimed Japanese culture. The anime-style as we know it began to develop in the late 1950s, when the production company Toei Studios and the different series based on short sleeves or cartoons, such as Tetsuwan Atomu, also known as Astro Boy. From the 1980s and 1990s, the anime became popular, appearing large cult series such as Dragon Ball, Neon Genesis Evangelion, Sailor Moon, Detective Conan, Rurouni Kenshin, and Cowboy Bebop, among others. In the new millennium, the Japanese animated industry has been booming, providing new content every season based on successful manga, light novels, video games, and music.
Beginnings
The first Japanese animations were small short films developed at the end of the 1910s, largely inspired by American animation, in these, folk and comic themes were addressed. The first short film was Namakura Gatana by Junichi Kouchi, it was two minutes long, the story told the story of a man with his katana (Japanese sword or saber). In the following decade, the duration of the short films was extended to ten or fifteen minutes, in which typical oriental tales were represented. Among the pioneer artists of this era are Oten Shimokawa, Junichi Kouchi, Seitaro Kitayama and Sanae Yamamoto; by this time the short film Obasuteyama (The Mountain Where Old Women Are Abandoned) by Yamamoto was published.
During the 30s and 40s, the Japanese animated industry went through a series of changes, the stories were neglected and western stories were taken into account. A short time later the anime Norakuro (1934) of Mituyo Seo, one of the first animations based on a manga. Since then this became a frequent practice. By the end of the 1930s, World War II broke out, a warlike confrontation in which Japan was involved as a member of the Axis powers, at which time the animations became war propaganda. At the end of the war, the country was occupied by the allied powers led by the United States, which seriously affected the country that was going through a deep economic crisis.
Industry development and international boom
In the course of the crisis, the manga and anime industry became popular in the country, thus establishing the basis for the development of the own animated style that occurred around the middle of the 20th century. It was around this time that Toei Studios, an animation film producer, emerged as one of the key figures in the history of anime. This company was a pioneer in the animation of Japan, provided various productions that allowed the advancement of animation in the country. The company's first animation was Koneko no rakugaki, a short thirteen-minute film published in 1957. The following decade the company grew by focusing on the development of feature films. Other companies such as Mushi Pro, a producer that made the animation of Tetsuwan Atomu (Astro Boy) by Osamu Tezuka, mangaka and animator, one of the most relevant artists of the Japanese animated industry of the 20th century.
Between the 1960s and 1970s, the anime of robots (mecha) became popular appearing iconic series such as Tetsujin 28-gō and Mazinger Z or Gundam, for this same period the popular Doraemon series (1973), based on the homonymous anime, began to air Fujiko Fujio, a series that tells the story of a cosmic robot cat that has attached to its body a bag from which it subtracts various artifacts which are used in the adventures of Doraemon and his human friend Nobita. In the 1980s and 1990s, Japanese animation boomed internationally, which led to many series beginning to dub into English and Spanish, in these years cult series such as Dragon Ball, based on the manga of Akira Toriyama. Saint Seiya also known as The Knights of the Zodiac, Captain Tsubasa, exported as Super champions; Rurouni Kenshin, known in the west as Samurai X, Neon Genesis Evangelion of Hideaki Anno; Pokémon, Ranma ½, and Sakura Card Captor, among others.
In 2000, the already booming anime is largely massified by the acceptance and the huge fan base that it had acquired at the time, these followers known as otakus, boosted the Japanese animated industry. Since then there have been numerous animated productions that have been distributed worldwide, among the most prominent series of the new millennium are One Piece, Naruto, Bleach, Fullmetal Alchemist, Inuyasha, Yu-Gi-Oh, Rozen Maiden, Kuroshitsuji, and Death Note, all are ace based on sleeves that when becoming successful, allowed the development of the animated series.
At present, any manga that has a large number of followers is very likely to have adapted in an animated series, such as Hunter x Hunter, Pandora Hearts, Ao no Exorcist, Mirai Nikki, Bakuman and Shingeki no Kyojin, among many others, light novels have been adapted that have become popular as Durarara!!, Boku wa Tomodachi ga Sukunai, Sword Art Online, and My Youth Romantic Comedy Is Wrong, As I Expected, among others. In recent years, the Yaoi and Yuri genres have been popularized in which romantic relationships between people of the same sex are addressed, among these series it is possible to rescue Junjō Romantica, Sekaiichi Hatsukoi, No. 6, Aoi Hana, Sasameki Koto and Yagate Kimi ni Naru
At present, the Japanese animated industry produces numerous series, ova, and films per year, becoming one of the strongest industries in the world of animation. Among the most prominent people in this industry is Hayao Miyazaki, founder of Studio Ghibli, a studio where films such as My Neighbor Totoro, The Incredible Vagabond Castle, The Journey of Chihiro, and Ponyo, among others, likewise, stand out in the present, artist Makoto Shinkai, creator of 5 centimeters per second, Hoshi Wo Ou Kodomo, Kotonoha no Niwa and Kimi no Na Wa.