Jennifer Lopez Biography
Jennifer Lynn Lopez Rodriguez, known as Jennifer Lopez, is an actress, singer, songwriter, dancer, choreographer, fashion designer, record producer, television producer, perfumer, and an American philanthropist. She was born in the Bronx, New York City on July 24, 1969, and is the daughter of David López and Guadalupe Rodríguez.
She began to sing and dance at the age of 5 years. She was noted for being an athletic girl who practiced athletics, gymnastics, and softball. Jennifer Lopez spent part of her time in Catholic schools, finishing at Preston High School.
In the year 1984, while she was in her last year in high school, she realized that there was a casting for a movie where they were looking for teenagers, presented her audition and won a role in the movie "My Little Girl."
For the year 1986, Jennifer Lopez acted as Myra, in a film co-written and directed by Connie Kaiserman, after finishing the filming of this film she was convinced that she wanted to be a movie star.
She studied at Baruch College, retiring after the first semester and moved to the city of Manhattan to begin singing, dancing and acting studies. In this time she participated in local productions, in musicals like "Jesus Christ Superstar" and "Oklahoma." She was hired for the chorus in a Broadway musical and toured Europe for 5 months. Then she left the choir and got a job in the Synchronicity series in Japan where she acted as a dancer, singer, and choreographer.
In 1991, Jennifer Lopez was chosen as a backup dancer for the New Kids on the Block and performed with them during her performance at the American Music Awards. Then he got a television role in the series "In Living Color."
In 1993 she appeared in her first film as an actress in the leading role of the film "Nurses on the Line: The Crash of Flight 7." Between 1993 and 1994 she signed with CBS to co-star in the television series "Second Chances."
For the year 1995 she made her first film casting role in "My Family" by Gregory Nava, receiving the Independent Spirit Award as best supporting actress. In the month of November of that same year, she starred in "Money Train," "Woody Harrelson" among other productions.
Her film career rebounded in the second half of the 90s when she starred in the year 1997 films such as: "Selena" nominated for the Golden Globe Award for best actress; "Anaconda," "U-Turn" in the same month lent her voice to the animated film "Antz." Jennifer Lopez was already fully focused as an actress and was one of Hollywood's most sought-after stars.
In the year of 1998, she sent her demo to some discographies and Tommy Mottola (Director of Sony Music) called her to sign a contract with them.
On June 1, 1999, Jennifer Lopez released her first album called "On The 6" the album was a total success, debuted in the Top 10 of the Billboard. In addition, her first single "If You Had My Love" obtained the number one of the Billboard Hot 100.
She also released a single for the Latin market called "No Me Ames" a duet she made with singer Marc Anthony, reaching number one on the Latin Billboard. The second single in English called "Waiting For Tonight" reached the top 10 of the Billboard Hot 100.
In the year 2000, she appeared in the thriller "The Cell" and in "The Wedding Planner" with great box office success.
For January 23, 2001, she released her second album titled "J. Lo " debuting in the number one sales on the Billboard Hot 200. Jennifer Lopez, was the first artist to place a number one album in sales, while a movie starring her, in the same week. On July 24 of that same year, she re-released the album "J.Lo" to add a remix of the third single "I'm real" with the collaboration of rapper Ja Rule. The song "I'm real remix" remained for five weeks in the number 1 position of the Billboard Hot 100. In September, she married for the second time the Dancer Chris Judd, with whom she cut off 8 months later.
In May of 2002, Jennifer Lopez starred in the thriller "Enough" and in September she released her first fragrance, "Glow By J.Lo. On November 26 of that same year, she released her third studio album entitled "This is me … Then" with which she achieved excellent sales and reached number 2 on the Billboard Hot 200. Her first single "Jenny From The Block" became in a worldwide success. Her second single "All I Have" with the participation of LL Cool J rapper, reached No. 1 on the Billboard Hot 100.
Jennifer Lopez launched her own clothing line in 2003, which she called "JLO by Jennifer Lopez" the line included women's clothing such as jeans, shirts, jackets, belts, bags, and underwear. In addition, she launched a jewelry line and an accessory line that included hats, gloves, and scarves.
In the month of June 2004, Jennifer Lopez secretly married the singer Marc Anthony, with whom she later separated.
For the March 1 of the year 2005, she debuted with her fourth album called "Rebirth." The album was number 1 in sales worldwide. In addition, it was ranked number one on the Billboard Hot 200. Its first single "Get Right" with a fusion of Funk Pop being number one in Europe and number 12 on the Billboard Hot 100 list.
In 2007, Jennifer Lopez made "Dance Life" a reality show that followed the lives of seven dancers trying to get a place in the world of professional dance, which was broadcast on MTV from January 15 to March 5 of 2007. That same one launched "Como Ama Una Mujer" produced by Estefano and Julio Reyes. On March 27 the album went on sale debuting as number 1 in sales. In addition, it became the second best-selling Spanish album in the world.
For the month of September of the year 2007, Jennifer Lopez initiated for the first time a tour in the company of her husband Marc Anthony where together they traveled the United States and Canada finalizing the tour in the city of Miami, a city where the singer communicated her pregnancy. On October 9 of that same year, she released his new album in English entitled "Brave."
In January 2008 she released "Por arriesgarnos" the third single of her album in Spanish "Como Ama una Mujer". In the month of February, she gave birth to the twins Emme Maribel and Maximilian David.
On May 18, 2010, Jennifer Lopez appeared at the World Music Awards and received an award for her contribution to music.
On January 18, 2011, she released the single "On The Floor" achieving an overwhelming success, ranking first in more than 24 countries around the world.
For June 14, 2012, Jennifer Lopez made her first tour called Dance Again World Tour, with the aim of promoting "Dance Again: the Hits" It started in Panama and then continued through the United States, Canada, Europe, Asia, Oceania, and South America. After finishing her tour she began recording her eighth studio album titled "A.K.A."
On May 25, 2013, she announced that she would be the new creative director of Nuvo TV. That year she also launched two new fragrances: Forever Glowing and JLove.
For the month of January of the year 2014, she released two promotional singles titled, "Girls" in collaboration with DJ Mustard and "Same Girl." Jennifer Lopez released her album "AKA" through Capitol Records, reaching the number 8 position of the Billboard 200. In addition, in the month of June of that same year, she was part of the Inauguration Ceremony of the 2014 World Cup in Brazil, performed together with the Brazilian singer Claudia Leitte and Pitbull the official song of the world championship "We Are One."
On January 21, 2015, she was the protagonist of the movie "The Boy Next Door" and won an MTV Movie Awards for best actress. In the month of March of that same year, the animated comedy movie "Home" premiered worldwide where Jennifer Lopez lent her voice to a character. In addition, his song "Feel The Light" was released.
In January 2016, Jennifer Lopez returned to television with the fifteenth season of the American Idol talent competition program. For the month of October of that same year, Billboard confirmed that Jennifer was working on her new album in Spanish with the participation of Marc Anthony as producer and that it would go on sale in 2017 under the seal of Sony Music Entertainment. The first single is a version of "Olvidame y Pega la Vuelta" (from the Pinpinela duo) with the collaboration of Marc which came out in November 2016. In addition, she released a tropical version of the same song that was placed as number 1 on the Tropical Songs of Billboard. In the month of December, she released her new single called "Chegaste" along with Roberto Carlos.
On July 4, 2017, Jennifer Lopez released the new single titled "Ni Tú Ni Yo" in collaboration with the Cuban duo Gente de Zona; the song will be part of her new album in Spanish.
 DISCOGRAPHY
1999: On the 6.
2001: J.Lo.
2002: J to tha L-O! The Remixes.
2002: This is me … Then.
2002: J to tha L-O !: The Remixes.
2005: Rebirth.
2007: How A Woman Loves
2007: Brave.
2011: Love?
2012: Dance Again: The Hits.
2012: Dance Again: The Hits.
2014: A.K.A.
2017: For the First Time.
AWARDS
Jennifer Lopez has won 324 awards throughout her career, among which are the following:
ALMA Award for Best Actress in a Film: 1998.
MTV Video Music Awards for best song video, for "Waiting For Tonight": 2000.
MTV Europe Music Awards for best female artist: 2001.
MTV Europe Music Award for Best Female Artist: 2001, 2002.
MTV Video Music Award for the Best Hip Hop Video 2002.
MTV Video Music Awards for best song video, for "I'm Real (Murder Remix)": 2002.
American Music Awards Award for pop/rock female artist: 2002.
American Music Award for Best Female Pop / Rock Artist: 2003.
American Music Awards Award to favorite Latin artist: 2007.
American Music Award to the Favorite Latino Artist: 2007, 2011.
Teen Choice Award for the Best Female Personality on TV: 2012.
Youth Award for the Actress Who Steals the Screen – Cinema: 2013, 2015, 2016.
Billboard Music Awards: Icon Award 2014.
GLAAD Vanguardia Award: 2014.
Radio Disney Music Awards: Hero Award: 2015.
MTV Movie Award for Best Scared Acting, for "Obseción": 2015.
Billboard Latin Music Award: Special Award of the Star 2017.
Billboard Latin Music Award for Artist of the Year, social networks 2017.
People's Choice Awards Winner of Best TV Actress in Crime Series for "Shades of Blue": 2017.
FILMOGRAPHY
1987: My Little Girl.
1995: Money Train.
1995: My Family.
1996: Blood and Wine.
1996: Jack.
1997: Selena.
1997: Anaconda.
1997: U-Turn.
1998: Out Of Sight.
2000: The Cell.
2001: The Wedding Planner.
2001: Angel Eyes.
2002: Enough.
2002: Maid in Manhattan.
2003: Gigli.
2004: An Unfinished Life.
2004: Jersey Girl.
2004: Shall We Dance?
2004: Monster-in-Law.
2005: An Unfinished Life.
2005: Monster-in-Law.
2006: Bordertown.
2007: The Singer.
2010: Plan B.
2012: Ice Age: Continental Drift.
2012: What To Expect When You? Re Expecting.
2013: Parker.
2015: Lila & Eve.
2015: Home.
2015: The Boy Next Door.
2016: Ice Age: Collision Course
FRAGRANCES
2002: Glow.
2003: Still.
2005: Miami Glow.
2005: Love at First Glow.
2005: Live.
2006: Live Luxe.
2006: Glow After Dark.
2008: Live Platinum.
2008: Wish.
2008: I wish Forever.
2009: My Glow.
2009: Sunkissed Glow.
2010: Love & Glamor.
2010: L.A. Glow.
2010: Blue Glow by J.Lo.
2011: Love and Light.
2012: Eau the Glow.
2012: Glowing.
2013: Forever Glowing.
2013: JLove.
2013: Rio Glow.
2014: Glowing Goddess.
2014: Wild Glow.
2015: JLuxe.
2016: Dark Wood.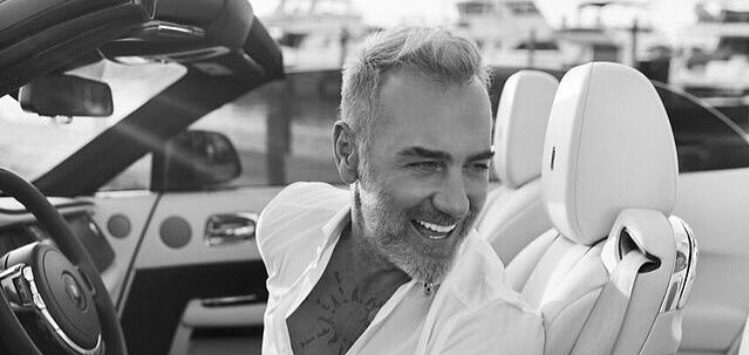 Gianluca Vacchi biography
Gianluca Vacchi (August 5, 1967) Born in Bologna, Italy. Italian businessman and artist, known for his eccentricity and the way he manages his money, throwing lavish and expensive parties. His lifestyle is frequently shared by the businessman through his social networks.
Vacchi is a man of more than 50 years who has attracted the attention of various people, not only for his eccentricity but also for his physical attractiveness. He currently has more than 15 million followers on instagram and since 2014 he has become popular with the hashtag #GVLifestyle.
There is only one life and you have to live it trying to enjoy everything you can.

Gianluca Vacchi
Family and studies
Gianluca Vacchi grew up in a wealthy family. From an early age he was interested in business. He studied economics and then began to be part of the family business. Later he founded the company IMA, a company dedicated to the creation of pharmaceuticals, cosmetics and others. Over time, Vacchi diversified his businesses, participating in different business projects. While doing this, he increased his capital, becoming a billionaire in a matter of a few years.
Change of lifestyle
After several years in the industry, Gianluca Vacchi left the family business in charge of his cousin and dedicated himself fully to enjoying his life, since at the age of forty he had not explored and enjoyed everything he achieved in those years. After thinking about the way he had lived until then, he decided to change his lifestyle. He started by working on his physique, improving his diet and exercising. He complemented this, with hours in the sauna and cryotherapy and shortly after the effort began to show.
At 47, he became known on social networks with a photo in which he was seen riding with the famous American actor Zac Efron.
Since then, he began to attract the attention of the public for his sensual dances, his eccentric and expensive parties. Likewise, through the networks he showed the large number of properties he owned: mansions, houses on the beach, yachts, motorcycles, cars and even a helicopter.
In 2016, the videos of Vacchi and his girlfriend at the time, Giorgia Gabriele, dancing to different Latin music songs, went viral. It was then that it became a trend. Many were interested in the lifestyle of the 49-year-old man, surrounded by beautiful women and with an exorbitant fortune. Since then, the daily life of the famous Italian has been shared by social networks. He is currently one of the most famous adult influencers on the platform.
The following year he ended his relationship with his girlfriend Gabriele, and a short time later he was seen with the beautiful Colombian model, Ariadna Gutiérrez. That same year he published his book Enjoy (2016), which, in Vacchi's words, is a conceptual biography. In this book, he talks about his experiences, gives advice and encourages people to enjoy life to the fullest.
During this period of his life, the Italian has been seen with famous Latin, American and European artists, which has increased his popularity. Among the artists with whom he has been associated are the singers: J. Balvin, Luis Fonsi, Sebastián Yatra, Ozuna, Daddy Yankee and Yandel, among others. In 2017, Vacchi was seized by Banco BPM. He later explained that this does not greatly affect his fortune and that it was all a disagreement with the bank.
Facet as DJ
In recent years, Gianluca Vacchi has dabbled in music as a DJ, working with great figures such as Steve Aoki, Nicola Zucchi, Christian Lena and Albertino, among others. He currently has a contract with the Spinnin 'Records label. His first song, entitled Viento, appeared under this label on August 13, 2017. This song currently has more than 27 million views on YouTube.
After Viento, Tump-it came out, a theme that quickly became a trend. In August he released the song Sigamos Bailando, his collaboration with Yandel and Luis Fonsi. Later he released the song Waglio, in collaboration with Alessio and in 2019, he released Asho mami and Mueve.
Vacchi has made several tours as a DJ and worked in clubs such as Amnesia Ibiza, Sutton Club and Sutton Barcelona, among others.
Gianluca news
Currently Vacchi, is romantically involved with the young model Sharon Fonseca. On May 10, 2020, during the celebration of Mother's Day, he announced via Instragram that he and his girlfriend were expecting their first child.
Birth of your child
On October 28, Gianluca and Sharon announced the birth of their daughter Blu Jerusalema Vacchi, true to their style, this announcement was made through their Instagram accounts.