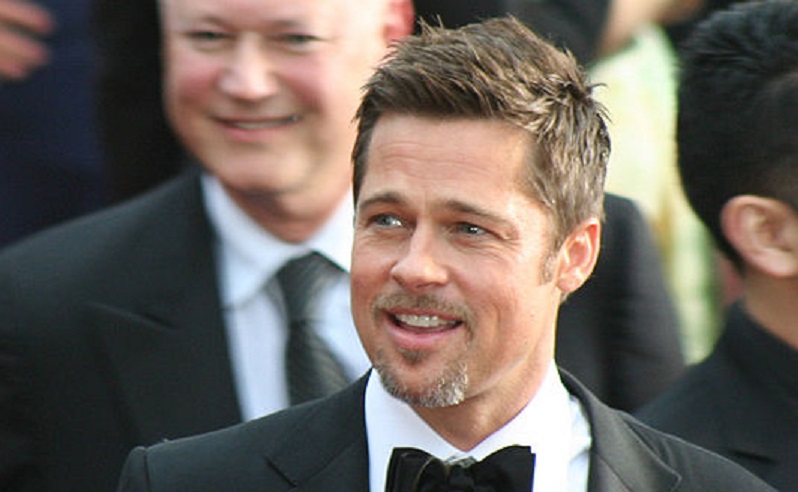 Personal information
Full name

William Bradley Pitt

Birthdate

December 18, 1963

Age
59 years old
Occupation

actor, producer

Pseudonym
Brad Pitt
Nationality

American

Spouse

Jennifer Aniston (marr. 2000; div. 2005)
Angelina Jolie (marr. 2014; div.​ 2019)

Couple

Juliette Lewis (1990-1993)
Gwyneth Paltrow (1994-1997)
Jennifer Aniston (1998-2000)
Angelina Jolie (2005-2014)

Height
1.80 m
Parents

William Alvin Pitt
Jane Etta Hillhouse

Zodiac sign
Sagittarius
Biography in other languages
Biography of Brad Pitt
William Bradley Pitt, better known as Brad Pitt, was born on December 18, 1963 in Shawnee, Oklahoma, United States. Son of Jane Etta, a high school secretary, and William Alvin Pitt, owner of a truck manufacturing company, Brad grew up practicing the Baptist religion in Springfield, Missouri, a place where his family moved shortly after his birth. During his teenage years at Kickapoo High School, Brad showed himself to be a very active young man, participating in sports teams such as golf, tennis, and swimming, as well as student clubs such as Key and Forensics, where he participated in debates and musicals. After graduating from high school, Brad attended the University of Missouri in 1982, where he studied journalism and advertising.
Beginnings in acting
After graduation, finding employment proved to be a difficult task and Brad felt unsure about his readiness for the job market. However, his passion for film was growing stronger. Therefore, Brad dropped out of college and moved to Los Angeles, where he took acting classes and to pay for them, he had to take various temporary jobs, including being a limousine driver and a rope attendant. Over time, Brad began to get bigger roles on television, appearing on shows such as "Growing Pains", "Dallas", "Young Police" and "Thirty and Something".
First movie
Since then, his acting ability has been brought to light. His first role on the big screen was as an extra in the movie "Blow Out the American Dream" (1987), directed by Marek Kaniewska. Then, his first leading role was in "The dark side of the sun", a movie filmed in the former Yugoslavia in 1988. Unfortunately, due to the effects of the war, the footage was lost. However, six years later, his producer Angelo Arandjelovic found the movie and released it when Brad was already internationally recognized.
His performance in the movie "Thelma & Louise"
He managed to have an important role in "Thelma and Louise" (1991), directed by Ridley Scott; one of the most famous and controversial films of the nineties. Pitt had a secondary, but important role: that of J.D., a small-time thief who interacts with the protagonists throughout the film, with a total appearance time of thirty minutes. Nevertheless, even though brief, his appearance completely changed his life and made him the fashion actor of the nineties; he was cataloged as one of the most attractive men in the world.
Other movie performances
In his next film, A River Runs Through It (1992), directed by Robert Redford, in that role he managed to make one of the best interpretations of his career. Pitt began to work on higher quality productions, that doesn't mean he has stopped collaborating on small productions such as Johnny Suede (1992), directed by Tom DiCillo, in which he portrayed an improbable haired rocker obsessed with the memory of Elvis and succeeding in the world of music. In Cool World (1992), directed by animation specialist Ralph Bakshi, he shared the screen with Kim Basinger and Gabriel Byrne.
As a way to broaden his repertoire, he also interpreted darker roles, such as the psychopath of "Kalifornia" (1993), directed by Dominic Sena. In "Legends of Passion" (1994), directed by Edward Zwick, he repeated the pattern of "The River of Life" to some extent. In it, he plays Tristan Ludlow, a restless young man who enlists in the army to fight in World War I, escaping from a thwarted love with Julia Ormond and following the example of his father, a retired former cavalry colonel. Then he was in "Interview with the Vampire" (1994), an adaptation of the mythical novel written by Anne Rice in 1977.
Love relationships
Now, we must state that although most of Pitt's fame was due to his talent and image, another part was thanks to his romances with some of the most famous actresses of the moment. This is why he was on the front pages of gossip magazines. Among his relationships are his co-stars Geena Davis, Juliette Lewis, television star Jennifer Aniston, or Gwyneth Paltrow, with whom he participated in one of his best films, Seven (1995), directed by David Fincher.
Some of his won awards
He was nominated for an Academy Award for his role in "Twelve Monkeys" (1995) directed by former Monty Python member Terry Gilliam. The film tells the story of Bruce Willis's time-traveling journey to save humanity from the attack of the "Twelve Monkeys," an eco-terrorist group. Brad Pitt received a well-deserved nomination for Best Supporting Actor. A year later, he appeared in "Sleepers" (1996), directed by Barry Levinson. He was privileged to share scenes with great actors such as Robert De Niro, Dustin Hoffman, and the Italian Vittorio Gassman. Pitt played Michael Sullivan, the assistant district attorney who had to accuse two of his friends of murder. Unfortunately, the film did not meet expectations and is not among Pitt's best works, like "The Devil's Own" (1997).
One of the most successful stars in the 90s.
With steady steps, he continued in "Seven Years in Tibet" (1996), by French director Jean-Jacques Annaud. The film openly uses Pitt's name as a publicity stunt and joins the Buddhism trend that invades Hollywood in the late nineties. Afterwards, the Chinese government declared the actor persona non grata and banned him from entering its territory. During this period, he consolidated himself as one of the biggest box office stars of his generation and as a sexual symbol. He was in the film "Meet Joe Black" (1997), directed by Martin Brest and based on "Death Takes a Holiday" (1934), by Mitchell Leisen.
It's true that Brad Pitt's film career has experienced a continuous growth year after year. Some of his movies:
Fight Club (1999).
Snatch (2000).
The Mexican (2001).
Spy Game (2001).
Ocean's Eleven (2001).
Remembering Jack (2001).
Full Frontal (2002).
Confessions of a Dangerous Mind (2002).
Troy (2004).
Ocean's Thirteen (2007)
The Curious Case of Benjamin Button (2008). This work earned him a first nomination for the Screen Actors Guild Awards, as well as his fourth nomination for the Golden Globes and his second nomination for the Oscar in the "Best Actor" category. The film, in turn, raised 329 million dollars worldwide.
From 2011 to 2016, he had significant roles in commercial films. But he made an impact with "Allied," a World War II melodrama directed by Robert Zemeckis, which he starred in alongside Marion Cotillard. At that time, the actor had ended his relationship with Angelina Jolie. In 2017, he starred in the film "War Machine," where he played the role of United States Army General Glen McMahon.

Biography of Leonardo DiCaprio
Leonardo Wilhelm DiCaprio is a renowned actor and film producer who has won numerous awards within the film industry. He was born on November 11, 1974, in Hollywood, Los Angeles, California, United States.
DiCaprio is an only child of Irmelin Indenbirken, a secretary born in Germany, and George DiCaprio, an underground comic artist and producer/distributor of comics. On his father's side, he has half-Italian (from Naples) and half-German (from Bavaria) ancestry. On the other hand, on his mother's side, his grandfather Wilhelm Indenbirken was German and his grandmother Helene Indenbirken was a German citizen born in Russia under the name Yelena Smirnova.
He was named Leonardo because, while his pregnant mother was looking closely at a painting by the great artist Leonardo da Vinci in a museum, DiCaprio gave a strong kick inside her belly. His parents divorced when he was only one year old, and they shared custody of Leonardo until 1997.
Studies, beginnings in acting.
As for his education, he did not attend university and only took basic courses at John Marshall High School in Los Angeles. His career in the world of image and acting began when he followed his older stepbrother, Adam Farrar, in television advertising, starring in a commercial for the Matchbox car brand at the age of fourteen and subsequently participating in educational films. At the age of five, he was also part of the children's television series "Romper Room", but had to leave it as it was detrimental to him.
"1990 – 1991: Debut in television and cinema"
In 1990, he made his true television debut when he was cast to be a part of the "Parenthood" ensemble, a series based on the film of the same name. He then landed minor roles in several series, including "The New Lassie" and "Roseanne," as well as a brief part in "Santa Barbara." His work in "Parenthood" and "Santa Barbara" earned him a nomination for the Young Artist Award for Best Young Actor. His big screen debut came in 1991 with the science fiction and horror movie "Critters." Later on, he became a recurring member of the cast of the ABC sitcom "Growing Pains," playing Luke Brower. However, DiCaprio didn't achieve success in the film industry until 1992, when he was selected by Robert De Niro from among 400 young actors for the lead role in "This Boy's Life," which also starred Ellen Barkin and De Niro himself.
1993 – 1996
Later, in 1993, DiCaprio played the mentally disabled younger brother of Johnny Depp in "What's Eating Gilbert Grape." The film's director, Lasse Hallström, admitted that he initially sought a less attractive actor, but he decided on DiCaprio because he had become "the most observant actor" among all who auditioned. The film was a great financial and critical success, resulting in Leonardo being highly praised for his performance, which led to him being awarded the National Board of Review for Best Supporting Actor and nominated for an Academy Award and a Golden Globe. Subsequently, he had roles in films such as "The Quick and the Dead" (1995) and was one of the leads in "Romeo + Juliet" (1996).
But his big break came with director James Cameron, who offered him the lead male role in Titanic (1997), a movie that not only won a considerable number of Academy Awards but also became a social phenomenon. Afterwards, DiCaprio gained greater acceptance in the cinematic world, so he was part of numerous films such as:
The Man in the Iron Mask (1998)
The Beach (2000)
Catch Me If You Can (2002)
The Aviator (2004)
The Assassination of Richard Nixon (2004)
Blood Diamond (2006)
Gardener of Eden (2007)
Body of Lies (2008)
Orphan (2009, as producer)
Shutter Island (2010)
Inception (2010)
Django Unchained (2012)
The Great Gatsby (2013)
Runner Runner (2013)
The Wolf of Wall Street (2013)
The Revenant (2015)
The Audition (2015).
Curiosities
Interestingly, he was nominated for an Oscar five times: Best Supporting Actor for What's Eating Gilbert Grape, Best Actor for The Aviator, Blood Diamond and The Wolf of Wall Street. This generated a lot of jokes and talk of a supposed "curse" in Hollywood. But in 2015, he finally won the award thanks to his great performance in "The Revenant".
It should also be noted that DiCaprio is a committed environmentalist who has received praise from environmental groups for choosing to fly on commercial flights instead of private planes like most celebrities, and for driving an electric hybrid vehicle and having solar panels in his home.