Héctor Lavoe biography
Héctor Juan Pérez Martínez known as Héctor Lavoe was a salsa songwriter and singer recognized for the quality of his music and his unique personality when composing and singing, leading him to have a successful musical career during the 1970s and 1980s.
Lavoe was born on September 30, 1946, in the autonomous municipality of Ponce located in Puerto Rico. He grew up in a family of scarce resources conformed by his mother Francisca Martínez also called Panchita, his sister Priscilla and his father Luis Pérez whom they called Lucho. When he was only 3 years old his mother died, which was one of the biggest blows in the life of the singer.
From a very young age, his father instilled in him a love for music, so much so that at the age of 14 he gave small concerts in his hometown, which paid him an approximate amount of $18 per night, with which he contributed to the needs of his house. In view of the fact that the economy in his family had difficulties and with a view to fulfilling his dream of making money and being famous, being 16 Hector decided to go to New York accompanied by his sister Priscilla. In New York, Hector focused on finding jobs as messenger, trunk, painter, and waiter to get some money.
Later he met a childhood friend named Roberto Garcia who took him to clubs, dance halls and Latin music in the neighborhoods of Lower Manhattan and the Bronx where he gradually began to be recognized for the quality of his music. In 1965 the singer of the singers recorded his first single called "Mi china me botó" in conjunction with the New Yorker band, this song was part of the album Esta de Bala, recorded under the musical label SMC. Hector stayed a few more years in this band playing the maracas and doing some choirs and simultaneously he also sang in other bands of the city such as Alegre all stars and Francisco "Kako" Bastar and his orchestra where he met Johnny Pacheco and Willie Colón, is the second the person with whom soon would begin to record. Since he began his musical duo, Héctor Lavoe and Willie Colón managed to record eleven songs which were highlighted in the albums The good, the bad and the ugly and Vigilante.
Between the years 1967 and 1973 the duo Willie Héctor managed to stand out for productions such as:
The great fugue
Our thing
I will kill them
The trial
Christmas assault (Volumes 1 and 2), of which songs like "Juana Peña," "Barrunto," "Calle Luna, Calle Sol," and "La Murga de Panamá" stood out.
In the year of 1973, Willie Colón made the decision of separating from Héctor looking to dedicate himself only to the musical production and to his family leaving also all his band in charge of the singer of the singers. Nevertheless, a few years later Willie Colón would begin a new stage in the music making a duet with the Panamanian singer Rubén Blades. Although initially Hector felt betrayed by the separation, time helped him to forget this and Willie Colón continued recording with Hector in several of the albums he did as a soloist.
LAVOE AS SOLOIST
Héctor Lavoe's solo career began in 1975, managing to form a base orchestra composed of the majority of musicians who were part of the band he sang with Colón. This orchestra was made up of: Ray Maldonado and Héctor Zarzuela who played the trombones, Tom Malón and José Rodríguez in charge of the trumpets, Mark Dimond who was the pianist, Eddie Rivera the bass player, and José Mangual Jr. the one of the bongos, Milton Cardona who played the congas and Nicky Marrero the timbalero.
His first album as a soloist was called "La Voz" and in this the songs "Rompe saragüey," "Un Amor de la Calle," "Paraíso de dulzura," "Emborráchame de Amor," "Mi Gente" and among other topics that began to consolidate the path to success in the musical career of Héctor Lavoe and thanks to which he won the prize for best vocalist of the year of Latin NY magazine.
For the year 1976 would come a new musical blow in the career of Hector as he released his second album entitled "De Ti Depende" where he highlighted the theme "Periódico de Ayer" (Produced by Tite Curet Alonso) one of the standard themes of the singer and that until today is very popular. In this time the concerts that Hector Lavoe had programmed were a total failure due to his problems of drug addiction that prevented him from complying with the dates established for his live performances; This generated a great depression in the life of the singer which forced him not to fulfill 100% with one of his tours, to be able to undergo a treatment to overcome his problem with drugs.
The third musical production of Héctor in his solo career called "La Comedia" came in the year of 1978, which was highlighted by the participation of Willie Colón and Rubén Blades in his production and where would come the composition of the song "El Cantante" which was the author of the Panamanian singer, and yielded to Héctor Lavoe by conviction of Willie Colón since according to him the lyrics of the song were more in line with the life and musical career of the singer singers. "El Cantante" is still the theme for which Héctor is recognized, from the name of this song comes his banner by which he was always called "The Singer of the singers."
In the course of the 80's, there was an episode difficult in the life of the singer since his apartment in Queens burned down and to save his life he jumped out the window. However, the magnitude of the blow caused him great fractures in his whole body and a long time of disability. Events like this added to the loss of her mother-in-law and her youngest son aggravated again Hector's depressive problems causing him to fall back into drug addiction, leaving behind all the progress he had made in overcoming his addiction.
Even in the middle of his addiction, by the end of the 80s his musical production called "Strikes Back" was released in which songs like Ponce, Loco, the ticket, taxi, the full one, like I'm not going to cry, she lied and plate of the second table and which he interpreted in his later musical tours to the personal problems that he had. In 1988 exactly the singer was diagnosed with acquired immunodeficiency syndrome, which was caused by an infected needle with which he injected drugs. However, he continued with his career giving concerts although he was asked to be at rest.
In this same year another tragic episode arrived in the life of Héctor, since by the depressive crisis with which he came he had a strong argument with his wife and he threw himself from a ninth floor trying to take his own life, fortunately he did not succeed but he had many fractures for the second time in his whole body, which forced him to perform titanium implants to correct them. Hector Lavoe's health was not the best for that time, and his addiction to drugs deteriorated him more and more.
By 1991 when things started to aggravate much more since the singer suffered a stroke that paralyzed his face and finally ended his career because he could not sing more due to his difficulty speaking. It was the beginning of a life where the singer was immersed in abandonment and poverty after his representative at that time David Lugo took advantage of his disability by signing a power that granted him the profits from the sales of his records.
Fortunately, a few months later Lavoe's family was able to win the lawsuit by making it clear that the singer's signature was poorly done in the signed documents. The singer lived his last years in New York where he was presented on concert platforms in which he was honored and his followers saw how each day deteriorated more, until he arrived on June 29, 1993, the day when he died of cardiac arrest. For two whole days, all his followers in New York and other parts of America made a tribute in the "Frank E. Campbell Funeral Home" and later in the burial of his body.
Passed 9 years, exactly in 2002 the remains of the singer were transferred to his hometown Ponce, Puerto Rico, thus fulfilling what he had asked before to die. Hector Lavoe, thanks to the legacy and career that he left, is currently considered one of the greatest salsa singers in the world, thanks to his productions they added a lot of value to the genre and for this reason many monuments have been erected in their honor, always remembered by their people as "The singer of the singers."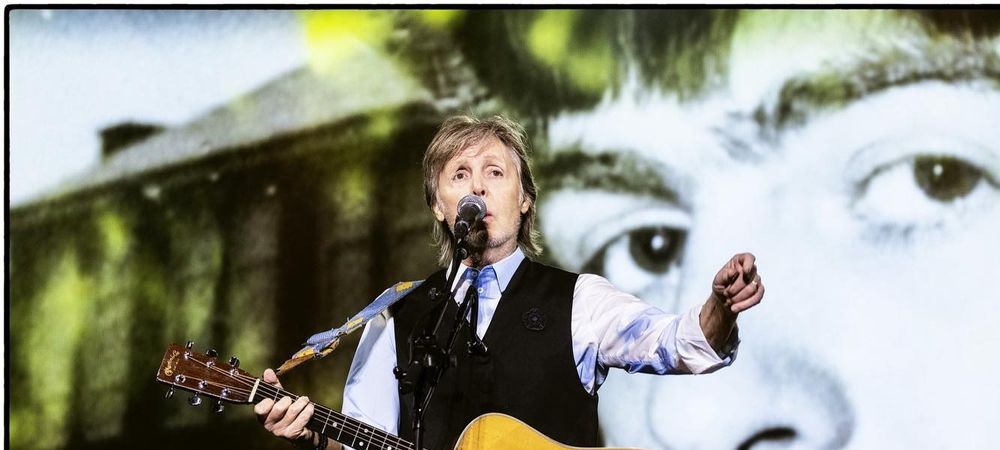 Biography of Paul McCartney
Paul McCartney (born June 18, 1942) is a singer. He was born in Liverpool, England. His mother, Mary Patricia, was a nurse, while his father, James McCartney, was a volunteer firefighter. During Paul's birth, his father was not present as he was fighting in the Battle of England during World War II. Paul grew up in a religious and strict environment, with his mother Catholic and his father Protestant, but later became agnostic. After returning from the war, his father devoted himself to selling cleaning products and, in his free time, played in bars.
Death of his mother
That's why his son developed a deep love for music. He stood out in school for his intelligence and discipline and studied at Liverpool Institute secondary school, a good free secondary school. In 1954, he met George Harrison, with whom he quickly formed a strong friendship. At the time, McCartney's mother was the one who kept the household and for work reasons they moved to Allerton, where they lived until 1964. On October 31, 1956, when McCartney was 14 years old, his mother died from a stroke.
After his mother's death, McCartney was devastated. It took some time for him to return to normal. His father saw music as a refuge to help his son feel better, so he took him to listen to the Jim Mac's Jazz Band, where his father played trumpet or piano. He also gave him a trumpet, but when rock and roll became popular, he chose an acoustic guitar. The first song he composed was "I Lost My Little Girl" on that guitar, a Zenith. He also composed "When I'm Sixty-Four" on the home piano.
1957 – Met John Lennon
He met Lennon on July 6th, 1957. McCartney joined The Quarrymen, a school band led by Lennon, in 1958 as the lead guitarist. The band mixed rock and roll and skiffle, a popular music style, with jazz and blues. After several name changes, the band decided to call themselves The Beatles in August 1960 and recruited drummer Pete Best for their move to Hamburg. In 1961, one of its members, Sutcliffe, left the band and McCartney was forced to take over as bassist. They recorded as a backing band for English singer Tony Sheridan on the single My Bonnie.
1963 – "Beatlemania"
They managed to attract the attention of Brian Epstein, who became their manager in January 1962 and a key figure in their later success. With their first hit, "Love Me Do" in 1963, the "Beatlemania" began. John Lennon and Paul wrote a large number of songs together, but later their egos collided and they preferred to write separately. In 1970, The Beatles disbanded. But Paul continued his successful career with songs that reached number one. He recorded his first solo LP, "McCartney", with songs very different from those that Lennon would write, with commercial melodies for varied tastes.
1980 – Paul McCartney Guinness Records
In 1980, he entered the Guinness Book of Records as the highest-selling songwriter in the world. His theme Yesterday, one of the most celebrated by The Beatles, has around 2,500 versions in the most diverse musical styles. Some of his solo hits are: Uncle Albert/Admiral Halsey, Live and Let Die for the James Bond film received the Oscar for best musical theme; Coming Up from his solo album Paul McCartney II. He joined George Martin and Ringo Starr in 1982 for the recording of Tug of War. On Press to play, his next album, was recorded with Eric Stewart.
Awards, arrest, record.
Winner of 18 Grammy Awards, including two Lifetime Achievement Grammy Awards (one with the Beatles and another as a solo artist). He is a vegetarian and an animal rights advocate. He was arrested for marijuana possession in Tokyo in 1980 and was briefly in jail. He participated in the "Live Aid" concert against hunger in Ethiopia in 1985. In 1990, he achieved the record for the largest attendance at a concert with 184,000 people in Rio de Janeiro. Since 1997 he is Sir Paul McCartney, invested as a knight by Queen Elizabeth II.
2013 – Other awards, marriages.
On February 10, 2013, he received a Grammy for "Best Traditional Pop Album" for his album "Kisses On The Bottom". Later, he received a special award from PRS for Music in commemoration of the 50th anniversary of the composition of his most famous song, "Yesterday". These songs, as well as "And I Love Her," "You Will Not See Me," and "I'm Looking Through You," were written inspired by his relationship with British actress Jane Asher. After five years of engagement, the couple broke up due to his infidelity with Francie Schwartz. He married Linda Eastman on March 12, 1969, and together they formed the musical group Wings after the dissolution of the Beatles. In 1999, he presented his collection of poems entitled "Blackbird Singing: Poems and Lyrics (1965-1999)". After the death of his wife, McCartney experienced deep sadness.
In 2002, Paul McCartney married former model Heather Mills in an Irish castle. After a long legal battle in the London Supreme Court, in 2008 Mills was authorized to collect one fifth of the 250 million dollars she had demanded from McCartney for their four-year marriage. In 2011, McCartney married Nancy Shevell in a civil ceremony in London on October 9th of that year.
Relevant aspects of his life and musical career
With 60 gold records and the sale of over 100 million albums and singles as a solo artist and with The Beatles, McCartney is recognized as one of the most successful composers and artists of all time.
As a solo artist in 1999 and as a member of The Beatles in 1988, he has been inducted into the Rock and Roll Hall of Fame twice.
As a solo artist and with The Beatles, he has been recognized with twenty-one Grammy Awards.
32 of the songs that McCartney has written or co-written have reached number one on the Billboard Hot 100.
As of 2014, he had sold over 15 million certified units by the RIAA in the United States.
In 1997, McCartney was elevated to the rank of knight for his services to music.
In 1965, McCartney, Lennon, Harrison and Starr were named members of the Order of the British Empire.
He has been married three times and is the father of five children.
He has participated in projects to help international charities related to issues such as animal rights, seal hunting, landmine cleaning, vegetarianism, poverty and musical education.
He ranks 11th on Rolling Stone's list of 100 Greatest Singers.
He ranks first on Rolling Stone's list of 100 Greatest Artists as a member of The Beatles.
He ranks third on Rolling Stone's list of 100 Greatest Bassists.
Only surpassed by Bob Dylan, he ranks second on Rolling Stone's list of 100 Greatest Songwriters.