Henri Rousseau Biography
Henri Julien Félix Rousseau (May 21, 1844 – September 2, 1910) was born in Laval, France. Painter, considered one of the key figures of the naive artistic current, a style that was characterized by naivety and spontaneity exposed in his works. Rousseau became known in the Parisian artistic environment in the mid-1880s, at which time his work was exhibited in the Hall of Independents, where the works of great post-impressionist artists such as Georges Seurat, Paul Signac, Edgar Degas, Camille Pissarro, and Paul Gauguin, were exhibited, among others.
Due to his humble origin, he could not train academically as an artist. However, with discipline and effort, he learned in a self-taught way, managing to develop his talent without specialized training. Before devoting himself fully to painting, he worked as an employee of the arbitrary, a profession that was inspired by his nickname, The Customs. Among his most recognized works are The War (1894), The Sleeping Gypsy (1897) and The Snake Charmer (1907).
Early years
He was born in a humble family, attended his academic studies while doing small jobs. During his youth he enlisted in the army, being part of it for four years. In the 1870s, he was on the battlefield due to the outbreak of the Franco-Prussian War, after the death of his father was sent home. In 1871 he settled with his wife, Clémence Boitard in Paris, a city where he began working as an employee of the arbitration, municipal tax office that is responsible for collecting taxes. While working he began to be interested in poetry, music, and art, passionate about them, but without being able to pay for his studies, he learned everything necessary in a self-taught way.
Artistic career
Since the end of the 1870s he began painting and drawing, subsequently came into contact with the Parisian artistic environment, drawing the attention of some post-impressionist artists. In 1886, his first known work, The Carnival of Animals, was exhibited, in which the influence of academic painting and its detailed representation is perceived, in this use intense colors and moderate shades. This application of colors is one of the characteristics of Rousseau's works.
In the 1890s, he retired from his work to focus on his artistic production, by then his work had been ridiculed. However, he began to gain the attention of the public and the impressionist and post-impressionist artists after the publication of a series of works in which the naive style is reflected, of which it is one of the greatest exponents.
The first work of this series was the portrait titled, Myself: Portrait-Landscape (1890), followed by Tiger in a tropical storm (1891), a painting in which he used intense colors to represent the hard moment a tiger was going through when facing a tropical storm; a short time later he presented Centennial of Independence (1892), a work that illustrated the celebration of the anniversary of independence.
Two years later, he painted The War (1894), a painting that alluded to the horrors of war, in which you can see a field covered with bodies and a wild-looking floor; the rawness of the theme contrasted with the naive style of the painting. These works caught the attention of the impressionist Degas and the primitive post-impressionist Gauguin, among other artists of the same artistic environment. The following year he presented Boy on the Rocks (1895), followed by The Sleeping Gypsy (1897), one of his best-known works, in this, the painter illustrated a lady lying next to a lion in an unreal environment, which refers to the dream world, thematic that was frequently addressed in his works.
In the early years of the twentieth century, Rousseau's work was admired and widely recognized, among his most prominent admirers are Pablo Picasso and Guillaume Apollinaire, a writer who appreciated the poetic way in which he expressed himself in his paintings. In the mid-1900s, Rousseau began painting a series of jungle scenes, which attracted public attention for attention to detail and the use of bright colors, among these stand out hungry lion attacking an antelope (1905), The Merry Jesters (1906) The Snake Charmer (1907), The Equatorial Jungle (1909), Mandrill in the Jungle (1909) and The Dream (1910). In these, the painter referred to the lost natural paradise, represented as an exotic world. These works profoundly influenced the naive artistic current and other imaginative currents that subsequently emerged.
For this same period, he painted various portraits, urban scenes and scenes of everyday life such as weddings and sporting events, among these are: The girl with a doll (1905) and The Football Players (1908). His last work was The Dream (1910), a painting in which he illustrated the exotic dream of a young woman resting on a sofa; This work is connected with Snake Charmer and her works on jungle scenes.
In the last years of his life, his career was hampered by the rise of primitivism. After a career of highs and lows, Rousseau died on September 2, 1910.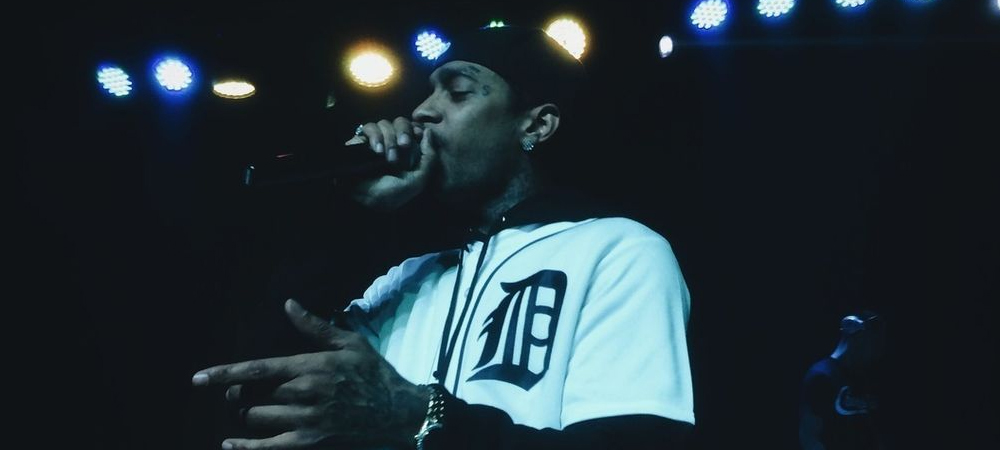 Nipsey Hussle Biography
Ermias Asghedom (August 15, 1985 – March 31, 2019), better known as Nipsey Hussle, was an American rapper, businessman, and community activist, who rose to fame in 2018 with his debut album Victory Lab. Nipsey began his career towards the mid-2000s releasing several successful mixtapes such as Slauson Boy Volume 1, Bullets Ain't Got No Name series and The Marathon. His fame came to him, along with his first Grammy nomination, with his debut album in 2018. He had previously created his label All Money In No Money Out (2010).
Following his death, he received two posthumous Grammys for the songs Racks in the Middle and Higher. He was known for his social work on behalf of the Crenshaw community.
Early years
He was born in Los Angeles, United States, on August 15, 1985. Son of Angelique Smith and Eritrean immigrant Dawit Asghedom, he grew up in Crenshaw, a neighborhood located south of Los Angeles, with his siblings Samiel and Samantha. He attended Hamilton High School but dropped out before graduating. Since he was little he looked for a way to help around the home, so over time, he began to work selling different products on the street.
After leaving school he became involved in the world of gangs, however, he turned away from it when he realized that it was not what he expected for his future. Decided then to dedicate himself to music, he sold everything that linked him to the gangs and worked for a time to buy his own production tools. After finishing his studies, he began to write and produce his own mixtapes, which he sold from a car. After finding inspiration from a trip he took to Eritrea with his father and spending time in prison, Nipsey turned fully to his career and business. He always looked for ways to start and help the community in which he grew up: giving jobs, helping students, renovating public spaces, etc …
Community activist
Nipsey was admired for his work at Crenshaw because instead of moving or investing in hedge funds, he preferred to help the community by boosting the local economy.
Career
In late 2005, Nipsey Hussle released his first mixtape, Slauson Boy Volume 1, independently, to great local success. By then he already had a fan base at the regional level, so it took him a while to sign a contract with the Epic Records and Cinematic Music Group labels. Later, the first volumes of the Bullets Ain't Got No Name series appeared, with which he expanded his popularity. Burner on My Lap, Ridin Slow, Aint No Black Superman, Hussle in the House and It's Hard out Here, were some of the songs included in the series.
By 2009, Nipsey would make a name for himself collaborating with Drake on Killer and with Snoop Dog on Upside Down. He also released Bullets Ain't Got No Name vol.3 and in 2010, he left Epic and opened his own label All Money In No Money Out. Under this label, he would soon release The Marathon, a mixtape in which hits such as Love ?, Mr. Untouchable, Young Rich and Famous and Late Nights and Early Mornings appeared. He also created The Marathon Clothing at that time, a sports and casual clothing brand that was based in his neighborhood. He then released the mixtape The Marathon Continues (2011), participated in the We Are the World 25 for Haiti campaign, and was featured in the popular XXL Magazine Annual Freshman Top Ten.
In 2013 came Crenshaw, a mixtape that would become famous because Jay-Z himself bought 100 copies for $ 100 each.
Victory Lap
After many delays, Nipsey would release his long-awaited debut album Victory Lap, on February 16, 2018, to great success. It was praised by critics and received a Grammy nomination for best rap album of the year. It was such a success that many singles entered the Billboard and Itunes charts. However, Nipsey did not enjoy much fame.
Death
Hussle was assassinated on March 31, 2019, outside his store in South Los Angeles. He was shot multiple times by a man he had previously clashed with, he was arrested and charged with murder on April 2 of the same year. After his death, many personalities expressed the pain caused by the news. It is worth mentioning that the Mayor of Los Angeles himself gave his condolences to the family, recognizing Hussle's social work in Crenshaw.
He was the partner of actress Lauren London and was the father of two children.
Sales strategies and greatest hits
Hussle was known for his sales strategies, since, he used to upload his singles in free download and then sell some limited editions for a cost of 100 to 1000 dollars. It promoted the sale of his work with campaigns such as Proud2Pay and Mailbox Money, in which he gave special incentives (autographed photos, dedication calls, tickets to his studio, and special events) to buyers. His revolutionary ideas promised him a fruitful career.
Some of his greatest hits
Rose Clique
Forever On My Fly Shit
Thas Wat Hoes Do Proud of That (with Rick Ross)
Face the world
Bless, 1 of 1
Where Yo Money At
Fuck Donald Trump
Higher
Young Rich and Famous