Ariana Grande Biography
Ariana Grande-Butera is an American actress, singer, and model. She was born on June 26, 1993, in Boca Raton, Florida, and is the daughter of Edward Butera and Joan Grande. Ariana also has the Italian and British nationality. Since she was a girl she suffered from hypoglycemia, so she has to eat sweets to strengthen her energies.
In her childhood, Ariana Grande played the character of "Annie" at the children's theater in Fort Lauderdale, which was her first role, she also participated in other musicals such as The Wizard of Oz and Beauty and the Beast.
In 2001, during a vacation with her family on a cruise, she sang in a karaoke room, where she was heard by Gloria Estefan, who advised the girl to continue in music, as she had all the skills to be a star. She sang for orchestras such as South Florida's Philharmonic, Florida Sunshine Pops, and Symphonic Orchestras, and debuted on national television with the United States anthem for the Florida Panthers.
For the year 2005, she auditioned for the musical Broadway 13 with the character of Charlotte. There she managed to win the first recognition of her career when the National Youth Theater Association Awards recognized her the award for best-supporting actress, recognizing her excellent performance in the musical.
Later, Ariana Grande auditioned for the Nickelodeon series, "Victorious" which began recording in 2008 and was released on March 27, 2009, where the girl played Cat Valentine.
After finishing the first season of Victorious, Ariana Grande focused more on music and started working on her first album. To strengthen her vocal strength, she started working with vocal coach Eric Vetro. She worked on several recordings, where she played songs by Adele, Whitney Houston, and Mariah Carey, which she uploaded to YouTube. A friend of Monte Lipman, director general of Republic Records, saw one of Ariana's videos and was shocked with her voice, so he sent the links to Lipman, who managed to get the singer to sign a record deal with his record label.
In December of 2010, she released her debut single "Put Your Hearts Up" which she did not like because of the bubblegum pop sound since she had no interest in recording music of that genre. That same year, she lent her voice to the character of Princess Diaspro, in eleven episodes of the Nickelodeon animated series, "Winx Club."
For the year 2011, the Nickelodeon channel created a series called Sam & Cat, which was starring Ariana Grande and Jennette McCurdy, where she played the characters of Cat Valentine and Sam Puckett respectively.
On November 17, 2012, Ariana Grande released her first album titled "Yours Truly" which debuted in the first position on Billboard 200, thanks to sales that exceeded 138 thousand copies in its first week. After the success of the album, Ariana became the first female artist to debut with an album in the first position of the Billboard 200, something that had not happened since 2009, she was also the fifteenth female artist in the history of the music industry in achieving this positioning.
On March 26, 2013, she released the first single of her debut album, titled "The Way" this time with the collaboration of rapper Mac Miller. The song reached the ninth position of the Billboard Hot 100.43 count and was also certified with several platinum records in the United States, which was the first success of the artist.
The Billboard 21 Under 21: Music's Hottest Minors 2013 list placed Ariana Grande in the fourth position, being one of the youngest girls under 21 years old. On November 24 of that year, she made a presentation at the American Music Awards 2014, where she performed the song "Tattooed Heart."
For the month of January 2014, she worked on her second album with Ryan Tedder and Benny Blanco; at that time, she also won the People's Choice Awards in the category favorite revelation artist. On March 4 of that same year, the president of the United States Barack Obama and the first lady Michelle Obama invited the artist to sing at a special concert organized at the White House. She was also awarded as the revelation artist of the year by the Music Industry Association, thanks to her musical success in 2012.
She published her second album titled "My Everything" on August 25, 2014, which was in the first position of Billboard 200. The album was successful and very well criticized. One of the most successful singles on the album was "Problem" which she recorded with the rapper Iggy Azalea and with which she won several platinum albums for the RIAA, and received certifications from ARIA, IFPI, GLF, and RMNZ, among other awards. On July 29 of that same year, "Bang Bang" was released, a song where Ariana collaborated with Nicki Minaj and Jessie J.
On August 21, 2014, Ariana Grande was placed in the first position of the Billboard Artist 100 list, being the first woman to get the first place in the list. Around that time, she announced her first world tour called The Honeymoon Tour. Later, she appeared at the MTV Europe Music Awards, where she opened the ceremony singing his hits "Problem" and "Break Free." In addition, she won the prize for the best female artist and the best song for "Problem." Also, she made a presentation at the Bambi Awards held in Germany, in that gala she received the award for the best new artist. A year later, Ariana appeared at the Grammy Awards of 2015 performing "Just a Little Bit of Your Heart" where she received two nominations. After a while, she paid tribute to Stevie Wonder in a special concert organized by the Grammy. It was also confirmed that Ariana Grande would be part of the cast of the new Fox series, "Scream Queens." On May 20, 2016, Ariana Grande released her third album titled "Dangerous Woman."
THEATER
2008: Musical 13.
2016: Hairspray Live.
FILMOGRAPHY
2011: Snowflake, the White Gorilla (Voice).
2013: Swindle.
2015: Underdogs (Voice).
2016: Zoolander 2.
TELEVISION
2009: The Battery's Down.
2010-2013: Victorious.
2011: iCarly.
2011-2013: Winx Club.
2013-2014: Sam & Cat.
2014: Family Guy (Voice).
2015: Scream Queens.
DISCOGRAPHY
Yours Truly: 2013.
My Everything: 2013.
Christmas Kisses: 2013.
Love Me Harder: 2014.
The Remix: 2015 (Compilation released only in Japan).
Christmas & Chill: 2015.
Dangerous Woman: 2016.
BEST KNOWN SINGLES
2013: The Way.
2013: Baby
2013: Right There (with Big Sean).
2014: Problem (with Iggy Azalea).
2014: Break Free (with Zedd).
2014: Bang Bang (with Jessie J and Nicki Minaj).
2014: Love Me Harder (with The Weeknd).
2014: Santa Tell Me.
2015: One Last Time.
2015: Focus.
2016: Dangerous Woman.
2016: Into You.
2016: Side to Side (with Nicki Minaj).
2017: every day (with Future).
2017: Beauty and The Beast (with John Legend).
AWARDS
American Music Awards Award for New Artist of the Year: 2013. Billboard Mid-Year Music Awards Award for Best New Artist: 2013. MTV Video Music Awards Award for Best Pop Video, for Problem: 2014.
Billboard Mid-Year Music Awards Award a Best televised presentation: 2014.
Billboard Woman In Music Award to rising star: 2014.
Bambi Awards Award for Best New Artist: 2014.
iHeartRadio Music Awards Award to Young Influence: 2014. American Music Awards Award to Favorite Female Artist Pop / Rock: 2015.
ASCAP Pop Music Awards Award for Most Performed Song, for "Problem": 2015.
ASCAP Pop Music Awards Award for Most Played Song, for "Bang Bang": 2015
iHeartRadio Music Awards Award for Collaboration of the Year, by Bang Bang together to Jessie J and Nicki Minaj: 2015.
American Music Awards Award to Artist of the Year: 2016.
ASCAP Pop Music Awards Award to Most Performed Song, for "Love Me Harder": 2016.
CelebMix Awards Award for Best Female Artist: 2016.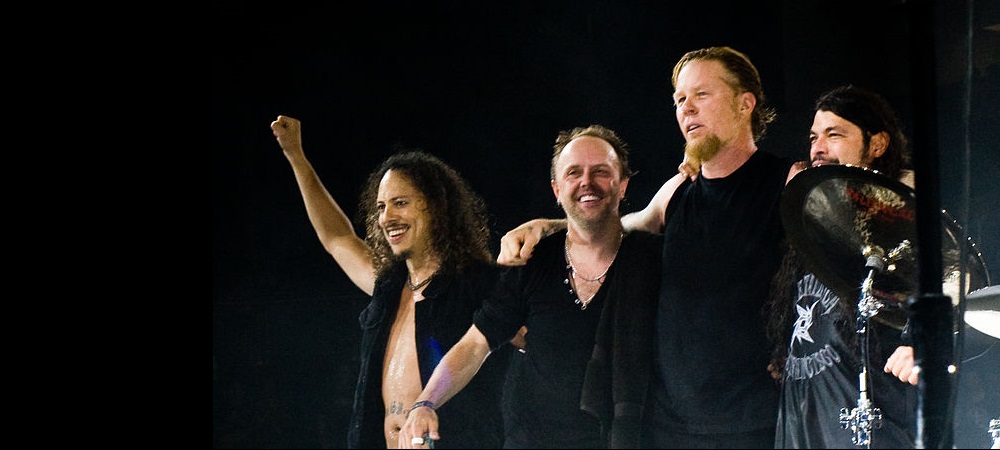 Metallica history
Metallica is an American thrash metal band from Los Angeles and based in San Francisco. It is considered one of the leading groups in the subgenre and throughout its 35-year career it has won numerous awards, including 9 Grammys, 2 American Music Awards, 2 MTV awards, 2 Billboard awards, and a star on the Hollywood Walk of Fame.
1980 – Beginnings
The history of the band begins in 1980 when Lars Ulrich, the son of tennis player Torben Ulrich, placed an ad in the magazine Recycler looking for a guitarist for a metal band influenced by the British New Wave of Heavy Metal. James Hetfield responded to the ad and joined Ulrich as the first members of the band. Ron McGovney joined as bassist and Lloyd Grant as lead guitarist. With this first formation, the band recorded its first demo, Hit the Lights, considered one of the first thrash metal songs. However, they soon realized that the lineup was not working and Lloyd was replaced by Dave Mustaine.
Despite the early disastrous performances due to the lack of experience of the members, the band continued and released No Life 'till Leather, showing a more aggressive sound. Additionally, Ron McGovney was replaced by Cliff Burton as bassist and Dave Mustaine was replaced by Kirk Hammett due to his alcohol addiction. Since then, James Hetfield has taken on both the role of rhythm guitarist and singer.
1983 – Release of 'Kill 'Em All'
With this new lineup and having Johnny Zazula as their manager, the band released in 1983 Kill 'Em All, which gained notoriety in the metal scene and sold more than 300,000 copies. After a tour of the United States and a concert in Holland where they reached their largest audience to date, with 5,000 people, the band released the album Ride the Lightening with Megaforce Records in 1984, which received critical acclaim for its melodic sound.
"1991 – Release of the 'The Black Album'"
After this work, the band released Master of Puppets in 1986 and embarked on a promotional tour that was cut short by an accident in which the bassist Cliff Burton died. After reflecting on their future, the band incorporated Jason Newsted and recorded …And Justice for All, an album with a denser sound that, despite its commercial success and a Grammy nomination, received criticism for being unoriginal and moving away from heavy metal. However, it wouldn't be until the release of their album Metallica in 1991, known as The Black Album, that they reached great success, selling half a million copies in the first week of sales in the United States and reaching the top of the Billboard chart. This work led to two similar albums, Load in 1996 and ReLoad in 1997, which received negative reviews for their proximity to alternative rock and their distance from traditional heavy metal, disappointing their older fanbase.
"2001 – Documentary, Tours, Awards"
In 2001, Jason Newsted left the band and Metallica struggled to find a suitable replacement for some time. Therefore, they had to record their next album, St. Anger, with their producer Bob Rock playing bass. However, Robert Trujillo soon joined the band's lineup. Three years later, the documentary Some Kind of Monster was released, which portrays the recording process of the last album and the internal conflicts that the band had with Dave Mustaine. After a tour in 2006 in which they played Master of Puppets again to celebrate its 20th anniversary, and the release of a compilation of their videos titled The Videos, Metallica was inducted into the Rock and Roll Hall of Fame. Later, they released Death Magnetic in 2008 and the conceptual album Lulu in 2011, which was poorly received by their fans. In 2012, the band founded their own record label, Blackened, and performed a concert in Antarctica to raise awareness about polar melting and environmental crisis. In 2016, they released Hardwired… to Self-Destruct. Currently, the band is still active.