| | |
| --- | --- |
| Biography in other languages | |
Biography of Cleopatra
Cleopatra (69 BC – August 12, 30 BC) was the last Queen of Egypt, belonging to the Ptolemaic dynasty. She was born in Alexandria, Egypt. Her father was Ptolemy XII and her mother was Cleopatra V Tryphena. Cleopatra married her brother Ptolemy XIII, as a strategy to maintain the reign, then they both inherited the throne in 51 BC. Cleopatra is said to have possessed exceptional beauty. Her father was not well-liked by his people as he showed little interest in the problems of the Egyptian people, He was a corrupt ruler who squandered the kingdom's money on lavish parties.
She was able to maintain her throne thanks to the Roman help she received in exchange for her continuous bribes and promises of various tributes. The Romans supported the king because he promised them easy access to the gold and wealth of Egypt. In each conflict, Rome played the role of arbitrator in the popular uprising, Ptolemy, went to Rome in search of military aid to suppress it. His wife Cleopatra and one of her daughters were left as regents of the country, then his wife died. The Alexandrians placed Queen Berenice IV on the throne and sent a delegation to Rome to arbitrate the conflict between father and daughter.
Soon after, Ptolemy XII was able to defeat the army of Archelaus, second husband of Berenice IV, and was returned to the throne. To ensure power, he had his daughter Berenice executed, it was the year 55 BC. The king died four years later, leaving the throne to his daughter Cleopatra VII Philopator and his son Ptolemy XIII Dionysus II. Cleopatra was the first of this dynasty to learn to speak the Egyptian language; she also learned Greek, Hebrew, Syrian and Aramaic and possibly Latin. She was also educated in literature, music, political science, mathematics, astronomy and medicine.
The situation in Egypt was becoming worse, farmers suffered severe famines, the Egyptian currency was weakening and the slow bureaucracy was hindering recovery: the country was becoming increasingly dependent on Rome. In response, farmers staged uprisings and created bands of outlaws that caused great harm; Additionally, the royal family also did not have good relations. Her younger sister Arsinoe, disagreed with her policy of helping the Romans and wanted to reach the throne. Ptolemy XIII, very young and manipulable, was practically handled by three advisors who forced him to expel his sister from the throne by overthrowing her with a command led by his advisors Potino and Aquilas.
Cleopatra attempted to regain power, gathering a good army for this purpose, although she did not succeed. Soon conflicts broke out between the two brothers and spouses, which led to the overthrow of Cleopatra. However, when the Roman civil wars began: Julius Caesar went to Egypt and helped Cleopatra in the conflict with her brother. During the Alexandrian War, both Pompey and Ptolemy XIII died, and the legendary Alexandria Library was burned.
Cleopatra was first and foremost a solution for Julius Caesar, and also his lover, she tried to use her influence over Caesar to restore Egypt's hegemony in the Eastern Mediterranean as an ally of Rome; the situation intensified when she had a son with Julius Caesar: Caesarion. When Julius Caesar was assassinated in 44 BC, Cleopatra attempted to seduce his immediate successor: consul Mark Antony. Being allies, they imposed their force in the East, creating a new Hellenistic kingdom that managed to conquer Armenia in 34.
Cleopatra, in addition to being a skilled ruler, was also known for her beauty and intelligence. She was fluent in several languages, including Egyptian, Greek, Hebrew, Syrian, and Aramaic, and was well-educated in literature, music, politics, mathematics, astronomy, and medicine. She used her charm and wit to strategically seduce powerful men in order to maintain control of her kingdom. She had a son, Cesarian, with Julius Caesar and later became the lover of Mark Antony. However, after the defeat of their alliance and the death of Antony, she was captured by Augustus and brought to Rome as a war trophy.
In the face of this situation, Cleopatra had herself bitten by an asp to end her life. Augustus took advantage of the situation to also murder her son Cesarión, thus extinguishing the Ptolemaic dynasty and later annexing Egypt to the Roman Empire. Cleopatra's life inspired many writers, painters, sculptors and filmmakers. For example, between 1540 and 1905, over 200 plays, five operas and five ballets emerged. Let's mention some important literary works: Cleopatra and Mark Antony (1606) by William Shakespeare, All for Love (1678) by the Englishman John Dryden and Caesar and Cleopatra (1901) by George Bernard Shaw. Even one of the comics of the popular Asterix the Gaul was dedicated to her.
Cleopatra has been the subject of many paintings and sculptures. Additionally, her life has been depicted in films, such as Cléopâtre (1899) and the famous and controversial 1963 production directed by Joseph L. Mankiewicz: Cleopatra, starring Elizabeth Taylor. Another production, Marco Antonio y Cleopatra was released in 1972. A more recent, less ambitious film was Cleopatra (1999). Later, the British Museum dedicated an exhibition to Cleopatra, sparking an interesting debate about her beauty.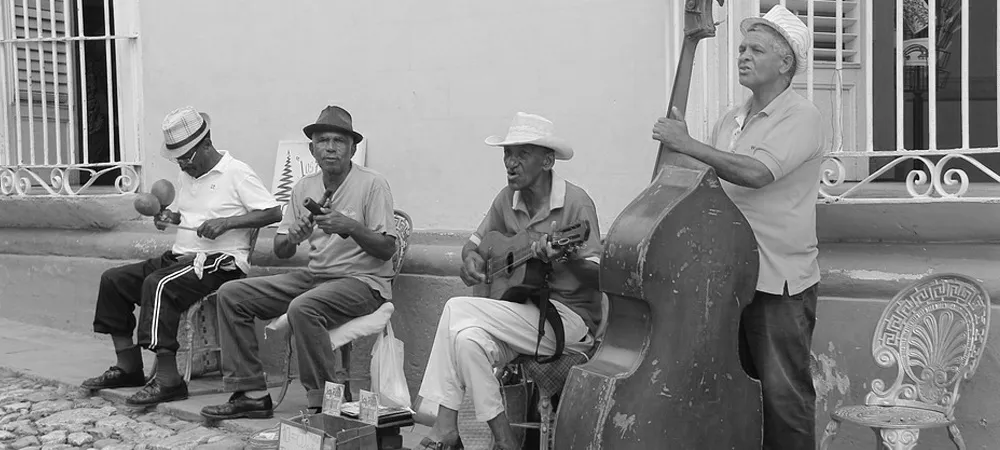 History of Salsa
Salsa is a musical genre that emerged in the late 1960s as a result of the fusion of Cuban son and other genres of Caribbean music, such as jazz and other American rhythms. Currently, there are various varieties of salsa, including Puerto Rican, Dominican, Colombian, Venezuelan and from other countries in Latin America. This music was mainly developed by Cuban and Puerto Rican musicians in the Greater Caribbean and the city of New York.
origins of salsa
The origins of salsa can be traced back to the 16th century in Cuba, where the Hispanic music brought by Spanish conquerors and the music brought by African slaves merged to create a wide variety of musical rhythms. Among these Afro-Cuban rhythms, the Cuban son, chachachá, mambo, son montuno, guaracha, guaguancó and charanga stand out. However, it is the Cuban son that constitutes the musical foundation of what we now know as salsa.
"Salsa and politics do not mix." Hector Lavoe
After World War II, there was a large migration of Latin Americans from different countries in search of a better way of life. These people settled in New York in a marginal area of Upper Manhattan known as "the neighborhood". It was in this environment that, at the end of the 1960s, the identity of a new Latin generation began to take shape and find its cultural voice through the musical current that we now know as salsa.
The Fania All Stars
In 1967, Italian-American businessman Jerry Masucci and Dominican flutist Johnny Pacheco, together with the Fania Records label, gave rise to the "Fania All Stars". Pacheco's idea was to bring together all the stars at Fania, a salsa project considered the largest and most successful in the history of salsa. Pacheco achieved what he had long desired, bringing together the voices of the greatest representatives of Latin music at the time, including Johnny Pacheco, Cheo Feliciano, Hector Lavoe, Willie Colon, Ricardo Ray, Bobby Cruz, Bobby Valentín, Ray Barreto, Mongo Santamaría, Justo Betancourt, Ismael Miranda, Rubén Blades, Pete Rodríguez, Roberto Roena, Nicky Marrero, Larry Harlow, Richie Ray, Hector Zarzuela, Yomo Toro and invited artists such as Tito Puente, Celia Cruz, and Eddie Palmieri.
Fania marked a before and after in the history of salsa with its concerts on five continents, which brought this musical genre to the forefront with the greatest artists of the moment.
Commercialization of salsa
In the 1970s, Johnny Pacheco and Jerry Masucci made the commercialization and marketing of salsa possible. This is how Latin music was exported not only to the European market, such as France, England, Spain and Italy, but also to Africa, Japan, Germany and the Scandinavian countries.
In August 1971, a meeting of all the label's stars took place at the Cheetah club in New York, owned by Ralph Mercado, the company's manager. From this important meeting came numerous records and a film, "Our Latin Thing", which was very successful throughout Latin America. Five years later, Fania signed a distribution contract with the CBS company, trying to launch itself into the conquest of the English-speaking market.
During these years, some of the greatest hits in the history of salsa emerged, namely: "Anacaona" (1971) by Cheo Feliciano, "Llegó la banda" by Enrique Lynch and his ensemble, popularized by Hector Lavoe; "Quimbara" by Celia Cruz and Johnny Pacheco; "Llorarás" by Oscar de León; "El preso" by Fruko y sus Tesos; "Pedro Navaja" by Willie Colón and Rubén Blades. Previously, in 1969, Willie Colón and Hector Lavoe had recorded "Che Che Cole", a song that would be considered a classic of salsa.
Fusions and new rhythms
During the 1980s and 1990s, new instruments, methods and musical forms (such as Brazilian songs) were adapted to salsa. In addition, new musical styles such as romantic salsa emerged and became popular in New York. This new manifestation of salsa was quickly assimilated by Puerto Rican artists such as Frankie Ruiz, Marc Anthony, Eddie Santiago and Cubans like Dan Den.
Salsa became an important part of music in countries such as Cuba, Puerto Rico, Colombia, Dominican Republic, Venezuela, Panama and distant countries like Japan. In the latter country, the Orquesta de la Luz emerged in 1990, which gained some popularity in Latin America by singing salsa songs in Spanish, Japanese and English.
"Dancing salsa is like raising the dead. It's not just about listening. To enjoy salsa, you have to shed your inhibitions". – Johnny Pacheco
From the late 1980s to the mid-1990s, after the boom of romantic salsa, sensual or erotic salsa took over the scene. Its main exponents were Eddie Santiago, Frankie Ruiz, Lalo Rodríguez, David Pabón, Willie González and Luis Enrique. Eventually, sensual salsa lost its popularity to the strong impulse of other Caribbean rhythms such as bachata and merengue. By then, salsa had already lost many of its great strongholds, including the deceased Hector Lavoe and Ismael Rivera. The new century brought a resurgence of hard salsa and old school, as in the case of Orquesta La 33 or the return of the trombone with Jimmy Bosch.
Origin of the term
In 1933, Cuban musician Ignacio Piñeiro used a related word for the first time in a Cuban son called "Échale Salsita" and in the mid-1940s, Cuban Cheo Marquetti emigrated to Mexico. Upon returning to Cuba, influenced by the spicy salsa in food, he used that name for his group: Conjunto los Salseros. In 1957 he traveled to Caracas, Venezuela, to give concerts and it was there that the word "salsa" began to be used on the radio.
With the start of the 21st century, salsa became one of the most important forms of popular music in the world.
Great figures of salsa
Celia Cruz
Isaac Delgado
Rey Ruiz
Tito Gómez
Willie Colón
Tito Puente
Frankie Ruiz
Marc Anthony
Maelo Ruiz
Willy Rivera
Josimar
Lucho Macedo
Cheo Feliciano
Willie González
La India
El Gran Combo de Puerto Rico
The Lebron Brothers
Héctor Lavoe
Víctor Manuelle
Ismael Miranda
Tito Nieves
Ismael Rivera
La Sonora Ponceña
Oscar D'León
Joe Arroyo
Fruko y sus Tesos
The Latin Brothers
Grupo Niche
Wilson Manyoma
Curiosities
Due to their lyrics and movements, salsa was prohibited in Spain during the dictatorship.
The steps and figures specific to salsa are based on many of the dances that African slaves brought to the Caribbean.
The Cuban and Cali styles are the most popular within the world of salsa.
The members of the Fania All Star had fame comparable to that of the Beatles.
The city of Cali, Colombia, is known as the World Capital of Salsa, as it is the birthplace of groups and orchestras such as Grupo Niche, Orquesta Guayacán and interpreter Willy García.