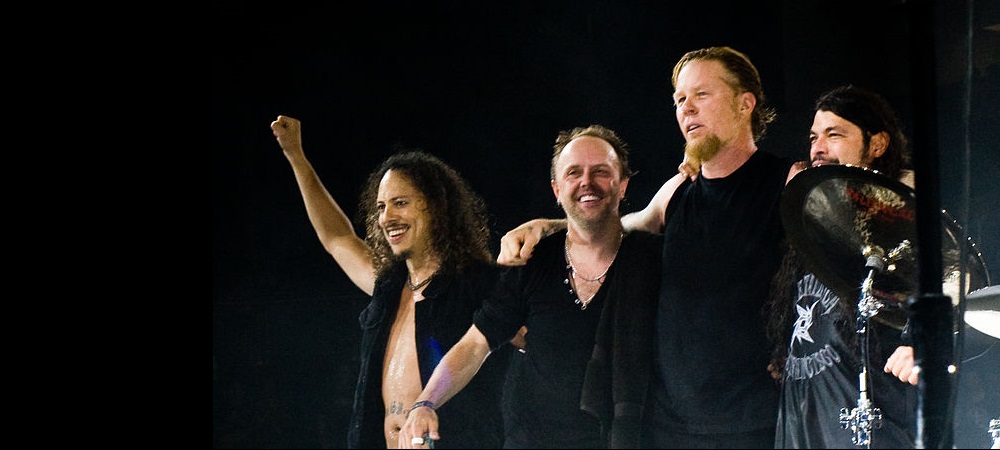 Band
Metallica
Origin
Los Angeles, California, United States
Genders
Heavy metal, Thrash metal, Speed metal, Hard rock
Members

Lars Ulrich
James Hetfield
Kirk Hammett
Robert Trujillo​

Former members

Ron McGovney
Dave Mustaine
Cliff Burton
Jason Newsted

Biography in other languages
Metallica history
Metallica is an American thrash metal band from Los Angeles and based in San Francisco. It is considered one of the leading groups in the subgenre and throughout its 35-year career it has won numerous awards, including 9 Grammys, 2 American Music Awards, 2 MTV awards, 2 Billboard awards, and a star on the Hollywood Walk of Fame.
1980 – Beginnings
The history of the band begins in 1980 when Lars Ulrich, the son of tennis player Torben Ulrich, placed an ad in the magazine Recycler looking for a guitarist for a metal band influenced by the British New Wave of Heavy Metal. James Hetfield responded to the ad and joined Ulrich as the first members of the band. Ron McGovney joined as bassist and Lloyd Grant as lead guitarist. With this first formation, the band recorded its first demo, Hit the Lights, considered one of the first thrash metal songs. However, they soon realized that the lineup was not working and Lloyd was replaced by Dave Mustaine.
Despite the early disastrous performances due to the lack of experience of the members, the band continued and released No Life 'till Leather, showing a more aggressive sound. Additionally, Ron McGovney was replaced by Cliff Burton as bassist and Dave Mustaine was replaced by Kirk Hammett due to his alcohol addiction. Since then, James Hetfield has taken on both the role of rhythm guitarist and singer.
1983 – Release of 'Kill 'Em All'
With this new lineup and having Johnny Zazula as their manager, the band released in 1983 Kill 'Em All, which gained notoriety in the metal scene and sold more than 300,000 copies. After a tour of the United States and a concert in Holland where they reached their largest audience to date, with 5,000 people, the band released the album Ride the Lightening with Megaforce Records in 1984, which received critical acclaim for its melodic sound.
"1991 – Release of the 'The Black Album'"
After this work, the band released Master of Puppets in 1986 and embarked on a promotional tour that was cut short by an accident in which the bassist Cliff Burton died. After reflecting on their future, the band incorporated Jason Newsted and recorded …And Justice for All, an album with a denser sound that, despite its commercial success and a Grammy nomination, received criticism for being unoriginal and moving away from heavy metal. However, it wouldn't be until the release of their album Metallica in 1991, known as The Black Album, that they reached great success, selling half a million copies in the first week of sales in the United States and reaching the top of the Billboard chart. This work led to two similar albums, Load in 1996 and ReLoad in 1997, which received negative reviews for their proximity to alternative rock and their distance from traditional heavy metal, disappointing their older fanbase.
"2001 – Documentary, Tours, Awards"
In 2001, Jason Newsted left the band and Metallica struggled to find a suitable replacement for some time. Therefore, they had to record their next album, St. Anger, with their producer Bob Rock playing bass. However, Robert Trujillo soon joined the band's lineup. Three years later, the documentary Some Kind of Monster was released, which portrays the recording process of the last album and the internal conflicts that the band had with Dave Mustaine. After a tour in 2006 in which they played Master of Puppets again to celebrate its 20th anniversary, and the release of a compilation of their videos titled The Videos, Metallica was inducted into the Rock and Roll Hall of Fame. Later, they released Death Magnetic in 2008 and the conceptual album Lulu in 2011, which was poorly received by their fans. In 2012, the band founded their own record label, Blackened, and performed a concert in Antarctica to raise awareness about polar melting and environmental crisis. In 2016, they released Hardwired… to Self-Destruct. Currently, the band is still active.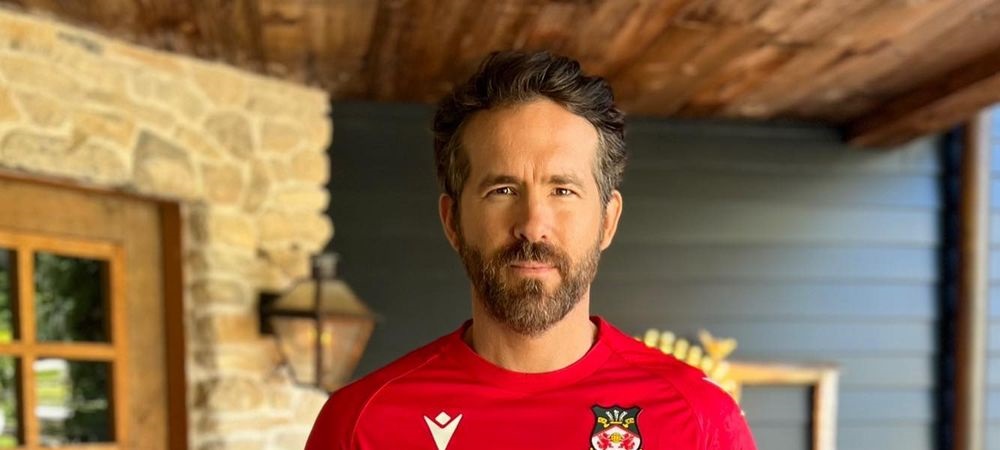 Biography of Ryan Reynolds
Ryan Rodney Reynolds was born on October 23, 1976 in Vancouver, Canada, and he is a well-known actor. When Ryan was born, his mother, Tammy, was a student and a salesperson, while his father, Jim, worked in wholesale food sales and also excelled as a semi-professional boxer. In addition, Ryan has three older siblings.
He studied in his hometown of Vancouver until 1994 when he decided to join a theater group as an extracurricular activity while attending Kwantlen College. However, his passion for acting became a vocation, and Ryan dropped out of college to devote all his time and energy to his acting career.
Debut as an actor
He quickly landed small roles in successful and memorable TV series such as "Sabrina the Teenage Witch" and "The X-Files". In 1998, his big break came with the series "Two Guys, a Girl and a Pizza Place", which ran until 2001 and catapulted him to fame. The show became very popular thanks to its great comedic content, an area where Reynolds demonstrated perfect skill, but this was not the first time that Ryan had made a name for himself in a Hollywood comedy, as he had already been in "Life During Wartime" in 1997.
Films
After working in several minor jobs, Ryan got his first major role as a protagonist in the crazy "Van Wilder – Animal Party", where he played a college party organizer. The success of the film opened doors for him to work alongside Michael Douglas in "Till Death Do Us Part", support Wesley Snipes in "Blade Trinity" or star in the horror movie "The Amityville Horror". However, at this stage of his career, Ryan stood out mainly as a protagonist in comedies such as "Just Friends", "Waiting" and "Harold & Kumar Go to White Castle". This led him to want to leave his comedic side behind, getting involved in different projects such as the thriller "Smokin' Aces", the independent film "Adventureland" and the action film "X-Men Origins: Wolverine". Later on, he also participated in romantic films such as "The Proposal" and "Definitely, Maybe". However, recognition of his acting ability did not come until Ryan was nominated for a Goya Award for his demanding role in "Buried". It is worth noting that he also brought to life the comic book hero "Green Lantern" and the renowned "Deadpool".
Contracts, curiosities
Prestigious brands like Hugo Boss have not been oblivious to Ryan Reynolds' popularity, charisma, and good looks, offering him contracts to be the face of one of their fragrances: Boss Bottled Night, a fragrance that, through great advertising, managed to convey an irresistible seductive effect.
Two curiosities can be highlighted from his work: first, the nearly 10 kilos of solid muscle he gained thanks to rigorous physical training to bring Hannibal King to life in "Blade: Trinity"; and second, his appearance on the animated TV series Zeroman, in which he lent his voice to the character Ty Cheese. In addition, like many Hollywood stars, Ryan Reynolds has an eccentricity outside the world of entertainment: a great passion for motorcycles, of which he owns three collector's items, one of which was designed exclusively for him and is none other than a Harley Davidson.
Romantic relationships
Regarding his personal life, Ryan Reynolds was in a romantic relationship with singer Alanis Morissette from 2002 to 2007. The couple got engaged in 2004, but in July 2006, People magazine reported that they had separated, although neither of them officially confirmed the news. Shortly after, in February 2007, they decided to end their engagement by mutual agreement. In May 2008, Reynolds announced his engagement to actress Scarlett Johansson, and they got married on September 27 of the same year. However, in December 2010, the couple announced in a statement to People magazine that they had decided to end their marriage.
So, on September 9, 2012, he married the actress Blake Lively in Mount Pleasant, South Carolina. In October 2014, they announced that they were expecting their first child, and in December of that same year, Ryan Reynolds and his wife Blake Lively became parents with the birth of their daughter: Ines. Later, on April 14, 2016, his wife's second pregnancy was confirmed, and on September 30, 2016, he became a father for the second time to a boy named James.