Personal information
Full name

Belcalis Marlenis Almánzar

Birthdate

October 11, 1992

Age
29 años
Occupation

Rapper, songwriter, and actress

Stage name
Cardi B
Nationality

U.S

Spouse

Offset (m. 2017)

Height
5ft 3 (160 cm)
Awards
Grammy Award for Best Rap Album 2019; BET Award for Best Female Hip-Hop Artist 2018 and 2019
Genders
Hip hop, Trap, Dance, R&B
Zodiac sign
Libra
Cardi B Biography
Belcalis Almanzar (October 11, 1992) rapper, songwriter, and actress. She was born in New York, United States. Her stage name is Cardi B. Cardi B is the daughter of a Dominican father and her mother from Trinidad and Tobago. During her childhood and adolescence, she lived in one of the poorest neighborhoods in the Bronx. The girl became part of various street gangs, which led her to have an extremely turbulent life, she had a boyfriend, a member of a gang, with whom she lived for some time and was constantly assaulted by him. She attended Musical Theater and Technology High School.
To help her family with household expenses, she was a cashier in a store, but at 19, she got a job as a stripper, to fit in better in this environment, and to have more money, she had to undergo numerous plastic surgeries to increase her breasts and buttocks. Cardi intended to study for a bachelor's degree, but she dropped out of university due to lack of time. In 2013, she began to become a social media personality, primarily on Vine and Instagram. She began to have great popularity.
Career
Two years later, she took advantage of this situation to launch herself into fame starring in the sixth season of the reality show Love & Hip Hop: New York. By this time she was known by her stage name. In 2015 she decided to debut in the music world by remixing Shaggy's single Boom Boom. At the same time, she continued to intervene in the sixth season of the Love & Hip Hop: New York program. In March 2016, she released her first mixtape, Gangsta Bitch Music, Vol. 1, under the auspices of the KSR label. It achieved a significant position on Billboard's Rap Albums chart and the 27th on the Independent Albums chart.
The following month, she appeared on an episode of Kocktails with Khloé, the episode was inspired by the moment when she confessed to her mother that she was a stripper. In early 2017, she released a second mixtape, Gangsta Bitch Music, Vol. 2, and after finishing the seventh season of Love & Hip Hop: New York she was contacted by Atlantic Records to sign a contract. So, she began opening for The Lox during their Filthy America… It's Beautiful Tour. Thanks to her success, Cardi was nominated for two BET Awards. Cardi subsequently released her first commercial single, Bodak Yellow, and it quickly became a viral hit.
Breakthrough with Bodak Yellow
In a matter of three months, the song reached No. 1 on the Billboard Hot 100, Cardi became the second female rapper in history to chart No. 1 as a solo artist. Besides, she managed to lead for three consecutive weeks, equaling Taylor Swift's Look What You Made Me Do as the female singer with the longest reign of 2017, she was also the solo rapper with the most weeks in the first position of all history. Her success was remarkable, she was nominated in nine categories at that year's BET Hip Hop Awards, of which she managed to win five, including Best New Hip Hop Artist and Best Single for Bodak Yellow.
Cardi B collaborated with rappers G-Eazy and ASAP Rocky on the song No Limit, a hit in the United States after reaching position 4 on the Billboard Hot 100. A month later, she released her single MotorSport in conjunction with major artists. Like Migos and Nicki Minaj, the single was at # 6 on the Billboard Hot 100, making it their third consecutive song to do so. Thanks to Bodak Yellow she took home the Best Hip Hop Song of the Year award at the Soul Train Music Awards, as well as garnering two Grammy Award nominations in the categories of Best Rap Song and Best Rap Performance.
At the beginning of 2018: No Limit, MotorSport, and Bodak Yellow were within the first 10 positions, for this reason, the artist became the third rapper in history to position her first three songs in the top ten of the count simultaneously, only after The Beatles (1964) and Ashanti (2002). Her single Bartier Cardi debuted at position 14. Soon after, Cardi announced a collaboration with Bruno Mars on a remix of their song Finesse, from their album 24K Magic (2016).
The song was an instant hit and debuted within the top 40 of the Billboard Hot 100, as a result, Cardi had five songs simultaneously within the top forty. She made an intervention, considered flawless, at the sixtieth Grammy Awards. Later, she received the Best New Artist award at the iHeartRadio Music Awards. Cardi announced that her debut album would be out in April. Days later, she revealed her name: Invasion of Privacy. The artist has stated that she has been inspired by the artists Missy Elliott and Tweet as her main sources of inspiration.
She also mentioned that her outfits and her show are inspired by Madonna, Lady Gaga, and Ivy Queen. It is remarkable that, at the beginning of her, Cardi felt a great attraction to make aggressive music, following the line of the rappers Khia and Trina. However, she also wanted to create music that was suitable for most women; especially issues of infidelity, or problems with other women. Many record companies have admired her tone of voice, characterizing it as a nasal, strong, and provocative voice, which, combined with her strong New York accent, makes her suitable for rap.
On the other hand, Cardi's way of being: reckless, without fear of acting under any circumstance, generates great synergy with the public. This rapper is recognized as a feminist. In addition to this, she assures that her past has allowed her to learn many things and she does not try to hide it; she openly states that she is a prostitute stripper. In 2017, she began a relationship with the rapper Offset from the group Migos, then they got engaged on the Saturday Night Live program, and at the same time, Cardi announced that she was expecting her first child. The following year she won an award at the iHeartRadio Music Awards for her song titled with her stage name.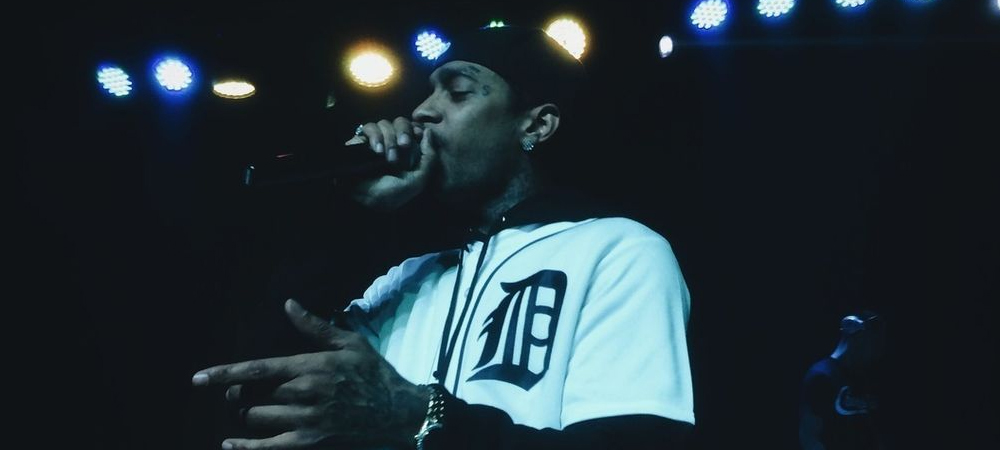 Nipsey Hussle Biography
Ermias Asghedom (August 15, 1985 – March 31, 2019), better known as Nipsey Hussle, was an American rapper, businessman, and community activist, who rose to fame in 2018 with his debut album Victory Lab. Nipsey began his career towards the mid-2000s releasing several successful mixtapes such as Slauson Boy Volume 1, Bullets Ain't Got No Name series and The Marathon. His fame came to him, along with his first Grammy nomination, with his debut album in 2018. He had previously created his label All Money In No Money Out (2010).
Following his death, he received two posthumous Grammys for the songs Racks in the Middle and Higher. He was known for his social work on behalf of the Crenshaw community.
Early years
He was born in Los Angeles, United States, on August 15, 1985. Son of Angelique Smith and Eritrean immigrant Dawit Asghedom, he grew up in Crenshaw, a neighborhood located south of Los Angeles, with his siblings Samiel and Samantha. He attended Hamilton High School but dropped out before graduating. Since he was little he looked for a way to help around the home, so over time, he began to work selling different products on the street.
After leaving school he became involved in the world of gangs, however, he turned away from it when he realized that it was not what he expected for his future. Decided then to dedicate himself to music, he sold everything that linked him to the gangs and worked for a time to buy his own production tools. After finishing his studies, he began to write and produce his own mixtapes, which he sold from a car. After finding inspiration from a trip he took to Eritrea with his father and spending time in prison, Nipsey turned fully to his career and business. He always looked for ways to start and help the community in which he grew up: giving jobs, helping students, renovating public spaces, etc …
Community activist
Nipsey was admired for his work at Crenshaw because instead of moving or investing in hedge funds, he preferred to help the community by boosting the local economy.
Career
In late 2005, Nipsey Hussle released his first mixtape, Slauson Boy Volume 1, independently, to great local success. By then he already had a fan base at the regional level, so it took him a while to sign a contract with the Epic Records and Cinematic Music Group labels. Later, the first volumes of the Bullets Ain't Got No Name series appeared, with which he expanded his popularity. Burner on My Lap, Ridin Slow, Aint No Black Superman, Hussle in the House and It's Hard out Here, were some of the songs included in the series.
By 2009, Nipsey would make a name for himself collaborating with Drake on Killer and with Snoop Dog on Upside Down. He also released Bullets Ain't Got No Name vol.3 and in 2010, he left Epic and opened his own label All Money In No Money Out. Under this label, he would soon release The Marathon, a mixtape in which hits such as Love ?, Mr. Untouchable, Young Rich and Famous and Late Nights and Early Mornings appeared. He also created The Marathon Clothing at that time, a sports and casual clothing brand that was based in his neighborhood. He then released the mixtape The Marathon Continues (2011), participated in the We Are the World 25 for Haiti campaign, and was featured in the popular XXL Magazine Annual Freshman Top Ten.
In 2013 came Crenshaw, a mixtape that would become famous because Jay-Z himself bought 100 copies for $ 100 each.
Victory Lap
After many delays, Nipsey would release his long-awaited debut album Victory Lap, on February 16, 2018, to great success. It was praised by critics and received a Grammy nomination for best rap album of the year. It was such a success that many singles entered the Billboard and Itunes charts. However, Nipsey did not enjoy much fame.
Death
Hussle was assassinated on March 31, 2019, outside his store in South Los Angeles. He was shot multiple times by a man he had previously clashed with, he was arrested and charged with murder on April 2 of the same year. After his death, many personalities expressed the pain caused by the news. It is worth mentioning that the Mayor of Los Angeles himself gave his condolences to the family, recognizing Hussle's social work in Crenshaw.
He was the partner of actress Lauren London and was the father of two children.
Sales strategies and greatest hits
Hussle was known for his sales strategies, since, he used to upload his singles in free download and then sell some limited editions for a cost of 100 to 1000 dollars. It promoted the sale of his work with campaigns such as Proud2Pay and Mailbox Money, in which he gave special incentives (autographed photos, dedication calls, tickets to his studio, and special events) to buyers. His revolutionary ideas promised him a fruitful career.
Some of his greatest hits
Rose Clique
Forever On My Fly Shit
Thas Wat Hoes Do Proud of That (with Rick Ross)
Face the world
Bless, 1 of 1
Where Yo Money At
Fuck Donald Trump
Higher
Young Rich and Famous