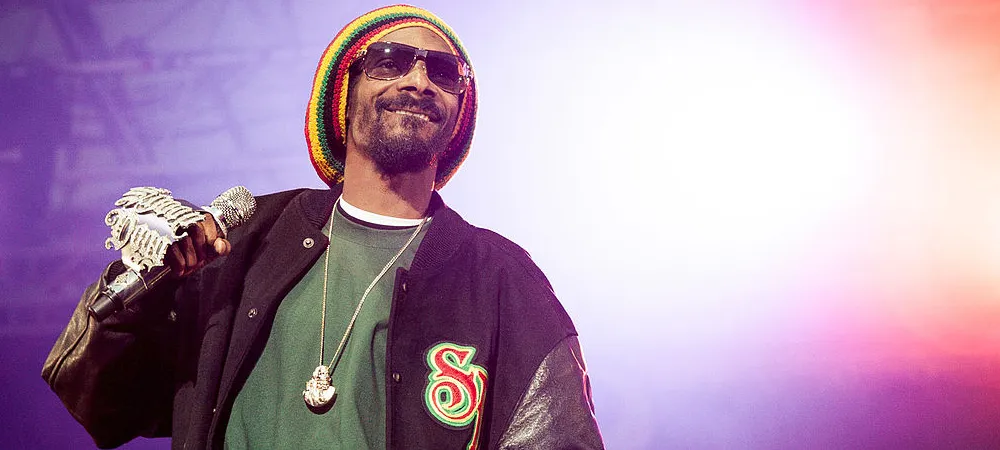 Personal information
Full name

Calvin Cordozar Broadus Jr.

Birthdate

October 20, 1971

Age
51 years old
Occupation

Rapper, songwriter and actor

Stage name
Snoop Dogg
Nationality

American

Spouse

Shante Broadus (since 1997)

Height
1.92 m
Parents

Vernall Varnado y Beverly Broadus

Genders
Rap, hip-hop, trap
Zodiac sign
Libra
Biography in other languages
Biography of Snoop Dogg
Calvin Cordozar Broadus Jr., better known as Snoop Dogg, is an American rapper, songwriter and actor born on October 20, 1971. He is considered one of the most influential and important rappers of the 20th century. He was discovered by Dr. Dre after spending time in prison and began making music in the 90s. In 1993 he debuted with his album "Doggystyle" and quickly achieved recognition. His later albums include "Tha Doggfather" (1996), "Da Game Is to Be Sold, Not to Be Told" (1998) and hits like "Tha Last Meal" (2000) and "Paid tha Cost to Be da Bo$$" (2002). Among his most notable singles are "From tha Chuuuch to da Palace", "Drop It Like It's Hot", "What's My Name?" and "Young, Wild & Free". As an actor, he is known for his roles in movies like "Training Day" (2001), "Baby Boy" (2001), "Hood of Horror" (2006) and "Down for Life" (2009).
Early years
Snoop was born in Long Beach, California on October 20, 1971. He is the son of Vernall Varnado, a singer and mailman, and Beverly Broadus. His mother remarried after his father's death and Snoop took his stepfather's last name, Calvin Cordozar Broadus Sr. From a young age, he showed interest in music, particularly rap. He studied at Long Beach Polytechnic High School and after graduating, he faced several legal issues. Snoop was in and out of prison for several years, but this did not stop him.
During his time in prison, Snoop and his cousin recorded their first songs. One of his singles, "Hold On", reached the ears of Dr. Dre, who quickly invited him to work with him. Initially, Snoop took the name Snoop Doggy Dogg and was a part of Dre's debut album "The Chronic". The album was well received, opening doors for him in the industry.
Snoop Dogg: debut and career
Snoop Dogg made his musical debut in 1993 with the album "Doggystyle", which became a huge success. The album included 16 songs, including the hits "Bathtub", "Gin and Juice", "Ain't No Fun" and the classic "Murder Was The Case". Three years later, he released "Tha Doggfather" (1996), which was not as successful as his first album, but it was quite popular. He followed it with "Da Game Is to Be Sold, Not to Be Told" (1988), his first album with No Limit Records, including songs such as "Snoop World", "Slow Down" and "Still a G Thang", and then came "No Limit Top Dogg" (1999) with "Snoopafella" and "Tha Last Meal" (2000), with his single "What's My Name, Part2".
In 2002, he released "Paid tha Cost to Be da Bo$$", with the singles "From tha Chuuuch to da Palace" and the hit "Beautiful". Two years later, he premiered "R & G (Rhythm & Gangsta): The Masterpiece" (2004) with the single "Drop It Like It's Hot" and that same year he released "The Hard Way" (2004), which included "Groupie Luv". In the following years, Snoop did not rest and prioritized his career, releasing "Blue Carpet Treatment" in 2006, followed by "Ego Trippin" (2008), "Malice n Wonderland" (2009) and "Doggumentary" (2011).
After changing his stage name to Snoop Lion, Dogg released his own documentary titled "Reincarnated" (2013) and a studio album of the same name. In 2017, he returned to music with "Neva Left" and later explored his religious side in "Snoop Dogg presents the Bible of Love" (2018).
His most recent studio album is "I Wanna Thank Me" from 2019.
In early 2022, it was announced that he would participate in the halftime show of Super Bowl LVI along with Eminem, Kendrick Lamar, Dr. Dre, and Mary J. Blige.
Actor
Since his debut in the 90s, Snoop has appeared in leading roles in films. He has starred in movies such as "Half Baked" (1998), "The Wash" (2001), and "Training Day" (2001) with Denzel Washington, and in the horror film "Hood of Horror" (2006) alongside Daniella Alonso. Other titles in his filmography include "Starsky & Hutch" (2004), "The Tenants" (2005), "Mac and Devin Go to High School" (2012), "Turbo" (2013), "Scary Movie 5" (2013), "Meet the Blacks" (2016) and "Future World" (2018). He has also made appearances in TV series such as "The Boondocks", "The L Word", "Entourage", "Brothers" and "Trailer Park Boys".
Awards and recognition
Throughout his career, he has received numerous awards and recognition. In 1994, he received three Billboard Music Awards and two MTV Video Music Awards. He also won the American Music Award for Favorite Rap/Hip-Hop Artist (1995) and the Soul Train Music Award for Best Rap Album (1995). He received the BET award for "Beautiful". Snoop has been nominated for the Grammys 8 times.
Among his collaborations are: "2 Amerikaz Most Wanted" with 2Pac; "Drop It Like It's Hot" and "Beautiful" with Pharrell; "Gangsta Zone" with Daddy Yankee; "All I Do Is Win" with DJ Khaled, T-Pain, Ludacris and Rick Ross; "That Tree" with Kid Cudi; "Black and yellow" with Wiz Khalifa and "Wiggle" with Jason Derulo.
Personal life
He is married to his high school sweetheart Shante Taylor (Broadus) since 1997. They have three children and were close to divorce in 2004, but they did not proceed with the process.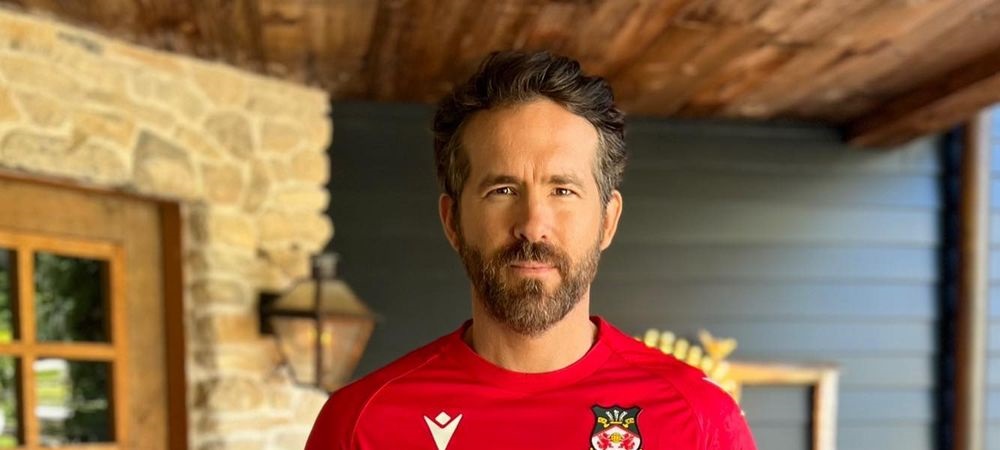 Biography of Ryan Reynolds
Ryan Rodney Reynolds was born on October 23, 1976 in Vancouver, Canada, and he is a well-known actor. When Ryan was born, his mother, Tammy, was a student and a salesperson, while his father, Jim, worked in wholesale food sales and also excelled as a semi-professional boxer. In addition, Ryan has three older siblings.
He studied in his hometown of Vancouver until 1994 when he decided to join a theater group as an extracurricular activity while attending Kwantlen College. However, his passion for acting became a vocation, and Ryan dropped out of college to devote all his time and energy to his acting career.
Debut as an actor
He quickly landed small roles in successful and memorable TV series such as "Sabrina the Teenage Witch" and "The X-Files". In 1998, his big break came with the series "Two Guys, a Girl and a Pizza Place", which ran until 2001 and catapulted him to fame. The show became very popular thanks to its great comedic content, an area where Reynolds demonstrated perfect skill, but this was not the first time that Ryan had made a name for himself in a Hollywood comedy, as he had already been in "Life During Wartime" in 1997.
Films
After working in several minor jobs, Ryan got his first major role as a protagonist in the crazy "Van Wilder – Animal Party", where he played a college party organizer. The success of the film opened doors for him to work alongside Michael Douglas in "Till Death Do Us Part", support Wesley Snipes in "Blade Trinity" or star in the horror movie "The Amityville Horror". However, at this stage of his career, Ryan stood out mainly as a protagonist in comedies such as "Just Friends", "Waiting" and "Harold & Kumar Go to White Castle". This led him to want to leave his comedic side behind, getting involved in different projects such as the thriller "Smokin' Aces", the independent film "Adventureland" and the action film "X-Men Origins: Wolverine". Later on, he also participated in romantic films such as "The Proposal" and "Definitely, Maybe". However, recognition of his acting ability did not come until Ryan was nominated for a Goya Award for his demanding role in "Buried". It is worth noting that he also brought to life the comic book hero "Green Lantern" and the renowned "Deadpool".
Contracts, curiosities
Prestigious brands like Hugo Boss have not been oblivious to Ryan Reynolds' popularity, charisma, and good looks, offering him contracts to be the face of one of their fragrances: Boss Bottled Night, a fragrance that, through great advertising, managed to convey an irresistible seductive effect.
Two curiosities can be highlighted from his work: first, the nearly 10 kilos of solid muscle he gained thanks to rigorous physical training to bring Hannibal King to life in "Blade: Trinity"; and second, his appearance on the animated TV series Zeroman, in which he lent his voice to the character Ty Cheese. In addition, like many Hollywood stars, Ryan Reynolds has an eccentricity outside the world of entertainment: a great passion for motorcycles, of which he owns three collector's items, one of which was designed exclusively for him and is none other than a Harley Davidson.
Romantic relationships
Regarding his personal life, Ryan Reynolds was in a romantic relationship with singer Alanis Morissette from 2002 to 2007. The couple got engaged in 2004, but in July 2006, People magazine reported that they had separated, although neither of them officially confirmed the news. Shortly after, in February 2007, they decided to end their engagement by mutual agreement. In May 2008, Reynolds announced his engagement to actress Scarlett Johansson, and they got married on September 27 of the same year. However, in December 2010, the couple announced in a statement to People magazine that they had decided to end their marriage.
So, on September 9, 2012, he married the actress Blake Lively in Mount Pleasant, South Carolina. In October 2014, they announced that they were expecting their first child, and in December of that same year, Ryan Reynolds and his wife Blake Lively became parents with the birth of their daughter: Ines. Later, on April 14, 2016, his wife's second pregnancy was confirmed, and on September 30, 2016, he became a father for the second time to a boy named James.