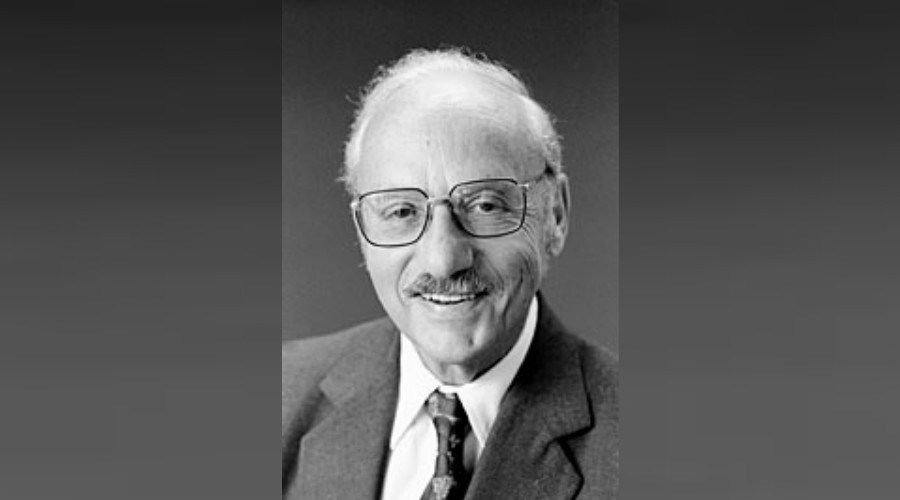 George Dantzig Biography
George Bernard Dantzig (November 8, 1914 – May 13, 2004) was a physicist and mathematician. He was born in Portland, Oregon, United States. His father, Tobias Dantzig, was a mathematician with Russian origin who studied with Henri Poincaré in Paris. Then at the Sorbonne University, he was a professor of Mathematics and started a relationship with his student Anja Ourisson. After a while, they got married and emigrated to the United States. Their firstborn was George. During Dantzig's youth his father worked as the director of the Department of Mathematics at the University of Maryland, but at the end of World War II, he resigned from this position. On the other side, Anja's mother was a linguist specializing in Slavic languages.
George was accepted in the University of Maryland to study mathematics in where he would get his B.S. However, he was never satisfied with the teaching methods this university used. In 1937, Dantzig began working in the Bureau of Labor Statistics. Motivated and convinced he started a Doctorate in Statistics at the University of Berkeley, CA where he also felt that the courses were too simple and even meaningless which led him to think about dropping out college. While attending a class in 1939, Professor Jerzy Neyman wrote on the board two complex statistical problems to resolve.
According to Dantzig, the problems were complex, but not impossible to solve. A few days later, he obtained the results. Dantzig received the visit of professor Jerzy Neyman, who pretended, admired by his intelligence, to publish Dantzig's solution to the problems in a mathematical magazine. Indeed, it was so, years later another researcher, Abraham Wald, complemented and published the last article on this feat in which he explained the conclusion of the second problem, Dantzig was included as the co-author. The solutions to these problems were his doctoral thesis, at the suggestion of Professor Neyman.
Nevertheless, Dantzig interrupted his doctorate shortly after the start of World War II to join the United States Air Force and work with the Combat Analysis Branch of Statistical Control. Soon after, he returned and finished the last stage of his doctorate. After achieving this, he returned to the Air Force to take up the post of Mathematics Advisor of the U. S. Air Force Controller.
He assumed the direction of the Combat Analysis Branch of Statistical Air Force Headquarters of the United States. This work motivated him to perform his great mathematical feats because the Air Force needed to calculate the duration of the stages of a deployment program, training and logistics supply in a more optimal and efficient way. Although he spent a lot of time to find this, he made a great contribution in 1947 when he proposed the Simplex Method to solve a linear programming problem.
In 1952, he was a mathematical researcher at the RAND Corporation, where he implemented linear programming, already studied, in the computers of the corporation. The success at that time was big, and he would keep on doing similar jobs in the universities of Berkeley and Stanford in California, also in centers like the International Institute for Applied Systems Analysis (IIASA) in Vienna. In this last work, he made improvements regarding linear programming problems.
On October 3, 1947, Dantzig met John von Neumann, considered one of the best Mathematician in the world, at the Institute for Advanced Study. Neumann told him about the "Game Theory" a work that was still under construction, carried out in conjunction with Oscar Morgenstern. This was very important because with the acquired knowledge he developed the theory of duality, developed with Fulkerson and Johnson in 1954.
On the other hand, he worked on bifurcation and cutting methods, used in programming to solve big problems. He was responsible for stochastic programming that focuses on the problems of mathematical programming that contain random variables, from this programming, have emerged various models. His knowledge and contribution were reflected in his two books: Linear Programming and Extensions (1963), and a book of two volumes: Linear Programming (1997 and 2003), written with N. Thapa.
He received several recognitions for his great work and his contribution to the military forces of his country. In 1976, President Gerald Ford granted Dantzig the National Medal of Science, his work was recognized during an important ceremony in the White House where he recognized his invention of Linear Programming, which allowed an efficient use of mathematical theory. He also received the Von Neumann Theory Award in 1975, Prize in Applied Mathematics and Numerical Analysis from the National Academy of Sciences in 1977. In Israel, he was awarded the Harvey Prize in Science and Technology from Technion, in 1985. The Academy of Sciences and The US National Academy of Engineering recognized his contribution as a member. A prize was created in his honor given by the Mathematical Programming Societies and SIAM.
The last years of his life had several complications related to his health. Diabetes and cardiovascular problems. Due to this, on May 13, 2004, George Bernard Dantzig died at the age of 90 years accompanied by his family at his residence located in Stanford.

Sergey Brin biography
Sergei Brin (August 21, 1973) computer scientist and creator of the Internet search engine Google. He was born in Moscow, Soviet Union. Sergei Brin was born into a Jewish family that enjoyed a well-off position but due to their religious beliefs, the Russian government prevented them from certain possibilities. His father, Mikhail Brin, was a mathematician, and his mother, Eugenia Brin, worked in the field of science when Sergei was six years old they decided to move to the United States to find better living conditions.
When they arrived, their mother landed a major position in NASA's Goddard Space Flight Center, and her father obtained a position as professor of Mathematics at the University of Maryland, she also decided to change her name, due to North American anti-communist policies, Michael Brin. He entered to study at the Paint Branch Montessori School. His parents were very attentive in the education of his son, who demonstrated a great ability for mathematics. Throughout his school years, he was a student with excellent grades.
Upon graduation, he enrolled at the University of Maryland to study Mathematics and Computer Science. In the stipulated time, 1993, he received his degree with honors and applied for a grant from the National Science Foundation. He began his postgraduate studies at Stanford University. Simultaneously, he started working at Wolfram Research, the creator of Mathematica. While in the winter of 1998, he began to develop an idea to create a search engine for the internet, the idea was developed with the help of Larry Page. His great motivation was the inefficiency and the multiple errors of the search engines existing at that time.
They held several meetings with brilliant people in this field, and they met Andy Bechtolsheim, an investor from Sun Microsystems. They decided to present their idea, they also made a quick demonstration and they got that, without thinking twice, Bechtolsheim extended a check worth 100,000 dollars to start the project. Although with this amount achieved only the beginning of the project, the young people full of enthusiasm began to get other economic support and various sources of income. As a result, Brin and Page managed to get two of the most relevant US venture capital firms, Kleiner Perkins Caufield & Byers and Sequoia Capital, to agree to finance their idea. They then collected 25 million dollars. The project was still ongoing.
At first, they thought of the word googol to baptize their search engine, a term invented by the mathematician Edward Kasner to name the number 1 followed by 100 zeros. Then they changed their name to Google. We must mention that Yahoo! played an essential role in driving Google. Yahoo! collaborated encouraging the creation of his own search engine, the pair of colleagues began to offer in its popular portal the possibility of searching through that engine. For the year 2003, Google swept daily searches, had about 112 million, compared to Yahoo !, which only supported approximately 42 million.
The reason was that Google was more effective, its presentation was much more attractive, and allowed more fixed searches. Brin and Page decided to add new possibilities to the dozen functions related to their search engine and the continuous experimentation with many others. Something really innovative was that Google allowed the users to easily locate images, newsgroups and searches using the Open Directory thematic directory tool, an international volunteer project that catalogs web pages by hand.
After a few years, thanks to the popularity of Google, colleagues received a Webby, a prize. Google was inserting new services every time, such as the search engine of products on sale in the Google network; the product search within mail order catalogs; a language translator, among other new features. When the new millennium began Google began to think about the modification and restructuring of its building located in the Californian region of Mountain View, more than a hundred employees worked in an unusual environment.
So they adopted as a philosophy: to offer a pleasant place to work and with that to motivate and retain employees. Among the renovations are yoga classes, massages, bars, free ice cream machines, food prepared with organic food by two chefs, a ping-pong table, swimming pool, two pianos, and hockey meetings twice a week. The goal of Google at that time was especially to create better search engines, extract information from unstructured sources and databases of long collections of text and scientific information.
Brin has authored more than a dozen articles in top-level academic journals and has also been a lecturer in various international academic forums, most of them are business and technology, in 2002, Brin was proclaimed "Young Innovator Who Will Create the Future" by Technology magazine Review This publication was edited by the prestigious Massachusetts Institute of Technology (MIT). What this couple achieved, especially at Brin's initiative, was impressive. At present everyone knows and has used Google.
Although it has been censored by some countries of totalitarian politics like China. According to computer experts, Google is "the saving medicine" for most Internet users. One of its characteristics is the speed and effectiveness. Now, its design is simple and direct, and without incorporating advertising in its pages that generate distraction in the users. We must accept that, Internet users have preferred this search engine to the detriment of other, earlier, more popular ones. Brin has advanced several projects, along with Larry Page, who are looking for ways to solve the problem of global energy and environmental hazards through Google's philanthropic area called Google.org.