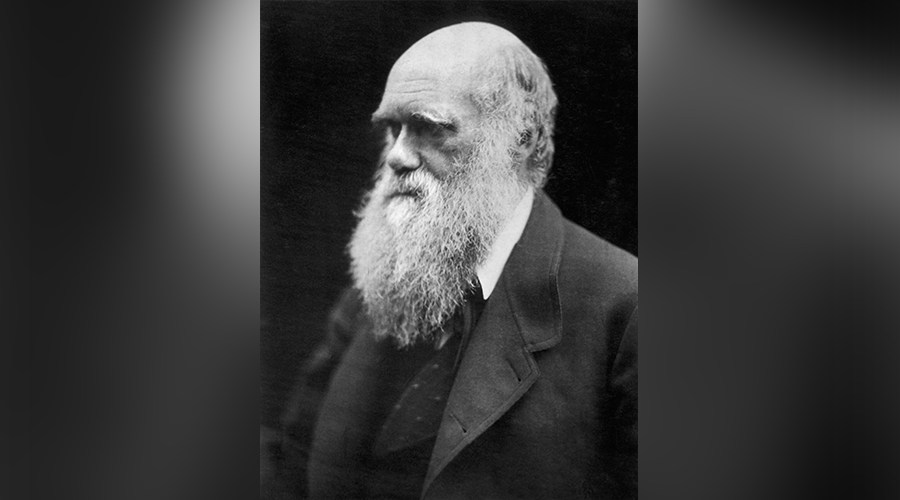 Charles DarwinBiography
Charles Darwin is known for his work as a naturalist. Darwin developed a theory of evolution to explain biological change. Charles Darwin was born in Shrewsbury, England, on February 12, 1809. In 1831, he embarked on a five-year voyage around the world on the HMS Beagle. His studies of specimens all over the world led him to formulate his theory of evolution and his views on the natural selection.
In 1859, he published The Origin of Species and 23 years later would die on April 19, 1882, in London.
Charles Robert Darwin was born on February 12, 1809, in the small town of Shrewsbury, England. Charles Darwin belonged to a family with a broad history of scientists. His father, Dr. Robert Darwin, was a doctor, and his grandfather, Dr. Erasmus Darwin, was a recognized botanist. Darwin's mother, Susanna, died when he was only 8 years old.
In October of 1825, at the age of 16, Darwin enrolled at the University of Edinburgh, along with his brother Erasmus. Two years later, Charles Darwin became a student at Christs College, Cambridge. His father expected him to follow his footsteps and to study Medicine. However, Darwin was passionate about the natural sciences and natural history.
"When it was said for the first time that the sun remained fixed and that the world revolved, the common sense of mankind declared the false doctrine; but the old saying vox populi, Vox Dei, as every philosopher knows, can not be entrusted to science ". Charles Darwin
HMS BEAGLE
HMS Beagle was a Cherokee-class 10-gun brig-sloop of the Royal Navy and on December 27, 1831, the HMS Beagle started his trip around the world with Darwin on board. During the trip, Darwin collected and observed a wide variety of natural specimens, including birds, plants, and fossils. Through practice in research and experimentation, he had the unique opportunity to closely observe the principles of botany, geology, and zoology. The islands of the Pacific and the Galapagos Archipelago were of particular interest, as was South America.
Upon his return to England in 1836, Darwin began to write his discoveries in a research journal, the journey had a monumental effect on Darwin's vision of natural history. He began to develop a revolutionary theory about the origin of living beings that was contrary to the popular opinion of other naturalists at that time.
THEORY OF EVOLUTION
The experience acquired by Charles Darwin on the trip raised important questions. Other naturalists believed that all species were either made at the beginning of the origin of the world or had been created throughout natural history. In either case, it was believed that the species remained almost the same over time. However, Darwin noticing the similarities between species throughout the world, and some variations based on specific locations, led him to believe that they had evolved gradually from common ancestors. He came to believe that the species survived through a process called "natural selection," where species that successfully adapt to meet the changing needs of their natural habitat had thrived, while those that could not develop and reproduce would die.
In 1858, after years of scientific research, Darwin publicly presented his revolutionary theory of evolution at a meeting of the Linnean Society. On November 24, 1859, he published a detailed explanation of his theory in his best-known work, The Origin of Species through Natural Selection.
DEATH AND LEGACY
After a life devoted to research, Charles Darwin died at his family home, Down House, in London, on April 19, 1882, and was buried at Westminster Abbey. Throughout the next century, DNA studies would reveal evidence of his theory of evolution, despite the controversy surrounding his conflict with the Creationism, the religious view that all nature was born of God, which, nowadays is still valid.

Biography of Sigmund Freud
Sigmund Freud ( May 6, 1856 and died September 23, 1939) was a neurologist of Czech origin. He was born in Příbor, where his father was a wool trader. Because his father was quite old at the time of his birth and had much older siblings, Sigmund developed great curiosity and asked many questions from a young age. He was very intelligent and skilled from his youth. The economic crisis in the country forced the family to move to Vienna, where they continued to face economic problems due to his father's lack of employment.
Despite his dislike for Vienna due to these difficulties, Freud lived in this city until one year before his death. For a time, due to his Jewish status, he had to exile himself to London due to the Anschluss, the annexation of Austria to the pan-Germanic project of Greater Germany led by the Austrian chancellor Arthur Seyss-Inquart. Although figures such as Roosevelt and Mussolini intervened, these efforts were unsuccessful and his works were burned.
Despite the persecution, Freud's family remained faithful to the Jewish community and their customs, although they were not particularly religious since his father leaned towards freethinking, and as a result, Freud had lost his religious beliefs since adolescence. Since graduating with excellent grades from school, an achievement achieved through the efforts of his parents, he showed a lot of interest and motivation for his future. Although he initially inclined towards law, he ultimately decided to study medicine, his intention was not to practice it but to study the human condition with scientific rigor.
After a period at university, he began to focus on biological research, from 1876 to 1882 he worked in the laboratory of physiologist Ernst von Brücke, where he studied some nerve structures of animals and the anatomy of the human brain. During this time he met Viennese doctor Josef Breuer, who was key to his economic and intellectual development. He also met Martha Bernays, daughter of a family of Jewish intellectuals, with whom he later got married.
Beginning of his career
At that time, to assume the responsibilities of being a husband, he began to work as a doctor, putting aside his investigative career without having a true conviction about this decision. However, he managed to acquire the clinical experience necessary to achieve a certain prestige. In that sense, he obtained important jobs in various departments of the Vienna General Hospital, deciding to specialize in neuropathology. In 1884, he conducted a study on the therapeutic use of cocaine, generating various criticisms because he experimented recklessly with people whom he seriously affected. For this reason, his reputation was somewhat tarnished.
In 1885, he began teaching neuropathology at the Medical Faculty of Vienna, and later on, psychoanalysis. His great intellect allowed him to obtain a scholarship to make a study trip for a year in the city of Paris. He spent several months in the neurology service of the Salpêtrière under the direction of Jean-Martin Charcot, then the most important French neurologist. There he learned about the manifestations of hysteria and the effects of hypnosis and suggestion in its treatment.
Beginning in Psychoanalysis
Freud was known for being an extremely jealous man, which caused him several problems and conflicts with his wife. Upon returning to Vienna, Freud opened a private practice as a neuropathologist, using electrotherapy and hypnosis as treatments for nervous diseases. His book written with Josef Breuer on the treatment of hysteria through hypnosis was a great success, entitled Studies on Hysteria (1895).
From that moment on, Freud began to outline his first ideas about psychoanalysis. Freud began speaking about the method of "free association" and at that time many medical friends had preferred to leave him alone. However, this did not prevent him from continuing with his research and emerging psychoanalytic concepts such as the unconscious, repression, and transference. In 1899, he published his famous work The Interpretation of Dreams, edited in 1900. Five years later, he published Three Contributions to the Theory of Sexuality.
Although his work was innovative and admired, it had few followers. However, in 1906 the situation changed; he managed to consolidate a circle of doctors who later became a psychoanalytic society. In 1908, they held the First Psychoanalytic Congress in Salzburg. From that moment on, his recognition was international, he was invited to the United States to give a series of lectures at Clark University in Worcester, Massachusetts, where his thinking had caused great admiration. In 1910, the International Psychoanalytic Society was founded in Nuremberg, led by Freud's colleague, Jung, who led it until 1914.
Some works and his deterioration of health
In 1916, Freud published Introduction to Psychoanalysis. He continued to write important books such as The Future of an Illusion (1927), Civilization and Its Discontents (1930), and Moses and Monotheism (1939). During this period, he was diagnosed with jaw cancer and had to undergo several surgeries. From then on, his illness often hindered his intellectual production, but he managed to complete several texts. Finally, he lost the battle against his illness on September 23rd, 1939.
Contribution to psychology
The main contribution of Freud to psychology was his concept of the unconscious. Freud believed that a person's behavior is deeply determined by repressed thoughts, desires, and memories, which can strongly influence their conduct. As a treatment method, psychoanalysis seeks to bring these memories to consciousness to free the individual from their negative influence. Without a doubt, his theories received important criticisms, but they still represent a great contribution to psychology. It is undoubtable that the spread of psychoanalysis revolutionized the view of human beings and its influence extended to fields like philosophy, literature, and the arts.
Notable works
The Interpretation of Dreams
Civilization and its Discontents
Totem and Taboo
Three Essays on the Theory of Sexuality
The Ego and the Id