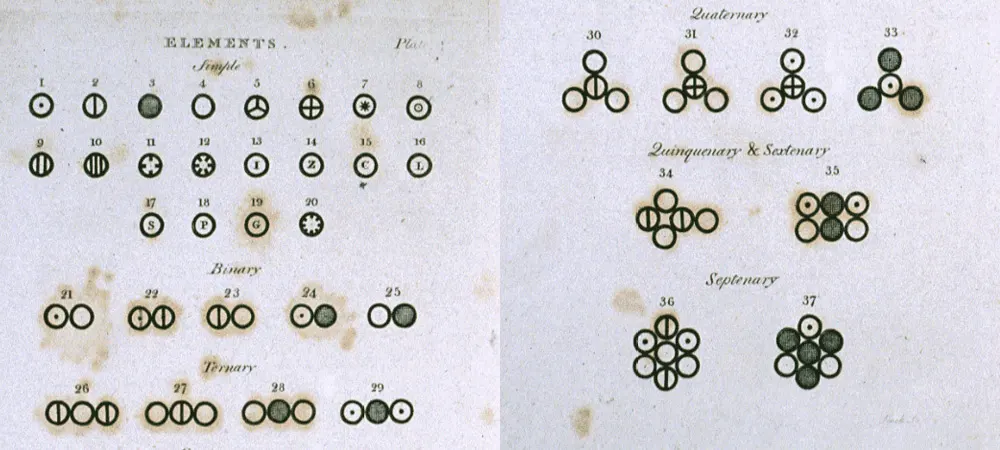 The history of the atom
The history of the atom begins 450 years before Christ with the assertions postulated by the Greek philosopher Democritus of Abdera. The philosopher was interested in the discovery of essential substances that contain all substances. He claimed that matter could be indefinitely divided into increasingly smaller particles until reaching the most indivisible point of that matter, which Democritus called atoms, a word that in Greek means inseparable. So, matter was composed of atoms and these were inseparable, so Democritus made a distinction between previous thinkers, who named atomic elements to elements such as water, air, and fire. Democritus claimed that these were not atoms in themselves, but were composed of thousands of them.
In short, Democritus supposed that all matter is composed of solid, indivisible and invisible to the human eye particles, the famous atoms. Although this philosopher interested in physical and chemical processes never had a true proof that proved the existence of the atom. We can affirm that he was the first person to talk about this and consolidate an atomist conception, known today as the Discontinuity of Matter, generating a long debate with the passing of the centuries.
The philosopher Leucippus of Miletus based his idea of the rational origin of the universe on the atom, claiming that the universe was made up of thousands of indivisible particles that came together after an event similar to a whirlwind. Epicurus of Samos, a philosopher from Athens, with his doctrine of nature, claimed, reworking Democritus's version, that the formation of the universe could have responded to a process of chance, in other words, the probability that atoms would suffer deviations in their trajectory, colliding with each other.
It took several centuries for John Dalton, known as the father of atomic theory, to be born in 1776. He was born in the United Kingdom, specifically in Cumbria. From the age of 12, he showed his intelligence. As a young man, he was interested in meteorology and from there his attraction to certain chemical phenomena exploded. Dalton's postulates marked a major change in knowledge about atoms and their behavior.
In that sense, the scientist claimed that matter is composed of indivisible atoms, this statement was not very new. But, in addition, he added that atoms have an immutable character, that is, they can never be transformed into each other, what has variable value are chemical combinations because they are made up of identical molecules and these in turn by atoms. Thanks to an endless number of experiments carried out by Dalton, the Dalton Atomic Theory was established.
The mentioned theory helped to calculate the atomic weight of the elements, such as the gaseous elements. He discovered the atomic masses of several elements by relating them to the mass of hydrogen. These discoveries were presented on October 21, 1803 during a conference at the Manchester Literary and Philosophical Society. Later, the disquisitions were reflected in his famous book A New System of Chemical Philosophy, published in 1808.
In this text, the following general statements can be highlighted: matter is composed of atomic particles, indivisible and indestructible, atoms of the same element are equal, as well as their weight and qualities, atoms do not divide even when they combine through chemical reactions, atoms of different elements can combine and form compound atoms, finally, chemical compounds are born from the union of atoms of two or more different elements. Many of Dalton's statements were challenged or reaffirmed.
In the future, Michael Faraday reformulated several of Dalton's proposals. In 1883, he discovered that the flow of electric current from one substance to another produces certain chemical changes, indicating the existence of a relationship between electricity and matter, ensuring that atoms must have an electric structure that supplies the appropriate amount of electric current to the weight of the decomposed chemical substance.
En el año de 1906 sale a la luz el Modelo Atómico de Thomson, que claramente invalidaba el anterior Modelo Atómico de Dalton ya que este no reflexionaba sobre la estructura interna del átomo. El físico británico Joseph John Thomson se valió del uso de los rayos catódicos dispuestos en un tubo de vacío que eran desviados al aplicar un campo magnético para obtener las pruebas para dar a luz este modelo.
The Thomson atomic model postulates that: The atom has negatively charged electrons embedded in a sphere of positive charge, these electrons are uniformly distributed throughout the atom, the atom is neutral so that the negative charges of the electrons are offset by the positive charge, the electrons can be extracted from the atom of any substance. Thus, Thomson represented the atom with a static model, in which the electrons were fixed within the positive mass, this model was approved by the scientific community because it allowed to explain qualitatively phenomena such as the emission of light by atoms, although later facts modified this hypothesis.
Ernest Rutherford was the one who modified Thomson's model, who in 1911 considered that in the central nucleus of the atom there is the positive charge and mass; while around there are electrons spinning at high speed. On the other hand, he discovered that the nucleus has a crust and a nucleus, the electrons that spin do so in the crust of the atom around the nucleus; this region is small and is located in the center of the atom that has the positive charge.
Just two years later, Niels Bohr, studying Rutherford's model disciplinely, deepened the way in which electrons were kept under a stable orbit around the nucleus without radiating energy, also thanks to the quantum number n, he was able to assure that first: there is a distance between the orbit and the nucleus; second that not all electrons circulate through all orbits and third he calculated the radius of the orbit. Bohr also explained why atoms showed characteristic emission spectra and how electrons can emit or absorb energy during jumps from one orbit to another. Shortly thereafter, the Sommerfeld model came out, based on Bohr's, formulating contributions to relativistic mechanics indicating that electrons travel at speeds close to that of light. It can also be highlighted that for Sommerfeld, the electron is basically an electric current. In 1924, the Schrödinger model, formulated by Erwin Schrödinger, came to light, which as an innovation takes into account the four quantum numbers: n, i, m, s. to affirm that in an atom there are no electrons with the four quantum numbers equal.
In the 60s American physicists Murray Gell-Mann and Georg Zweig detected a subatomic particle called a quark. In the 21st century a team of scientists carried out experiments in the Large Hadron Collider found the pentaquarks. This discovery of the subatomic particle helps to better understand the constitution of ordinary matter, neutrons and protons.

Biography of Sigmund Freud
Sigmund Freud ( May 6, 1856 and died September 23, 1939) was a neurologist of Czech origin. He was born in Příbor, where his father was a wool trader. Because his father was quite old at the time of his birth and had much older siblings, Sigmund developed great curiosity and asked many questions from a young age. He was very intelligent and skilled from his youth. The economic crisis in the country forced the family to move to Vienna, where they continued to face economic problems due to his father's lack of employment.
Despite his dislike for Vienna due to these difficulties, Freud lived in this city until one year before his death. For a time, due to his Jewish status, he had to exile himself to London due to the Anschluss, the annexation of Austria to the pan-Germanic project of Greater Germany led by the Austrian chancellor Arthur Seyss-Inquart. Although figures such as Roosevelt and Mussolini intervened, these efforts were unsuccessful and his works were burned.
Despite the persecution, Freud's family remained faithful to the Jewish community and their customs, although they were not particularly religious since his father leaned towards freethinking, and as a result, Freud had lost his religious beliefs since adolescence. Since graduating with excellent grades from school, an achievement achieved through the efforts of his parents, he showed a lot of interest and motivation for his future. Although he initially inclined towards law, he ultimately decided to study medicine, his intention was not to practice it but to study the human condition with scientific rigor.
After a period at university, he began to focus on biological research, from 1876 to 1882 he worked in the laboratory of physiologist Ernst von Brücke, where he studied some nerve structures of animals and the anatomy of the human brain. During this time he met Viennese doctor Josef Breuer, who was key to his economic and intellectual development. He also met Martha Bernays, daughter of a family of Jewish intellectuals, with whom he later got married.
Beginning of his career
At that time, to assume the responsibilities of being a husband, he began to work as a doctor, putting aside his investigative career without having a true conviction about this decision. However, he managed to acquire the clinical experience necessary to achieve a certain prestige. In that sense, he obtained important jobs in various departments of the Vienna General Hospital, deciding to specialize in neuropathology. In 1884, he conducted a study on the therapeutic use of cocaine, generating various criticisms because he experimented recklessly with people whom he seriously affected. For this reason, his reputation was somewhat tarnished.
In 1885, he began teaching neuropathology at the Medical Faculty of Vienna, and later on, psychoanalysis. His great intellect allowed him to obtain a scholarship to make a study trip for a year in the city of Paris. He spent several months in the neurology service of the Salpêtrière under the direction of Jean-Martin Charcot, then the most important French neurologist. There he learned about the manifestations of hysteria and the effects of hypnosis and suggestion in its treatment.
Beginning in Psychoanalysis
Freud was known for being an extremely jealous man, which caused him several problems and conflicts with his wife. Upon returning to Vienna, Freud opened a private practice as a neuropathologist, using electrotherapy and hypnosis as treatments for nervous diseases. His book written with Josef Breuer on the treatment of hysteria through hypnosis was a great success, entitled Studies on Hysteria (1895).
From that moment on, Freud began to outline his first ideas about psychoanalysis. Freud began speaking about the method of "free association" and at that time many medical friends had preferred to leave him alone. However, this did not prevent him from continuing with his research and emerging psychoanalytic concepts such as the unconscious, repression, and transference. In 1899, he published his famous work The Interpretation of Dreams, edited in 1900. Five years later, he published Three Contributions to the Theory of Sexuality.
Although his work was innovative and admired, it had few followers. However, in 1906 the situation changed; he managed to consolidate a circle of doctors who later became a psychoanalytic society. In 1908, they held the First Psychoanalytic Congress in Salzburg. From that moment on, his recognition was international, he was invited to the United States to give a series of lectures at Clark University in Worcester, Massachusetts, where his thinking had caused great admiration. In 1910, the International Psychoanalytic Society was founded in Nuremberg, led by Freud's colleague, Jung, who led it until 1914.
Some works and his deterioration of health
In 1916, Freud published Introduction to Psychoanalysis. He continued to write important books such as The Future of an Illusion (1927), Civilization and Its Discontents (1930), and Moses and Monotheism (1939). During this period, he was diagnosed with jaw cancer and had to undergo several surgeries. From then on, his illness often hindered his intellectual production, but he managed to complete several texts. Finally, he lost the battle against his illness on September 23rd, 1939.
Contribution to psychology
The main contribution of Freud to psychology was his concept of the unconscious. Freud believed that a person's behavior is deeply determined by repressed thoughts, desires, and memories, which can strongly influence their conduct. As a treatment method, psychoanalysis seeks to bring these memories to consciousness to free the individual from their negative influence. Without a doubt, his theories received important criticisms, but they still represent a great contribution to psychology. It is undoubtable that the spread of psychoanalysis revolutionized the view of human beings and its influence extended to fields like philosophy, literature, and the arts.
Notable works
The Interpretation of Dreams
Civilization and its Discontents
Totem and Taboo
Three Essays on the Theory of Sexuality
The Ego and the Id