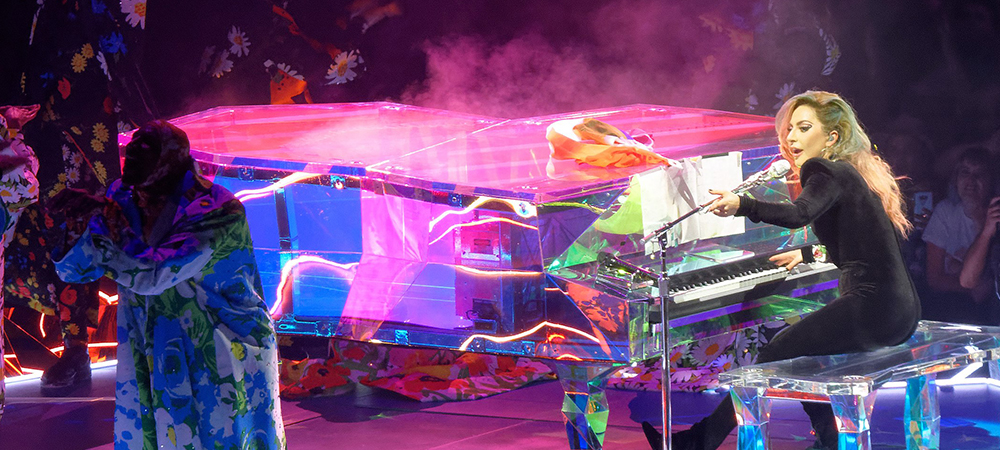 Personal information
Full name

Stefani Joanne Angelina Germanotta

Birthdate

March 28, 1986

Age
36 años
Occupation

Pop singer, actress

Stage name
Lady Gaga
Nationality

U.S

Height
5 feet 1 inch (155 cm)
Parents

Cynthia Louise Bissett and Joseph Anthony Germanotta,

Zodiac sign
Aries
Lady Gaga Biography
Stefani Joanne Angelina Germanotta (March 28, 1986). Pop singer. Known worldwide as Lady Gaga. She was born in Manhattan, New York, United States. Her mother, Cynthia Louise Bissett, vice president of the mobile operator Verizon. Her father was businessman Joseph Anthony Germanotta, Jr. Director of an internet network company.
Early life
She grew up in the exclusive Upper East Side of Manhattan, in a Catholic family. For this reason, her parents enrolled her in the Convent of the Sacred Heart, a religious and elitist school. She was very fond of music since she was a child, she learned to play the piano and, at thirteen, she wrote her first song. She was a participant in open mic nights. Her favorite singers were Queen, Michael Jackson, Madonna, and David Bowie. Upon completion of high school, she entered New York University's Tisch School of Art to study music. But she did not finish her studies, she abandoned them to start her musical career.
Musical beginnings
She began by performing melodic songs on the piano in clubs and small bars in New York. Her first production was made by her with producer and composer RedOne, they called it: Boys, Boys Boys. This production was not successful. A little heartbroken, she decided to return to her parents' house and began to perform in a New York club, in burlesque, avant-garde, and dance performances. At that time, her life knew drugs and uncontrolled parties. In 2007 she began working with Lady Starlight, they began to perform in venues in downtown New York. They participated in the American music festival «Lollapalooza». Again, she focused her life on music, later, she got Sony / ATV to release her single. Using her writing skills, she wrote songs for Britney Spears. Also, she worked for Interscope, her role was to compose for the New Kids on the Block, Fergie, Akon, and the Pussycat Dolls. Simultaneously, Stefani was performing on the Lower East Side with cover bands such as Mackin Pulsifer and SGBand.
While she persisted, unsuccessfully, in contacting and seeking support in some record companies, the situation would change when meeting the music producer Rob Fusari. He promoted her musical career, thanks to his support they built a strong working relationship, and this led to a sentimental relationship. It was Fusari who gave her her stage name, Lady Gaga, in honor of the song Radio Gaga by Queen, one of Stefani's favorite groups.
At a recognized event, Akon, who already knew Lady Gaga as her songwriter, heard her sing and decided to offer her a contract for his record label, Kon Live Distribution. Gaga certainly accepted it. Thus began Lady Gaga to be known as a singer. At this stage, she had the collaboration of Fusari and other producers such as RedOne and Martin Kierszenbaum.
Debut and Career
The young singer debuted with her album, The Fame. A mix of electropop; the synthpop of the 80s and dance sounds. The success was imminent, it was one of the best-selling albums in 2009 worldwide, with more than 12 million copies, and it reached the Top 1 in countries such as the United Kingdom, Canada, and Ireland.
Her vision was great, she not only wanted to release a single, but an album. Lady Gaga's first album, Just Dance, appeared in April 2008, just around the time of her separation from Fusari, it caused a stir. It was number one in countries like the United States; more than 400,000 digital downloads are estimated, including Canada, Australia, and the United Kingdom. For this work, the brand new artist was nominated for a Grammy for the first time. In October 2009, she was awarded the Rising Star of 2009 award from Billboard magazine.
At the end of the same year, Lady Gaga released her second studio album, called The Fame Monster. Later, she presented her first single, Bad Romance, at Alexander McQueen's Spring / Summer 2010 fashion event. The impact couldn't have been better. Bad Romance was number one in countries such as the United Kingdom, Canada, Italy, Ireland, Spain, Peru, Germany, France, Sweden, Austria, and Denmark, and its promotional video, admired for the innovative elements and excellent paraphernalia, exceeded 200 million visits on YouTube, becoming the most viewed in history.
On the album The Fame Monster. There was the song Paparazzi. The video was a boom. Lady Gaga's songs were tuned in on radio stations and the artist was featured in well-known magazines. Thanks to her fame, she embarked on her first tour: The Fame Ball Tour; this tour had an admirable reception, it sold out stadiums and large venues. Later, she was nominated for the Grammy Awards. The videos of her were irreverent and gave a lot to talk about, they swept on television and especially on the Internet. Platinum blonde appears in Just Dance; with a lightning bolt on her cheek, inspired by David Bowie from Aladdin Sane, another of her references.
On the other hand, on Poker Face she incorporates her sexiest and most futuristic style. Poker Face won three nominations on MTV Video Music Awards 2009, including the best video of the year. His videos can be summarized as extravagant hairstyles, excessive makeup, sidereal or cosmic style wardrobes, or simply exuberant, increasingly sophisticated scenography, choreographies close to pornography.
Gaga style
Her way of being was linked to her music, she was an eccentric girl and eventually gave explosive statements to the press, she declared herself a hermaphrodite. All these scandals made her more and more popular, and she was the focus of all eyes on her. Her next single was Telephone, played in a duet with Beyoncé. She also premiered Alejandro and Dancer in the Dark. Gaga embarked on her second world tour, The Monster Ball Tour, she officially announced it on October 15, 2009. Described by Gaga as the "first electropop opera", the tour would be present on all five continents. It would end in Spain in two only concerts, in Barcelona and Madrid. The tickets were sold in just three days. Billboard announced that the song Telephone, from the album The Fame Monster, peaked at number one on the Pop Songs chart, being the only singer in history to get the sixth consecutive number one from it.
In 2010, the news spread that her ex-boyfriend and producer Rob Fusari sued for the company Rob Fusari Productions, demanding the payment of a total debt of 30 million dollars, for being the co-author and co-producer of Paparazzi, Beautiful, Dirty, Rich, Disco Heaven and Retro, Dance, Freak. On the other hand, Lady Gaga was the main protagonist of the MTV Video Music Awards gala, receiving eight Awards. In short, 'Time' chose her as the artist of the year.
Born This Way
Gaga began production on the album: Born This Way. A mix of electronic music with rock 'n' roll, and pop. It sold more than a million copies in its first week after its release in the United States, topping the Billboard 200. In addition, Born This Way received three Grammy Award nominations. Gaga separated from her manager Troy Carter, in June 2014, along with her new manager Bobby Campbell and she joined Artist Nation. This music star declared in a documentary about her life, Five Foot Two, that she suffers from fibromyalgia, a disease that attacks muscles and bones, and it has cost her time off stage. Although, she is still extremely optimistic.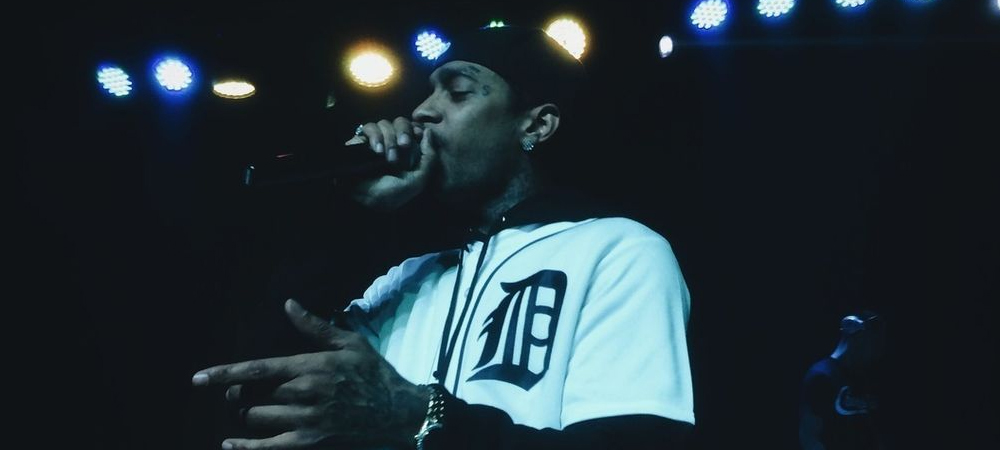 Nipsey Hussle Biography
Ermias Asghedom (August 15, 1985 – March 31, 2019), better known as Nipsey Hussle, was an American rapper, businessman, and community activist, who rose to fame in 2018 with his debut album Victory Lab. Nipsey began his career towards the mid-2000s releasing several successful mixtapes such as Slauson Boy Volume 1, Bullets Ain't Got No Name series and The Marathon. His fame came to him, along with his first Grammy nomination, with his debut album in 2018. He had previously created his label All Money In No Money Out (2010).
Following his death, he received two posthumous Grammys for the songs Racks in the Middle and Higher. He was known for his social work on behalf of the Crenshaw community.
Early years
He was born in Los Angeles, United States, on August 15, 1985. Son of Angelique Smith and Eritrean immigrant Dawit Asghedom, he grew up in Crenshaw, a neighborhood located south of Los Angeles, with his siblings Samiel and Samantha. He attended Hamilton High School but dropped out before graduating. Since he was little he looked for a way to help around the home, so over time, he began to work selling different products on the street.
After leaving school he became involved in the world of gangs, however, he turned away from it when he realized that it was not what he expected for his future. Decided then to dedicate himself to music, he sold everything that linked him to the gangs and worked for a time to buy his own production tools. After finishing his studies, he began to write and produce his own mixtapes, which he sold from a car. After finding inspiration from a trip he took to Eritrea with his father and spending time in prison, Nipsey turned fully to his career and business. He always looked for ways to start and help the community in which he grew up: giving jobs, helping students, renovating public spaces, etc …
Community activist
Nipsey was admired for his work at Crenshaw because instead of moving or investing in hedge funds, he preferred to help the community by boosting the local economy.
Career
In late 2005, Nipsey Hussle released his first mixtape, Slauson Boy Volume 1, independently, to great local success. By then he already had a fan base at the regional level, so it took him a while to sign a contract with the Epic Records and Cinematic Music Group labels. Later, the first volumes of the Bullets Ain't Got No Name series appeared, with which he expanded his popularity. Burner on My Lap, Ridin Slow, Aint No Black Superman, Hussle in the House and It's Hard out Here, were some of the songs included in the series.
By 2009, Nipsey would make a name for himself collaborating with Drake on Killer and with Snoop Dog on Upside Down. He also released Bullets Ain't Got No Name vol.3 and in 2010, he left Epic and opened his own label All Money In No Money Out. Under this label, he would soon release The Marathon, a mixtape in which hits such as Love ?, Mr. Untouchable, Young Rich and Famous and Late Nights and Early Mornings appeared. He also created The Marathon Clothing at that time, a sports and casual clothing brand that was based in his neighborhood. He then released the mixtape The Marathon Continues (2011), participated in the We Are the World 25 for Haiti campaign, and was featured in the popular XXL Magazine Annual Freshman Top Ten.
In 2013 came Crenshaw, a mixtape that would become famous because Jay-Z himself bought 100 copies for $ 100 each.
Victory Lap
After many delays, Nipsey would release his long-awaited debut album Victory Lap, on February 16, 2018, to great success. It was praised by critics and received a Grammy nomination for best rap album of the year. It was such a success that many singles entered the Billboard and Itunes charts. However, Nipsey did not enjoy much fame.
Death
Hussle was assassinated on March 31, 2019, outside his store in South Los Angeles. He was shot multiple times by a man he had previously clashed with, he was arrested and charged with murder on April 2 of the same year. After his death, many personalities expressed the pain caused by the news. It is worth mentioning that the Mayor of Los Angeles himself gave his condolences to the family, recognizing Hussle's social work in Crenshaw.
He was the partner of actress Lauren London and was the father of two children.
Sales strategies and greatest hits
Hussle was known for his sales strategies, since, he used to upload his singles in free download and then sell some limited editions for a cost of 100 to 1000 dollars. It promoted the sale of his work with campaigns such as Proud2Pay and Mailbox Money, in which he gave special incentives (autographed photos, dedication calls, tickets to his studio, and special events) to buyers. His revolutionary ideas promised him a fruitful career.
Some of his greatest hits
Rose Clique
Forever On My Fly Shit
Thas Wat Hoes Do Proud of That (with Rick Ross)
Face the world
Bless, 1 of 1
Where Yo Money At
Fuck Donald Trump
Higher
Young Rich and Famous