Abraham Biography
Abraham is the first of the three patriarchs of Judaism. The story Abraham can be read in the Bible in the book of Genesis, in which it is said that he was born in 1813 a. C. in Ur of the Chaldees and died in 1838 B.C. in Hebron.
The Bible narrates the story of Abraham who in the beginning was called Abram that comes from the Hebrew grammatic roots Ab which means father and Ram that means high or exalted. Abraham was son of Terah. The tenth descendant of Noah and his son, as well of Shem and brother of Nacor and Haran.
After Abraham (as his name was before God changed it) married his half-sister Sarai who was sterile. Terah traveled with his children and their families from Ur to Canaan where they settled in Haran, Mesopotamia where Terah would die at the age of 205 and God entrusted Abraham to seek out the right country in which he and his descendants would find the great people. So, Abraham along with his family, set out on a journey through Shechem and Negev to Egypt. Some archaeologists argue that such a crossing was made by several tribes from the southern part of the Caucasus to eastern Europe and the Mediterranean because the nomadism was still in full swing. Therefore, the crossing of Abraham may be possible.
In Egypt, Abraham finds out that the princes are interested in his wife, who Abraham had not seen her as a woman. To avoid any kind of conflicts in this new territory, Abraham introduces Sarai as his sister and not as his wife. Thanks to her, Pharaoh gives Abraham all kinds of animals to win his friendship and trust, but the Pharaoh is cursed by God. As the pharaoh finds out about the cursing, he asks Abraham for an explanation. Abraham tells the Pharaoh the truth about Sarai and the Pharaoh decides to banish Abraham and his family from Egypt. In an Yahvistic story, a similar event occurs, in which a governor named Abimelech falls in love with Sarai and is cursed by God as well.
After these events, Abraham meets Melchizedek, who is king and high priest of Salem, whom is seen as many people as Christ or a similar entity. This divine perception of Melchizedek came up because there is not records of his offspring nor ascendance. Besides the lack of records, it is said that he was made in the image and likeness of God. Melchizedek invites Abraham to drink wine, eat bread and strengthen his relationship with God.
Later, Abraham and his family, in which was his nephew Lot, son of his brother Haran, returned to the Hai region of Canaan where they lived for a while until the Abraham's shepherds and Lot's became enemies. To find a solution to the hostile situation both parties divided the land. Lot settled on the surroundings of Sodom and Gomorrah, eastern part of the Jordan River. On the other hand, Abraham went to the region called the Oak of Mamre next to Hebron and there he built an altar. However, Lot's territory would be invaded, and he would be captured. Abraham gathered his men and pursued the captors to Damascus, where he defeated them and save their nephew.
Meanwhile, Sarai realizes that she is sterile and gives Abraham to her slave, Hagar, who would give birth to Ishmael. Sarai becomes jealous of her slave and begins to mistreat her, so she runs away with her son Ishmael. In the desert, God appears to Hagar and convinces her to return.
Later, when Abraham is 99 years old, the Lord looks for Abraham and tells him that his wife will have a son, whom he should call Isaac and gives Abraham and Sarai new names: Abraham and Sarah. God also tells him that his son Ishmael will have twelve sons who will be princes and will make a great nation.
Consequently, Isaac is born in the land of Gerar where Abraham was staying because of a covenant he had made with King Abimelech. However, after some years of his birth God asks Abraham to make a sacrifice as proof of his faith and asks him to take his son with him. Abraham goes with Isaac and a lamb to Moriah. Finally, they arrive after three days walking and without the animal which had gotten lost along the way. Since there is no animal to sacrifice, Abraham is asked to sacrifice his son and right just before killing him he is stopped by an angel who confirms that it was a test of God and then gives him a ram for the sacrifice. Once this happens Abraham leaves Sara in Hebron, where she dies at the age of 127, while he marries and has six children with Keturah. Finally, Abraham dies at age of 175 and is buried in Hebron, with his family.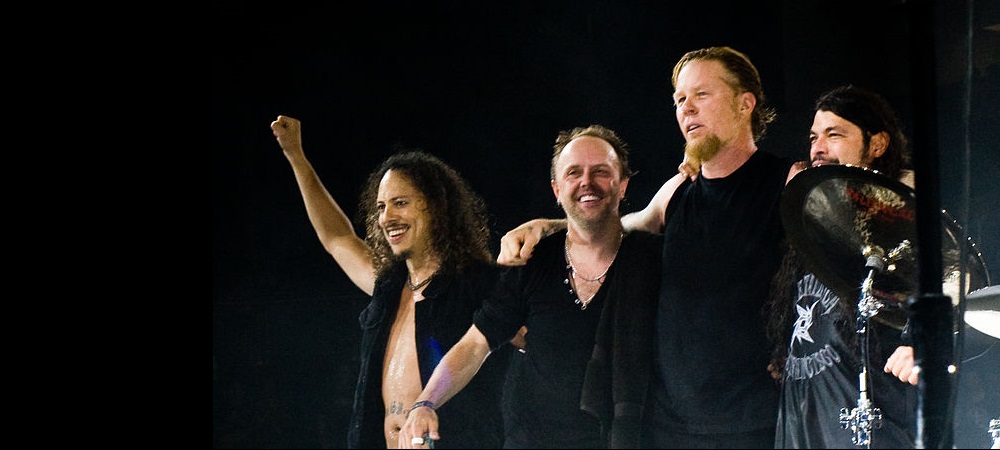 Metallica history
Metallica is an American thrash metal band from Los Angeles and based in San Francisco. It is considered one of the leading groups in the subgenre and throughout its 35-year career it has won numerous awards, including 9 Grammys, 2 American Music Awards, 2 MTV awards, 2 Billboard awards, and a star on the Hollywood Walk of Fame.
1980 – Beginnings
The history of the band begins in 1980 when Lars Ulrich, the son of tennis player Torben Ulrich, placed an ad in the magazine Recycler looking for a guitarist for a metal band influenced by the British New Wave of Heavy Metal. James Hetfield responded to the ad and joined Ulrich as the first members of the band. Ron McGovney joined as bassist and Lloyd Grant as lead guitarist. With this first formation, the band recorded its first demo, Hit the Lights, considered one of the first thrash metal songs. However, they soon realized that the lineup was not working and Lloyd was replaced by Dave Mustaine.
Despite the early disastrous performances due to the lack of experience of the members, the band continued and released No Life 'till Leather, showing a more aggressive sound. Additionally, Ron McGovney was replaced by Cliff Burton as bassist and Dave Mustaine was replaced by Kirk Hammett due to his alcohol addiction. Since then, James Hetfield has taken on both the role of rhythm guitarist and singer.
1983 – Release of 'Kill 'Em All'
With this new lineup and having Johnny Zazula as their manager, the band released in 1983 Kill 'Em All, which gained notoriety in the metal scene and sold more than 300,000 copies. After a tour of the United States and a concert in Holland where they reached their largest audience to date, with 5,000 people, the band released the album Ride the Lightening with Megaforce Records in 1984, which received critical acclaim for its melodic sound.
"1991 – Release of the 'The Black Album'"
After this work, the band released Master of Puppets in 1986 and embarked on a promotional tour that was cut short by an accident in which the bassist Cliff Burton died. After reflecting on their future, the band incorporated Jason Newsted and recorded …And Justice for All, an album with a denser sound that, despite its commercial success and a Grammy nomination, received criticism for being unoriginal and moving away from heavy metal. However, it wouldn't be until the release of their album Metallica in 1991, known as The Black Album, that they reached great success, selling half a million copies in the first week of sales in the United States and reaching the top of the Billboard chart. This work led to two similar albums, Load in 1996 and ReLoad in 1997, which received negative reviews for their proximity to alternative rock and their distance from traditional heavy metal, disappointing their older fanbase.
"2001 – Documentary, Tours, Awards"
In 2001, Jason Newsted left the band and Metallica struggled to find a suitable replacement for some time. Therefore, they had to record their next album, St. Anger, with their producer Bob Rock playing bass. However, Robert Trujillo soon joined the band's lineup. Three years later, the documentary Some Kind of Monster was released, which portrays the recording process of the last album and the internal conflicts that the band had with Dave Mustaine. After a tour in 2006 in which they played Master of Puppets again to celebrate its 20th anniversary, and the release of a compilation of their videos titled The Videos, Metallica was inducted into the Rock and Roll Hall of Fame. Later, they released Death Magnetic in 2008 and the conceptual album Lulu in 2011, which was poorly received by their fans. In 2012, the band founded their own record label, Blackened, and performed a concert in Antarctica to raise awareness about polar melting and environmental crisis. In 2016, they released Hardwired… to Self-Destruct. Currently, the band is still active.