Justin Bieber Biography
Justin Drew Bieber, known in the music world as Justin Bieber, is a Canadian singer and songwriter, renowned for being one of the most famous singers in the world. He was born on March 1, 1994, in London, Ontario, Canada and is the son of Jeremy Jack Bieber and Pattie Mallette.
As a child, he showed an interest in hockey, football, and chess, but always maintained his interest in music for himself. As he grew up, he learned to play the piano, the drums, the guitar, and the trumpet in a self-taught way. At the age of 12, he participated in a singing contest in Stratford, where he won second place in the song "So Sick" by R & B singer Ne-Yo.
At the end of 2008, the mother of Justin Bieber uploaded some videos in which he appeared performing songs by Usher, Chris Brown, Stevie Wonder, Justin Timberlake, and Ne-Yo. Mr. Scooter Braun, an executive in the music industry, discovered Justin Bieber when he accidentally saw him in some videos on YouTube, admiring all his talent. In addition, he later became his manager. Braun reunited Justin with Usher in Atlanta, where he signed a musical contract with the Raymond Braun Media Group (RBMG) record label and a recording with Island Records offered by L.A. Reid.
He released his first single titled "One Time" on July 9, 2009, which was presented on the radio when he was recording his debut album. The song reached the twelfth position in the Canadian Hot 100 chart in its first week of release and subsequently reached the seventeenth position in the Billboard Hot 100 list. The song was very successful in international markets.
"The world is very big and everyone will be waiting for you to get lost in it"
In the month of November 2009, Justin Bieber released his first album titled "My World" which received positive reviews and a platinum certification by the RIAA. The singer became the first artist to have seven singles from a debut album on the Billboard Hot 100, concluding that this album definitely took him to stardom. In Christmas that same year, he sang for President Barack Obama and his family in the White House and at the end of the year, he was invited to an episode of the American television series True Jackson, VP.
In January 2010, Justin Bieber was presented at the Grammy Awards gala. On March 23 of that same year, he released his second album titled "My World 2.0" which reached number one on the Billboard in its first week, something that had never been achieved in a singer of his age, since the time of Stevie Wonder. In addition, in that album, it was emphasized by the international success "Baby." In June 2010 he started his first tour called "My World Tour."
Justin Bieber won the American Music Awards Artist of the Year Award in 2010 and was nominated for the 53rd Grammy Awards in the categories of Revelation Artist and Best Pop Album. On April 10 of that same year, he participated as an artist guest on the Saturday Night Live program. On July 4, on the occasion of the celebration of Independence Day of the United States, he gave a concert at the fireworks show at the Macy's department store in New York, where he played "Baby" and "Somebody to Love." The second single from his album My World 2.0, entitled "Somebody to Love" was released in April along with a remix of the same song, in collaboration with Usher. This simple one reached the tenth position in the musical lists of Canada, in the United States and in some countries it was placed in the twenty-first positions.
On September 12, 2010, he received the MTV Award for the best revelation artist for his single Baby. The following month he announced that he would publish an acoustic album called "My Worlds Acoustic" finally he released it on Black Friday in the United States. The album featured acoustic versions of their songs from previous albums and a new song titled "Pray."
For the month of November 2011, Justin Bieber released his second studio album entitled "Under The Mistletoe" being number one on the Billboard 200 US chart. That same year he was listed by Forbes magazine as the third most influential celebrity of the world. At the end of 2011, he began recording his third studio album called "Believe." On May 29 of the same year came the second promotional single called "Die in Your Arms" and was placed on the list of several countries, in the first hundred hit songs.
On June 19, 2012, the commercial launch of "Believe" was made in the United States, but in the United Kingdom and Canada, it was in previous days. On May 11 of that same year, on the celebration of Mother's Day in North America, she published through iTunes the song "Turn to You" dedicated to her mother. In addition, he sought to collect funds for as single mothers.
For March 7, 2013, Justin Bieber had some health problems after fainting behind the scenes at the O2 Arena in London, during his performance he complained of respiratory problems and was taken to a hospital. In October of that same year, he announced that he would release a new song every Monday for ten weeks.
On January 23, 2014, Justin Bieber was captured in the city of Miami, along with the singer Khalil, on suspicion of driving intoxicated and resisting arrest without violence. Police said he confessed to having used alcohol, smoked marijuana, and prescription drugs. He was released on bail. On July 9 of that year, he was charged with vandalism in California, after throwing eggs at his neighbor's house.
For August 28, 2015, Justin Bieber released the single titled "What Do You Mean?" which reached the number 1 position in more than 20 countries. On October 23 of that year, he released the second single from the album titled "Sorry" as an instant download, with the pre-order of the album in iTunes. The song debuted at number two on the Billboard Hot 100. On November 13 he released his album "Purpose" and debuted at number one on the Billboard 200, becoming his sixth album to debut at the top of the list. It was the fourth best-selling album of that year.
On July 22, 2016, Justin Bieber released a new single with Major Lazer and MØ titled "Cold Water." He debuted at number two on the Billboard Hot 100 and became the third debut number two on the list.
Justin Bieber repeated the formula of his song "Sorry" and on August 17, 2017, he released his new song called "Friends" online.
ALBUMS
2010: My World 2.0.
2011: Under the Mistletoe.
2012: Believe.
2015: Purpose.
FILMOGRAPHY
2000: CSI: Las Vegas
2009: True Jackson VP.
2010: Silent Library.
2010: School Gyrls.
2010: CSI: Scene investigation.
2011: Justin Bieber: Never Say Never. – Musical, Documental.EU.
2011: Justin Bieber: Rise to fame. – Documentary film. The UK.
2011: Almost Famous IV. – Documentary film. The UK.
2012: The X Factor USA.
2012: Justin Bieber: All around the World. -A documentary, musical.
2013: The Simpsons.
2013: Believe. – Documentary film.
2015: Comedy Central Roast of Justin Bieber. – Documentary comedy.
2016: Zoolander 2 – Comedy.
2017: Objective: Hasselhoff. – Thriller.
2017: Chris Brown: Welcome To My Life. – Documentary film.
AWARDS
MTV Europe Music Awards for Best Male Artist: 2010, 2011, 2012, 2013, 2014 and 2015.
MTV Video Music Awards for Best New Artist 2010.
BET Award for New Artist 2010.
American Music Award for Artist of the Year: 2010 and 2012.
American Music Award for Favorite Male Rock / Pop Artist: 2010, 2012 and 2016.
American Music Award to Favorite Rock / Pop Album, by My World 2.0: 2010.
MTV Europe Music Awards for Best Pop Artist 2011.
MTV Video Music Awards Japan Award for Best New Video, for "Baby": 2011.
MTV Video Music Awards Award for Best Male Video 2011.
CMT Music Awards Award for Collaborative Video of the Year, by That Should Be Me (with Rascal Flatts): 2011.
Billboard Music Award to the Public's Favorite 2011.
Billboard Music Award for Best Artist in Streaming 2011.
Billboard Music Award for Best Pop Album, for My World 2.0: 2011.
Billboard Music Award to Top Social Artist: 2011, 2012, 2013, 2014 and 2015.
American Music Award to Favorite Rock / Pop Album, by Believe 2.0: 2012.
Billboard Music Award for Male Artist 2013.
Philippine Walk of Fame 2014
ASCAP Award for Most Interpreted Song, by Beauty And A Beat: 2014.
MTV Video Music Awards Award for Best Visual Effects 2015.
American Music Award for Collaboration of the Year: 2015.
People's Choice Awards for Best Song, for "What do you mean": 2015.
Latin American Music Award to Favorite Artist – Crossover 2016.
Grammy Award for the best dance recording 2016.
Brit Award for Male International Artist 2016.
Billboard Music Award for Best Male Artist 2016.
Billboard Music Award for Best Artist in Social Media 2016.
American Music Award to Favorite Pop / Rock Song, for Love Yourself: 2016.
American Music Award to Favorite Rock / Pop Album, by Purpose 2016.
Danish Music Award to Årets Internationale Hit 2016.
MTV Europe Music Awards to Song of the year, for Sorry: 2016.
Much Music Video Awards for Favorite Artist or Group: 2016.
ASCAP Award for Song most performed, by Cold wáter and Sorry: 2017.
ASCAP Song of the Year Award, for Love yourself: 2017.
iHeartRadio Music Awards for Male Artist of the Year 2017.
iHeartRadio Music Awards to Dance Song of the Year, for Let Me Love You and Cold Water: 2017.
iHeartRadio Music Awards for Male Artist of the Year 2017.
iHeartRadio Music Awards to best fans 2017.
Billboard Latin Music Artist of the Year Award, crossover: 2017.
Justin Bieber has received two Brit Awards, a Bambi Award, and his followings Res voted for prizes that include 12 American Music Awards, 20 Teen Choice Awards, and 21 MTV Europe Music Awards. In addition, he has won a Grammy Award and has 14 Guinness World Records.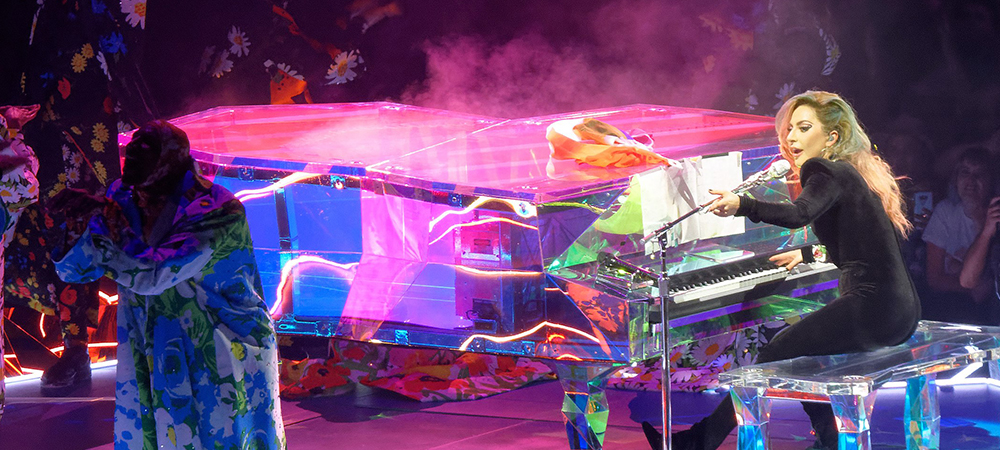 Lady Gaga Biography
Stefani Joanne Angelina Germanotta (March 28, 1986). Pop singer. Known worldwide as Lady Gaga. She was born in Manhattan, New York, United States. Her mother, Cynthia Louise Bissett, vice president of the mobile operator Verizon. Her father was businessman Joseph Anthony Germanotta, Jr. Director of an internet network company.
Early life
She grew up in the exclusive Upper East Side of Manhattan, in a Catholic family. For this reason, her parents enrolled her in the Convent of the Sacred Heart, a religious and elitist school. She was very fond of music since she was a child, she learned to play the piano and, at thirteen, she wrote her first song. She was a participant in open mic nights. Her favorite singers were Queen, Michael Jackson, Madonna, and David Bowie. Upon completion of high school, she entered New York University's Tisch School of Art to study music. But she did not finish her studies, she abandoned them to start her musical career.
Musical beginnings
She began by performing melodic songs on the piano in clubs and small bars in New York. Her first production was made by her with producer and composer RedOne, they called it: Boys, Boys Boys. This production was not successful. A little heartbroken, she decided to return to her parents' house and began to perform in a New York club, in burlesque, avant-garde, and dance performances. At that time, her life knew drugs and uncontrolled parties. In 2007 she began working with Lady Starlight, they began to perform in venues in downtown New York. They participated in the American music festival «Lollapalooza». Again, she focused her life on music, later, she got Sony / ATV to release her single. Using her writing skills, she wrote songs for Britney Spears. Also, she worked for Interscope, her role was to compose for the New Kids on the Block, Fergie, Akon, and the Pussycat Dolls. Simultaneously, Stefani was performing on the Lower East Side with cover bands such as Mackin Pulsifer and SGBand.
While she persisted, unsuccessfully, in contacting and seeking support in some record companies, the situation would change when meeting the music producer Rob Fusari. He promoted her musical career, thanks to his support they built a strong working relationship, and this led to a sentimental relationship. It was Fusari who gave her her stage name, Lady Gaga, in honor of the song Radio Gaga by Queen, one of Stefani's favorite groups.
At a recognized event, Akon, who already knew Lady Gaga as her songwriter, heard her sing and decided to offer her a contract for his record label, Kon Live Distribution. Gaga certainly accepted it. Thus began Lady Gaga to be known as a singer. At this stage, she had the collaboration of Fusari and other producers such as RedOne and Martin Kierszenbaum.
Debut and Career
The young singer debuted with her album, The Fame. A mix of electropop; the synthpop of the 80s and dance sounds. The success was imminent, it was one of the best-selling albums in 2009 worldwide, with more than 12 million copies, and it reached the Top 1 in countries such as the United Kingdom, Canada, and Ireland.
Her vision was great, she not only wanted to release a single, but an album. Lady Gaga's first album, Just Dance, appeared in April 2008, just around the time of her separation from Fusari, it caused a stir. It was number one in countries like the United States; more than 400,000 digital downloads are estimated, including Canada, Australia, and the United Kingdom. For this work, the brand new artist was nominated for a Grammy for the first time. In October 2009, she was awarded the Rising Star of 2009 award from Billboard magazine.
At the end of the same year, Lady Gaga released her second studio album, called The Fame Monster. Later, she presented her first single, Bad Romance, at Alexander McQueen's Spring / Summer 2010 fashion event. The impact couldn't have been better. Bad Romance was number one in countries such as the United Kingdom, Canada, Italy, Ireland, Spain, Peru, Germany, France, Sweden, Austria, and Denmark, and its promotional video, admired for the innovative elements and excellent paraphernalia, exceeded 200 million visits on YouTube, becoming the most viewed in history.
On the album The Fame Monster. There was the song Paparazzi. The video was a boom. Lady Gaga's songs were tuned in on radio stations and the artist was featured in well-known magazines. Thanks to her fame, she embarked on her first tour: The Fame Ball Tour; this tour had an admirable reception, it sold out stadiums and large venues. Later, she was nominated for the Grammy Awards. The videos of her were irreverent and gave a lot to talk about, they swept on television and especially on the Internet. Platinum blonde appears in Just Dance; with a lightning bolt on her cheek, inspired by David Bowie from Aladdin Sane, another of her references.
On the other hand, on Poker Face she incorporates her sexiest and most futuristic style. Poker Face won three nominations on MTV Video Music Awards 2009, including the best video of the year. His videos can be summarized as extravagant hairstyles, excessive makeup, sidereal or cosmic style wardrobes, or simply exuberant, increasingly sophisticated scenography, choreographies close to pornography.
Gaga style
Her way of being was linked to her music, she was an eccentric girl and eventually gave explosive statements to the press, she declared herself a hermaphrodite. All these scandals made her more and more popular, and she was the focus of all eyes on her. Her next single was Telephone, played in a duet with Beyoncé. She also premiered Alejandro and Dancer in the Dark. Gaga embarked on her second world tour, The Monster Ball Tour, she officially announced it on October 15, 2009. Described by Gaga as the "first electropop opera", the tour would be present on all five continents. It would end in Spain in two only concerts, in Barcelona and Madrid. The tickets were sold in just three days. Billboard announced that the song Telephone, from the album The Fame Monster, peaked at number one on the Pop Songs chart, being the only singer in history to get the sixth consecutive number one from it.
In 2010, the news spread that her ex-boyfriend and producer Rob Fusari sued for the company Rob Fusari Productions, demanding the payment of a total debt of 30 million dollars, for being the co-author and co-producer of Paparazzi, Beautiful, Dirty, Rich, Disco Heaven and Retro, Dance, Freak. On the other hand, Lady Gaga was the main protagonist of the MTV Video Music Awards gala, receiving eight Awards. In short, 'Time' chose her as the artist of the year.
Born This Way
Gaga began production on the album: Born This Way. A mix of electronic music with rock 'n' roll, and pop. It sold more than a million copies in its first week after its release in the United States, topping the Billboard 200. In addition, Born This Way received three Grammy Award nominations. Gaga separated from her manager Troy Carter, in June 2014, along with her new manager Bobby Campbell and she joined Artist Nation. This music star declared in a documentary about her life, Five Foot Two, that she suffers from fibromyalgia, a disease that attacks muscles and bones, and it has cost her time off stage. Although, she is still extremely optimistic.