Jimmy Fallon Biography
James Thomas Fallon (September 19, 1974) He was born in New York, United States. American actor, comedian, and presenter, famous for his appearances on Saturday Night Live and his interviews on Late Night with Jimmy Fallon and The Tonight Show Starring Jimmy Fallon. Graduated in Communication from the College of Saint Rose, Fallon began his career in the mid-1990s in Los Angeles. After becoming known as a comedian, he joined the popular comedy show Saturday Night Live (1998) and shortly thereafter debuted as a film actor with the film Almost Famous (2000) by Cameron Crowe. Later he became the host of the talk shows and varieties Late Night with Jimmy Fallon (2009-2014) and The Tonight Show (2014), replacing the then-host Jay Leno.
FAMILY AND BEGINNINGS
Born into a family of Irish and German descent, Jimmy Fallon is the son of James Fallon and Gloria Fallon; His sister is Gloria Fallon (writer). He studied at the Saugerties High School, where he began to develop his theatrical and humorous skills, being part of several works and student presentations. At the beginning of the 1990s, he began to participate in various comedy and imitation contests representing various famous figures, with the support of his mother, who from the beginning saw the talent of the young man.
After becoming known as the winner of the young comedians' contest, Fallon entered the University College of Saint Rose, in Albany. In this, he initially studied Computer Science and later switched to Communication, a career he left shortly before graduating in 1995. That year he moved to Los Angeles to start his career performing in various locations and drawing public attention with his faithful imitations. When he gained popularity in 1998, he became a member of the Saturday Night Live comedian group, a comedy program that revolutionized seventies television with its mix of sketches, contests, comedy, and special guests.
JIMMY FALLON'S TRAJECTORY
Fallon worked on Saturday Night Live from 1998 to 2004, during these years he presented several sketches and became a presenter of the Weekend Update space with the also renowned actress and humorist Tina Fey. Starting the new millennium debuted as a film actor in the dramatic comedy of Cameron Crowe, Almost Famous (2000), a film in which he played the businessman Dennis Hope. In this comic and autobiographical film inspired by the musical atmosphere of the sixties and seventies rock, Fallon shared set with renowned actors such as Philip Seymour, Frances McDormand, Kate Hudson, Zooey Deschanel, and Kevin Sussman, among others.
A year later he joined the cast of the HBO miniseries, Band Of Brothers (2001), a series set in World War II that tells the story of the Easy Company battalion. Being considered one of the best series of the year, Band Of Brothers, received six Emmy awards, a Golden Globe and a Peabody Award, among other awards. Consolidated his career in the entertainment world, Fallon became the host of various awards such as the MTV Movie Awards of 2001 with Kirsten Dunst, the Video Music Awards of 2002 and the Primetime Emmy Awards of 2010, among many others.
Shortly before finishing his stage on Saturday Night Live, Fallon was nominated for the Grammy for his Best Spoken Comedy Album: "The Bathroom Wall" (2002), a comedy album in which he is heard interpreting songs of his  authorship and some Stand-up like Idiot Boyfriend, Drinking in the Woods and Dorms, Shower Baskets & the Walk of Shame and Gotta Get a Fake ID, among others. For this same period he acted in Everything Else (2003) by Woody Allen, Taxi (2004) by Tim Story and Love at stake (2005), a film by the Farrelly brothers (Peter and Bobby) who co-starred with Drew Barrymore.
In 2006, he was Dylan's voice in Doogal (Hairy Adventures, 2006) by directors Dave Borthwick, Jean Duval and Frank Passingham, Daniel Tay (Doogal), Whoopi Goldberg (Ermintrude) and Chevy Chase (Train) also worked on it. The following year he married Nancy Juvonen, a film producer with whom he had his daughters Winnie Rose (2013) and Frances Cole (2014). Later their marriage starred in The Year of Getting to Know Us (2008), along with Lucy Liu, Sharon Stone, and Tom Arnold. In 2009, he became the host of his program on NBC with Late Night With Jimmy Fallon, which he presented between 2009 and 2014. In this program, Fallon presented several monologues and sketches, in addition to some interviews with celebrated guests, with the support of a musical group that was also invited to the program. Some of the guests of the program were: Emily Blunt, John Leguizamo, Donald Trump, Serena Williams, Ashley Tisdale, Jennifer Aniston, Tyra Banks, Adele, Fall Out Boy, Bon Jovi, Jason Derulo, Snoop Dogg, Ke $ ha, Ariana Grande and The Fray, among many others
In 2014, he finished the program to make way for The Tonight Show Starring Jimmy Fallon (2014-present) and became the new host replacing Jay Leno, former host of The Tonight Show. Since then, Fallon has presented one of the most watched and best-known programs in the United States, in which he has interviewed famous figures from the world of entertainment, politics, and academia. Some of the most prominent guests have been: Will Smith, Bradley Cooper, Michelle Obama, Lindsay Lohan, Arnold Schwarzenegger, Daniel Radcliffe, Anne Hathaway, J Balvin, Pitbull, Bad Bunny, Lady Gaga, U2, BTS, Camila Cabello, and Barack Obama, among others. Recently, Colombian singer Maluma was interviewed on the show.
In addition to comedy and presentation, Fallon is known for writing, debuted as a writer in 1999, with the book I hate this place: The pessimist's, Guide to life (1999) and in recent years has published Snowball Fight! (2005), Thank You Notes (2011), Your Baby's First Word Will Be DADA (2015) and Everything Is MAMA (2017).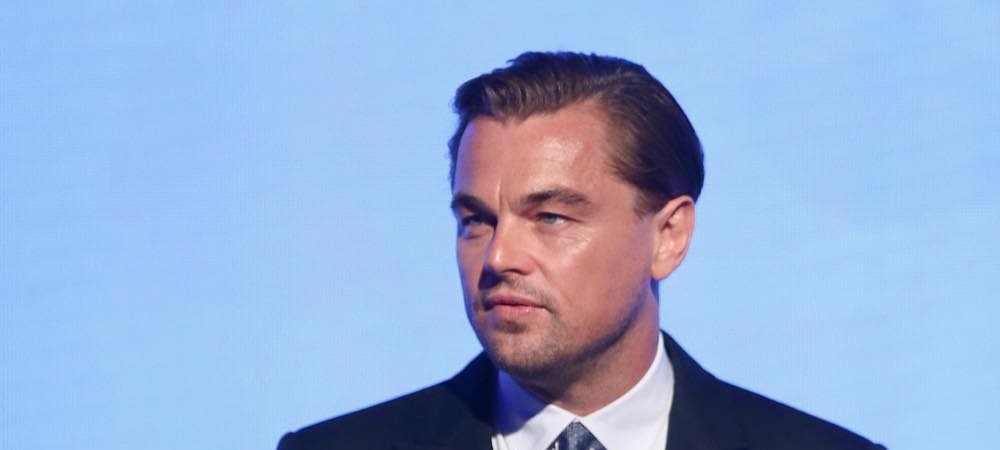 Biography of Leonardo DiCaprio
Leonardo Wilhelm DiCaprio is a renowned actor and film producer who has won numerous awards within the film industry. He was born on November 11, 1974, in Hollywood, Los Angeles, California, United States.
DiCaprio is an only child of Irmelin Indenbirken, a secretary born in Germany, and George DiCaprio, an underground comic artist and producer/distributor of comics. On his father's side, he has half-Italian (from Naples) and half-German (from Bavaria) ancestry. On the other hand, on his mother's side, his grandfather Wilhelm Indenbirken was German and his grandmother Helene Indenbirken was a German citizen born in Russia under the name Yelena Smirnova.
He was named Leonardo because, while his pregnant mother was looking closely at a painting by the great artist Leonardo da Vinci in a museum, DiCaprio gave a strong kick inside her belly. His parents divorced when he was only one year old, and they shared custody of Leonardo until 1997.
Studies, beginnings in acting.
As for his education, he did not attend university and only took basic courses at John Marshall High School in Los Angeles. His career in the world of image and acting began when he followed his older stepbrother, Adam Farrar, in television advertising, starring in a commercial for the Matchbox car brand at the age of fourteen and subsequently participating in educational films. At the age of five, he was also part of the children's television series "Romper Room", but had to leave it as it was detrimental to him.
"1990 – 1991: Debut in television and cinema"
In 1990, he made his true television debut when he was cast to be a part of the "Parenthood" ensemble, a series based on the film of the same name. He then landed minor roles in several series, including "The New Lassie" and "Roseanne," as well as a brief part in "Santa Barbara." His work in "Parenthood" and "Santa Barbara" earned him a nomination for the Young Artist Award for Best Young Actor. His big screen debut came in 1991 with the science fiction and horror movie "Critters." Later on, he became a recurring member of the cast of the ABC sitcom "Growing Pains," playing Luke Brower. However, DiCaprio didn't achieve success in the film industry until 1992, when he was selected by Robert De Niro from among 400 young actors for the lead role in "This Boy's Life," which also starred Ellen Barkin and De Niro himself.
1993 – 1996
Later, in 1993, DiCaprio played the mentally disabled younger brother of Johnny Depp in "What's Eating Gilbert Grape." The film's director, Lasse Hallström, admitted that he initially sought a less attractive actor, but he decided on DiCaprio because he had become "the most observant actor" among all who auditioned. The film was a great financial and critical success, resulting in Leonardo being highly praised for his performance, which led to him being awarded the National Board of Review for Best Supporting Actor and nominated for an Academy Award and a Golden Globe. Subsequently, he had roles in films such as "The Quick and the Dead" (1995) and was one of the leads in "Romeo + Juliet" (1996).
But his big break came with director James Cameron, who offered him the lead male role in Titanic (1997), a movie that not only won a considerable number of Academy Awards but also became a social phenomenon. Afterwards, DiCaprio gained greater acceptance in the cinematic world, so he was part of numerous films such as:
The Man in the Iron Mask (1998)
The Beach (2000)
Catch Me If You Can (2002)
The Aviator (2004)
The Assassination of Richard Nixon (2004)
Blood Diamond (2006)
Gardener of Eden (2007)
Body of Lies (2008)
Orphan (2009, as producer)
Shutter Island (2010)
Inception (2010)
Django Unchained (2012)
The Great Gatsby (2013)
Runner Runner (2013)
The Wolf of Wall Street (2013)
The Revenant (2015)
The Audition (2015).
Curiosities
Interestingly, he was nominated for an Oscar five times: Best Supporting Actor for What's Eating Gilbert Grape, Best Actor for The Aviator, Blood Diamond and The Wolf of Wall Street. This generated a lot of jokes and talk of a supposed "curse" in Hollywood. But in 2015, he finally won the award thanks to his great performance in "The Revenant".
It should also be noted that DiCaprio is a committed environmentalist who has received praise from environmental groups for choosing to fly on commercial flights instead of private planes like most celebrities, and for driving an electric hybrid vehicle and having solar panels in his home.