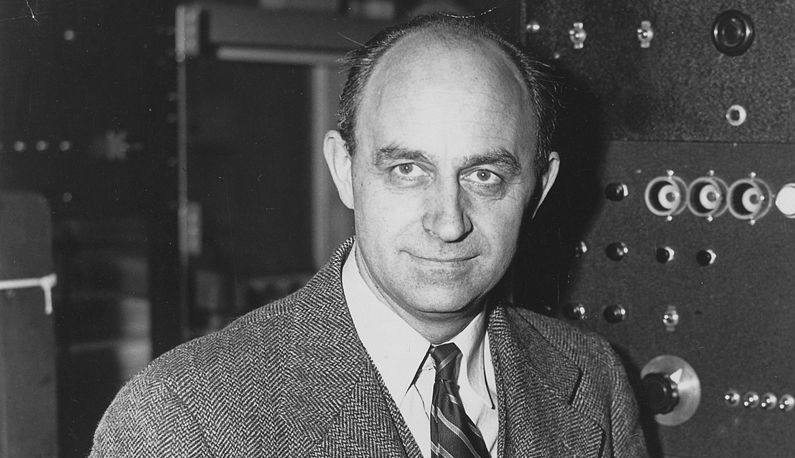 Enrico Fermi biography
Enrico Fermi (September 29, 1901 – November 28, 1954). Italian nuclear physicist. His family enjoyed certain amenities, his father was an officer of the railway company of Italy. From an early age, he expressed interest in physics at the age of 14 after reading a physics book his father had. He had an excellent academic performance and was able to recite Dante's Divine Comedy, his memory was prodigious. The great ability to solve problems of theoretical physics and his ability to simplify complex equations made him gain admiration quickly.
He was a student at the Higher Normal School of Pisa and his career ended in 1922. In this institution, he took his first steps in scientific activity, especially in atomic and molecular physics. In 1927 he applied the well-known, Fermi statistic, to the electrons that move around the nucleus of the atom. From this experimentation with Thomas, they were able to establish an approximate method for the study of many atomic questions, which they would call the Thomas-Fermi method.
In 1926 he ventured into the world of teaching, taught his first classes of theoretical physics at the University of Rome, his work as a teacher was applauded. There he took advantage to develop a new type of statistics to explain the behavior of electrons, from this arose a theory about beta radioactive decay. From this moment on he continued to investigate artificial radioactivity by testing with the bombardment of elements with neutrons.
"Whatever nature has in store for humanity, however unpleasant it may be, men must accept, that ignorance is never better than knowledge." Enrico Fermi
His wife, Laura Capon, was Jewish, this represented an inconvenience at the time of the rise of fascism in Italy in the 30s. To safeguard their family they decided to emigrate to the United States, New York. There, some years later he held the position of professor of physics at Columbia University. His stay in the United States was positive because it allowed him to be aware of the great findings of different colleagues. For example, the advances of the Germans Otto Hahn and Friedrich Strassman. Based on these advances, he managed to manufacture the first atomic pile, consequently, he achieved the first controlled reaction of nuclear fusion in the facilities of the University of Chicago.
The advances of artificial radioactivity, discovered by the Joliot-Curie marriage, also served as an impulse and basis of their studies, so in 1934 he discovered that hydrogenated substances and in general light elements could reduce the speed of neutrons after collisions elastics. And so, he studied the absorption and diffusion properties of slow neutrons. Enrico Fermi was deeply aware of the importance of his experimental work and believed in his desire to produce atomic energy.
Fermi was a member of the cabinet of extraordinary scientists who worked for the country during World War II, under the command of Oppenheimer, developing the nuclear device called Little Boy loaded with Uranium-235 that would destroy Hiroshima, Japan. The launching of two atomic bombs on this territory ended World War II and also made the United States the first country to have and launch an atomic bomb. This event was named the Manhattan project. In 1946, when World War II was over, he opposed the development of the hydrogen bomb for ethical reasons. Enrico Fermi was a professor of physics and director of the new Institute of Nuclear Studies at the University of Chicago; his fame and respect were such that many students from different parts of the world went there to study with him.
He published some two hundred memoirs in several magazines in Italy and the United States. He also published four books: an introduction to atomic physics (1928), molecule and crystal (1934), thermodynamics (1937) and elementary particles (1951). Thanks to these magnificent works, he was named the president of the American Physical Society, he was part of many Italian and foreign academies, and received awards and recognition in various countries. For example, in the United States, the country that welcomed him and gave him residence, he received the merit medal in 1946. In addition, the subatomic particle, the fermion, the 100th element of the periodic table, was named in his honor. All this earned him the 1938 Nobel Prize in Physics.
The figure of Enrico Fermi stands out in the history of physics not only for his research skills but also for his high qualities as a teacher. It should be noted that in addition to his prolific and varied experimental activity, Fermi, he served as a teacher in distinguished educational institutions. And he was one of the first scientists to pay attention to the UFO phenomenon. It was productive both in the theoretical and experimental field, something not very common in his time, and he is also estimated as the last physicist who made great contributions to both branches. His life ended at 53 because of stomach cancer, on November 28, 1954, in Chicago.
Friedlieb Ferdinand Runge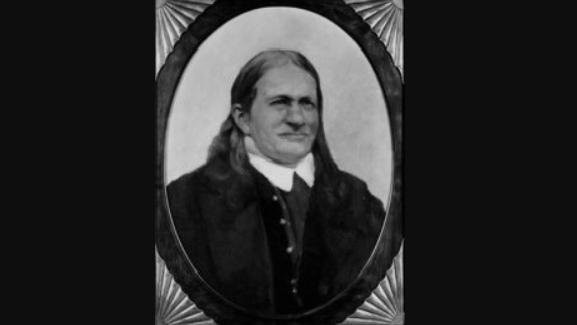 Friedlieb Ferdinand Runge Biography
Friedlieb Ferdinand Runge (February 8, 1794 – March 25, 1867) was born in Hamburg, Germany. Chemist and pharmacist, famous for discovering caffeine in 1820, after being encouraged to study coffee beans by renowned German scientist Johann Wolfgang Goethe.
Runge is considered one of the most prominent scientists of the 19th century. However, he was little appreciated at the time. Among his most outstanding findings are: atropine, aniline, phenol, quinine, pyrrole, and tar distilled dyes, as well as chromatography. Throughout his academic career he served as a professor at the universities of Berlin and Wroclaw, subsequently worked for a pharmaceutical company in which he sought financial support to make his discoveries profitable. However, his efforts were ignored.
Studies and beginnings
He was born into a humble family that lived in Billwerder (Hamburg). His father was a Lutheran pastor. He studied at the primary school located in Schiffbeck, after a few years he began to be interested in science, a passion he has cultivated since then. After carrying out his basic academic training, he chose as a profession the pharmaceutical company, an area in which she quickly excelled, thus earning her own livelihood since she was young. At the beginning of the 1810s, he observed how a drop of belladonna increased the diameter of the pupil of the eye in a cat, thus discovering the mydriatic effect of the plant. In 1816, he entered the University of Berlin, where he studied medicine, two years later he continued his training in Göttingen, the city in which he carried out his practices in chemistry.
Career
At the end of his formative period in Göttingen, he moved to Jena, where shortly thereafter he obtained his Ph.D. in Physics, after presenting an essay in which he delved into the poisoning with Belan and Belladonna. At that time he had as a Professor of Chemistry Johann Wolfgang Döbereiner, a renowned German chemist who invited Johann Wolfgang Goethe to observe Runge's discovery about the effect of belladonna on the pupil, for this the young scientist presented himself with a cat, which had pupils of different diameter, impressed by his discovery, Goethe gave him a box of coffee beans and asked him to analyze the chemical composition of coffee, research that resulted in the discovery of caffeine in 1820.
Before his great discovery, he returned to Berlin, where he began to work as a university professor while continuing to work as a pharmacist. During this period, he lived with the famous physicist Johann Christian Poggendorf who was his school partner in Schiffbeck. Together, they turned their home into a laboratory, where they conducted numerous experiments. At the beginning of the 1820s, he carried out various studies related to indigo dye and its chemical composition (salts and metal oxides), information that was part of his doctoral thesis. He later published Recent phytochemical discoveries, a work in which he delved into this area of ​​science, seeking to establish scientific phytochemistry.
During his stay in Berlin, he began teaching about plants and technical chemistry. In 1823, he traveled to Paris to continue studying, later moved to Wroclaw for a short time, then visited Switzerland, France, Germany, Holland, and England. After traveling through Europe, Runge settled in Wroclaw, a city where he served as an associate professor at the Faculty of Philosophy at the University of Wroclaw, without receiving a fixed salary. In the course of these years he gave various conferences and focused on his research, with the goal of carrying out chemical studies that had a practical benefit; a short time later he left his job at the university to devote himself fully to research. In 1832 he was hired to direct the technical management of a chemical factory sponsored by the Prussian government, located in Oranienburg.
While working at the factory, he discovered the aniline and phenol by distilling the coal tar, aware of the entrepreneurial potential of this discovery, he sought the support of the company. However, the factory director rejected the proposals proposed by Runge. For this discovery, he was exalted at the Industrial Congress in London and was later awarded in Berlin. For this same period, he investigated the intensities of the colors through the filter paper. In 1852 he was fired after being accused of working for a short time, an accusation that was linked to the academic activity of the scientist, who at this time focused on his studies and published about seven books. Runge lived for a short time of the pension of the company, which stopped arriving after the death of the owner.
The last years of his life faced serious financial problems, falling into oblivion. However, he continued to carry out research on practical chemistry, produced artificial fertilizers and wrote several books, including maintenance letters, a book in which he gave advice on the domestic environment, such as preparations, recipes, and Tricks to eliminate stains and odors. After a long academic career the scientist died on March 25, 1867, in Oranienburg, was buried in the municipal cemetery.
Although his studies and approaches were little appreciated in his time, currently Runge, he is considered one of the most relevant scientists of the nineteenth century.
Friedlieb Ferdinand Runge doodle
Google honored the scientist on the 225th anniversary of his birth, becoming the center of the Doodle on February 8th. In the image, the scientist is seen surrounded by his discoveries such as caffeine and the mydriatic effect of belladonna on the cat's eyes.