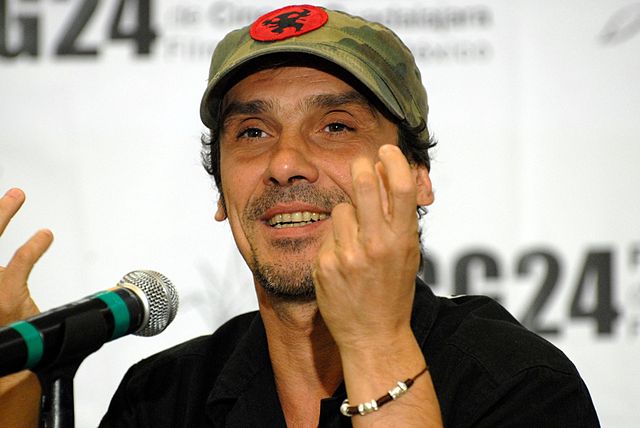 Manu Chao Biography
José Manuel Arturo Tomás Chao Ortega (June 21, 1961) He was born in Paris, France. Franco-Spanish singer-songwriter considered one of the most versatile and prominent musicians of the 21st century. He began his musical career in the eighties playing in the streets and being part of the bands of Rock Hot Pants (1984) and Los Carayos (1985). In 1987 he created the band Mano Negra with his brother Antoine and his cousin Santiago Casiriego. Together they succeeded in Europe and Latin America during the nineties, being remembered for the themes: Lord Matanza, King Kong Five, Soledad, and Moonrise, among others. He launched as a soloist with the album Clandestino (1998) and later published Next Station … Esperanza (2000). Since then he has performed live with the band Radio Bemba Sound System or Radio Bemba.
FAMILY AND BEGINNINGS
Son of journalist Ramón Chao and physicist Felisa Ortega, a couple who emigrated from Spain to France during Franco's dictatorship. Chao spent his childhood in Boulogne-Billancourt and then moved to Sèvres, where he completed his studies and began to be interested in music and the political context, greatly influenced by his father. During his childhood and adolescence, he related to the various artists and intellectuals with whom his father related, among these he impressed figures such as the writer Alejo Carpentier, the painter Antonio Saura and the politician Felipe González. It was then that he began playing his first percussion instrument, which was given to him by Carpentier.
At age 14 he began to work taking photos in the interviews that his father conducted and later began to mix with the Parisian counterculture environment. Influenced by the punk of the seventies, he began playing with some friends in the streets, bars and abandoned factories of Paris.
In the early 80's he created the alternative band Hot Pants (1984), with his cousin Santiago and his friends Pascal Borgne and Jean-Marc. In 1985, they recorded their debut single Hot pants, which included the songs: So Many Times and Lover Alone. Then they released the LP Loco Mosquito (1986), under the All or Nothing label. This LP consisted of eleven songs with a marked rockabilly style performed in English and Spanish.
In the late 1980s, he was part of the band Los Carayos (1986), along with François Hadji-Lazaro, Alain Wampas, Robert Fritsch and his brother Antoine. Between 1986 and 1994 they released the albums Hot Girls (1986), Ils Ont Osé! Live (1986), Persistent et Signent (1987) and Au Prix où sont les courges (1994). They were active for several years without having much impact on the Parisian scene. Most of the members worked with other bands at the same time, so they did not take off as a group. Even working with Los Carayos, he decided to create the band that changed the history of alternative rock, Mano Negra.
Mano Negra (1987-1995)
In the late 80's he created the band Mano Negra with his brother Antoine and his cousin Santiago Casiriego. They began their adventure playing in the Paris subway and in a short time they drew the attention of the public with their characteristic fusion of musical styles, in which they found sounds as distant as Rock, rumba, hip-hop, and salsa. Chao's lyrics interpreted in different languages ​​(French, Spanish, English, and Arabic) spoke directly to the rebel generation, young people with a political conscience, belonging to social movements and active in the streets.
In June 1988, they released their first album, the album Patchanka (1988), a fusion of African, Latin and native sounds that revolutionized the history of Hispanic rock. This successful album consisted of 14 songs, among which were: Mala Vida, Indios de Barcelona, ​​Takin 'It Up, Lonesome Bop, Rock Island Line and Salga la Luna.
In a short time, the band was seen as one of the most prominent groups of the rock scene of the late '80s. With this album, they appeared at various festivals and toured various countries in Europe and Latin America. The success of his debut album was surpassed by Puta's fever (1989), an album that put them on top and opened the doors of the international market with the single King Kong five. Beginning in the 1990s, they launched King of Bongo (1991), work with a marked rock style that was presented during the Iggy Pop tour in the United States. After the tour, they decided to focus their musical interests in Latin America, so, in 1992, they undertook a strange and crazy tour along the coasts of Brazil, Venezuela, Mexico, and Santo Domingo, aboard a ship. They also visited Colombia and other countries.
This long journey was collected by Ramón Chao in the book Train of Fire and Ice (1994). The strenuous adventure in various countries exacerbated the tensions already existing among the members of the band, which at that time had about 12 members. After posting Casto Babylon (1994), the band dissolved in the middle of several legal disputes. In the following years, Chao worked with some members of the band under the name of Radio Bemba and later collaborated with other artists making their way as a soloist.
SOLO AND RADIO BEMBA
In the late 1990s, he debuted as a soloist with the album Clandestino (1998), a record work that included the hits: Disappeared, Je ne t'aime plus, Luna y Sol, Minha Galera and La Despedida. After several years of silence he released Next station: Esperanza (2001), an album that became a success, thanks to the single, I Like You, one of Chao's best-known songs. That same year he began his tour with Radio Bemba Sound System and later published his first work with these, entitled Radio Bemba Sound System (2002), live on his tour that included songs published with Mano Negra. In recent years he has published the albums: Sibérie m'était contéee (2004), La Radiolina (2007), Estación México (2008) and Baionarena (2009).
Currently, Chao is seen as one of the most representative artists of the 21st century, not only for his social messages and his vindication to the popular sectors but also for his ability to fuse styles as varied as rock, rumba, ska and hip-hop.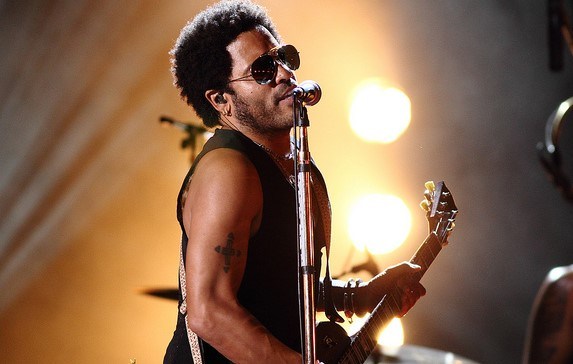 Lenny Kravitz Biography
Leonard Albert Kravitz (May 26, 1964) was born in New York, New York, United States. American singer-songwriter, actor and music producer, considered one of the most prominent artists of the American music scene. Kravitz has excelled throughout his career for his compositions and way of performing, as well as his instrumental and rhythmic versatility, mixing styles such as blues, soul, funk, rock, pop, and reggae, among others. In the course of his successful career, he has collaborated with prominent artists such as Slash, Madonna, Alicia Keys, and the rock band Aerosmith, among others. Among his greatest hits are Mr. Cab driver, It Ain't Over 'Til It's Over, Are You Gonna Go My Way and Thinking of You.
Early years
He was born into a family dedicated to the world of performing arts and television, his mother was the renowned actress Roxie Roker and his father was the television producer Sy Kravitz. From an early age he was interested in music, an aspiration that was supported by the family, began playing the drums. In the 1970s the family moved to Los Angeles, due to their mother's job, who began the recordings of The Jeffersons series, subsequently appeared in the popular Roots series. Upon settling in Los Angeles Lenny continued training as an artist, was a member of the California Boys Choir, in which he excelled for his vocal technique. For this same period of time he learned to play the guitar and bass, subsequently attended Beverly Hills High School, and learned to play the piano.
After years of training, he tried to make himself known artistically by the artistic name of Romeo Blue. However, he had little success. He later moved to New York where he married Lisa Bonet, actress of The Show De Bill Cosby, with the help of this met Henry Hirsch, sound engineer, who became one of the key figures in the career of singer, along with this he took his first steps as a professional singer.
Professional career
The professional career of the prominent singer began in the late 1980s, at which time he released his first album, titled Let Love Rule (1989), a record released under the Virgin Records label; This includes the hits Mr. Cab Driver, Let Love Rule, My Precious Love and Sittin 'on Top of the World. In the album, Kravitz mixes styles such as rock, funk, soul, and psychedelic, influenced by the music of The Beatles and Prince. In the 1990s, he rose to fame collaborating with Madona in the composition of Justify My Love, a song that quickly positioned itself at number 1 on the top of Billboard. The following year his relationship with Lisa Bonet faced hard moments that led to these separating shortly thereafter.
That same year Kravitz published Mama Said (1991), an album that had the collaboration of the former guitarist of the band Guns N 'Roses, Slash, which performed the guitar on the songs Always on the Run and Fields of Joy. This album conveyed Kravitz's feelings for his wife, was even dedicated to her. It included the hits It Ain't Over 'Till It's Over, Stand by My Woman, Flowers for Zoë and All I Ever Wanted, a song composed with the collaboration of Sean Lennon. After the breakup of the couple, Lenny had various romantic relationships with celebrities such as actress Nicole Kidman, model Kate Moss, and Barbara Fialho, among others.
In 1992, he collaborated in the composition and production of the homonymous LP of Vanessa Paradis, in which the themes Sunday Mornings and Be My Baby stand out. The following year, Are You Gonna Go My Way (1993) was released, an album inspired by the sounds of the 70s such as psychedelic rock, soul, funk and reggae. In this, Kravitz stood out for his interpretation of the guitar and the songs Are You Gonna Go My Way Believe, Is There Any Love In Your Heart and Come On and Love Me. That same year he collaborated with Mick Jagger on the cover of the song Use Me by Bill Withers, which was included in Jagger's Wandering Spirit album. Two years later, he released Circus (1995), one of the bleakest albums of his career, in which he delved into his mother's cancer and themes related to his spiritual growth; this included Rock And Roll is Dead, Circus and Can't Get You Off Of My Mind, among others.
At the end of the 90s, he published 5 (1998) album in which he renews styles, leaving aside his retro style so criticized in recent years. In this the successful Fly Away theme is included, one of the most prominent themes of his career. Two years later he released Greatest Hits (2000), an album that included the single Again, followed by Lenny (2001), an album in which ballads A Million Miles Away and Yesterday Is Gone stand out; a short time later he collaborated and produced the album Goddess In The Doorway (2001) by Mick Jagger. Three years later, Baptism (2004) came out, whose single was Where Are We running.
In 2008 he released It Is Time for a Love Revolution, an album that included the hits I'll Be Waiting and Bring It On. Three years later he released Black And White America, then Strut (2014), an album that includes the songs New York City and The Chamber. In 2018 he published Raise Vibration, an album whose single is It's Enough. Currently, the singer is carrying out the presentations of the 2019 Raise Vibration Tour.