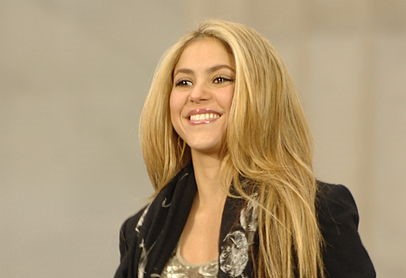 Shakira Biography
Shakira Isabel Mebarak Ripoll is a Colombian singer of Latin pop-rock. Record producer, dancer, model, entrepreneur, actress, UNICEF goodwill ambassador, and philanthropist. She was born on February 2, 1977, in the city of Barranquilla, Colombia. Unique daughter of William Mebarak Chadid, American and Nidia del Carmen Ripoll Torrado, Colombian of Catalan descent.
Since the age of five, she showed artistic attitudes, demonstrating her talent in the interpretation of Arab dances and songs. At the age of eight, she composed her first song, "Tus gafas Oscuras" dedicated to her father, and began performing on radio and television programs. At the age of ten, she wrote songs systematically and participated for the first time in the television contest Looking for a kid artist in 1988, in which she won, repeating the triumph in 1989 and 1990.
Shakira, (still a teenager) signed her first recording contract with Sony Music Colombia, the label for which she recorded her first album in 1991 called, "Magia" with songs she had composed between eight and thirteen. Two years later in 1993, she released her second album called "Danger." She was chosen to represent Colombia in the OTI Festival, but could not attend because she was under sixteen.
In 1993, she was invited to participate in the Festival of the Song of Viña del Mar and with her interpretation of the ballad "Eres" the doors of the Latin American market were opened.
While finishing her high school studies, Shakira prepared what would be her third album, "Pies Descalzos" debuting on the Spanish-American record market in the year of 1995, with eleven songs, highlighting: "Estoy Aqui", "Donde Estas, Corazon?" and "Antologia."
In 1998, she released her album "¿Dónde están Los Ladrones?" Produced by Emilio Estefan, making it the undisputed star of Latin pop-rock.
In 1999, Shakira was invited by MTV to produce her first live album, entitled MTV Unplugged, including all the songs of ¿Dónde están Los Ladrones? (Except the song "Que Vuelvas") The album was released in February 2000 selling more than 5 million units worldwide.
In March, she started a three-month tour called Amphibious Tour, which included concerts in Latin America and the United States, beginning in Peru and ending in Argentina.
In 2001, she achieved international success with her album "Laundry Service" / Laundry Service with nine songs in English and four in Spanish, among them: Underneath Your Clothes and Whenever, Wherever. The album was number one in Argentina, Australia, Austria, Canada, Mexico, New Zealand, the Netherlands, Sweden, and Switzerland, establishing itself worldwide, with more than 13 million copies sold. The tour to present the album, the "Mongoose Tour" lasted six months (from November 2002 to May 2003), leaving the DVD Live and Off the Record (2004).
In June 2005, Shakira released her sixth studio album titled "Oral Fixation Vol. 1" in Spanish and in November he released "Oral Fixation Vol. 2 in English." Being the first Latin singer to perform a musical theme in Spanish during the MTV Video Music Awards ceremony and to be nominated for these awards for a video of a song in Spanish.
Starting in 2006, she received the certification of thirteen gold discs from different countries: Canada, Mexico, Spain, Colombia, Chile, Argentina, India, Austria, Germany, Italy, Portugal, Norway, and Hungary. She was also awarded her second Grammy Award in the category of "Best Latin Rock / Alternative Album" and in that same year, she won four Latin Grammy Awards for this album.
One of her singles, "Hips Do not Lie" with the collaboration of rapper and producer Wyclef Jean, was the best seller in 2006; reached number 1 on the Billboard Hot 100 list in the United States and made Shakira the only Colombian artist to achieve it. It was the most downloaded song on the internet, it is a single with a mix of cumbia, Latin pop, reggaeton, salsa and hip-hop and whose title was "Dance Like This" she decided to version it with the help of Wyclef himself. This single has become the most successful song in English of Shakira. She also won awards for: "Oral Fixation Vol. 1" among others, the Grammy for the best Latin rock/alternative album, the Latin Grammy for the best album of the year and six Billboard awards for the best of Latin music. With both versions in English and Spanish. In June 2006 she undertook an ambitious tour of 140 cities in North America, Latin America, Europe, Africa and Southeast Asia. The tour lasted until July 2007.
Shakira was chosen to sing her song "Hips Do not Lie" at the closing ceremony of the 2006 Germany Soccer World Cup.
In November of the same year, a statuette of Shakira was placed outside the Metropolitan soccer stadium in his hometown Barranquilla, Colombia donated by the artist Dieter Patt of German origin. In the month of November released as the last single "Ilegal." A ballad that has the participation of Carlos Santana. She had a moderate success in Europe and her output as a single was canceled in the United States.
In 2006, she also started the Oral Fixation Tour, in which she visited different countries in five continents, and was very successful, Shakira with her Tour the Mongoose toured 61 locations. The tour was presented in 125 places around the world, breaking attendance records in several of them. Europe is the continent where most successes were achieved. This tour officially ended on July 14, 2007, in Nigeria, within the Thisday Festival. But in December 2007 she held a final free concert in Georgia. In 2008, she signed an agreement with the Spanish fashion and perfume company Puig for the marketing of the perfumes that bear her name.
In October 2009, Shakira released his sixth album of the studio and the second bilingual called "She Wolf / Loba" having premiered the music video on July 31. This album was a success and certified Gold record in Russia, Ireland, Switzerland, Argentina, France, Poland, Greece, and Hungary; Platinum in Spain, the United Kingdom, and the Middle East. Twice Platinum in Colombia and Mexico and three times Platinum in Taiwan. In the Soccer World Cup South Africa, 2010 was the interpreter of the official song of the sporting event "Waka Waka" (This Time for Africa) and was one of his greatest successes in Latin America, Spain and the rest of Europe.
In October 2010, she released her seventh studio album called "Sale el Sol" with which she debuted in the first positions. In September she started the tour that called "Sale el Sol World Tour" visited more than forty countries ending in October 2011. In November 2011 Shakira received her star on the Hollywood Walk of Fame and then at the Latin Grammy the academy awarded as the winner of the prestigious Prize for her artistic achievements, as well as her philanthropic contributions. Since 2011 she maintains a romantic relationship with the Spanish soccer player Gerard Piqué. In 2012, she released the single "Addicted to You" and confirmed that she was expecting his first child, Milan.
In mid-February, it was confirmed that Shakira had signed a contract with a label and that she was recording her new album entirely in English. This year also performed a duet with the singer and rapper Pitbull on the song Get It Started. On July 13, 2014, Shakira sang along with the Brazilian musician Carlinhos Brown at the Closing Ceremony of the 2014 Brazil Soccer World Cup in the Maracaná Stadium the song "La La La." On March 25, Shakira announced the release date of her eighth official studio album.
On August 14, 2015, at Disney's D23 Expo, it was announced that Shakira would play a character in Disney's animated film Zootopia, playing Gazelle, the biggest pop star in Zootopia. She also contributed an original song to the film, entitled "Try Everything." On January 29, 2015, her second son named Sasha was born. Starting 2016, she began to work on her ninth studio album; in May she collaborated with Colombian singer Carlos Vives with the song "La Bicicleta" and in late October she released the single "Chantaje" in collaboration with the singer Urbano Colombiano Maluma.
In the months of April and May 2017, she released respectively "Me Enamoré" as the second official single and "Perro Fiel" as a promotional single for his new album called "El Dorado" released on May 26. The official release of "Perro Fiel" as the third single took place in September, the same date of publication of the music video. After being released as a single, she was certified Gold in Spain for selling 20,000 copies in August of 2017. In January 2018 she won her third Grammy Awards with the album "El Dorado" being the only Latin artist to get it. Shakira won it in the category of Best Latin Pop Album. The sales of the album reached 4,000,000 copies worldwide.
DISCOGRAPHY
Studio albums
1996: Pies Descalzos
1998: Donde Estan Los ladrones
2001: Laundry service
2005: Oral Fixation vol. 1.
2005: Oral Fixation Vol 2.
2009: Loba
2010: The sun rises in
2014: Shakira
2017: El Dorado.
Albums compilations
1997: The Remixes
2002: Great Successes
2017: The Magic and the Danger of My First Successes. Special Editions
2002: Gold Collection
2002: Laundry Service: Washed & Dried
2006: Oral Fixation Volumes 1 & 2. Live Albums
2000: MTV Unplugged
2004: Live & Off the Record / Live and private
2007: Oral Fixation Tour / Oral Fixation Tour
2011: Shakira: Live from Paris / Shakira: Live from Paris. EP
2003: The Pepsi EP
2007: Love in the Time of Cholera.
1996-1997: Pies Descalzos Tour
2000: Amphibious Tour
2002-2003: Mongoose Tour
2006-2007: Oral Fixation Tour
2010-2011: Sale the Sun World Tour
2018: El Dorado World Tour.
FILMOGRAPHY
1986: Vivan Los Niños
1994: The Oasis
2001-2009: Saturday Night Live
2005: Seven Lives
2009: Ugly Betty
2010: Wizards of Waverly Place
2011: Dora the Explorer
2013: The Voice (United States)
2016: Zootopia – Gazelle (Voice).
ACP AWARDS
1996: Shakira – Interpreter of the year
1996: Estoy Aqui – Video of the Year
1996: Donde Estas, Corazon? – Song of the year.
The Alma Awards (The American Latino Media Arts Awards)
2002: Shakira – Outstanding Female Performer. Laundry Service – Album of the year. Whenever, Wherever – Song of the year
2006: Shakira – Outstanding Female Performer. Oral Setting Vol. 1 – Album of the year in Spanish
2008: Shakira – Humanitarian Award
2011: Shakira – Best Female Musical Artist.American Music Awards / Latin American Music Awards
2006, 2010, 2012, 2017: Shakira – Artist Latino Favorite 2. Bambi Prizes (annual TV and audiovisual media awarded by German Company Hubert Burda Media.)
2009, 2010: Shakira – Best International Pop Artist
2011: Waka Waka (This Time for Africa) – Recognition for sales. Music Award
2002: Shakira – Top Artist – Female
2005: La Tortura (with Alejandro Sanz) – Latin Song of the Year
2006: Hips Do not Lie (with Wyclef Jean) – Pop Single of the Year
2011: Gypsy – Top Latin Song. Latin Billboard Awards
1997: Pies Descalzos – Best Album
1997: A Little Love – Best Video
1997: Shakira – Best New Artist
2001: Shakira – Best Female Pop Artist and Artist Billboard 50 of the Year
2001: MTV Unplugged – Mejor Latino Album
2002: Luck – Pop Latin Song Airplay of the Year
2006: La Tortura con Alejandro Sanz- Latin Song of the Year, Latin Ringtone of the Year, Latin Song of the Year (Duo or Collaboration), Pop Latin Airplay Song of the Year year (Duet or group)
2006: Oral Fixation 1 – Latin Pop Album of the Female Year
2006: Shakira – Spirit of the Hope
2006: Shakira – Artist of the Year and Top Latino Artist Album of the Year. Oral Setting Vol. 1 – Pop Latin Album of the Women's Year
2009: Shakira – Latin Artist with the most Digital Downloads
2016: Mi Verdad (with Maná) – Pop Latin Song of the year. Grammy Award / Latin Grammy Award
2001: MTV Unplugged – Best Latin Pop Album
2006: Oral Setting Vol. 1 – Best Latin Rock Album / Alternative.? 2018: El Dorado – Best Latin Pop Album.Latin Grammy Award
2000: Eighth Day – Best Female Rock Vocal Performance.
2000: Ojos Asi – Best Female Pop Vocal Performance
2002: Luck – Best Video- (Short Version).
2006: La Tortura (With Alejandro Sanz) – Song of the year and Recording of the Year .
2006: Oral Fixation Vol. 1- Best Female Pop Vocal Album and Album of the Year.
2011: Sale El Sol – Best Female Pop Vocal Album.
2016: La Bicicleta (with Carlos Vives) – Song of the Year and Recording of the Year. • 2017: El Dorado – Best Contemporary Pop Vocal Album.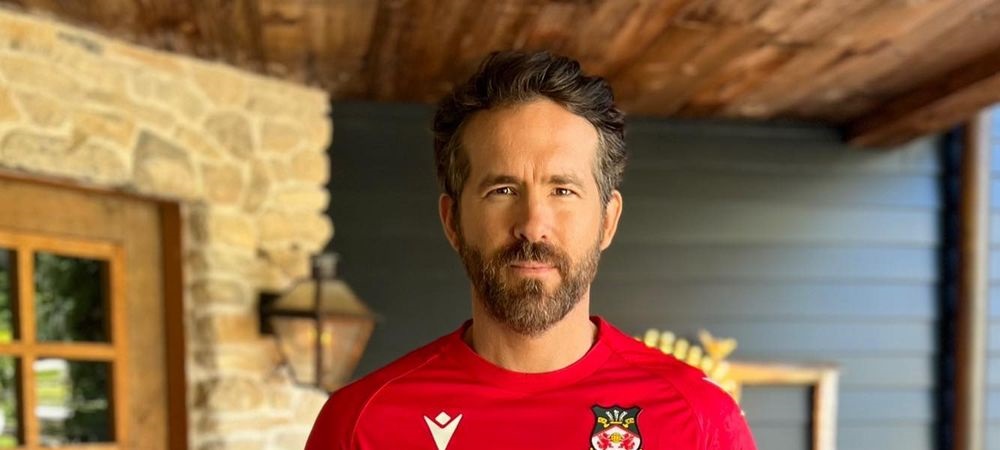 Biography of Ryan Reynolds
Ryan Rodney Reynolds was born on October 23, 1976 in Vancouver, Canada, and he is a well-known actor. When Ryan was born, his mother, Tammy, was a student and a salesperson, while his father, Jim, worked in wholesale food sales and also excelled as a semi-professional boxer. In addition, Ryan has three older siblings.
He studied in his hometown of Vancouver until 1994 when he decided to join a theater group as an extracurricular activity while attending Kwantlen College. However, his passion for acting became a vocation, and Ryan dropped out of college to devote all his time and energy to his acting career.
Debut as an actor
He quickly landed small roles in successful and memorable TV series such as "Sabrina the Teenage Witch" and "The X-Files". In 1998, his big break came with the series "Two Guys, a Girl and a Pizza Place", which ran until 2001 and catapulted him to fame. The show became very popular thanks to its great comedic content, an area where Reynolds demonstrated perfect skill, but this was not the first time that Ryan had made a name for himself in a Hollywood comedy, as he had already been in "Life During Wartime" in 1997.
Films
After working in several minor jobs, Ryan got his first major role as a protagonist in the crazy "Van Wilder – Animal Party", where he played a college party organizer. The success of the film opened doors for him to work alongside Michael Douglas in "Till Death Do Us Part", support Wesley Snipes in "Blade Trinity" or star in the horror movie "The Amityville Horror". However, at this stage of his career, Ryan stood out mainly as a protagonist in comedies such as "Just Friends", "Waiting" and "Harold & Kumar Go to White Castle". This led him to want to leave his comedic side behind, getting involved in different projects such as the thriller "Smokin' Aces", the independent film "Adventureland" and the action film "X-Men Origins: Wolverine". Later on, he also participated in romantic films such as "The Proposal" and "Definitely, Maybe". However, recognition of his acting ability did not come until Ryan was nominated for a Goya Award for his demanding role in "Buried". It is worth noting that he also brought to life the comic book hero "Green Lantern" and the renowned "Deadpool".
Contracts, curiosities
Prestigious brands like Hugo Boss have not been oblivious to Ryan Reynolds' popularity, charisma, and good looks, offering him contracts to be the face of one of their fragrances: Boss Bottled Night, a fragrance that, through great advertising, managed to convey an irresistible seductive effect.
Two curiosities can be highlighted from his work: first, the nearly 10 kilos of solid muscle he gained thanks to rigorous physical training to bring Hannibal King to life in "Blade: Trinity"; and second, his appearance on the animated TV series Zeroman, in which he lent his voice to the character Ty Cheese. In addition, like many Hollywood stars, Ryan Reynolds has an eccentricity outside the world of entertainment: a great passion for motorcycles, of which he owns three collector's items, one of which was designed exclusively for him and is none other than a Harley Davidson.
Romantic relationships
Regarding his personal life, Ryan Reynolds was in a romantic relationship with singer Alanis Morissette from 2002 to 2007. The couple got engaged in 2004, but in July 2006, People magazine reported that they had separated, although neither of them officially confirmed the news. Shortly after, in February 2007, they decided to end their engagement by mutual agreement. In May 2008, Reynolds announced his engagement to actress Scarlett Johansson, and they got married on September 27 of the same year. However, in December 2010, the couple announced in a statement to People magazine that they had decided to end their marriage.
So, on September 9, 2012, he married the actress Blake Lively in Mount Pleasant, South Carolina. In October 2014, they announced that they were expecting their first child, and in December of that same year, Ryan Reynolds and his wife Blake Lively became parents with the birth of their daughter: Ines. Later, on April 14, 2016, his wife's second pregnancy was confirmed, and on September 30, 2016, he became a father for the second time to a boy named James.