Band
Calibre 50
Origin
Mexico, 2010
Genders
Mexican norteña
Members

Edén Muñoz
Alejandro Gaxiola
Erick García
Armando Ramos

Biography in other languages
Calibre 50's history
Calibre 50 is a Mexican norteña music group from Mazatlán. It was founded in 2010 and consists of Edén Muñoz (vocalist), Alejandro Gaxiola (second voice), Erick García (drums), and Armando Ramos (tuba). They made their debut that same year with the album Renovar o Morir and in 2011, they had their first hit with the song "El tierno se fue". Later, they released "Te Estoy Engañando con Otra", "Una Mala Elección", and "Aunque ahora estés con él", songs that made the band one of the public's favorites. Other hits by the group include "Contigo", "Siempre Te Voy a Querer", "Javier el de los Llanos", and "Simplemente Gracias".
Beginnings
The group's story begins with Edén Muñoz, who, after being a part of Colmillo Norteño, decided to found the group Puro Colmillo Norteño with other artists. As expected, the similarity between the names caused several legal problems, forcing them to change their name to Calibre 50. The title did not refer to violence, but rather reflected the power, speed, and strength with which they wanted to enter the scene. This is how Calibre 50 was born, with Edén Muñoz, Armando Ramos, Martín López, and Augusto Guído as members. The latter two left the group, being replaced by Alejandro Gaxiola and Erick García.
Calibre 50: debut and career
In 2010, Calibre 50 burst onto the scene with the release of their first album Renovar o Morir. This album spawned the songs "Callejero y Mujeriego" and "Culiacán vs Mazatlán", which helped the group gain recognition. Their first big hit came a year later with "El Tierno Se Fue", a song that was included along with other hits on the album De Sinaloa para el Mundo. After that came "Te Estoy Engañando con Otra", a song that made the group one of the public's favorites.
Their third album, El Buen Ejemplo, was released in February 2012 and immediately became a hit. "Mujer de Todos, Mujer de Nadie", "El Niño Sicario", "Bohemio Loco", and "Gente Batallosa" with Banda Carnaval were some of the most listened to songs on the album. But the hits didn't stop there; that same year, the group won the Award for Revelation Artist at the Premios Lo Nuestro awards and in 2013, they reached the top of the charts with La Recompensa, their fourth studio album.
La Recompensa featured the number one hits "Aquí estoy" and "Ni Que Estuvieras Tan Buena", a song that was very popular both nationally and internationally. As if that weren't enough, the group closed the year by releasing the successful corridos album Corridos de Alto Calibre, which included the record-breaking hits "EI Inmigrante" and "Javier el de los Llanos".
The following year, the group returned with a more romantic album, Contigo (2014), which charmed the public with songs like "Tus Latidos" and "Una Mala Elección". Later came "Aunque Ahora Estés con él", a song that became a huge hit and was used as the main theme of the telenovela Que te perdone Dios. Also in 2015, the group released the album Historias de La Calle, featuring songs like "La Gripa", "Préstamela a Mí", and "Ganó Holanda, Perdió China".
They then released the albums Desde El Rancho (2016), with the hit "Siempre Te Voy A Querer"; Guerra de Poder, with the songs "El Ingeniero" and "Las Ultras"; and in 2018, came Mitad y mitad, an album that was a huge success in the United States and Mexico. With Mitad y mitad, Calibre 50 won the Pandora Billionaire award, becoming the first Mexican regional group to receive such recognition.
The following year, the group won the Latin Grammy for Best Norteño Album for Guerra De Poder. But the successes didn't stop there; in May of that same year, the group broke their own record with "Simplemente Gracias", the single that gave its name to their tenth studio album, published a few months later.
In 2020, the group has released several singles and a studio album, titled Desde Estudio Andaluz Music.
They recently released "Volver a Volar" in collaboration with several bands.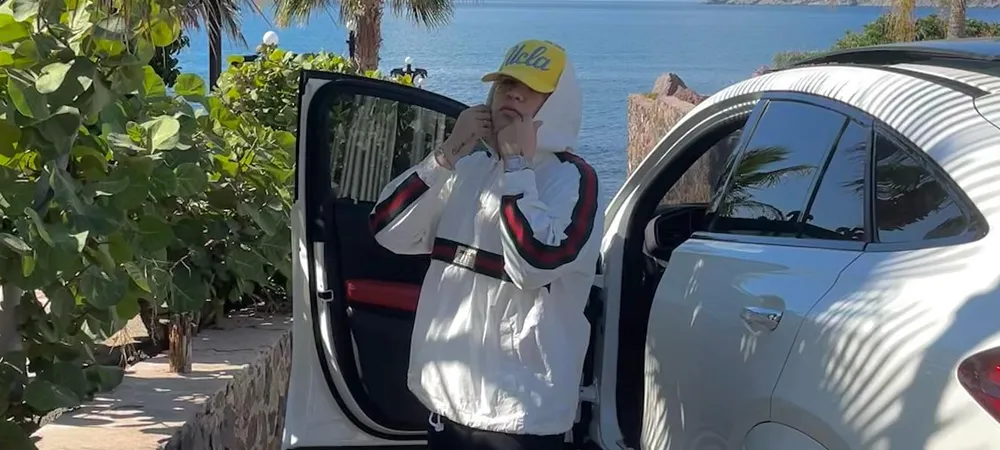 Biography of Junior H
Antonio Herrera Pérez (February 7, 2000), better known professionally as Junior H, is a Mexican singer and songwriter, emerging artist of the corrido tumbado genre. He began his music career at the age of 14, releasing a few songs online before debuting with "Mi vida en un Cigarro" in 2019. That same year, Junior went viral on YouTube with "No he Cambiado," leading him to sign with Rancho Humilde. His second album, "Atrapado en un Sueño," was released in 2020. "No he Cambiado," "Mente Positiva," "Dicen," and "Atrapado en un Sueño" are some of his hit songs.
Early Life
Born in Guanajuato, Mexico, Junior started composing at the age of 12 alongside a friend. He didn't know how to play any instruments at the time, but had an easy time writing. It took him another two years to learn how to record and by the age of 15, he had a few songs circulating online. Like many other artists, Junior started uploading songs and covers to YouTube, where he quickly gained notoriety.
However, it wasn't all easy; the artist had to start over after his family decided to move to Utah in the United States. It was another reality, another language and a completely different place from his home, but that didn't stop him. Junior learned to play the guitar by watching YouTube tutorials, continued recording and writing his own songs, and worked at a sandwich shop for a while.
Junior H: Debut, Fame, and Career
After a few years on YouTube, Junior jumped into the scene in February 2019 with the release of his first album, a nine-song demo titled "Mi vida en un Cigarro." The album included songs such as "A los 19," "El Barbero," "El de la Chevy," and his first big hit, "No he cambiado." However, the song would take several months to become a trend on YouTube. The success was such that Junior, then 17 years old, was discovered by his now manager, Jimmy Humilde, of Rancho Humilde.
It didn't take long for Junior to sign a contract and begin recording with the label. He was included in the successful compilation of Natanael Cano, "Corridos Tumbados," in the songs "Ella," "El AK," "Disfruto lo Malo," and "El M4." Thanks to this work, Junior's popularity continued to grow. Later came the singles "El de la H," "Vivo a Mi Manera," and "En Mis Dedos un Gatillo" (ft. Gabriel Esteban).
Trapped in a Dream
His second album, "Atrapado En Un Sueño," arrived in March 2020 and immediately became a success. So much so, that it debuted at #5 on the Billboard Top Latin Albums chart, being the second to reach the top after Natanael. The album consisted of a total of seven songs; among these were: "Atrapado en un Sueño," "Mente Positiva," "Dicen," "Me siento," and the collaboration "Si Mañana" with Natanael.
In June 2020, the deluxe edition of "Atrapado en un Sueño" was released, which included a new song, "Tengo Motivos." Junior also collaborated with Natanael on the single "Seca tus lagrimas" from his EP "Corazón Tumbado."
MUSICA <3 and Cruisin' with Junior H
Later, in September 2020, Junior released two albums on the same day titled: "MUSICA <3" and "Cruisin' with Junior H." Both albums would include 12 songs. In "MUSICA <3" (2020), the hits "No Cap," "Días Nublados," and "Psicodélica" appeared, as well as the collaborations "Hey CJ" with Compa Steve and "Suena" with José Mejía. In "Cruisin' with Junior H," songs such as "No Me Pesa," "Se Amerita," and "Clave Ali" came out, along with the collaborations "Ojos Colorados" with Alto Linaje and "Con Un Presidente" with Esteban Gabriel.
The 3 Towers
Also in 2020, specifically on December 18th, Junior premiered the collaborative album "Las 3 Torres," along with Natanael Cano and Ovi. The album featured the participation of various artists such as Snoop Dogg, Ñengo Flow, and Snow Tha Product, in songs such as "Crónicas de un Gallo" and "Felling Good." From the album, the songs also stood out "Pienso en Ella," "Las Tres Torres," "Verdes Verdes," and "En el Cora."
2021: $ad Boyz 4 Life
In February 2021, Junior H returned with "$ad Boyz 4 Life," an album of 16 songs, whose lyrics spoke of love and heartbreak. In less than 24 hours, it managed to position itself in the Top 10 of Latin albums on Apple Music. Some of the most well-known songs from the album were the singles: "La Bestia," "160 Gramos," and "Me Consume."
A few months after "$ad Boyz 4 Life," Junior released the single "Corrido Tumbado." In December 2021, "Nací Para Amarte" and "Empresa Fly Club" were released. These were his last releases in 2021.
2022: Mi Vida En Un Cigarro 2
Following the example of 2021, Junior released his seventh studio album "Mi Vida En Un Cigarro 2" in February 2022. The album referenced the name of his first album, which was released in February 2019. "Mi Vida En Un Cigarro 2" includes 21 songs, among them several collaborations such as "Los Botones Azules" with Luis R Conrique, "Pa que te Duela" with Eslabon Armado, and "El Pana" with Compa Steve. Other songs from the album were "Nunca Tristes Simpre Locos," "Esta Vida," "Que Siga La Mata Dando," and "Como Jordan."
Later, in April, Junior premiered "12 Rifles," a single that features a live music video accompanied by a band.
Discography
Albums
Mi Vida En Un Cigarro (2019)
Atrapado En Un Sueño(2020)
MUSICA <3 (2020)
Cruisin' with Junior H(2020)
Las 3 Torres(2020)
$ad Boyz 4 Life(2021)
Mi Vida En Un Cigarro 2(2022)
Songs
Se amerita (2020)
Mente positiva
Ella
1004 kilómetros
Disfruto lo malo
Jueves 10
Paso en Culiacán
No me pesa
Días nublados
Atrapado en un sueño
Los 4 ases
Clave ali
La vi llorar
Tengo motivos
Psicodélica
Se quedanviendo
Pakas en las rakas
El chachito anda alegre
Ojos colorados
Verdes verdes
El de la H
Si mañana
El Ak
La bestia
160 gramos
Me siento
Me consume
Venadeando
Dicen
No cap
El F