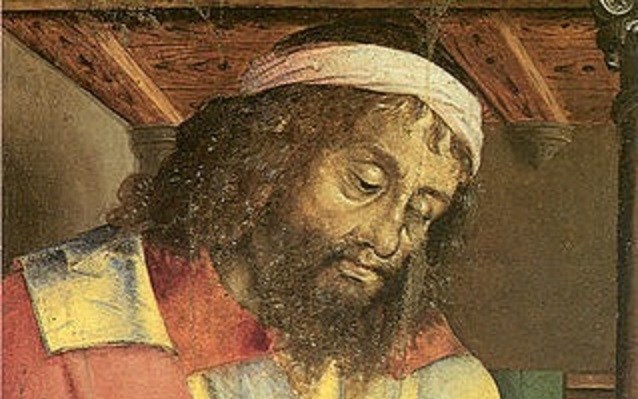 Euclid Biography
Euclid or Euclides was a Greek mathematician and geometer, considered one of the great mathematicians of antiquity and father of geometry. He was born in Alexandria in 435 b.C and would die in 265 b.C.. However, there is not much information about his life. The historians say that Euclid would begin his education in Athens, where he acquired his great knowledge of geometry, in the elaborate school of Plato. Later on, Euclid would become professor of his own school in Alexandria, which was the most important in the Hellenic world and in which he would reach the highest recognition as a teacher, in the reign Ptolemy I Sóter, who was the founder of the Ptolemaic dynasty that ruled Egypt and who seek Euclid to teach him and shorten the process to learn mathematics and geometry.
Euclid was the author of different works, such as "Elements", which is a collection of works of other philosophers such as Hippocrates, and this work would challenge some of the most important literary works in the world, such as the Bible and Don Quixote. This work was made up of 13 books, of which the first 6 made reference to basic flat geometry concepts. From the seventh to the tenth book, Euclid deals with numerical issues such as divisibility, prime numbers, and radicals. In the last three books, he would include topics on the geometry of solids, polyhedra, and circumstantial spheres. Among the most important theorems of Euclid's work are:
The sum of the internal angles of a triangle, add up to 180 degrees.
In a right triangle, the square of the hypotenuse is equal to the sum of the squares of the adjacents, which refers to the Pythagorean theorem.
Besides this, Euclides formulated 5 postulates, which he used as a starting point to explain geometric and mathematical knowledge. These postulates are:
A straight line segment can be drawn joining any two points.
Any straight line segment can be extended indefinitely in a straight line.
Given any straight line segment, a circle can be drawn having the segment as radius and one endpoint as center.
All right angles are congruent.
If two lines are drawn which intersect a third in such a way that the sum of the inner angles on one side is less than two right angles, then the two lines inevitably must intersect each other on that side if extended far enough. This postulate is equivalent to what is known as the parallel postulate.
Euclid's fifth postulate cannot be proven as a theorem, although this was attempted by many people. Euclid himself used only the first four postulates.
The geometrical principles of Euclid were important in areas such as physics, astronomy, chemistry, some engineering and worked as inspiration for the Ptolemaic theory of the Universe in the second century. His ideas also formed an abstraction of reality, because he made assumptions such as that a point has no size so it is assigned a dimension zero or equivalent to zero, a line is a set of points that has neither width nor thickness, only length and assigned a value equal to 1, a surface has no thickness and has dimension 2 equivalent in length and width; to conclude, he said that a solid body, like a cube, has dimension equivalent to 3, length, width, and height.
"Elements" has had more than a thousand editions since the first time it was published in the year 1482, so it is said that Euclid is one of the most read mathematics in history.

Sergey Brin biography
Sergei Brin (August 21, 1973) computer scientist and creator of the Internet search engine Google. He was born in Moscow, Soviet Union. Sergei Brin was born into a Jewish family that enjoyed a well-off position but due to their religious beliefs, the Russian government prevented them from certain possibilities. His father, Mikhail Brin, was a mathematician, and his mother, Eugenia Brin, worked in the field of science when Sergei was six years old they decided to move to the United States to find better living conditions.
When they arrived, their mother landed a major position in NASA's Goddard Space Flight Center, and her father obtained a position as professor of Mathematics at the University of Maryland, she also decided to change her name, due to North American anti-communist policies, Michael Brin. He entered to study at the Paint Branch Montessori School. His parents were very attentive in the education of his son, who demonstrated a great ability for mathematics. Throughout his school years, he was a student with excellent grades.
Upon graduation, he enrolled at the University of Maryland to study Mathematics and Computer Science. In the stipulated time, 1993, he received his degree with honors and applied for a grant from the National Science Foundation. He began his postgraduate studies at Stanford University. Simultaneously, he started working at Wolfram Research, the creator of Mathematica. While in the winter of 1998, he began to develop an idea to create a search engine for the internet, the idea was developed with the help of Larry Page. His great motivation was the inefficiency and the multiple errors of the search engines existing at that time.
They held several meetings with brilliant people in this field, and they met Andy Bechtolsheim, an investor from Sun Microsystems. They decided to present their idea, they also made a quick demonstration and they got that, without thinking twice, Bechtolsheim extended a check worth 100,000 dollars to start the project. Although with this amount achieved only the beginning of the project, the young people full of enthusiasm began to get other economic support and various sources of income. As a result, Brin and Page managed to get two of the most relevant US venture capital firms, Kleiner Perkins Caufield & Byers and Sequoia Capital, to agree to finance their idea. They then collected 25 million dollars. The project was still ongoing.
At first, they thought of the word googol to baptize their search engine, a term invented by the mathematician Edward Kasner to name the number 1 followed by 100 zeros. Then they changed their name to Google. We must mention that Yahoo! played an essential role in driving Google. Yahoo! collaborated encouraging the creation of his own search engine, the pair of colleagues began to offer in its popular portal the possibility of searching through that engine. For the year 2003, Google swept daily searches, had about 112 million, compared to Yahoo !, which only supported approximately 42 million.
The reason was that Google was more effective, its presentation was much more attractive, and allowed more fixed searches. Brin and Page decided to add new possibilities to the dozen functions related to their search engine and the continuous experimentation with many others. Something really innovative was that Google allowed the users to easily locate images, newsgroups and searches using the Open Directory thematic directory tool, an international volunteer project that catalogs web pages by hand.
After a few years, thanks to the popularity of Google, colleagues received a Webby, a prize. Google was inserting new services every time, such as the search engine of products on sale in the Google network; the product search within mail order catalogs; a language translator, among other new features. When the new millennium began Google began to think about the modification and restructuring of its building located in the Californian region of Mountain View, more than a hundred employees worked in an unusual environment.
So they adopted as a philosophy: to offer a pleasant place to work and with that to motivate and retain employees. Among the renovations are yoga classes, massages, bars, free ice cream machines, food prepared with organic food by two chefs, a ping-pong table, swimming pool, two pianos, and hockey meetings twice a week. The goal of Google at that time was especially to create better search engines, extract information from unstructured sources and databases of long collections of text and scientific information.
Brin has authored more than a dozen articles in top-level academic journals and has also been a lecturer in various international academic forums, most of them are business and technology, in 2002, Brin was proclaimed "Young Innovator Who Will Create the Future" by Technology magazine Review This publication was edited by the prestigious Massachusetts Institute of Technology (MIT). What this couple achieved, especially at Brin's initiative, was impressive. At present everyone knows and has used Google.
Although it has been censored by some countries of totalitarian politics like China. According to computer experts, Google is "the saving medicine" for most Internet users. One of its characteristics is the speed and effectiveness. Now, its design is simple and direct, and without incorporating advertising in its pages that generate distraction in the users. We must accept that, Internet users have preferred this search engine to the detriment of other, earlier, more popular ones. Brin has advanced several projects, along with Larry Page, who are looking for ways to solve the problem of global energy and environmental hazards through Google's philanthropic area called Google.org.