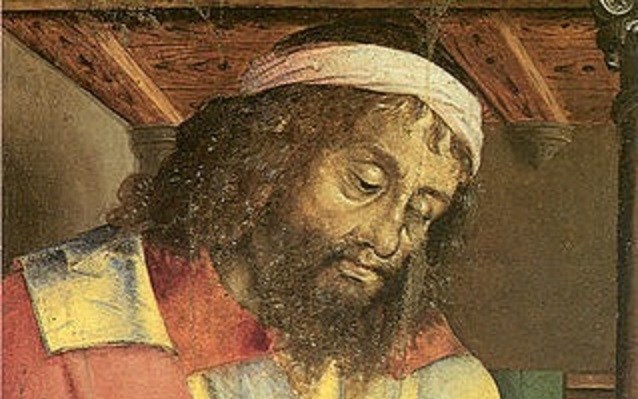 EuclidBiography
Euclid or Euclides was a Greek mathematician and geometer, considered one of the great mathematicians of antiquity and father of geometry. He was born in Alexandria in 435 b.C and would die in 265 b.C.. However, there is not much information about his life. The historians say that Euclid would begin his education in Athens, where he acquired his great knowledge of geometry, in the elaborate school of Plato. Later on, Euclid would become professor of his own school in Alexandria, which was the most important in the Hellenic world and in which he would reach the highest recognition as a teacher, in the reign Ptolemy I Sóter, who was the founder of the Ptolemaic dynasty that ruled Egypt and who seek Euclid to teach him and shorten the process to learn mathematics and geometry.
Euclid was the author of different works, such as "Elements", which is a collection of works of other philosophers such as Hippocrates, and this work would challenge some of the most important literary works in the world, such as the Bible and Don Quixote. This work was made up of 13 books, of which the first 6 made reference to basic flat geometry concepts. From the seventh to the tenth book, Euclid deals with numerical issues such as divisibility, prime numbers, and radicals. In the last three books, he would include topics on the geometry of solids, polyhedra, and circumstantial spheres. Among the most important theorems of Euclid's work are:
The sum of the internal angles of a triangle, add up to 180 degrees.
In a right triangle, the square of the hypotenuse is equal to the sum of the squares of the adjacents, which refers to the Pythagorean theorem.
Besides this, Euclides formulated 5 postulates, which he used as a starting point to explain geometric and mathematical knowledge. These postulates are:
A straight line segment can be drawn joining any two points.
Any straight line segment can be extended indefinitely in a straight line.
Given any straight line segment, a circle can be drawn having the segment as radius and one endpoint as center.
All right angles are congruent.
If two lines are drawn which intersect a third in such a way that the sum of the inner angles on one side is less than two right angles, then the two lines inevitably must intersect each other on that side if extended far enough. This postulate is equivalent to what is known as the parallel postulate.
Euclid's fifth postulate cannot be proven as a theorem, although this was attempted by many people. Euclid himself used only the first four postulates.
The geometrical principles of Euclid were important in areas such as physics, astronomy, chemistry, some engineering and worked as inspiration for the Ptolemaic theory of the Universe in the second century. His ideas also formed an abstraction of reality, because he made assumptions such as that a point has no size so it is assigned a dimension zero or equivalent to zero, a line is a set of points that has neither width nor thickness, only length and assigned a value equal to 1, a surface has no thickness and has dimension 2 equivalent in length and width; to conclude, he said that a solid body, like a cube, has dimension equivalent to 3, length, width, and height.
"Elements" has had more than a thousand editions since the first time it was published in the year 1482, so it is said that Euclid is one of the most read mathematics in history.

Biography of Sigmund Freud
Sigmund Freud ( May 6, 1856 and died September 23, 1939) was a neurologist of Czech origin. He was born in Příbor, where his father was a wool trader. Because his father was quite old at the time of his birth and had much older siblings, Sigmund developed great curiosity and asked many questions from a young age. He was very intelligent and skilled from his youth. The economic crisis in the country forced the family to move to Vienna, where they continued to face economic problems due to his father's lack of employment.
Despite his dislike for Vienna due to these difficulties, Freud lived in this city until one year before his death. For a time, due to his Jewish status, he had to exile himself to London due to the Anschluss, the annexation of Austria to the pan-Germanic project of Greater Germany led by the Austrian chancellor Arthur Seyss-Inquart. Although figures such as Roosevelt and Mussolini intervened, these efforts were unsuccessful and his works were burned.
Despite the persecution, Freud's family remained faithful to the Jewish community and their customs, although they were not particularly religious since his father leaned towards freethinking, and as a result, Freud had lost his religious beliefs since adolescence. Since graduating with excellent grades from school, an achievement achieved through the efforts of his parents, he showed a lot of interest and motivation for his future. Although he initially inclined towards law, he ultimately decided to study medicine, his intention was not to practice it but to study the human condition with scientific rigor.
After a period at university, he began to focus on biological research, from 1876 to 1882 he worked in the laboratory of physiologist Ernst von Brücke, where he studied some nerve structures of animals and the anatomy of the human brain. During this time he met Viennese doctor Josef Breuer, who was key to his economic and intellectual development. He also met Martha Bernays, daughter of a family of Jewish intellectuals, with whom he later got married.
Beginning of his career
At that time, to assume the responsibilities of being a husband, he began to work as a doctor, putting aside his investigative career without having a true conviction about this decision. However, he managed to acquire the clinical experience necessary to achieve a certain prestige. In that sense, he obtained important jobs in various departments of the Vienna General Hospital, deciding to specialize in neuropathology. In 1884, he conducted a study on the therapeutic use of cocaine, generating various criticisms because he experimented recklessly with people whom he seriously affected. For this reason, his reputation was somewhat tarnished.
In 1885, he began teaching neuropathology at the Medical Faculty of Vienna, and later on, psychoanalysis. His great intellect allowed him to obtain a scholarship to make a study trip for a year in the city of Paris. He spent several months in the neurology service of the Salpêtrière under the direction of Jean-Martin Charcot, then the most important French neurologist. There he learned about the manifestations of hysteria and the effects of hypnosis and suggestion in its treatment.
Beginning in Psychoanalysis
Freud was known for being an extremely jealous man, which caused him several problems and conflicts with his wife. Upon returning to Vienna, Freud opened a private practice as a neuropathologist, using electrotherapy and hypnosis as treatments for nervous diseases. His book written with Josef Breuer on the treatment of hysteria through hypnosis was a great success, entitled Studies on Hysteria (1895).
From that moment on, Freud began to outline his first ideas about psychoanalysis. Freud began speaking about the method of "free association" and at that time many medical friends had preferred to leave him alone. However, this did not prevent him from continuing with his research and emerging psychoanalytic concepts such as the unconscious, repression, and transference. In 1899, he published his famous work The Interpretation of Dreams, edited in 1900. Five years later, he published Three Contributions to the Theory of Sexuality.
Although his work was innovative and admired, it had few followers. However, in 1906 the situation changed; he managed to consolidate a circle of doctors who later became a psychoanalytic society. In 1908, they held the First Psychoanalytic Congress in Salzburg. From that moment on, his recognition was international, he was invited to the United States to give a series of lectures at Clark University in Worcester, Massachusetts, where his thinking had caused great admiration. In 1910, the International Psychoanalytic Society was founded in Nuremberg, led by Freud's colleague, Jung, who led it until 1914.
Some works and his deterioration of health
In 1916, Freud published Introduction to Psychoanalysis. He continued to write important books such as The Future of an Illusion (1927), Civilization and Its Discontents (1930), and Moses and Monotheism (1939). During this period, he was diagnosed with jaw cancer and had to undergo several surgeries. From then on, his illness often hindered his intellectual production, but he managed to complete several texts. Finally, he lost the battle against his illness on September 23rd, 1939.
Contribution to psychology
The main contribution of Freud to psychology was his concept of the unconscious. Freud believed that a person's behavior is deeply determined by repressed thoughts, desires, and memories, which can strongly influence their conduct. As a treatment method, psychoanalysis seeks to bring these memories to consciousness to free the individual from their negative influence. Without a doubt, his theories received important criticisms, but they still represent a great contribution to psychology. It is undoubtable that the spread of psychoanalysis revolutionized the view of human beings and its influence extended to fields like philosophy, literature, and the arts.
Notable works
The Interpretation of Dreams
Civilization and its Discontents
Totem and Taboo
Three Essays on the Theory of Sexuality
The Ego and the Id