Personal information
Full name

Elton Hercules John (born Reginald Kenneth Dwight)

Birthdate

March 25, 1947

Age
75 años
Occupation

Singer, songwriter, and musician

Stage name
Elton John
Nationality

British

Spouse

David Furnish (m. 2014)

Height
5 ft 7.5 inches (1.72 m)
Parents

Stanley Dwight and Sheila Eileen Dwight

Zodiac sign
Aries
Elton John Biography
Elton John (March 25, 1947) is a singer, songwriter, and musician. He was born in Pinner, Middlesex, UK. His birth name is Reginald Dwight. His parents were Stanley Dwight, an army officer, and Sheila Eileen Dwight.
Early life
The people who encouraged Elton to start in the world of music were his grandmother and his mother, who one day surprised him by performing a song on the house piano. They immediately knew that the boy had a great musical talent. At the age of four, he was already performing simple melodies, and at seven he was singing at family parties. His favorite artists were Elvis Presley, Bill Haley & His Comets, Little Richard, Jerry Lee Lewis, among others.
Elton studied at the Royal Academy of Music thanks to a scholarship after graduating from high school. He also was part of the choir. Although after a few years he got bored with classical music and began to try rock music. At age 15, he got his first job as a pianist in a downtown pub, where he received the nickname Reggie. He used to perform songs by Ray Charles and Jim Reeves.
Musical beginnings
In 1964 Elton decided to form the band Bluesology. In the musical circle, he met singer Long John Baldry. As a tribute to him and the saxophonist Elton Dean, he adopted the stage name, Elton John. In 1969, he joined the band Argosy, made up of Roger Hodgson, Caleb Quaye, and Nigel Olsson. Two songs were recorded in the group: Mr. Boyd and Imagine, composed by Hodgson, songs that were published under the DJM label in the United Kingdom and Congress in the United States. Elton managed to publish his first single, I've been loving you too long. Besides, he began producing brilliant songs with the help of lyricist Bernie Taupin, who has been considered one of the most prolific duos in the world of pop music. Fifteen of his songs topped the North American charts.
Career
Later in 1969, he edited his first LP, Empty Sky, which was followed by Elton John, thanks to his knowledge of classical music he integrated lyricism and his own style. In the following years, he published a total of eleven albums. In the 70s his career took off, he signed an eight million dollar contract with MCA, wrote the song Whatever gets you through the night with John Lennon, and also sang with the former Beatle at Madison Square Garden. Although not everything was easy, he had certain conflicts with his collaborator Bernie Taupin, this breakup and problems with drugs led him to a serious emotional crisis that almost cost him his life when he tried to commit suicide. After emotional recovery he continued singing, and selling out venues, he toured continuously.
In 1987, he began to suffer from throat ailments that led him to undergo a vocal cord operation in Sydney, Australia. He reappeared with Reg Strikes Back in 1988. Elton is committed to the fight against AIDS, which is why he founded the Elton John AIDS Foundation. His commitment against AIDS is due to his homosexuality, which he declared at that time. Although at first, he declared himself bisexual.
Fame
In 1993 he released the album The one, thanks to which he received a double-platinum record. In 1994, he was hired to write the soundtrack for the Disney film The Lion King, with which he won a Grammy, a Golden Globe, and the Oscar for the best original song, shared with Tom Rice, author of the lyrics. In 1995 he celebrated his 25th anniversary in the world of music and released Made in England (1995). The murder of his friend Gianni Versace and the death of Princess Diana of Wales in 1997 dealt two blows.
At Lady Di's funeral, he sang a new version of Candle in the wind, originally written in memory of Marilyn Monroe. This tribute to his friend Lady Di broke all sales records, becoming the best-selling single in the history of music, with 33 million copies worldwide in just three months. Elton John gave the benefits of the album to the NGOs in which Diana collaborated. For this song, he obtained in 1998 the Grammy for best male pop singer.
Between 1997 and 1999 Elton released The big picture, in homage to Gianni Versace, and Elton John and Tim Rice's Aida, it was a pop version of Giuseppe Verdi's opera that premiered on Broadway, in 2001. It received the Grammy for best musical. He was responsible for the composition of the lyrics for the musical Billy Elliot. In 2005 he created the musical Lestat with Bernie Taupin. A year later, he released Captain and the kid, his album number 44. In 2007, he turned 40 of artistic career, to celebrate it, he released a special DVD with his live performance at Madison Square Garden, the same day of his birthday.
He was an author involved in the politics of his country, in 2008 he gave a concert in New York to raise funds for the campaign of Hillary Clinton, a Democratic candidate for the presidency of the United States. Elton has received a large number of awards and distinctions. Not only has he made a living from music, but he also purchased a London football team, Watford. In 2014 with the approval of the law that allowed equal marriage in the United Kingdom, Elton married in the Windsor City Council the Canadian David Furnish with whom he had a sentimental relationship since 2005.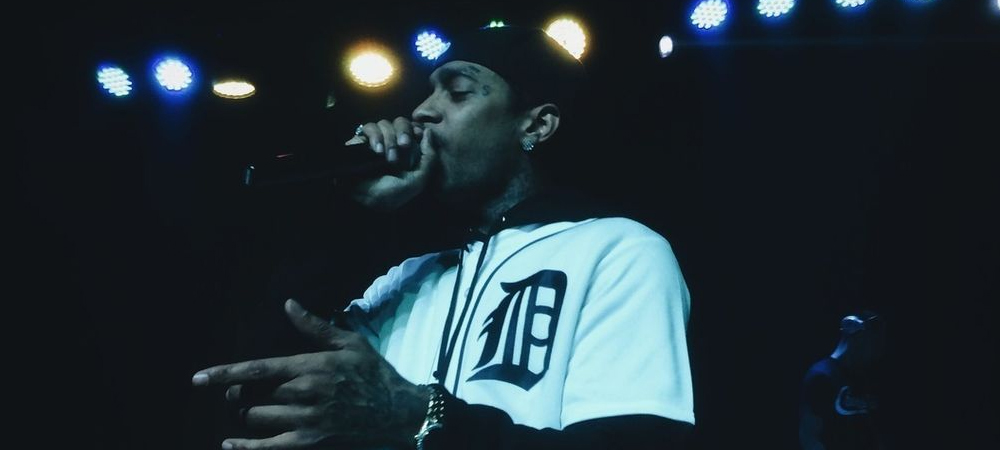 Nipsey Hussle Biography
Ermias Asghedom (August 15, 1985 – March 31, 2019), better known as Nipsey Hussle, was an American rapper, businessman, and community activist, who rose to fame in 2018 with his debut album Victory Lab. Nipsey began his career towards the mid-2000s releasing several successful mixtapes such as Slauson Boy Volume 1, Bullets Ain't Got No Name series and The Marathon. His fame came to him, along with his first Grammy nomination, with his debut album in 2018. He had previously created his label All Money In No Money Out (2010).
Following his death, he received two posthumous Grammys for the songs Racks in the Middle and Higher. He was known for his social work on behalf of the Crenshaw community.
Early years
He was born in Los Angeles, United States, on August 15, 1985. Son of Angelique Smith and Eritrean immigrant Dawit Asghedom, he grew up in Crenshaw, a neighborhood located south of Los Angeles, with his siblings Samiel and Samantha. He attended Hamilton High School but dropped out before graduating. Since he was little he looked for a way to help around the home, so over time, he began to work selling different products on the street.
After leaving school he became involved in the world of gangs, however, he turned away from it when he realized that it was not what he expected for his future. Decided then to dedicate himself to music, he sold everything that linked him to the gangs and worked for a time to buy his own production tools. After finishing his studies, he began to write and produce his own mixtapes, which he sold from a car. After finding inspiration from a trip he took to Eritrea with his father and spending time in prison, Nipsey turned fully to his career and business. He always looked for ways to start and help the community in which he grew up: giving jobs, helping students, renovating public spaces, etc …
Community activist
Nipsey was admired for his work at Crenshaw because instead of moving or investing in hedge funds, he preferred to help the community by boosting the local economy.
Career
In late 2005, Nipsey Hussle released his first mixtape, Slauson Boy Volume 1, independently, to great local success. By then he already had a fan base at the regional level, so it took him a while to sign a contract with the Epic Records and Cinematic Music Group labels. Later, the first volumes of the Bullets Ain't Got No Name series appeared, with which he expanded his popularity. Burner on My Lap, Ridin Slow, Aint No Black Superman, Hussle in the House and It's Hard out Here, were some of the songs included in the series.
By 2009, Nipsey would make a name for himself collaborating with Drake on Killer and with Snoop Dog on Upside Down. He also released Bullets Ain't Got No Name vol.3 and in 2010, he left Epic and opened his own label All Money In No Money Out. Under this label, he would soon release The Marathon, a mixtape in which hits such as Love ?, Mr. Untouchable, Young Rich and Famous and Late Nights and Early Mornings appeared. He also created The Marathon Clothing at that time, a sports and casual clothing brand that was based in his neighborhood. He then released the mixtape The Marathon Continues (2011), participated in the We Are the World 25 for Haiti campaign, and was featured in the popular XXL Magazine Annual Freshman Top Ten.
In 2013 came Crenshaw, a mixtape that would become famous because Jay-Z himself bought 100 copies for $ 100 each.
Victory Lap
After many delays, Nipsey would release his long-awaited debut album Victory Lap, on February 16, 2018, to great success. It was praised by critics and received a Grammy nomination for best rap album of the year. It was such a success that many singles entered the Billboard and Itunes charts. However, Nipsey did not enjoy much fame.
Death
Hussle was assassinated on March 31, 2019, outside his store in South Los Angeles. He was shot multiple times by a man he had previously clashed with, he was arrested and charged with murder on April 2 of the same year. After his death, many personalities expressed the pain caused by the news. It is worth mentioning that the Mayor of Los Angeles himself gave his condolences to the family, recognizing Hussle's social work in Crenshaw.
He was the partner of actress Lauren London and was the father of two children.
Sales strategies and greatest hits
Hussle was known for his sales strategies, since, he used to upload his singles in free download and then sell some limited editions for a cost of 100 to 1000 dollars. It promoted the sale of his work with campaigns such as Proud2Pay and Mailbox Money, in which he gave special incentives (autographed photos, dedication calls, tickets to his studio, and special events) to buyers. His revolutionary ideas promised him a fruitful career.
Some of his greatest hits
Rose Clique
Forever On My Fly Shit
Thas Wat Hoes Do Proud of That (with Rick Ross)
Face the world
Bless, 1 of 1
Where Yo Money At
Fuck Donald Trump
Higher
Young Rich and Famous