Marilyn Monroe Biography
Her real name is Norma Jean Baker. She was born on June 1 of 1926, in Los Angeles, California. She was given up for adoption six weeks after birth. Much of his childhood was spent between houses of adoptive families and orphanages. Her father had abandoned her and her mother was admitted to an hospital for the mentally illness with symptoms of depression.
In 1942, at the age of 16, Norma Jean married James Dougherty, a 21-year-old policeman who joined the Navy and was sent to Australia.
In 1945, the photographer Henrik Manukyan portrayed Norma while working with her mother-in-law in a factory, in order to show the work of women during World War II. The photographs were published in the Yank magazine, which worked as a boost for her career as a model. Her image was the cover of more than thirty magazines.
In 1946, she divorced and began working as an extra in different movies. Her agent changed her name to Marilyn Monroe. "Marilyn" in honor of actress Marilyn Miller and "Monroe" for being her mother's maiden name.
In 1946, she got a contract with 20Th Century Fox which meant the beginning of her film career with "The Shocking Miss Pilgrim" (1947) directed by George Seaton. Shortly after, while returning to her modeling duties, she signed a contract with Universal, debuting for the studio in a Phil Karlson film. "Blonde Orchid" (1948).
Hollywood: They'll Pay You a Thousand Dollars for a Kiss, and Fifty Cents for Your Soul
In 1949, she met Johnny Hyde, (who discovered among others Rita Hayworth and Lana Turner) William Morris Agency, and this became her mentor and lover. The same year she appeared nude on the, possibly, most famous calendar of all time. A year later, Marilyn reappeared in the big screen to have a briefly role in "Love Happy" (1950), a film by United Artists that was starring the Marx Brothers.
The same year of the premiere she signed with Metro Goldwyn Mayer and appeared in John Huston's masterpiece "The Asphalt Jungle" (1950) and in the cast of another important film, "All about Eve" (1950) a film directed by Joseph L. Mankiewicz and starring Bette Davis and Anne Baxter.
In 1951, Marilyn Monroe enrolled in night classes in art and literature at the University of California. Throughout this time, she interpreted characters like secondary actress in titles like "The Fireball" (1950), film of Tay Garnett that was carried out by Mickey Rooney; "Let's Make It Legal" (1951), comedy by Richard Sale with Claudette Colbert; "Love Nest" (1951), a film made by Joseph M. Newman with June Haver; "Clash by Night" (1952), title of Fritz Lang with Barbara Stanwyck as main charachter; "Monkey business" (1952), Howard Hawks comedy with Cary Grant and Ginger Rogers; and "We're Not Married" (1952), Edmund Goulding's film, again with Ginger Rogers as a female star.
In 1953, a gap was made between the best-known faces of Hollywood thanks to the musical comedy "Gentlemen prefer blondes" (1953) by Howard Hawks and "How to Marry a Millionaire" (1953) by Jean Negulesco, titles in which she shared the head of a poster with other stunning women of the time: Jane Russell, Lauren Bacall and Betty Grable. "The gentlemen prefer blondes" is based on an ingenious novel by Anita Loos and tells the story of the confrontation of two choristers, a brunette, the turgid Jane Russell, and another blonde, Marilyn Monroe, who try to hunt one of the most desirable bachelors and rich man of America. In this film, full of excellent gags and provocative musical numbers, Marilyn showed that she was, in addition to a good comedy actress, a remarkable singer, and dancer with a personal style and very suggestive.
"Niagara" (1953), a film directed by Henry Hathaway and co-starring Joseph Cotten, helped her to achieve more fame because her eroticism was seen in its greatest intensity so far, becoming, after its exhibition, a great star.
As a result of these sensational works, in 1954, the prestigious Golden Globe was awarded to her in the category of best actress.
On January 14, 1954, she married the legendary baseball player Joe DiMaggio, one of the first American sportsmen whose popularity was comparable to that of a movie star.
In 1955, she went to the prestigious New York Actors Studio to take classes with Lee Strasberg. Induced by Strasberg, she studied psychoanalysis to know more about herself and bring out her interpretative potential.
She never stopped fighting to show that she was more than a pretty face and a spectacular body. The more she became a sex symbol, the more she tried not to succumb to the conformist image she projected. Both in "The seven year itch" (1955), by Billy Wilder, and "Bus Stop" (1956), by Joshua Logan, Marilyn offered two unimpeachably performances.
On June 29, she married the playwright Arthur Miller. In 1957, she founded her own production company: The Marilyn Monroe Inc. debuted with "The Prince and the Showgirl". It was filmed in London and directed and interpreted by Laurence Olivier. Her next film was "Some like it hot" (1959), great and scathing comedy about love and transsexualism directed Billy Wilder. Marilyn's work was awarded in 1960 with a new Golden Globe. This time in the category of best comedy or musical actress. In 1960, she co-starred with the French actor Yves Montand, George Cukor's film "Let's make love".
Her last cinematographic appearance was for many critics and fans the best work Marilyn Monroe had made. Directed by John Huston and scripted by Marilyn's husband at that time, Arthur Miller, "The Misfits" (1961) was an elegiac film, played with the rare quality of the unrepeatable, which united in the screen three great actors, Clark Gable, Montgomery Clift and Marilyn Monroe. A history of losers, intense and emotional; perhaps this role was the best gift Arthur Miller could ever give to Marilyn, whom he would divorce shortly after, on January 21, 1961, just a week before the premiere of "The Misfits". She was again rewarded in 1962 with a new Golden Globe.
The last months of Marilyn's life present a series of dark sides that probably never come to light, such as her relationship with the, back then, president of the United States, John F. Kennedy, and his brother, the senator Robert Kennedy.
Marilyn Monroe died on August 5, 1962, by an overdose of barbiturates at her home in Brentwood, California.
The image of "The seven year itch" with a white pleated blouse and skirt that rises and flutters when it passes over a vent of the New York subway has been inseparably linked to Marilyn's name. Her disappearance in full youth, and in the climax of her fame as an actress and as a living erotic myth, only added to the legend.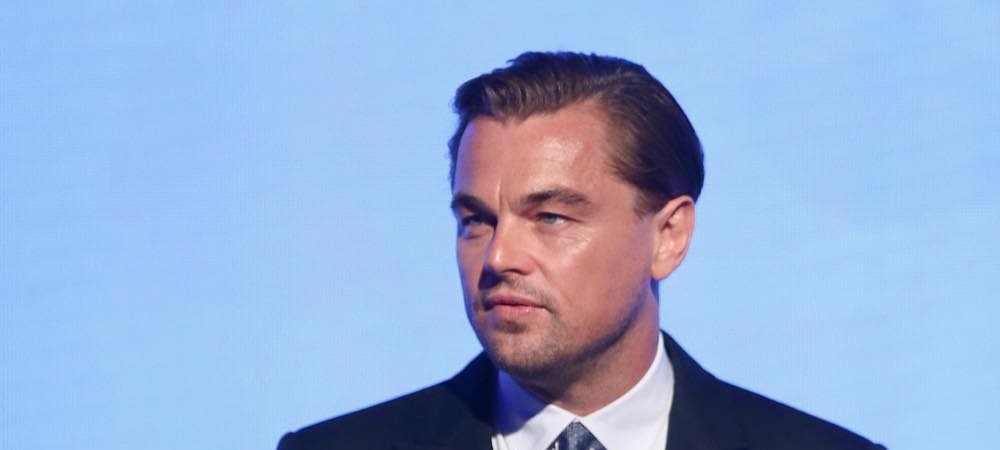 Biography of Leonardo DiCaprio
Leonardo Wilhelm DiCaprio is a renowned actor and film producer who has won numerous awards within the film industry. He was born on November 11, 1974, in Hollywood, Los Angeles, California, United States.
DiCaprio is an only child of Irmelin Indenbirken, a secretary born in Germany, and George DiCaprio, an underground comic artist and producer/distributor of comics. On his father's side, he has half-Italian (from Naples) and half-German (from Bavaria) ancestry. On the other hand, on his mother's side, his grandfather Wilhelm Indenbirken was German and his grandmother Helene Indenbirken was a German citizen born in Russia under the name Yelena Smirnova.
He was named Leonardo because, while his pregnant mother was looking closely at a painting by the great artist Leonardo da Vinci in a museum, DiCaprio gave a strong kick inside her belly. His parents divorced when he was only one year old, and they shared custody of Leonardo until 1997.
Studies, beginnings in acting.
As for his education, he did not attend university and only took basic courses at John Marshall High School in Los Angeles. His career in the world of image and acting began when he followed his older stepbrother, Adam Farrar, in television advertising, starring in a commercial for the Matchbox car brand at the age of fourteen and subsequently participating in educational films. At the age of five, he was also part of the children's television series "Romper Room", but had to leave it as it was detrimental to him.
"1990 – 1991: Debut in television and cinema"
In 1990, he made his true television debut when he was cast to be a part of the "Parenthood" ensemble, a series based on the film of the same name. He then landed minor roles in several series, including "The New Lassie" and "Roseanne," as well as a brief part in "Santa Barbara." His work in "Parenthood" and "Santa Barbara" earned him a nomination for the Young Artist Award for Best Young Actor. His big screen debut came in 1991 with the science fiction and horror movie "Critters." Later on, he became a recurring member of the cast of the ABC sitcom "Growing Pains," playing Luke Brower. However, DiCaprio didn't achieve success in the film industry until 1992, when he was selected by Robert De Niro from among 400 young actors for the lead role in "This Boy's Life," which also starred Ellen Barkin and De Niro himself.
1993 – 1996
Later, in 1993, DiCaprio played the mentally disabled younger brother of Johnny Depp in "What's Eating Gilbert Grape." The film's director, Lasse Hallström, admitted that he initially sought a less attractive actor, but he decided on DiCaprio because he had become "the most observant actor" among all who auditioned. The film was a great financial and critical success, resulting in Leonardo being highly praised for his performance, which led to him being awarded the National Board of Review for Best Supporting Actor and nominated for an Academy Award and a Golden Globe. Subsequently, he had roles in films such as "The Quick and the Dead" (1995) and was one of the leads in "Romeo + Juliet" (1996).
But his big break came with director James Cameron, who offered him the lead male role in Titanic (1997), a movie that not only won a considerable number of Academy Awards but also became a social phenomenon. Afterwards, DiCaprio gained greater acceptance in the cinematic world, so he was part of numerous films such as:
The Man in the Iron Mask (1998)
The Beach (2000)
Catch Me If You Can (2002)
The Aviator (2004)
The Assassination of Richard Nixon (2004)
Blood Diamond (2006)
Gardener of Eden (2007)
Body of Lies (2008)
Orphan (2009, as producer)
Shutter Island (2010)
Inception (2010)
Django Unchained (2012)
The Great Gatsby (2013)
Runner Runner (2013)
The Wolf of Wall Street (2013)
The Revenant (2015)
The Audition (2015).
Curiosities
Interestingly, he was nominated for an Oscar five times: Best Supporting Actor for What's Eating Gilbert Grape, Best Actor for The Aviator, Blood Diamond and The Wolf of Wall Street. This generated a lot of jokes and talk of a supposed "curse" in Hollywood. But in 2015, he finally won the award thanks to his great performance in "The Revenant".
It should also be noted that DiCaprio is a committed environmentalist who has received praise from environmental groups for choosing to fly on commercial flights instead of private planes like most celebrities, and for driving an electric hybrid vehicle and having solar panels in his home.