Ozuna Biography
Juan Carlos Ozuna Rosado is a Dominican-Puerto Rican reggaeton and trap singer, known in the musical world by his stage name Ozuna. He was born on March 13, 1992, in San Juan, Puerto Rico. He showed his interest in music since he was 12 years old when he began to make song compositions, which motivated him to pursue the dream of being a singer and be recognized in the musical world.
In 2014, Ozuna would begin his path to popularity and fame when he signed a contract with the Puerto Rican company Golden Family Records Inc. and was able to start publishing his songs on YouTube. By 2015, his talent began to cross borders, since his music already played in several countries in Latin America, where his song "Si No Te Quiere" was a great success on the radio stations. In 2015, he would also perform concerts in some countries of South America where his music was already popular.
By the beginning of 2016, the urban singer managed to reach even more the Latin American audience when he launched the song "La ocasion" which had the collaboration of DJ Luian, Mambo Kingz, De La Ghetto, Arcángel and Anuel AA. Thi song would help Ozuna to reach the position number 22 of the Hot Latin Songs. In March of that same year, he released the remix of the song "No Quiere enamorarse" in collaboration with the popular singer Daddy Yankee, which had great popularity on the radio and YouTube. In September, Ozuna's songs already exceeded one hundred thousand visits on YouTube, so he wanted to continue innovating in the world of music and released his song "Dile Que Tu me Quieres", which became very popular and was positioned in the music charts of the Billboard magazine, also it reached the position number 13 in the Hot Latin Songs.
In 2016, Ozuna would release again his song "Si no te Quiere", in collaboration with Arcángel and Farruko, and "En la íntimidad", which entered the Hot Latin Songs list and were among the first 30 positions. His song, "Te Vas" became the most popular of the singer, as he exceeded 250 million views on YouTube in 2016.
In his short musical career, the singer has achieved great success by launching songs and videos that reach popularity in music channels, radio, and social networks, very quickly. For this reason, he is considered by several reggaeton and urban genre singers, as the best artist of the new generation of reggaeton. His first album titled "Odisea" was released in 2017.
Throughout 2017, Ozuna released several singles such as "Dile Que tu me Quieres (Remix)" in collaboration with Yandel, "Despues de las 12", "Tu Foto" which video reached more than 300 million reproductions in his YouTube channel and ranked number 8 on the Latin Billboard list. In addition, he has made several collaborations, including "La Rompe Corazones" with Daddy Yankee, "Escápate Conmigo" with Wisin, "Ahora Dice" with J Balvin, Arcángel and Chris Jeday, "El Amante" (Remix) with Nicky Jam and Bad Bunny, "Criminal" with Natti Natasha, "Que Va" with Alex Sensation, among others.
On January 30, 2018, the song and video of the song "El Farsante Remix" were released, in collaboration with Romeo Santos.
Ozuna is considered one of the revelation singers in the urban genre and trap, along with Bad Bunny, Anuel AA, Bryant Myers, Manuel Turizo, among others.
ALBUMS
This Love's for Real: 2016.
Éxitos Trap: 2016.
Ozuna Hits: 2016.
Odisea: 2017.
Some of HIS SONGS
Igual Como Tú: 2012.
Juegos De Amor: 2012.
Fanática: 2013.
Luce Bien: 2013.
Me Heches La Culpa: 2014.
Detrás Del Mic: 2014.
Contigo Lo Tengo Todo: 2014.
Si No Te Quiere: 2014.
Se Toca Todita: 2014.
Dialogue Con Mi Corazón: 2014.
Te Paso A Buscar: 2014.
Que Bien Te Ves: 2014.
Mírame: 2014.
Pasión & Deseo: 2015.
Sexo X Money: 2015.
No Sé Qué Tienes: 2015.
Todos Los Días Me Pregunto: 2015.
Dicen: 2015.
Búrlate: 2015.
Si Tu Marido No Te Quiere: 2015.
Se Dejaron Ver: 2015.
Bailen (Remix): 2015.
Corazón De Seda: 2015.
Si Tu Marido No Te Quiere (Remix) (ft. Arcángel and Farruko): 2015.
No Quiere Enamorarse: 2015.
Dime Quién: 2016.
Infidelidad: 2016.
No Forcen (Remix): 2016.
No Quiere Enamorarse (Remix) (Ft Daddy Yankee): 2016.
Dile Que Tú Me Quieres: 2016.
Te Vas: 2016.
Me Ama Me Odia (Ft Arcángel, Cosculluela and Brytiago): 2016.
En La Intimidad: 2016.
El Pecado: 2016.
Dile Que Tú Me Quieres (Remix) (Ft Yandel): 2017.
Después De Las 12: 2017.
Tu Foto: 2017.
El Farsante: 2017.
Se Preparó: 2017.
Cumpleaños (ft. Nicky Jam): 2017.
Egoista (ft. Zion & Lennox): 2017.
Una Flor: 2017.
Quiero Repetir (ft. J Balvin): 2017.
Pide Lo Que Tú Quieras (ft. De La Ghetto): 2017.
Bebé (ft. Anuel AA): 2017.
Carita de Ángel: 2017.
Si No Te Quiere: 2017.
No Podré Olvidarte: 2017.
El Farsante Remix: 2018.
FEATURING
Espejo (Feat De La Ghetto): 2015.
Me Reclama (Feat Lui-G 21 Plus): 2016.
La Ocasión: (Feat Arcángel, De La Ghetto, Anuel AA): 2016.
Ya Me Enteré (Feat Tito "El Bambino" y Egwa): 2016.
Quería Revelarse (Feat J Álvarez): 2016.
Ella y Yo (Remix) (Feat Farruko, Arcángel, Anuel AA, Bryant Myers, Ñengo Flow, Kevin Roldán, Ñejo, Alexio La Bestia, Darell): 2016.
One Dance (Spanish Remix) (Feat Zion & Lennox, Le Magic, Ñengo Flow): 2016.
Me Reclama (Remix) (Feat Lui-G 21 Plus, Kevin Roldán, Pusho, Alexio La Bestia): 2016.
Yo Te Quiero (Feat Arcángel): 2016.
El Dinero No Lo Es Todo (Feat Kendo Kaponi): 2016.
Hello (Feat Karol G): 2016.
La Rompe Corazones (Feat Daddy Yankee): 2017.
Simple (Feat Cosculluela, Baby Rasta & Gringo, Ñengo Flow): 2017.
Ahora Dice (Feat J Balvin, Arcangel).
Escápate Conmigo (Remix) (Feat Wisin, Bad Bunny, De La Ghetto, Arcángel, Noriel and Almighty): 2017.
La Ocasión (Remix) (Feat De La Ghetto, Daddy Yankee, Farruko, Arcangel, Anuel AA, J Balvin and Zion): 2017.
Háblale (Remix) (Feat D-Enyel, Alexio, Bryant Myers and Brytiago): 2017.
El Amante (Remix) (Feat Nicky Jam and Bad Bunny): 2017.
Sobredosis (Feat Romeo Santos): 2017.
Criminal (Feat Natti Natasha): 2017.
No Quiero Amores (Feat Yandel): 2017.
Quisiera alejarme (Feat Wisin): 2017.
AWARDS
Won Premios Juventud in the category of Best Breakthrough Artist 2017
QUOTES
"Take advantage of the opportunities the smallest comes out the biggest".

"Delete a photo and feel that you deleted a story".

"When you are happy you enjoy music, when you are sad you understand the lyrics".

"If we are already happy as we are, it matters that they look at us like crazy".

"The happiness of your life depends on the quality of your thoughts".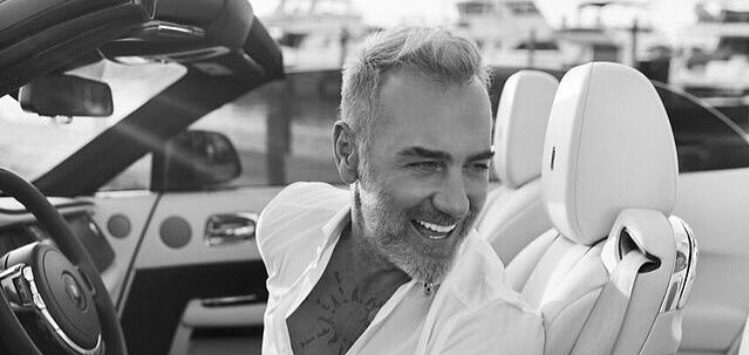 Gianluca Vacchi biography
Gianluca Vacchi (August 5, 1967) Born in Bologna, Italy. Italian businessman and artist, known for his eccentricity and the way he manages his money, throwing lavish and expensive parties. His lifestyle is frequently shared by the businessman through his social networks.
Vacchi is a man of more than 50 years who has attracted the attention of various people, not only for his eccentricity but also for his physical attractiveness. He currently has more than 15 million followers on instagram and since 2014 he has become popular with the hashtag #GVLifestyle.
There is only one life and you have to live it trying to enjoy everything you can.

Gianluca Vacchi
Family and studies
Gianluca Vacchi grew up in a wealthy family. From an early age he was interested in business. He studied economics and then began to be part of the family business. Later he founded the company IMA, a company dedicated to the creation of pharmaceuticals, cosmetics and others. Over time, Vacchi diversified his businesses, participating in different business projects. While doing this, he increased his capital, becoming a billionaire in a matter of a few years.
Change of lifestyle
After several years in the industry, Gianluca Vacchi left the family business in charge of his cousin and dedicated himself fully to enjoying his life, since at the age of forty he had not explored and enjoyed everything he achieved in those years. After thinking about the way he had lived until then, he decided to change his lifestyle. He started by working on his physique, improving his diet and exercising. He complemented this, with hours in the sauna and cryotherapy and shortly after the effort began to show.
At 47, he became known on social networks with a photo in which he was seen riding with the famous American actor Zac Efron.
Since then, he began to attract the attention of the public for his sensual dances, his eccentric and expensive parties. Likewise, through the networks he showed the large number of properties he owned: mansions, houses on the beach, yachts, motorcycles, cars and even a helicopter.
In 2016, the videos of Vacchi and his girlfriend at the time, Giorgia Gabriele, dancing to different Latin music songs, went viral. It was then that it became a trend. Many were interested in the lifestyle of the 49-year-old man, surrounded by beautiful women and with an exorbitant fortune. Since then, the daily life of the famous Italian has been shared by social networks. He is currently one of the most famous adult influencers on the platform.
The following year he ended his relationship with his girlfriend Gabriele, and a short time later he was seen with the beautiful Colombian model, Ariadna Gutiérrez. That same year he published his book Enjoy (2016), which, in Vacchi's words, is a conceptual biography. In this book, he talks about his experiences, gives advice and encourages people to enjoy life to the fullest.
During this period of his life, the Italian has been seen with famous Latin, American and European artists, which has increased his popularity. Among the artists with whom he has been associated are the singers: J. Balvin, Luis Fonsi, Sebastián Yatra, Ozuna, Daddy Yankee and Yandel, among others. In 2017, Vacchi was seized by Banco BPM. He later explained that this does not greatly affect his fortune and that it was all a disagreement with the bank.
Facet as DJ
In recent years, Gianluca Vacchi has dabbled in music as a DJ, working with great figures such as Steve Aoki, Nicola Zucchi, Christian Lena and Albertino, among others. He currently has a contract with the Spinnin 'Records label. His first song, entitled Viento, appeared under this label on August 13, 2017. This song currently has more than 27 million views on YouTube.
After Viento, Tump-it came out, a theme that quickly became a trend. In August he released the song Sigamos Bailando, his collaboration with Yandel and Luis Fonsi. Later he released the song Waglio, in collaboration with Alessio and in 2019, he released Asho mami and Mueve.
Vacchi has made several tours as a DJ and worked in clubs such as Amnesia Ibiza, Sutton Club and Sutton Barcelona, among others.
Gianluca news
Currently Vacchi, is romantically involved with the young model Sharon Fonseca. On May 10, 2020, during the celebration of Mother's Day, he announced via Instragram that he and his girlfriend were expecting their first child.
Birth of your child
On October 28, Gianluca and Sharon announced the birth of their daughter Blu Jerusalema Vacchi, true to their style, this announcement was made through their Instagram accounts.