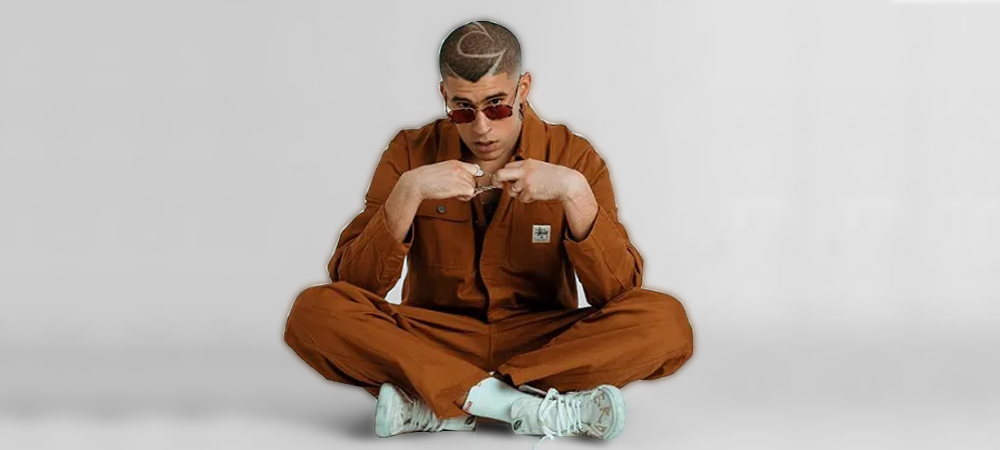 Personal information
Full name

Benito Antonio Martínez Ocasio

Birthdate

March 10, 1994

Age
26 años
Occupation

Singer, Rapper, Songwriter

Pseudonym
Bad Bunny
Nationality

Puerto Rican

Genders
Latin trap, Reggaeton, Rap
Movements

Urban

Zodiac sign
Pisces
Bad Bunny Biography
Benito Antonio Martínez Ocasio, known in the world of music as Bad Bunny, is a Puerto Rican singer and songwriter (He also has American nationality) of hip-hop in Spanish, rap, trap and other urban rhythms. He was born in San Juan, Puerto Rico on March 10, 1994, and is recognized as a creative and versatile artist. He is the author of most of the tracks and tracks of his songs.
His stage name "Bad Bunny" was awarded to him because of a picture of childhood in the school dressed as a rabbit, where he had a not-being -very-happy face. This photo was shared on social networks and with it, he created a Twitter account with the name Bad Bunny. When fame came he decided to leave that name.
His beginnings in music were when he himself began to perform his tracks in FL Studio; In addition, he composed the lyrics of the songs and then published them on various digital platforms, so that little by little he generated expectation and gained great receptivity in the listeners.
One of his first songs that was released was "Diles" which was released in mid-2016. That same year, he started to be part of the Hear This Music company of Dj Luian and Mambo Kings; who realized the success that Bad Bunny was having, recognized his talent and offered him to sign to join the company. Already with his new musical company, he released the remix of the single "Diles" where he had the collaboration of Ñengo Flow, Ozuna, Arcángel Y Farruko, which reached millions of views on YouTube.
Although Bad Bunny had little time in the music scene, he managed to reach the top of Billboard's Latin list with his new song "Tu no vive así" with Arcángel. He also broke records of visits on YouTube with that video, surpassing 11 million visits in just two weeks. From that moment, Arcángel decided to give support to the young singer.
On November 16, 2016, Bad Bunny was part of the song "Un Polvo" by Maluma, along with great exponents such as Ñengo Flow, De La Ghetto and Arcángel. In that time he also made part of songs like "Pa' Que le dé" by Brray and "Explícame" by Mat Lanez. On December 30 of that same year, he released the single "Soy peor" In addition, an official video clip through his channel on YouTube.
On March 3, 2017, he premiered the video clip of the song "Si Tu novio te Deja sola" by the Colombian singer J Balvin, where Bad Bunny collaborated and which was a success on all platforms, reaching more than 100 million copies in YouTube in less than a month. On March 18 of that same year, he was part of the closing of the second edition of the We The Future Festival at the Roberto Clemente Coliseum, where he had an excellent presentation, performing songs such as "Soy Peor," "You do not live like that" among others. After a few days, he announced that he would launch "Bad Bunny Madness" a computer game.
On July 1, 2017, he released the song "Tú no metes Cabra" under the label of Hear This Music and the address of Fernando Lugo. Subsequently, on July 13 the singer, Becky G released the single "Mayores" which had the collaboration of Bad Bunny. On August 10 of that same year, the Venezuelan singer Nacho published the video clip of the single "Báilame" (Remix) where Bad Bunny and Yandel participated. With these participations, the singer was already starting to position himself as one of the great exponents in the urban genre.
On September 27, the song "Vuelve" was released, where Bad Bunny collaborated with singer Daddy Yankee. In addition, that same month he released the song "Mi Puerto Rico" in homage to his native land.
By November 2, 2017, the singer released the song "Sensualidad" which had the collaboration of Prince Royce and J Balvin; In addition, the subject was accompanied by a video clip, which was a trend on YouTube.
DISCOGRAPHY
SINGLES
Diles: 2016.
Caile (feat. Zion & De La Ghetto): 2016.
Crazy But Millionaire: 2017.
Do not Go Goat: 2017.
I'm Raining 2.0: 2017.
I'm raining 3.0: 2017.
I'm raining 3.5: 2017.
Pa 'Que Le Dé (Featuring Brray): 2016.
It rains 2017.
It Kills Me: 2017.
Blockia: 2017.
Pa Ti (Explicit): 2017.
Growth: 2017
With you.
Give it up: 2017 (Along with Messiah, Jhoni The Voice, Tory Lanez and DJ Yonny.
El Chalet: 2017 (Together with Pusho, Jory Boy, Alexio, Sou, Almighty).
Dimelo: 2017.
Sensualidad: 2017 (Together with Prince Royce and J Balvin).
SOME COLLABORATIONS
Ahora me llama, with Karol G: 2017.
You do not live like this, with Arcángel: 2017.
Krippy Kush, with Farruko: 2017.
Disco Night (Remix) (feat Wisin & Jovani Vazquez).
Si tu novio te Deja sola, with J Balvin: 2017.
One more Ratito, with Bryant Myers. 2017
Te Lo Meto Yo – Bad Bunny Ft. Arcangel, Lary Over, Farruko, Tempo.
Pure, with Farruko, Bad Bunny, Bryant Myers, Dj Luian and Ez the Ezeta: 2017.
Me Mata, with Arcangel, Bryant Myers, Almighty, Noriel, Baby Rasta, Brytiago.
Greater, with Becky G: 2017.
Mala y Peligrosa, with Víctor Manuelle: 2017.
Solita, with Ozuna, Wisin, and Almighty: 2018.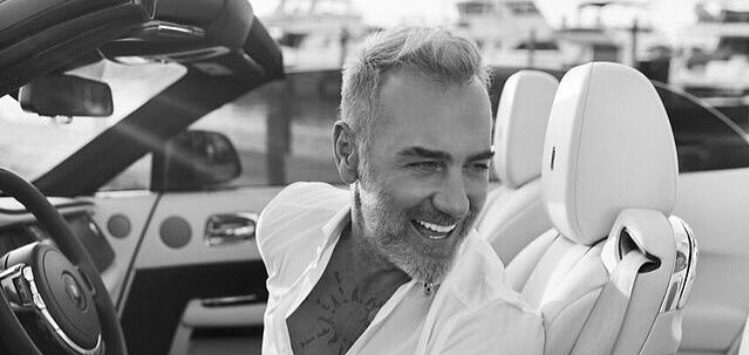 Gianluca Vacchi biography
Gianluca Vacchi (August 5, 1967) Born in Bologna, Italy. Italian businessman and artist, known for his eccentricity and the way he manages his money, throwing lavish and expensive parties. His lifestyle is frequently shared by the businessman through his social networks.
Vacchi is a man of more than 50 years who has attracted the attention of various people, not only for his eccentricity but also for his physical attractiveness. He currently has more than 15 million followers on instagram and since 2014 he has become popular with the hashtag #GVLifestyle.
There is only one life and you have to live it trying to enjoy everything you can.

Gianluca Vacchi
Family and studies
Gianluca Vacchi grew up in a wealthy family. From an early age he was interested in business. He studied economics and then began to be part of the family business. Later he founded the company IMA, a company dedicated to the creation of pharmaceuticals, cosmetics and others. Over time, Vacchi diversified his businesses, participating in different business projects. While doing this, he increased his capital, becoming a billionaire in a matter of a few years.
Change of lifestyle
After several years in the industry, Gianluca Vacchi left the family business in charge of his cousin and dedicated himself fully to enjoying his life, since at the age of forty he had not explored and enjoyed everything he achieved in those years. After thinking about the way he had lived until then, he decided to change his lifestyle. He started by working on his physique, improving his diet and exercising. He complemented this, with hours in the sauna and cryotherapy and shortly after the effort began to show.
At 47, he became known on social networks with a photo in which he was seen riding with the famous American actor Zac Efron.
Since then, he began to attract the attention of the public for his sensual dances, his eccentric and expensive parties. Likewise, through the networks he showed the large number of properties he owned: mansions, houses on the beach, yachts, motorcycles, cars and even a helicopter.
In 2016, the videos of Vacchi and his girlfriend at the time, Giorgia Gabriele, dancing to different Latin music songs, went viral. It was then that it became a trend. Many were interested in the lifestyle of the 49-year-old man, surrounded by beautiful women and with an exorbitant fortune. Since then, the daily life of the famous Italian has been shared by social networks. He is currently one of the most famous adult influencers on the platform.
The following year he ended his relationship with his girlfriend Gabriele, and a short time later he was seen with the beautiful Colombian model, Ariadna Gutiérrez. That same year he published his book Enjoy (2016), which, in Vacchi's words, is a conceptual biography. In this book, he talks about his experiences, gives advice and encourages people to enjoy life to the fullest.
During this period of his life, the Italian has been seen with famous Latin, American and European artists, which has increased his popularity. Among the artists with whom he has been associated are the singers: J. Balvin, Luis Fonsi, Sebastián Yatra, Ozuna, Daddy Yankee and Yandel, among others. In 2017, Vacchi was seized by Banco BPM. He later explained that this does not greatly affect his fortune and that it was all a disagreement with the bank.
Facet as DJ
In recent years, Gianluca Vacchi has dabbled in music as a DJ, working with great figures such as Steve Aoki, Nicola Zucchi, Christian Lena and Albertino, among others. He currently has a contract with the Spinnin 'Records label. His first song, entitled Viento, appeared under this label on August 13, 2017. This song currently has more than 27 million views on YouTube.
After Viento, Tump-it came out, a theme that quickly became a trend. In August he released the song Sigamos Bailando, his collaboration with Yandel and Luis Fonsi. Later he released the song Waglio, in collaboration with Alessio and in 2019, he released Asho mami and Mueve.
Vacchi has made several tours as a DJ and worked in clubs such as Amnesia Ibiza, Sutton Club and Sutton Barcelona, among others.
Gianluca news
Currently Vacchi, is romantically involved with the young model Sharon Fonseca. On May 10, 2020, during the celebration of Mother's Day, he announced via Instragram that he and his girlfriend were expecting their first child.
Birth of your child
On October 28, Gianluca and Sharon announced the birth of their daughter Blu Jerusalema Vacchi, true to their style, this announcement was made through their Instagram accounts.