J Balvin Biography
José Álvaro Osorio Balvin, known also as J Balvin, is a Colombian singer and composer of reggaeton and urban music. Balvin was born on May 7, 1985, in Medellín, Colombia and is the son of José Álvaro Osorio and Alba Mery Vásquez. At the age of 14, he began to be interested in urban music, making rhymes and improvisations of hip-hop.
After finishing school he traveled to Oklahoma through a cultural exchange, he also traveled to New York, where he would become more passionate about the urban genre. He studied international business and social communication but dropped out of school in his third year, with the aim of seeking a future in music.
In 2004, J Balvin launched his first single "Panas" with which he started to enter the world of reggaeton. In 2006, motivated to be recognized in music, released two other singles "Simple" and "The Beach".
Around 2009, the artist became popular in Colombia thanks to the release of his song "Ella me cautivó" which helped him to earn important recognition as the Artist Revelation in the radio station La Mega, Artist of summer of the 40 principales radio station and the Composer revelation by the government of Antioquia.
Thanks to the success of the song "Ella me cautivó" J Balvin signed a recording contract with Machete Music and a second later with EMI Music. After signing with these two music companies, the artist released his first album titled "Real" on May 7, 2010, which was a national success that allowed him to win a Golden Disc. In that year, his song "Ella me cautivó" came to the United States, where it was very well received and ranked among the 40 most important songs on the Tropical Songs chart of Billboard.
J Balvin would continue releasing his singles "Sin Compromiso", "Me gustas tú" and "En lo Oscuro", this last song would become a total success over time, and for the first time J Balvin had a song as the number one position in the national music ranking of his country. After the good reception of his songs in Colombia and some Latin American countries, the singer wanted to venture more into the international market, so he began in the United States as Boston, New Jersey, Miami, Orlando and New York.
In 2011, the singer released his second album "El Negocio" with which he began his tour of concerts in Europe, where he had great reception selling out all the scenarios where he was.
On February 28, 2012, he released a compilation mixtape with some of his most famous songs. In these months, the success that J Balvin was having earned him "The best artist of the year" in the Shock and Nuestra Tierra awards. In mid-2012, another single was released "Yo te lo dije" which reached the top positions in several Colombian radio stations; in the United States, it reached position 13 of Hot Latin Songs and number 9 of Latin Pop Songs of Billboard magazine. The song also reached the second place of Latin rhythm airplay. In that semester, "Tranquila" was also released, a song that once again ranked among the first in the national lists and represented, with "Yo te lo dije" the platinum certifications of the RIAA for the Latin market.
The singer would release of his single "Sola" in 2013, which achieved the first position in several charts of Colombia and was certified by the RIAA. A few months later, J Balvin released his song "6 AM" in collaboration with Farruko, which managed to occupy the position of Hot Latin Songs and the first position in Latin Rhythm Airplay for several consecutive weeks; nationally he won 3 platinum albums for the success of that song. The song "6 AM" was the first song of the artist to enter a musical list in Europe, where it was placed in the position number 22 of the PROMUSICAE list in Spain and obtained 2 platinum albums, besides, it was the first song in English that won a diamond disc in the United States. The success of the song won the awards for best urban song and best urban collaboration.
On October 23, 2013, he released his third album "La Familia" under the musical signatures of Capitolio Latino and EMI Music México. This production was placed in the top ten positions of Billboard's Top Latin Albums, won 5 platinum albums in Colombia, a platinum record in Peru, a platinum record in Romania, two platinum albums in Mexico and Chile and a Gold record in Venezuela, Ecuador, and Argentina.
The artist continued to make good music, and in 2014, he released his song "Ay Vamos" with which he achieved his second diamond certification and for the first time was positioned in the first place of Hot Latin Songs. A year later, he would win the Latin Grammy Award for the best urban song. In that same year, he released his single "Ginza" which had great national success and internationally entered the Billboard Hot 100 list, with that song, J Balvin won platinum records in Spain and the United States, and a record of gold in Mexico; "Ginza" also became the first song of the Colombian singer to reach the first position in Italy, where he was awarded a platinum record; and in countries like Netherlands, Switzerland and Slovakia was among the best 50 songs of some music listings.
In 2016, he became the first Colombian artist to sing at the Sanremo Song Festival, where he performed the song "Ginza" Throughout the year 2017, J Balvin launched songs that stood out for being musical success, as they are: Mi Gente, Si Tu Novio te Deja sola, Ahora dice, and Bonita. In addition, he has counted with the participation of artists of the moment such as Ozuna, Bad Bunny, Jowell, and Randy, among others.
J Balvin is characterized by composing his songs based on his own experiences and his career as a singer, which have led him to stardom and to be recognized throughout the musical world.
DISCOGRAPHY
Real: 2009.
El Negocio: 2011.
La familia: 2013.
Energía: 2016.
AWARDS
NUESTRA TIERRA AWARDS
Best urban artist, 2010.
Public's favorite artist and public's favorite song "Sin compromiso", 2011.
Artist of the year and best urban, 2012.
Public's favorite artist and best urban artist, 2013.
Public's favorite artist, 2014
Urban artist of the year, Urban album of the year "La familia", urban song of the year and best featuring of the year "6 AM", 2014.
Artist of the year and urban album of the year "La familia B Sides", 2016.
Male artist of the year, 2017.
Artist of the year, 2017.
SHOCK AWARDS
Best national artista, 2010.
Best artista of the year and best urban artist, 2011.
Artist of the year, Shock's artist and best song in Radio "Yo te lo dije", 2012.
Best urban artist, 2013.
Best urban artist: 2014, 2016.
Shock's Icon, 2016.
JUVENTUD AWARDS
Super tour for his tour: "Sex and love tour" feat Pitbull and Enrique Iglesias.
Best musical video, "Sigo extrañándote": 2017.
Latin BILLBOARD awards
Artist Latin rhythm song of the year and Latin rhythm song of the year "Ay vamos", 2015.
Artist Latin rhythm álbum, 2017.
Latin rhythm album of the year, "Energía": 2017.
latin GRAMMY awards
Best urban song "Ay vamos", 2015.
Best urban album "Energía", 2016.
LATIN AMERICAN MUSIC AWARDS
New Xfinity artist, 2015
Favorite urban artist, 2016.
Favorite urban song, "Ginza": 2016.
OTHER AWARDS
Heat Latin Music Awards to Best urban artist: 2015.
MTV Europe Music Awards 2015.
MTV Millennial Awards to song of the year, "Ginza": 2016.
Soberano internacional award, 2016.
Guinness World Record to Song lasting the longest in number 1 position in Hot Latin Songs of the United States: 2017.
iHeartRadio Music Awards to Latin album of the year, "Energía": 2017.
Heat Latin Music Awards to Best urban artist: 2017.
Heat Latin Music Awards too best musical video, "Bobo": 2017.
Heat Latin Music Awards to best male artist: 2017.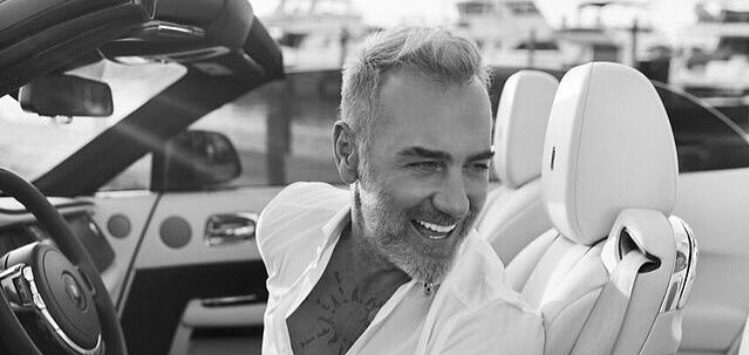 Gianluca Vacchi biography
Gianluca Vacchi (August 5, 1967) Born in Bologna, Italy. Italian businessman and artist, known for his eccentricity and the way he manages his money, throwing lavish and expensive parties. His lifestyle is frequently shared by the businessman through his social networks.
Vacchi is a man of more than 50 years who has attracted the attention of various people, not only for his eccentricity but also for his physical attractiveness. He currently has more than 15 million followers on instagram and since 2014 he has become popular with the hashtag #GVLifestyle.
There is only one life and you have to live it trying to enjoy everything you can.

Gianluca Vacchi
Family and studies
Gianluca Vacchi grew up in a wealthy family. From an early age he was interested in business. He studied economics and then began to be part of the family business. Later he founded the company IMA, a company dedicated to the creation of pharmaceuticals, cosmetics and others. Over time, Vacchi diversified his businesses, participating in different business projects. While doing this, he increased his capital, becoming a billionaire in a matter of a few years.
Change of lifestyle
After several years in the industry, Gianluca Vacchi left the family business in charge of his cousin and dedicated himself fully to enjoying his life, since at the age of forty he had not explored and enjoyed everything he achieved in those years. After thinking about the way he had lived until then, he decided to change his lifestyle. He started by working on his physique, improving his diet and exercising. He complemented this, with hours in the sauna and cryotherapy and shortly after the effort began to show.
At 47, he became known on social networks with a photo in which he was seen riding with the famous American actor Zac Efron.
Since then, he began to attract the attention of the public for his sensual dances, his eccentric and expensive parties. Likewise, through the networks he showed the large number of properties he owned: mansions, houses on the beach, yachts, motorcycles, cars and even a helicopter.
In 2016, the videos of Vacchi and his girlfriend at the time, Giorgia Gabriele, dancing to different Latin music songs, went viral. It was then that it became a trend. Many were interested in the lifestyle of the 49-year-old man, surrounded by beautiful women and with an exorbitant fortune. Since then, the daily life of the famous Italian has been shared by social networks. He is currently one of the most famous adult influencers on the platform.
The following year he ended his relationship with his girlfriend Gabriele, and a short time later he was seen with the beautiful Colombian model, Ariadna Gutiérrez. That same year he published his book Enjoy (2016), which, in Vacchi's words, is a conceptual biography. In this book, he talks about his experiences, gives advice and encourages people to enjoy life to the fullest.
During this period of his life, the Italian has been seen with famous Latin, American and European artists, which has increased his popularity. Among the artists with whom he has been associated are the singers: J. Balvin, Luis Fonsi, Sebastián Yatra, Ozuna, Daddy Yankee and Yandel, among others. In 2017, Vacchi was seized by Banco BPM. He later explained that this does not greatly affect his fortune and that it was all a disagreement with the bank.
Facet as DJ
In recent years, Gianluca Vacchi has dabbled in music as a DJ, working with great figures such as Steve Aoki, Nicola Zucchi, Christian Lena and Albertino, among others. He currently has a contract with the Spinnin 'Records label. His first song, entitled Viento, appeared under this label on August 13, 2017. This song currently has more than 27 million views on YouTube.
After Viento, Tump-it came out, a theme that quickly became a trend. In August he released the song Sigamos Bailando, his collaboration with Yandel and Luis Fonsi. Later he released the song Waglio, in collaboration with Alessio and in 2019, he released Asho mami and Mueve.
Vacchi has made several tours as a DJ and worked in clubs such as Amnesia Ibiza, Sutton Club and Sutton Barcelona, among others.
Gianluca news
Currently Vacchi, is romantically involved with the young model Sharon Fonseca. On May 10, 2020, during the celebration of Mother's Day, he announced via Instragram that he and his girlfriend were expecting their first child.
Birth of your child
On October 28, Gianluca and Sharon announced the birth of their daughter Blu Jerusalema Vacchi, true to their style, this announcement was made through their Instagram accounts.