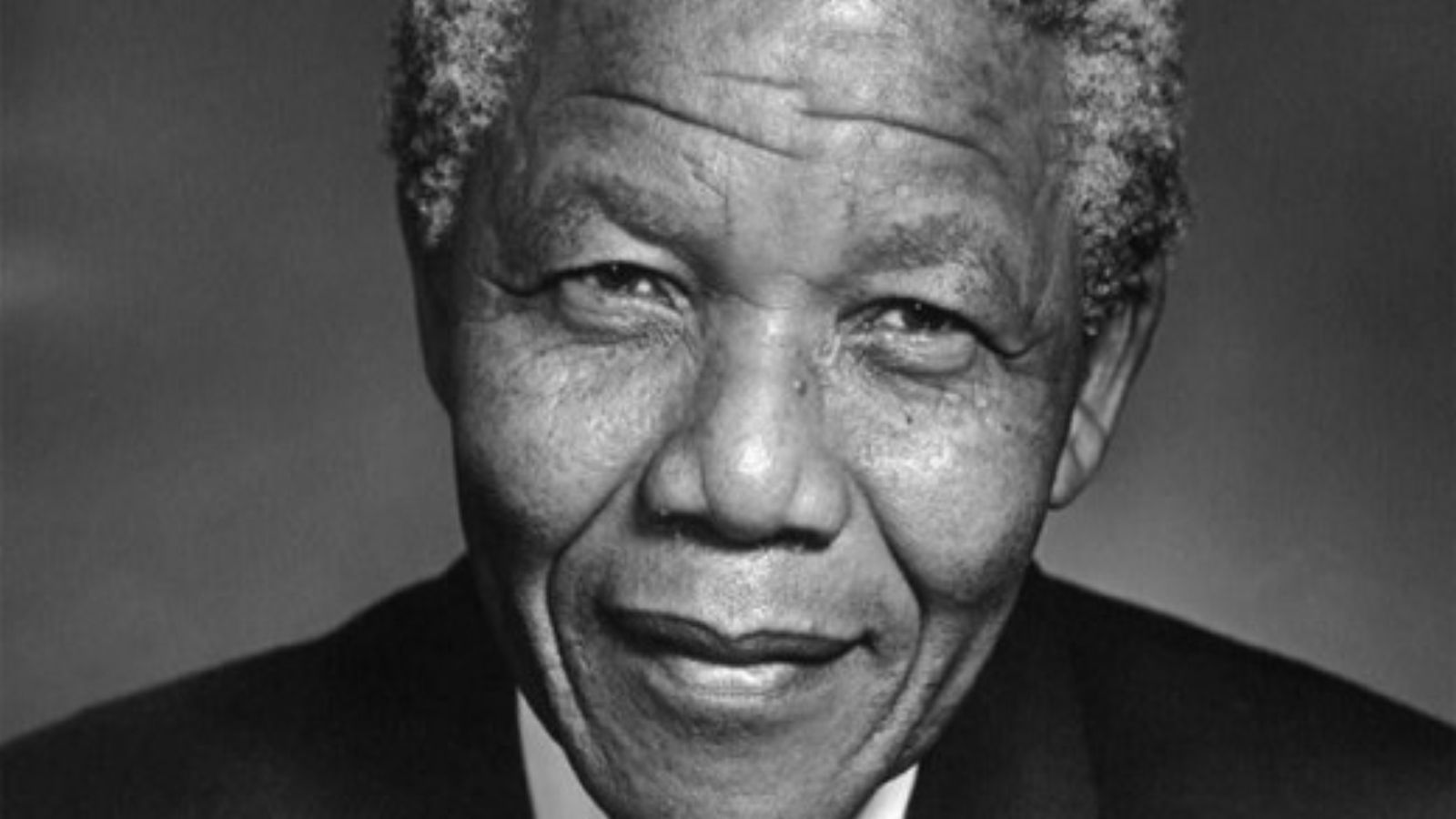 Nelson Mandela Biography
Rolihlahla Mandela, whose original name Xhosa means "pull the branch of a tree" (interpreted by the natives as "troublemaker"), and universally known as Nelson Mandela or Madiba, was a South African lawyer, anti-apartheid activist, politician and philanthropist. Mandela was born on July 18, 1918, in the small town of Mvezo located in Cape Province, located on the banks of the Mbashe River, near Umtata. Son of Gadla Henry Mphakanyiswa, tribal chief, and adviser to the monarch of Tembuland. His mother named Nosekeni Fanny, a member of the Xhosa amaMpemvu clan was the third wife of Gadla and belonging to the lineage of the House of the right hand.
The first years of Nelson were determined by custom, ritual, and taboo. He grew up with two sisters in his mother's kraal, and at the age of seven, he was sent by his mother to a Methodist school. According to the Foundation that bears his name, he said that the name of "Nelson" came from his teacher Miss Mdingane, who called him that the first day of class in the school of the village of Qunu and it is still unknown why he chose that name particularly.
After Nelson Mandela's father passed away, his mother took him to the palace of Mqhekezweni where he was placed under the curatorship of the regent Jongintaba Daindyebo and his wife Noengland, for many years he did not see his mother. However, together with Jongintaba and his wife he felt very well since they treated him like his own son. Mandela attended religious services every Sunday, Christianity became an important part of his life. In addition, he went to a Methodist mission near the palace where he studied the English language and Xhosa as well as history and geography, from those years, began his love for African history.
"The brave man is not he who does not feel afraid, but he who conquers that fear."
In 1939, Nelson Mandela entered the University of Fort Hare, the only center of higher education for Black people in the country, at that time. In 1940, his studies were interrupted for supporting a student protest at the university that confronted him with possible ejection from the school. He also decided to flee to Johannesburg, due to the decision of his tutor to marry him to a girl he was not in love with. When Mandela arrived at Johannesburg, he started working as a night watchman in the Crown mining complex where he was fired when they discovered he was a fugitive. He also came into contact with the African National Congress (ANC). At the end of 1941, he would receive the visit of Jongintaba who forgave him for having fled. A year later, Mandela would return to the University of Fort Hare and graduates in Law.
In 1943, Nelson Mandela resumed his studies of higher education, enrolling in a correspondence course at the University of South Africa, to which he devoted time at night. After he passed the exams to get his B.A. Mandela returned to Johannesburg to become a lawyer, which would help him get into politics.
When he began his law studies at the University of the Witwatersrand, Mandela was the only Black student and although he suffered racial discrimination he managed to become friend with many European liberalists and communist ideas, as well as Jews and Hindus, such as Joe Slovo, Harry Schwarz, and Ruth First.
In October 1944, he married Evelyn Mase, a CNA activist from Engcobo, who was studying to become a nurse. They had two children, Madiba Thembi Thembekile born in February 1945 and later in 1947, his daughter Mazowiecki was born but will die nine months later due to meningitis. This year he also helped found the ANC Youth League, with Tambo and with Walter Sisulu, in order to promote the racial equality. A year later, he would become general secretary and two years later, president.
In 1952, Nelson Mandela led the Defiance Campaign, exhorting Black people to violate the laws of racial segregation. He is found guilty under the law against Communism, and he is banned from attending meetings or leaving the Johannesburg area. He passes the exam to be a lawyer and together with Tambo, he founded the first Black lawyer firm in the country.
On June 26, 1955, the Freedom Charter was adopted, a document drafted in secrecy that demands the achievement of a democratic, free and multiracial society. On December 5, 1956, he was arrested along with 155 people and sent to trial for high treason.
Around 1961, Mandela and the rest of the defendants are acquitted of the high treason charge. He goes underground and creates "The Spear of the Nation" (Umkhonto we Sizwe), an armed wing of the ANC, from which he becomes commander and chief. A year later, he left South Africa and attended the Panafri Conference Canada of Addis Ababa (Ethiopia). He was also in Algeria where he received guerrilla training, then he would go to London. When he returns he is judged for the illegal abandonment of the country and sentenced to five years in prison.
In 1964, at this time many African colonies had achieved independence and Mandela is prosecuted for sabotage, he declares: "I am willing to die for my country to be democratic."
On June 12, 1964, Judge Quartus de Wet found Mandela and other activists guilty and sentenced them to life imprisonment, they were sent to Robben Island, where they remained for 18 years. Mandela was confined in a damp cell, and with a palm mat to sleep. Despite being in prison Mandela was visited by well-known South African personalities.
Since 1967, the prison conditions improved, Black prisoners were allowed to wear long pants, authorized recreational activities and improved the quality of the food. Two years later, his eldest son died in a traffic accident. In 1973, the UN declared the Apartheid crime against humanity. By 1975, Nelson Mandela was already considered a class A prisoner, which allowed him to have many visits, receive correspondence and study. He began to write his autobiography which he secretly sent to London and although it remained for several years without being published, the authorities of the prison found several written pages of his book and took away his privilege to study for four years. This allowed him to devote that time to gardening and reading, until he resumed his studies for the Law Degree in 1980.
In 1981, the journalist Percy Qoboza launched the slogan "Free Mandela" which prompted an international campaign led by the United Nations Security Council, for his release. In April 1982, Mandela was transferred to Pollsmoor Prison in Tokai, a suburb of Cape Town, along with Walter Sisulu, Andrew Mlangení, Ahmed Kathrada and Raymond Mhlaba. The conditions of this prison were better, although Mandela missed the companionship and the natural space next to the island. On December 12, 1988, he was taken to Tygerberg hospital for having fallen ill with tuberculosis caused by the humidity of the cell. Once he was recovered, he is transferred to Víctor Verster prison with better conditions. On February 11, 1990, he is released after 27 years in prison, and on March 2nd of the same year, he is elected Vice President of the ANC. By June 17, 1991, after more than four decades, the parliament of South Africa repealed the law on racial segregation of the population.
On July 6, 1991, Mandela would be appointed as the president of the African National Congress (ANC) by acclamation and be the successor of Oliver Tambo. On May 15, 1992, he received the Prince of Asturias of International Cooperation. A year later, he received the Nobel Peace Prize. On April 26, 1994, the first free elections of South Africa were held. Twenty million citizens exercised their right to vote for the first time, ending up with more than three hundred years of white domination granting Mandela 62.6% of the votes, and on May 10, 1994, Mandela would become the first black president in the history of South Africa. Mandela initiated a reconstruction and development plan improving the living standards of black South Africans in issues such as education, housing, health and employment. He also promoted a new constitution for the country that finally the parliament approved in 1996. In the same year, his autobiography "A long walk to freedom" was published.
Also in 1996, he divorced Winnie and in 1998 he married again. In March 1999, suffering from prostate cancer, he said goodbye to the parliament, naming Thabo Mbeki as the new president. When he retired from political life in June 1999, he dedicated himself to the orientation of various humanitarian causes.
In 2003, the Mandela Foundation launched a major international campaign to raise funds for the fight against AIDS. In 2008, the world celebrated his 90th anniversary with an appeal for peace. London paid tribute to him with a macro concert. A year later, the UN declares July 18th as his International Day. In 2010, on the 20th anniversary of Mandela's release, he published "Conversations with myself". That same year the tragedy touched him again when his 13-year-old great-granddaughter Zenani died in a traffic accident.
After suffering a prolonged respiratory infection, Nelson Mandela died on 5 December 2013 at the age of 95 years at his home in Houghton, Johannesburg (Republic of South Africa), surrounded by his family in particular his eldest daughter Makaziwe Mandela.
Before he died, Mandela said: "Death is something inevitable. When a man has done what he considers his duty to his people and his country, may rest in peace. I believe that I have made that effort and, therefore, I will sleep for all eternity."
Few men have changed the course of history, as Nelson Mandela did, a tireless fighter, considered a global symbol of "Freedom and Hope" who despite spending 27 years in prison, managed to defeat the racist regime of apartheid, one of the most ruthless of the twentieth century. He was the first Democratic President of South Africa and marked the end of racial segregation in his country through a policy of reconciliation and Social Justice.
"Education is the most powerful weapon in the world." Nelson Mandela.
Awards
Lenin Peace Prize (1990).
Bharat Ratna (1990).
Prince of Asturias Award for international cooperation (1992).
Nobel Peace Prize (1993).
honorary member of the Order of Meritby Queen Elizabeth II (1995).
Presidential Medal of the Liberty (1999).
50 Honoris Juris Doctor in different universities around the world.
Nelson Mandela statue in Johannesburgo.
Written Works
How far we slaves have come! (1991).
Long Walk to Freedom (1994).
Let the freedom reigns: The words of Nelson Mandela (2005).
Nelson Mandela's African Folktales (2002).
Conversations with myself (2010).
Nelson Mandela by himself (2012).
Nelson Mandela signature
Anime history
Japanese anime or animation emerged at the beginning of the 20th century influenced by animation and the world of cinema developed in the United States, later it was modified and claimed Japanese culture. The anime-style as we know it began to develop in the late 1950s, when the production company Toei Studios and the different series based on short sleeves or cartoons, such as Tetsuwan Atomu, also known as Astro Boy. From the 1980s and 1990s, the anime became popular, appearing large cult series such as Dragon Ball, Neon Genesis Evangelion, Sailor Moon, Detective Conan, Rurouni Kenshin, and Cowboy Bebop, among others. In the new millennium, the Japanese animated industry has been booming, providing new content every season based on successful manga, light novels, video games, and music.
Beginnings
The first Japanese animations were small short films developed at the end of the 1910s, largely inspired by American animation, in these, folk and comic themes were addressed. The first short film was Namakura Gatana by Junichi Kouchi, it was two minutes long, the story told the story of a man with his katana (Japanese sword or saber). In the following decade, the duration of the short films was extended to ten or fifteen minutes, in which typical oriental tales were represented. Among the pioneer artists of this era are Oten Shimokawa, Junichi Kouchi, Seitaro Kitayama and Sanae Yamamoto; by this time the short film Obasuteyama (The Mountain Where Old Women Are Abandoned) by Yamamoto was published.
During the 30s and 40s, the Japanese animated industry went through a series of changes, the stories were neglected and western stories were taken into account. A short time later the anime Norakuro (1934) of Mituyo Seo, one of the first animations based on a manga. Since then this became a frequent practice. By the end of the 1930s, World War II broke out, a warlike confrontation in which Japan was involved as a member of the Axis powers, at which time the animations became war propaganda. At the end of the war, the country was occupied by the allied powers led by the United States, which seriously affected the country that was going through a deep economic crisis.
Industry development and international boom
In the course of the crisis, the manga and anime industry became popular in the country, thus establishing the basis for the development of the own animated style that occurred around the middle of the 20th century. It was around this time that Toei Studios, an animation film producer, emerged as one of the key figures in the history of anime. This company was a pioneer in the animation of Japan, provided various productions that allowed the advancement of animation in the country. The company's first animation was Koneko no rakugaki, a short thirteen-minute film published in 1957. The following decade the company grew by focusing on the development of feature films. Other companies such as Mushi Pro, a producer that made the animation of Tetsuwan Atomu (Astro Boy) by Osamu Tezuka, mangaka and animator, one of the most relevant artists of the Japanese animated industry of the 20th century.
Between the 1960s and 1970s, the anime of robots (mecha) became popular appearing iconic series such as Tetsujin 28-gō and Mazinger Z or Gundam, for this same period the popular Doraemon series (1973), based on the homonymous anime, began to air Fujiko Fujio, a series that tells the story of a cosmic robot cat that has attached to its body a bag from which it subtracts various artifacts which are used in the adventures of Doraemon and his human friend Nobita. In the 1980s and 1990s, Japanese animation boomed internationally, which led to many series beginning to dub into English and Spanish, in these years cult series such as Dragon Ball, based on the manga of Akira Toriyama. Saint Seiya also known as The Knights of the Zodiac, Captain Tsubasa, exported as Super champions; Rurouni Kenshin, known in the west as Samurai X, Neon Genesis Evangelion of Hideaki Anno; Pokémon, Ranma ½, and Sakura Card Captor, among others.
In 2000, the already booming anime is largely massified by the acceptance and the huge fan base that it had acquired at the time, these followers known as otakus, boosted the Japanese animated industry. Since then there have been numerous animated productions that have been distributed worldwide, among the most prominent series of the new millennium are One Piece, Naruto, Bleach, Fullmetal Alchemist, Inuyasha, Yu-Gi-Oh, Rozen Maiden, Kuroshitsuji, and Death Note, all are ace based on sleeves that when becoming successful, allowed the development of the animated series.
At present, any manga that has a large number of followers is very likely to have adapted in an animated series, such as Hunter x Hunter, Pandora Hearts, Ao no Exorcist, Mirai Nikki, Bakuman and Shingeki no Kyojin, among many others, light novels have been adapted that have become popular as Durarara!!, Boku wa Tomodachi ga Sukunai, Sword Art Online, and My Youth Romantic Comedy Is Wrong, As I Expected, among others. In recent years, the Yaoi and Yuri genres have been popularized in which romantic relationships between people of the same sex are addressed, among these series it is possible to rescue Junjō Romantica, Sekaiichi Hatsukoi, No. 6, Aoi Hana, Sasameki Koto and Yagate Kimi ni Naru
At present, the Japanese animated industry produces numerous series, ova, and films per year, becoming one of the strongest industries in the world of animation. Among the most prominent people in this industry is Hayao Miyazaki, founder of Studio Ghibli, a studio where films such as My Neighbor Totoro, The Incredible Vagabond Castle, The Journey of Chihiro, and Ponyo, among others, likewise, stand out in the present, artist Makoto Shinkai, creator of 5 centimeters per second, Hoshi Wo Ou Kodomo, Kotonoha no Niwa and Kimi no Na Wa.