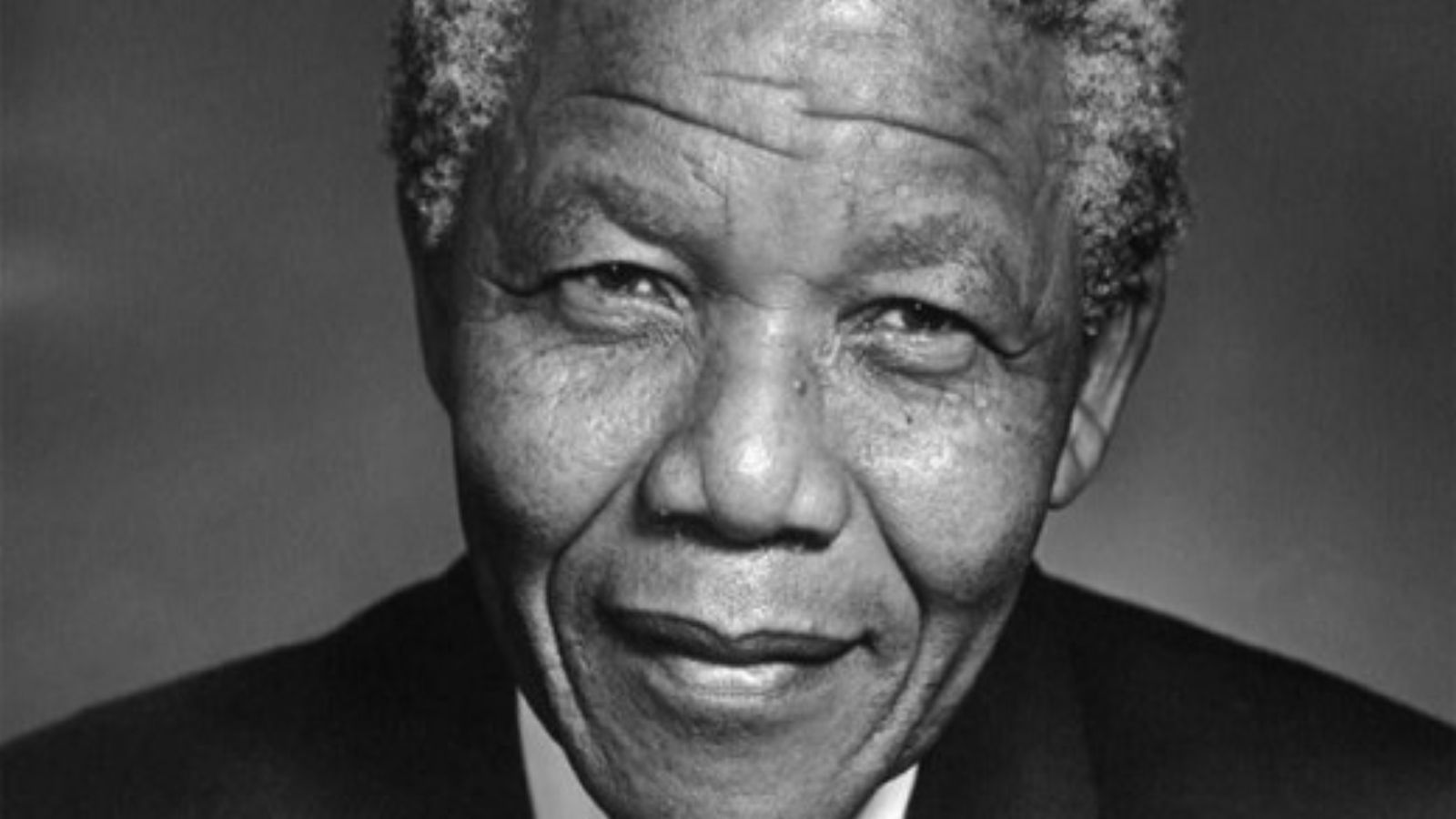 Nelson MandelaBiography
Rolihlahla Mandela, whose original name Xhosa means "pull the branch of a tree" (interpreted by the natives as "troublemaker"), and universally known as Nelson Mandela or Madiba, was a South African lawyer, anti-apartheid activist, politician and philanthropist. Mandela was born on July 18, 1918, in the small town of Mvezo located in Cape Province, located on the banks of the Mbashe River, near Umtata. Son of Gadla Henry Mphakanyiswa, tribal chief, and adviser to the monarch of Tembuland. His mother named Nosekeni Fanny, a member of the Xhosa amaMpemvu clan was the third wife of Gadla and belonging to the lineage of the House of the right hand.
The first years of Nelson were determined by custom, ritual, and taboo. He grew up with two sisters in his mother's kraal, and at the age of seven, he was sent by his mother to a Methodist school. According to the Foundation that bears his name, he said that the name of "Nelson" came from his teacher Miss Mdingane, who called him that the first day of class in the school of the village of Qunu and it is still unknown why he chose that name particularly.
After Nelson Mandela's father passed away, his mother took him to the palace of Mqhekezweni where he was placed under the curatorship of the regent Jongintaba Daindyebo and his wife Noengland, for many years he did not see his mother. However, together with Jongintaba and his wife he felt very well since they treated him like his own son. Mandela attended religious services every Sunday, Christianity became an important part of his life. In addition, he went to a Methodist mission near the palace where he studied the English language and Xhosa as well as history and geography, from those years, began his love for African history.
"The brave man is not he who does not feel afraid, but he who conquers that fear."
In 1939, Nelson Mandela entered the University of Fort Hare, the only center of higher education for Black people in the country, at that time. In 1940, his studies were interrupted for supporting a student protest at the university that confronted him with possible ejection from the school. He also decided to flee to Johannesburg, due to the decision of his tutor to marry him to a girl he was not in love with. When Mandela arrived at Johannesburg, he started working as a night watchman in the Crown mining complex where he was fired when they discovered he was a fugitive. He also came into contact with the African National Congress (ANC). At the end of 1941, he would receive the visit of Jongintaba who forgave him for having fled. A year later, Mandela would return to the University of Fort Hare and graduates in Law.
In 1943, Nelson Mandela resumed his studies of higher education, enrolling in a correspondence course at the University of South Africa, to which he devoted time at night. After he passed the exams to get his B.A. Mandela returned to Johannesburg to become a lawyer, which would help him get into politics.
When he began his law studies at the University of the Witwatersrand, Mandela was the only Black student and although he suffered racial discrimination he managed to become friend with many European liberalists and communist ideas, as well as Jews and Hindus, such as Joe Slovo, Harry Schwarz, and Ruth First.
In October 1944, he married Evelyn Mase, a CNA activist from Engcobo, who was studying to become a nurse. They had two children, Madiba Thembi Thembekile born in February 1945 and later in 1947, his daughter Mazowiecki was born but will die nine months later due to meningitis. This year he also helped found the ANC Youth League, with Tambo and with Walter Sisulu, in order to promote the racial equality. A year later, he would become general secretary and two years later, president.
In 1952, Nelson Mandela led the Defiance Campaign, exhorting Black people to violate the laws of racial segregation. He is found guilty under the law against Communism, and he is banned from attending meetings or leaving the Johannesburg area. He passes the exam to be a lawyer and together with Tambo, he founded the first Black lawyer firm in the country.
On June 26, 1955, the Freedom Charter was adopted, a document drafted in secrecy that demands the achievement of a democratic, free and multiracial society. On December 5, 1956, he was arrested along with 155 people and sent to trial for high treason.
Around 1961, Mandela and the rest of the defendants are acquitted of the high treason charge. He goes underground and creates "The Spear of the Nation" (Umkhonto we Sizwe), an armed wing of the ANC, from which he becomes commander and chief. A year later, he left South Africa and attended the Panafri Conference Canada of Addis Ababa (Ethiopia). He was also in Algeria where he received guerrilla training, then he would go to London. When he returns he is judged for the illegal abandonment of the country and sentenced to five years in prison.
In 1964, at this time many African colonies had achieved independence and Mandela is prosecuted for sabotage, he declares: "I am willing to die for my country to be democratic."
On June 12, 1964, Judge Quartus de Wet found Mandela and other activists guilty and sentenced them to life imprisonment, they were sent to Robben Island, where they remained for 18 years. Mandela was confined in a damp cell, and with a palm mat to sleep. Despite being in prison Mandela was visited by well-known South African personalities.
Since 1967, the prison conditions improved, Black prisoners were allowed to wear long pants, authorized recreational activities and improved the quality of the food. Two years later, his eldest son died in a traffic accident. In 1973, the UN declared the Apartheid crime against humanity. By 1975, Nelson Mandela was already considered a class A prisoner, which allowed him to have many visits, receive correspondence and study. He began to write his autobiography which he secretly sent to London and although it remained for several years without being published, the authorities of the prison found several written pages of his book and took away his privilege to study for four years. This allowed him to devote that time to gardening and reading, until he resumed his studies for the Law Degree in 1980.
In 1981, the journalist Percy Qoboza launched the slogan "Free Mandela" which prompted an international campaign led by the United Nations Security Council, for his release. In April 1982, Mandela was transferred to Pollsmoor Prison in Tokai, a suburb of Cape Town, along with Walter Sisulu, Andrew Mlangení, Ahmed Kathrada and Raymond Mhlaba. The conditions of this prison were better, although Mandela missed the companionship and the natural space next to the island. On December 12, 1988, he was taken to Tygerberg hospital for having fallen ill with tuberculosis caused by the humidity of the cell. Once he was recovered, he is transferred to Víctor Verster prison with better conditions. On February 11, 1990, he is released after 27 years in prison, and on March 2nd of the same year, he is elected Vice President of the ANC. By June 17, 1991, after more than four decades, the parliament of South Africa repealed the law on racial segregation of the population.
On July 6, 1991, Mandela would be appointed as the president of the African National Congress (ANC) by acclamation and be the successor of Oliver Tambo. On May 15, 1992, he received the Prince of Asturias of International Cooperation. A year later, he received the Nobel Peace Prize. On April 26, 1994, the first free elections of South Africa were held. Twenty million citizens exercised their right to vote for the first time, ending up with more than three hundred years of white domination granting Mandela 62.6% of the votes, and on May 10, 1994, Mandela would become the first black president in the history of South Africa. Mandela initiated a reconstruction and development plan improving the living standards of black South Africans in issues such as education, housing, health and employment. He also promoted a new constitution for the country that finally the parliament approved in 1996. In the same year, his autobiography "A long walk to freedom" was published.
Also in 1996, he divorced Winnie and in 1998 he married again. In March 1999, suffering from prostate cancer, he said goodbye to the parliament, naming Thabo Mbeki as the new president. When he retired from political life in June 1999, he dedicated himself to the orientation of various humanitarian causes.
In 2003, the Mandela Foundation launched a major international campaign to raise funds for the fight against AIDS. In 2008, the world celebrated his 90th anniversary with an appeal for peace. London paid tribute to him with a macro concert. A year later, the UN declares July 18th as his International Day. In 2010, on the 20th anniversary of Mandela's release, he published "Conversations with myself". That same year the tragedy touched him again when his 13-year-old great-granddaughter Zenani died in a traffic accident.
After suffering a prolonged respiratory infection, Nelson Mandela died on 5 December 2013 at the age of 95 years at his home in Houghton, Johannesburg (Republic of South Africa), surrounded by his family in particular his eldest daughter Makaziwe Mandela.
Before he died, Mandela said: "Death is something inevitable. When a man has done what he considers his duty to his people and his country, may rest in peace. I believe that I have made that effort and, therefore, I will sleep for all eternity."
Few men have changed the course of history, as Nelson Mandela did, a tireless fighter, considered a global symbol of "Freedom and Hope" who despite spending 27 years in prison, managed to defeat the racist regime of apartheid, one of the most ruthless of the twentieth century. He was the first Democratic President of South Africa and marked the end of racial segregation in his country through a policy of reconciliation and Social Justice.
"Education is the most powerful weapon in the world." Nelson Mandela.
Awards
Lenin Peace Prize (1990).
Bharat Ratna (1990).
Prince of Asturias Award for international cooperation (1992).
Nobel Peace Prize (1993).
honorary member of the Order of Meritby Queen Elizabeth II (1995).
Presidential Medal of the Liberty (1999).
50 Honoris Juris Doctor in different universities around the world.
Nelson Mandela statue in Johannesburgo.
Written Works
How far we slaves have come! (1991).
Long Walk to Freedom (1994).
Let the freedom reigns: The words of Nelson Mandela (2005).
Nelson Mandela's African Folktales (2002).
Conversations with myself (2010).
Nelson Mandela by himself (2012).
Nelson Mandela signature

Robert Oppenheimer Biography
Julius Robert Oppenheimer (April 22, 1904 – February 18, 1967) was a physicist widely acknowledged as the father of atomic bomb. He was born in New York City, United States. Oppenheimer is renowned for his pivotal role in the development of the Manhattan Project during World War II, which culminated in the creation of the first atomic bombs.
Early years
Robert Oppenheimer was an American theoretical physicist, scientist, and university professor. He was the son of German-born Julius S. Oppenheimer and artist Ella Friedman. Coming from a wealthy and educated family in New York, his father was a Jewish owner of a significant fortune amassed through his textile factory. This allowed Oppenheimer to enjoy certain comforts and attend the best schools in the city.
In this regard, he was educated at the Ethical Culture School in New York, where he excelled as the top student, with some teachers even asserting that he was better than many of them. Upon graduating from school, he enrolled at Harvard University, where he stood out in all areas, from chemistry to Eastern philosophy, Greek, and Latin, completing his studies at the age of 21.
Career
After some time, Robert Oppenheimer decided to delve into the world of physics, capitalizing on both his aptitude for the subject and its burgeoning prominence across Europe. He moved to England, where he worked with Ernest Rutherford and J. J. Thomson. Alongside these two great scientists, he felt somewhat inadequate, as he believed his performance did not meet the required standards. However, Oppenheimer did not give up.
With the passage of time, he learned from his mentors, and by 1925, feeling more adapted, he began researching atomic energy and secondary-atomic particle energy processes at the Cavendish Laboratory.
A year later, he was at the University of Göttingen, collaborating with Max Born to develop his classical contribution to molecular quantum theory, known in physics as the "Born-Oppenheimer method". He returned to his home country to teach theoretical physics at the California Institute of Technology and the University of Berkeley between 1929 and 1942. Oppenheimer was a highly political person. Therefore, in the 1930s, he decided to align himself with communist students to support the Republic during the Spanish Civil War, but certain actions led to the demise of his sympathy for the Communist Party.
Contribution to the Manhattan Project
The civil and political situation in Europe was becoming increasingly dangerous. By 1939, Albert Einstein and Leo Szilard warned the U.S. government about the dangers of nuclear energy falling into the hands of the Nazis. In response, President Franklin Roosevelt initiated the project for creating the atomic bomb, which was initially under military control, led by General Leslie Groves, an engineer known for overseeing construction projects, including the Pentagon. Later, Oppenheimer was brought on board to manage the administration of the project, which culminated in the construction of the atomic bomb by 1945.
Oppenheimer's most significant contribution to the Manhattan Project was his leadership and effective coordination among diverse teams of scientists. His vision and problem-solving skills were crucial in overcoming the scientific and technological challenges involved in building an atomic bomb. He supervised the design and testing of the first atomic bombs, including the successful detonation of the plutonium bomb at the Trinity test site in New Mexico on July 16, 1945.
This American physicist had the support of many prominent figures in science, such as the great scientist Werner Heisenberg, Erwin Schrödinger, Max Born, Wolfgang Pauli, Paul Dirac, and Enrico Fermi, with whom he also developed close friendships. The work carried out by these scientists on quantum physics provided significant support for his own research. He gained valuable insights into quantum and relativistic physics, which kept him abreast of new scientific developments. He made contributions to the application of quantum theory to the concept of electron spin.
In his role as the director of the Institute for Advanced Study in Princeton, he fostered discussion and research in quantum and relativistic physics. In 1953, his past ties with the Communist Party led to certain defamation issues. As a result, he was called to a security hearing where the accusation was dismissed, but his access to military secrets was still prohibited. One of the institutions that attacked the scientist the most was the Federation of American Scientists. Oppenheimer was humiliated, and his communications were monitored. Nine years later, President John F. Kennedy, in an effort to rectify this mistake, awarded him the Enrico Fermi Award, granted by the Atomic Energy Commission, which he received from President Johnson himself.
"Now I Am Become Death, the Destroyer of Worlds".
Oppenheimer, confessed to President Harry Truman, that he was not entirely comfortable with the fate of the atomic bomb. After some time, the Cold War erupted, and the Soviet Union announced its possession of an atomic weapon. In response, the United States decided to develop an even more powerful weapon. They approached Oppenheimer to lead the Atomic Energy Commission, but he declined the offer, resulting in his removal from the position. However, he remained the director at the Institute for Advanced Study, thanks to the support given by Einstein, Von Neumann, and Bohr.
After this event, his life took a different turn as he decided to distance himself from the laboratories and leaned towards writing about the studies conducted throughout his scientific career. Notable works include "Science and the Common Understanding" (1954) and a book related to electrodynamics (published posthumously in 1970). In the aftermath of the events in Japan and the grave consequences the atomic bomb had on humanity, he made several proposals aimed at internationally regulating the use of atomic energy to ensure peace.
He staunchly opposed the creation of the hydrogen bomb. However, despite his efforts and those of the General Advisory Committee of the Atomic Energy Commission, its development continued. Disheartened, Oppenheimer made the decision to retire from Princeton in 1966. A year later, on February 18, 1967, he passed away from throat cancer.
Filmography
Visual works inspired by Robert Oppenheimer:
"Fat Man and Little Boy" (1989): Oppenheimer was portrayed by Dwight Schultz in this film.
"One Day" (1989): The scientist was portrayed by David Strathairn.
"Oppenheimer" (2023): The biography of Julius Robert Oppenheimer was brought to the screen in this movie, based on the biographical work "American Prometheus" by author Kai Bird. The character of Julius Robert Oppenheimer was played by Cillian Murphy and directed by Christopher Nolan.