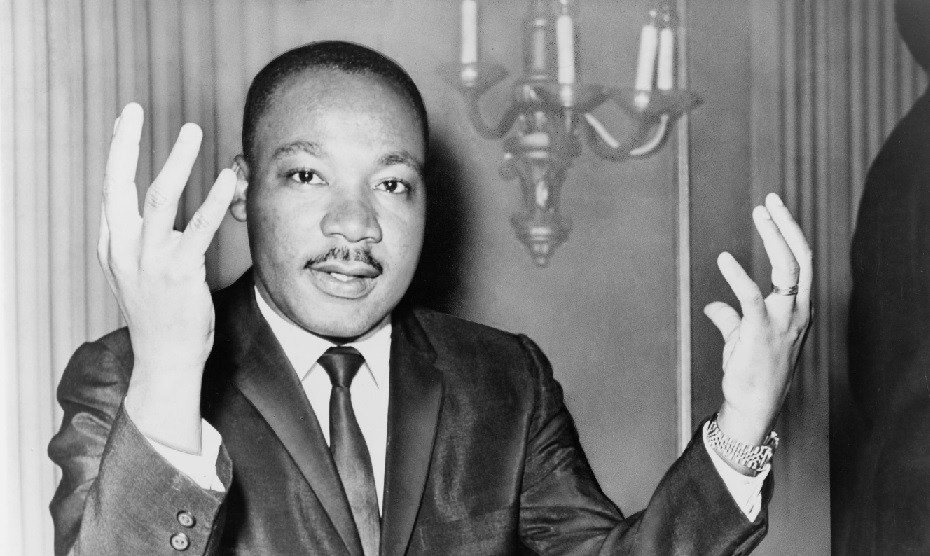 Martin Luther King Jr. Biography
Martin Luther King Jr. was born in Atlanta, Georgia, on January 15, 1929, and died in Memphis, Tennessee, on April 4, 1968. He was an activist for the human rights of African-American communities in the United States and less favored, as well as an activist against the Vietnam War. Unlike Malcolm X and some radical movements, Luther King was characterized by fighting the injustices of these communities through peaceful discourse. In addition, he won the Nobel Peace Prize in 1964
Martin was born into a religious family: his father, Martin Luther King, Sr., was a Baptist pastor and his mother, Alberta Williams King, played the organ in the church. They had two more children: Alfred and Christine. At the Booker T. Washington High School, he graduated alternately, having not finished ninth or eleventh grade. Despite this, he managed to graduate from Sociology in 1948 from a special university for African-Americans, Morehouse College. He would obtain a degree in Theology in 1951 at Crozer Theological Seminary and later received a doctorate in Philosophy from Boston University in 1955. The same year he had the first of his children, Yolanda, with Coretta Scott, a woman he had married two years before, and with whom he had three more children: Martin Luther King III, Dexter Scott King, and Bernice King.
Being 25 years old, Martin Luther King was named pastor of the Baptist Church of Dexter Avenue. Thanks to this position, he was able to react to the discrimination that Rosa Parks suffered on December 1, 1955, on one of Montgomery's buses. These buses were governed by the segregationist laws of Jim Crow, according to which black people had to give up their seat to white people. Since Rosa Parks refused to do so, as a way of protesting the murder of three African-Americans committed that same year, she was arrested. Then Martin Luther King, along with Ralph Abernathy and Edgar Nixon, initiated a bus boycott to end these discriminatory practices.
"Even if I knew that tomorrow the world would disintegrate, I would still plant my apple tree."  Martin Luther King Jr
The boycott was for blacks to stop using buses and use alternative means of transport, such as bicycles, walking or even using mules. This protest was joined by several black taxi drivers, who lower their fares to the price of the bus ride, as well as several people, black and white, who began to offer rides in their own cars. After 382 days of protest, in which the house of King and that of other pastors were attacked with incendiary bombs, in which several activists were attacked and even Martin Luther King himself was arrested, the Supreme Court of the United States declared illegal the segregationist law in 1956, which was applied not only on buses, but also in schools, restaurants, parks and other public places.
In Albany, he joined the Nonviolent Student Coordinating Committee and the National Association for the Advancement of Colored People to carry out protests of all kinds, without resorting to violence. However, because the results were unsuccessful, part of the movements began to make violent protests. For this reason, King was arrested several times. Despite this, in 1962 the city abolished segregationist laws.
Similar protests took place in Birmingham, a city that showed obvious discrimination in both low-paid jobs that black people received, and in their rights in general. In this city, Martin Luther King and his group launched "project c" which consisted of occupying spaces where only whites could be to provoke multitudinous arrests. In these demonstrations children also attended, which were of great help to evidence the segregationist practices in the south of the country. All this produced that the city underwent a collapse, which would take the resignation of the Major, the relief of the local police chief and the dissolution of sympathetic groups of the segregation. Thus, on May 21, 1963, blacks were able to return to public places in Birmingham.
"I believe that disarmed truth and unconditional love will have the last word" Martin Luther King Jr
On August 28, Luther King led a march of 250,000 people to the capitol in Washington where he gave his speech "I have a dream" which has been considered one of the best speeches given in the history of the United States. In it, he asked for an equal salary to whites and blacks, protection for the rights activists of these communities, and the end of segregation in schools, work, and public environments.
The following year, in 1964, Luther King would be awarded the Nobel Peace Prize for his constant fight for the rights of the African Americans. In 1965, Martin Luther King led a march in Montgomery with the objective of claiming the right to vote for black citizens, but this was violently received by authorities and some white people, so this date is known as Bloody Sunday. However, five months later, President Johnson passed a law giving black people the right to vote without any obstacles. This was followed by different marches in the cities of Chicago, Selma, New York and Birmingham with reason no longer only in favor of the rights of the black people, but also to present their rejection against the Vietnam War and the poverty conditions of several Americans. Finally, in 1968, Martin Luther King was shot dead by a segregationist on the balcony of the Lorraine Motel in the city of Memphis while delivering a speech.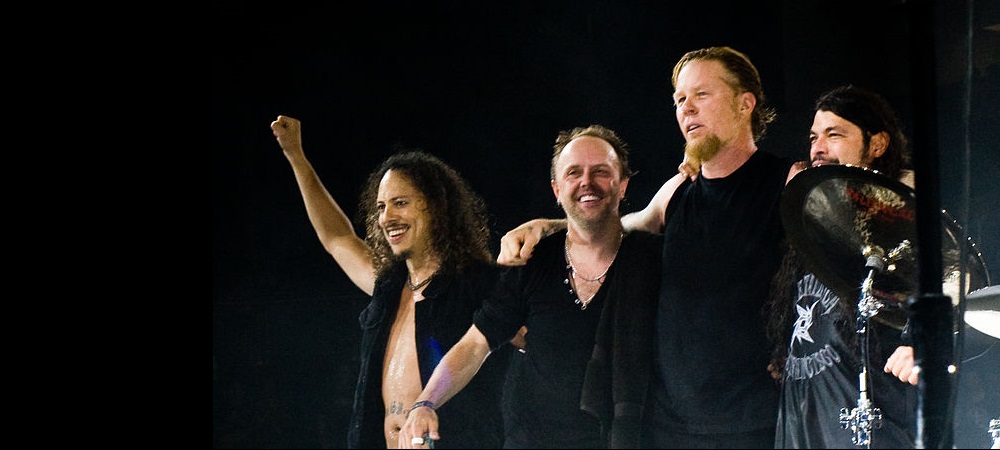 Metallica history
Metallica is an American thrash metal band from Los Angeles and based in San Francisco. It is considered one of the leading groups in the subgenre and throughout its 35-year career it has won numerous awards, including 9 Grammys, 2 American Music Awards, 2 MTV awards, 2 Billboard awards, and a star on the Hollywood Walk of Fame.
1980 – Beginnings
The history of the band begins in 1980 when Lars Ulrich, the son of tennis player Torben Ulrich, placed an ad in the magazine Recycler looking for a guitarist for a metal band influenced by the British New Wave of Heavy Metal. James Hetfield responded to the ad and joined Ulrich as the first members of the band. Ron McGovney joined as bassist and Lloyd Grant as lead guitarist. With this first formation, the band recorded its first demo, Hit the Lights, considered one of the first thrash metal songs. However, they soon realized that the lineup was not working and Lloyd was replaced by Dave Mustaine.
Despite the early disastrous performances due to the lack of experience of the members, the band continued and released No Life 'till Leather, showing a more aggressive sound. Additionally, Ron McGovney was replaced by Cliff Burton as bassist and Dave Mustaine was replaced by Kirk Hammett due to his alcohol addiction. Since then, James Hetfield has taken on both the role of rhythm guitarist and singer.
1983 – Release of 'Kill 'Em All'
With this new lineup and having Johnny Zazula as their manager, the band released in 1983 Kill 'Em All, which gained notoriety in the metal scene and sold more than 300,000 copies. After a tour of the United States and a concert in Holland where they reached their largest audience to date, with 5,000 people, the band released the album Ride the Lightening with Megaforce Records in 1984, which received critical acclaim for its melodic sound.
"1991 – Release of the 'The Black Album'"
After this work, the band released Master of Puppets in 1986 and embarked on a promotional tour that was cut short by an accident in which the bassist Cliff Burton died. After reflecting on their future, the band incorporated Jason Newsted and recorded …And Justice for All, an album with a denser sound that, despite its commercial success and a Grammy nomination, received criticism for being unoriginal and moving away from heavy metal. However, it wouldn't be until the release of their album Metallica in 1991, known as The Black Album, that they reached great success, selling half a million copies in the first week of sales in the United States and reaching the top of the Billboard chart. This work led to two similar albums, Load in 1996 and ReLoad in 1997, which received negative reviews for their proximity to alternative rock and their distance from traditional heavy metal, disappointing their older fanbase.
"2001 – Documentary, Tours, Awards"
In 2001, Jason Newsted left the band and Metallica struggled to find a suitable replacement for some time. Therefore, they had to record their next album, St. Anger, with their producer Bob Rock playing bass. However, Robert Trujillo soon joined the band's lineup. Three years later, the documentary Some Kind of Monster was released, which portrays the recording process of the last album and the internal conflicts that the band had with Dave Mustaine. After a tour in 2006 in which they played Master of Puppets again to celebrate its 20th anniversary, and the release of a compilation of their videos titled The Videos, Metallica was inducted into the Rock and Roll Hall of Fame. Later, they released Death Magnetic in 2008 and the conceptual album Lulu in 2011, which was poorly received by their fans. In 2012, the band founded their own record label, Blackened, and performed a concert in Antarctica to raise awareness about polar melting and environmental crisis. In 2016, they released Hardwired… to Self-Destruct. Currently, the band is still active.