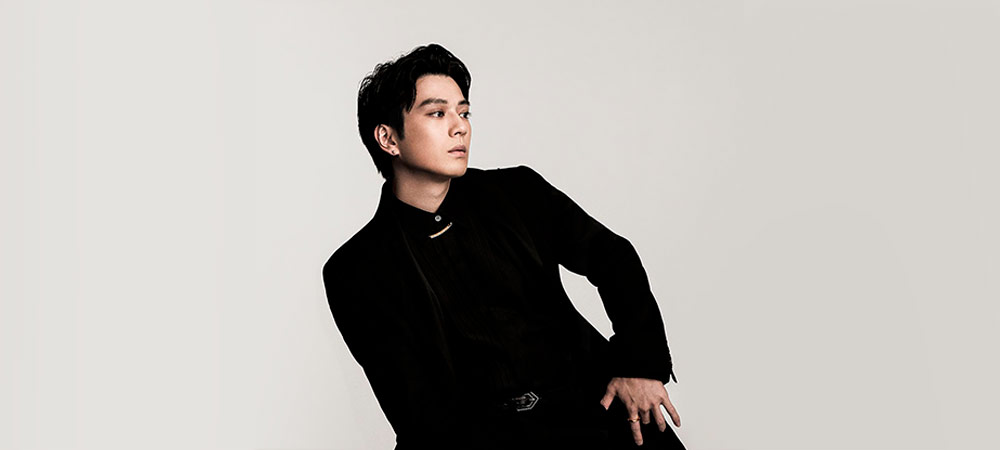 Personal information
Full name

Mackenyu Maeda (前田 真剣佑)

Birthdate

November 16, 1996

Age
27 years old
Occupation

Actor

Stage name
Arata Mackenyu
Nationality

Japanese

Spouse

Natsumi Okamoto (2023-Present)

Height
5' 9"
Parents

Sonny Chiba and Tamami Chiba

Zodiac sign
Scorpio
Biography in other languages
Arata Mackenyu Biography
Mackenyu Maeda (前田 真剣佑), also known artistically as Arata Mackenyu or simply Mackenyu (November 16, 1996), is an actor from Los Angeles, California, United States. He is renowned for his outstanding portrayal of Roronoa Zoro in the live-action adaptation of "One Piece".
Early years
Mackenyu Maeda, better known as Arata Mackenyu or simply Mackenyu, is an actor of Japanese descent who grew up in Los Angeles, United States. He is the son of the renowned martial artist and actor, Sonny Chiba, and Tamami Chiba. In addition, he has an older half-sister named Juri Manase and a younger brother named Gordon Maeda.
Mackenyu comes from a prominent family with a deep-rooted tradition in the world of acting. This passion for performing has been passed down from generation to generation, from his own father to his uncle Jiro Chiba, and even to his two siblings. Despite being born in the United States, Mackenyu holds Japanese nationality, a choice that involves renouncing his second nationality due to legal restrictions and cultural considerations in Japan. This commitment to his cultural heritage and his desire to reside in Japan led him to make this decision.
At Beverly Hills High School, where he successfully completed his studies and graduated.
Beginnings
In his adolescence, Mackenyu discovered his passion for acting after being inspired by Haruma Miura, with whom he would later share the lead role in "Brave: Gunjō Senki", sadly, shortly before the actor's tragic passing. Prior to this, he had been involved in projects alongside his father and other renowned performers, such as "Oyaji" and "Buzz (So-On: The Five Oyaji)".
In the year 2014, Mackenyu achieved his first leading role in a film called "Take a Chance". Additionally, he dazzled in a poignant short film portraying the life of a Japanese family affected by the aftermath of World War II, titled "Tadaima". This short film received the prestigious award for Best Narrative Short at the Asian American Film Festival in Philadelphia.
Career
His fame began to take off in 2015 when he secured the role of Eiji Tomari in "Kamen Rider Drive: Surprise Future". Just a year later, he joined the cast of the movie "Chihayafuru: Kami no Ku" ("Chihayafuru Part 1"), an adaptation of the manga "Chihayafuru", in which he portrayed Arata Wataya, a passionate karuta competitor. Subsequently, he was once again called upon to embody this iconic character in "Chihayafuru: Shimo no Ku" ("Chihayafuru Part 2").
In early 2016, Mackenyu took a significant step in his career by making his debut in the world of theater, participating in the Japanese musical "Boys Over Flowers" ("Hana Yori Dango: The Musical").
Mackenyu has experienced continuous growth in his acting career. Starting with his portrayal of Kazuya "Toji" Tojigamori in "Peach Girl", he continued to excel in the world of entertainment. In 2018, he starred in the series "Todome no Kiss" ("Kiss that Kills") as Takauji Namiki. Shortly thereafter, he reprised his iconic role as Arata Wataya in the movie "Chihayafuru: Musubi" ("Chihayafuru Part 3").
During the same period, he showcased his versatility by joining the supporting cast of "Pacific Rim: Uprising" as Ryoichi, a cadet and pilot of the jaeger Saber Athena.
Mackenyu had a successful year on the big screen in 2020. In January, he was part of the main cast in the film "Kaiji: The Final Game" as Minato Hirose. By the end of January, he took on the role of Aki Miyata in "Our 30 Minute Sessions".
A year later, in a new production, Mackenyu took on the lead role in the film "Brave: Gunjō Senki", where he portrayed Aoi Nishino, a student and member of the school archery club.
In 2021, Mackenyu made the decision to part ways with Top Coat and temporarily suspended all his activities in Japan, aiming to expand his career internationally. One of his early prominent roles in this new chapter of his acting career was that of Pegasus Seiya in the live-action adaptation of "Knights of the Zodiac", which hit the screen in May 2023. Furthermore, in 2022, we saw him in the role of Scar in "Fullmetal Alchemist: Revenge of Scar".
Furthermore, on August 31, 2023, the American audience marked the thrilling premiere of the live-action adaptation based on the popular manga and anime "One Piece". In this standout production, Arata Mackenyu took on a starring role, portraying Roronoa Zoro, a swordsman. He shared the set with Iñaki Godoy, Emily Rudd, Taz Skylar, Peter Gadiot, Morgan Davies, Jeff Ward, Jacob Gibson, among others.
Personal life
Since 2014, Mackenyu has made Tokyo, Japan, his home. In this city that has stolen his heart, he sealed his love by marrying Natsumi Okamoto. Currently, the couple is expecting their first child together.
Mackenyu is also a father to a child born when he was young. Speculation has arisen that the conception of his daughter may be related to a traumatic incident he experienced at the age of fourteen, involving a family friend. To date, Arata Mackenyu has chosen not to publicly address this matter, which has been handled with discretion and discussed very little.
Controversies and Accusations Involving Mackenyu
The Japanese actor is embroiled in multiple controversies in his home country, where several individuals, including a journalist, have publicly leveled accusations of rape and attempted murder against him. Regarding allegations of sexual abuse, three women have shared their experiences anonymously, detailing that Mackenyu would intoxicate them, stalk them, and at times, confine them, sometimes in the company of others. Additionally, there have been suggestions of more individuals making allegations, though these have not been publicly disclosed. As of now, the actor has not issued any comments on the matter.
Facts about Arata Mackenyu
He is a fan of anime, with one of his favorites being "Hunter x Hunter".
He changed his artistic name after portraying Arata Wataya.
He is fluent in English.
He resides in Tokyo.
Over the years, he has been part of live-action adaptations of famous anime series like Fullmetal Alchemist, Saint Seiya, Peach Girl, Tokyo Ghoul, Chihayafuru, and Rurouni Kenshin.
He had to pierce his ears for his role as Roronoa Mackenyu.
He learned to play the piano at the age of eleven.
Sadly, his father Sonny Chiba passed away due to complications from Covid-19.
He practices martial arts.
His father portrayed Hattori in Quentin Tarantino's film "Kill Bill Vol. 2".
He was a member of a musical band during his school years.
Filmography
Arata Mackenyu's Acting Roles:
Film
"Oyaji" (2007).
"Buzz (So-On: The Five Oyaji)" (2014).
"Tadaima" (2015).
"Kamen Rider Drive: Surprise Future" (2015).
"Take a Chance" (2015).
"Chihayafuru Parte 1" (2016).
"Chihayafuru Parte 2" (2016).
"Night's Tightrope" (2016).
"Bittersweet" (2016).
"Let's Go, Jets!" (2017).
"JoJo's Bizarre Adventure: Diamond Is Unbreakable Chapter I" (2017).
"Peach Girl" (2017).
"Pacific Rim: Uprising" (2018).
"Chihayafuru Parte 3" (2018).
"Over Drive" (2018).
"Impossibility Defense" (2018).
"Code Blue: The Movie" (2018).
"12 Suicidal Teens" (2019).
"Tokyo Ghoul S" (2019).
"NiNoKuni" (2019).
"Kaiji: Final Game" (2020).
"Our 30-Minute Sessions" (2020).
"Tonkatsu DJ Agetarō" (2020).
"Brave: Gunjō Senki" (2021).
"The Master Plan" (2021).
"Rurouni Kenshin: The Final" (2021).
"Fullmetal Alchemist: The Revenge of Scar" (2022).
"Fullmetal Alchemist: The Final Alchemy" (2022).
"Knights of the Zodiac" (2023).
TV
"Yume wo Ataeru" (2015).
"Sakurasaku" (2016).
"Tomorrow, I'll Surely Love You Again" (2016).
"Brass Dreams" (2016).
"Fugitive Boys" (2017).
"Kiss that Kills" (2018).
"Two Homelands" (2019).
"Our Dearest Sakura" (2019).
"Remote de Korosareru" (2020).
"The End of the Tiny World: Half A Year Later" (2021).
"Ichikei's Crow: The Criminal Court Judges" (2021).
"One Piece" (2023).

Paul Reubens Biography
Paul Rubenfeld (August 27, 1952 – July 30, 2023), also known as Paul Reubens or Pee-wee, was an actor and comedian born in Peekskill, New York, United States. He is renowned for his remarkable portrayal of Pee-wee Herman.
Early years
Paul Reubens, whose real name is Paul Rubenfeld, was an American actor and comedian. He was the first child of Milton and Judy Rubenfeld. His mother was a teacher, while his father had served in the British Royal Air Force and the United States Army Air Forces during World War II before becoming a successful car salesman. He has two younger siblings, Luke and Abby.
From an early age, Paul Reubens displayed an undeniable talent for acting and comedy, which eventually propelled him to become one of the most beloved and recognizable icons in television and film. His artistic journey began to flourish when, alongside his family, he settled in Sarasota, Florida, where he discovered his passion for theater and performance. During his adolescence, Paul attended the prestigious Sarasota School of Art, where he honed his skills in acting and improvisation.
Beginnings
In the 1970s, Paul Reubens made his move to Los Angeles, California, where he began to shine in various comedy shows and local theater productions. During that time, he brought to life the character that would become his major success: Pee-wee Herman. Inspired in part by the charm of an eternal child, Pee-wee was an extravagant and eccentric character who captivated audiences with his playful attitude and infectious laughter.
In 1982, Reubens finally brought his star character to life in a series titled "The Pee-wee Herman Show", which received overwhelmingly positive responses. The show enjoyed a successful five-month run with sold-out performances, and its popularity was such that it led to an HBO special starring him.
Career
Pee-wee quickly became a cult figure, and over the next decade, Paul Reubens would be completely immersed in his character, embracing it in all his public appearances and interviews. He even went so far as to prefer his parents to be known as Honey Herman and Herman Herman, in line with his artistic identity.
The resounding success Paul was reaping with his character drew the attention of the influential film and entertainment studio, Warner Bros., who hired him to write the script for a movie starring Pee-wee. During the development process, Reubens and the producers of "Pee-wee's Big Adventure" were impressed by the talent of Tim Burton, showcased through his works "Vincent" and "Frankenweenie", and they made the astute decision to bring him on board as the director of the film. This collaboration led to the creation of an iconic and beloved movie that further highlighted the charisma of Pee-wee's unique character.
Following the success achieved with his film "Pee-wee's Big Adventure", Paul Reubens collaborated with the CBS network to create a children's series in 1986 titled "Pee-wee's Playhouse". The series stood out for its educational focus and artistic creativity, attracting a broad audience of both children and adults. Additionally, Reubens engaged in other exciting projects, lending his voice to characters in Disney movies and attractions, showcasing his versatility and talent in the entertainment industry.
Although the sequel "Big Top Pee-wee" didn't reach the same level of success as the first film, Paul Reubens continued to portray his character Pee-wee in special appearances and cameos, participating in productions like "Back to the Beach" and the popular children's program "Sesame Street". His dedication to the character remained unwavering, allowing Pee-wee to continue delighting audiences in various projects over time.
"Pee-wee's Playhouse" maintained its television presence for five successful seasons until 1990, presenting a total of 45 episodes and a "Christmas Special". The series garnered notable recognition, receiving 15 Emmy Awards in the Creative Arts category. These awards reaffirmed its impact and growing popularity among the audience. The show was praised for its originality and creativity, solidifying it as a standout and beloved program in the viewers' memories.
After facing legal troubles in the 1990s, Paul Reubens chose to keep a low profile and focus on writing and collecting various items. During this time, he participated in some voice-over work and had small roles in movies such as "Buffy, The Vampire Slayer" and "Batman Returns", directed by Tim Burton, where he portrayed the role of the Penguin's father. He could also be seen in films like "Matilda" and "Dunston Checks In". In 1993, he lent his voice to the character Lock in another of Tim Burton's productions, "The Nightmare Before Christmas".
Paul Reubens continued his career with various intriguing projects, including cameos and special appearances in the series "Reno 911!" and its film adaptation "Reno 911!: Miami". He also took part in The Raconteurs' music video for "Steady, As She Goes". Although he signed with NBC for a pilot titled "Área 57", this project ultimately didn't come to fruition. Additionally, he lent his voice to the character Bat-Mite in the Cartoon Network animated series "Batman: The Brave and the Bold". Reubens further contributed to social causes by starring in a public service announcement to promote energy-efficient light bulbs. His versatility as an actor was once again showcased in his appearance in the film "Life during Wartime".
In January 2009, Paul Reubens hinted at the return of his famous Pee-wee Herman stage show. Shortly after, in August of the same year, the comeback was officially announced with "The Pee-wee Herman Show". The theatrical production was a resounding success, with a limited run in New York and its recording for HBO.
In the following years, Reubens continued to contribute to the world of entertainment. He lent his voice to the animated series "Tron: Uprising" and also made an appearance in the music video for "Happy Idiot". Additionally, he reprised his beloved role as pilot droid Rex in the Star Wars: Galaxy's Edge attraction at both Disneyland theme park and Disney's Hollywood Studios.
In the month of February in the year 2015, Netflix acquired the rights to produce a new Pee-wee movie, titled "Pee-wee's Big Holiday". This film premiered on March 18, 2016, on the Netflix platform and was warmly embraced by both audiences and critics, garnering positive feedback.
Personal life
In 1989, Paul Reubens married Chandi Heffner, who was the adopted daughter of wealthy heiress Doris Duke. The wedding took place at Doris' majestic mansion in Honolulu, Hawaii. By the year 1993, Reubens had a relationship with actress Debi Mazar, and they were seen attending movie premieres together.
In his later years, Paul Reubens remained unmarried and childless.
Legal Troubles
In July 1991, after deciding to take a break from his Pee-wee character, Paul Reubens was arrested on charges of exhibitionism. The police found him masturbating in an adult movie theater in Sarasota, Florida. This arrest garnered significant national media attention, altering the public's perception of Reubens and his Pee-wee character. Nevertheless, it's worth mentioning that the actor had been previously arrested for similar situations.
In 1971, Reubens was involved in an incident in the same county where he was arrested for suspicious behavior, loitering around an adult movie theater. However, the charges against him were dropped on that occasion.
In 1983, Reubens was arrested for possession of weed.
In November 2002, while participating in the filming of Elton John's music video "This Train Don't Stop There Anymore", Paul Reubens received news that the police were at his residence with a search warrant due to a tip about pornography provided by a witness. During the search, over 70,000 kitsch memorabilia items were found, along with two grainy videotapes and dozens of photographs that the prosecutor's office categorized as a collection of child pornography. As a result of this incident, for the next three years, Reubens was required to register his address with the sheriff's office and was prohibited from being in the company of minors without the permission of their parents or legal guardians.
Death
On July 30, 2023, actor Paul Reubens passed away after a courageous six-year battle against cancer that significantly impacted his health. Though he had never made his condition public, before his departure, he left behind some heartfelt words.
"I apologize for not making public what I have been facing for the last six years (…) I have always felt an immense amount of love and respect from my friends, fans, and supporters. I have loved you all deeply and have enjoyed creating art for you".
Filmography
Projects Paul Reubens worked on:
TV
"Things We Did Last Summer" (1978).
"Working Stiffs" (1979).
"Steve Martin: Comedy Is Not Pretty" (1980).
"Steve Martin: All Commercials" (1980).
"Mork & Mindy" (1981).
"The Pee-wee Herman Show" (1981).
"Madame's Place" (1982).
"Faerie Tale Theatre" (1984).
"Cheeseball Presents" (1984).
"Saturday Night Live" (1985).
"Pee-wee's Playhouse" (1986).
"227" (1987).
"Sesame Street" (1988).
"Pee-wee's Playhouse Christmas Special" (1988).
"The Arsenio Hall Show" (1990).
"Murphy Brown" (1995-1997).
"Everybody Loves Raymond" (2000).
"You Don't Know Jack" (2001).
"Ally McBeal" (2001).
"Campus Ladies" (2006).
"Reno 911!" (2006).
"Area 57" (2007).
"30 Rock" (2007).
"Dirt" (2007).
"Tim and Eric Awesome Show, Great Job!" (2007).
"Pushing Daisies" (2007).
"WWE Raw" (2010).
"The Pee-wee Herman Show'" (2011).
"Comedy Bang! Bang!" (2013).
"The Blacklist" (2014-2015).
"Portlandia" (2015).
"Gotham" (2015-2017).
"Mosaic" (2018).
"What We Do in the Shadows" (2019).
"The Conners" (2019).
Films
"Pray TV" (1980).
"Midnight Madness" (1980).
"The Blues Brothers" (1980).
"Cheech & Chong's Next Movie" (1980).
"Nice Dreams" (1981).
"Dream On!" (1981).
"Pandemonium" (1982).
"Meatballs Part II" (1984).
"Pee-wee's Big Adventure" (1985).
"Back to the Beach" (1987).
"Big Top Pee-wee" (1988).
"Batman Returns" (1992).
"Buffy the Vampire Slayer" (1992).
"Dunston Checks In" (1996).
"Matilda" (1996).
"Buddy" (1997).
"Mystery Men" (1999).
"South of Heaven, West of Hell" (2000).
"Blow" (2001).
"The Tripper" (2006).
"Reno 911!: Miami" (2007).
"Life During Wartime" (2009).
"Accidental Love" (2015).
"Pee-wee's Big Holiday" (2016).
Voice
Characters Paul Reubens lent his voice to:
"The Flintstone Comedy Show" (1980): Freaky Frankenstone in the episode: "RV Fever/Birthday Boy/Clownfoot/Fred Goes Ape/Flying Mouse/Ghost-sitters".

"Flight of the Navigator" (1986): Trimaxion or Max in the film.
"The Nightmare Before Christmas" (1993): Lock in the movie.
"Beauty and the Beast: The Enchanted Christmas" (1997): Fife.

"Dr. Dolittle" (1998): Raccoon in the movie.
"Rugrats" (2002): Hermie the Elf in the episode: "Babies in Toyland".

"The Groovenians" (2002): Jet in the pilot episode.
"Teacher's Pet" (2004): Dennis.
"Tripping the Rift" (2005): God and the Devil in the episode: "Chode's Near Death-Experience".
"Tom Goes to the Mayor" (2006): Paul in the episode "Puddins".
"Re-Animated" (2006): Golly Gopher in the pilot episode.
"Chowder" (2007-2009): Reuben in three episodes of this animated series.
"Batman: The Brave and the Bold" (2009-2011): Bat-Mite in four episodes.
"Adventure Time" (2010): Gnome Ruler in the episode "Power Animal".
"The Smurfs" (2011): Jokey Smurf.
"Tron: Uprising" (2012-2013): Pavel in seventeen episodes.
"Robot Chicken" (2012-2015): The Riddler and Sunbather in three episodes.
"The Smurfs 2" (2013): Jokey Smurf.
"Tom and Jerry's Giant Adventure" (2013): Screwy Squirrel.
"Scooby-Doo! Mecha Mutt Menace" (2013): Irv.
"Kung Fu Panda: Legends of Awesomeness" (2014): Ju-Long in the episode: "The Hunger Game".
"Teenage Mutant Ninja Turtles" (2014): Martin Milton/Sir Malachi in the episode: "Mazes and Mutants".
"Sanjay and Craig" (2014): Benji Warlin in the episode: "Googas".
"Star Wars Rebels" (2014): RX-24 in the episode: "Droids in Distress".
"Phineas and Ferb" (2014): Professor Parenthesis in the episode: "The O.W.C.A. Files".
"American Dad!" (2014/2016): Wyatt Borden in the episode: "Blagsnarst, a Love Story".
"Randy Cunningham: 9th Grade Ninja" (2015): Todd in the episode: "The Fresh Principal of Norrisville High".
"Pickle and Peanut" (2015-2016): Couch Dracula in two episodes.
"Penn Zero: Part-Time Hero" (2015/2017): The Milk Man in three episodes.
"Voltron: Legendary Defender" (2017-2018): Unliu Swap Shop Owner in three episodes.
"Legends of Tomorrow" (2018-2019): Dybbuk in five episodes.