Anne Hathaway biography
Anne Jacqueline Hathaway (November 12, 1982) actress. She was born in Brooklyn, New York, United States. Her mother, Kate McCauley, was a theater actress, and Anne inherited her talent and taste for acting. While her father, Gerald Hathaway, served as a lawyer. Gerald always supported her in all her projects. Anne always found inspiration and the necessary support in them. The young woman was always very attached to the values ​​of the Catholic religion, in her childhood she thought about being a nun. But something very drastic and transcendental made her change her mind: find out that her teenage brother was homosexual.
This caused Hathaway to question many things about her faith, one of them if she could preach a faith that did not agree with homosexuality. Currently, she says that she does not belong to any religion and that rather her religious beliefs are in continuous progress. The young woman graduated from Millburn High School. During her time as a student, she developed her acting tastes and acted in several plays. Subsequently, this is the reason for enrolling in the Paper Mill Playhouse of New Jersey to study drama. When she arrived there, she already had some experience and she had also been nominated for the "Nacimiento Estrella Award" from the Playhouse for the best school representation in the state.
The young woman also studied at the Vassar College in Poughkeepsie, for which she had to move to New York, but stopped her studies to move to the Gallatin School of Individualized Study. Affirms the actress that those were the best moments of her life. She was the first and only teenager to be admitted to the intensive study program of action organized by the award-winning theater company Barrow Group. She was also part of the musical theater program organized by the Collaborative Arts Project, CAP 21. She also trained in dance, studied at the Broadway Dance Center.
As if that were not enough, she had great vocal ability, so in 1998 she had the privilege of giving two concerts at Carnegie Hall as a member of the All-Eastern US High School Honors Chorus. She had an adventure with the designer Lázaro Hernández who collaborated on a project. One of the obstacles she had in her career was her great height at a young age which led to her being rejected in several castings. But, after a while she got a role in the television series, Family Affairs. Her role received rave reviews and was nominated for the best dramatic actress at the 2000 Teen Choice Awards. Two years later she debuted on the big screen in the drama The Other Side of Heaven along with Christopher Gorham.
She had previously been accepted to the lead role of Mia Thermopolis in Garry Marshall's family comedy The Princess Diaries. This was the first of her films that premiered. Mia was a teenager from San Francisco who for life's sake realizes she is part of royalty. In this production, she had the privilege of working with artists such as Julie Andrews, Hector Elizondo, and Heather Matarazzo. The film was a worldwide success and launched her to stardom with only 19 years of age. Then she was in The Other Side of Heaven, based on the true story of a Mormon missionary in Tonga, but it did not run with the same fate.
Hathaway starred in a drama with Nicholas Nickleby, the film was based on the novel by Charles Dickens. Thanks to this performance there were rumors on the part of critics that Hathaway could be nominated for the Oscars. However, the film never got a large audience. Subsequently, Anne decided to break into the children's cinema with her role in Ella Enchanted, but the same thing did not happen with the television program that was a success, the film went indifferent to the big screen.
In 2004 Hathaway rejected the offer to participate in the film adaptation of The Phantom of the Opera that would have within its cast to important actors like Gerard Butler. The reason why she did not accept was because of her complex and radical contract with the company Walt Disney Pictures, with which she had many problems. She began the production of The Princess Diaries 2: Royal Engagement at the beginning of the year 2004, Anne repeated that character in the sequel of The Princess Diaries. The beautiful actress continued linked to the cinematic world of infantile type.
She started working on the animated film: Hoodwinked! (2005), where she lent her voice to the renewed protagonist of the story. In this dubbing, she again developed her singing ability because she had to perform several musical interventions during the tape. Her performances have earned her several recognitions, important roles in blockbuster productions, the respect of her colleagues and also an Oscar, Golden Globe, BAFTA and SAG for Best Supporting Actress for her performance in Les Miserables.
This tape under the direction of Tom Hooper. In the movie Les Miserable, the actress played I Dreamed a Dream. In this role, she had to change the look drastically. The film premiered on December 25, 2012, in the United States. For her performance, she received critical acclaim and received an Academy Award for Best Supporting Actress. Her fame has allowed her to be the cover of several magazines such as People magazine. The actress married Adam Shulman in 2012 who is also an actor. Four years later the couple had their first child, Jonathan Rosebanks Shulman.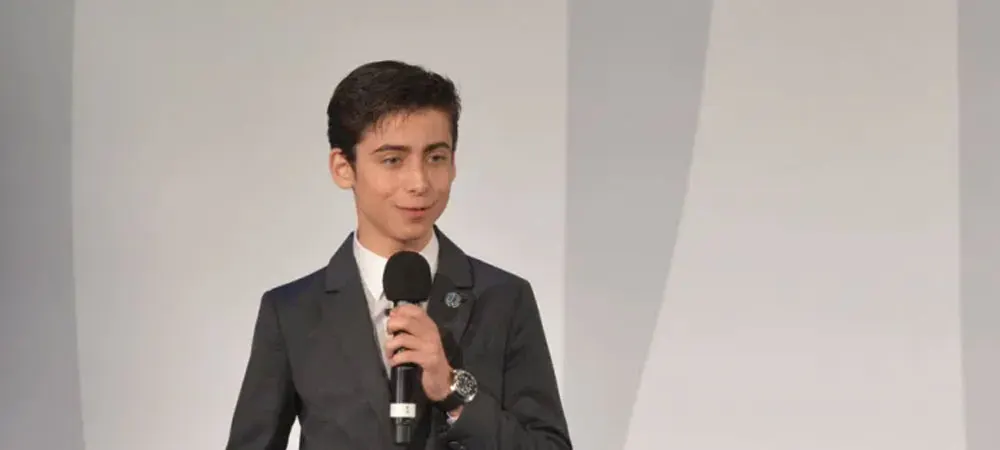 Biography of Aidan Gallagher
Aidan Gallagher (September 18, 2003) is an American actor, known for playing Nick Harper in the Nickelodeon series Nicky, Ricky, Dicky & Daw (2014-18). He was born in Los Angeles, United States. He began acting at nine years old and at ten he made his debut in You & Me (2013), by Paula Hunziker. He later worked in Jacked Up and We Make That Lemonade; and in 2014 he rose to fame as the protagonist of the popular children's series Nicky, Ricky, Dicky & Dawn. Since 2019 he has played Number Five in the Netflix series The Umbrella Academy.
Early life
Gallagher was born on September 18, 2003 in Los Angeles, United States, the son of television manager Rob Gallagher and Lauren Gallagher. From an early age he showed an interest in production and direction: at eight years old, Aidan would work with a group of friends recording stop motions with legos and some action short films. Later, with the support of his parents, Aidan began to make his way in acting. He participated in several of his father's projects and works.
In 2013, at just ten years old, Aidan made his television debut on Modern Family. That same year, he debuted in cinema with You & Me (2013), a short film by Paula Hunziker starring Tyler Blackburn and Molly Berg. In addition, he obtained his first leading role in the comedy telefilm Jacked Up (2013) by Fred Savage, alongside Missi Pyle and Patrick Warburton.
Career of Aidan Gallagher
One year after his debut on Modern Family, Aidan obtained the role that brought him fame in the Nickelodeon series Nicky, Ricky, Dicky & Daw (2014-18), as Nick, one of the quadruplets of the Harper family who usually has answers for everything. For his comic and tender scenes, the Harper quadruplets gained the audience's appreciation and the series was extended until 2018, bringing him numerous successes.
In the meantime, Gallagher would work on We Make That Lemonade (2014), by Ian Pfaff alongside Mace Coronel and Lizzy Greene; and in the Nickelodeon specials Ho Ho Holiday Special (2015) and Summer Camp Special (2017).
The Umbrella Academy (2019-2022)
In February 2019, Gallagher began acting in The Umbrella Academy, the Netflix series based on the homonymous work by Gerard Way (of My Chemical Romance), which stars Elliot Page (Vanya Hargreeves), David Castañeda (Diego Hargreeves), Robert Sheehan (Klaus Hargreeves), Tom Hopper (Luther Hargreeves) and Emmy Raver-Lampman (Allison Hargreeves). In the series, Gallagher plays Number Five, a superhero whose power is time-jumps and who returns to the past after discovering an apocalyptic future. The sarcastic humor of his character made him the favorite of fans.
After the success of the first season, the series was renewed for a second season that premiered on July 31, 2020. In November 2020, Netflix renewed the series for a third season with a premiere date of June 22, 2022.
Aidan Gallagher's musical career
With regard to his musical career, Aidan is a consummate singer, composer, guitarist and pianist. In 2019 he debuted with the singles "TIME," "FOR YOU" and "BLUE NEON". That same year, he participated in Trinity Rose's single Miss You and later released "I LOVE YOU". After his debut, Gallagher performed at the South by Southwest's Big Break Accelerator Program Showcase (2020), making him the youngest solo artist to perform at the festival.
In July 2020, he released a third single 4 of July.
Currently, Aidan has his own YouTube channel and a patreon for exclusive paid content.
Songs
Blue Neon (2019)
Miss You with Trinity Rose (2019)
Time (2019)
For You (2019)
I Love You (2020)
4 of July (2020)
Environmental activism
In June 2018, Aidan made history by becoming the youngest Ambassador of the United Nations. As such, Aidan has represented the youth of the world in several climate action initiatives. In 2019 he participated in the Global Climate Action Summit and was invited to the Illegal Wildlife Trade Summit by the UK Government.
Personal life of Aidan Gallagher
Gallagher has been involved in several environmental organizations, such as Waterkeeper Alliance, WildAid and Oceanic Preservation Society. In 2018 he was named United Nations Goodwill Ambassador for the Environment. Gallagher is vegan and Jewish.
Regarding his love life, in his adolescence Gallagher dated model Hannah McCloud for six months. He was also romantically linked to Jessica Balkin and Trinity Rose.
Curiosities
He was cataloged as #2 in the IMDB Top 10 Breakout Stars of 2020
In 2018, Variety magazine included him in its list of 25 and under leading actors.
He was nominated for two Kids Choice Awards for his role in Nicky, Ricky, Dicky & Daw (2014-18).
His Blue Neon Tour musical tour had to be postponed due to the Covid-19 pandemic.
For his music he has received an honorable mention in the International Songwriting Competition 2019 and the Vox Pop Independent Music Awards in the acoustic category 2020.