Coco Chanel Biography
Gabrielle Bonheur Chanel (August 18, 1883 – January 10, 1971) Born in Saumur, France. French designer considered one of the most representative and influential figures in the fashion world of the twentieth century. The promoter of the garçonne-style renovator and vindicator, Coco Chanel became known as a designer in the 1910s, after buying and renovating a line of hats that she sold with the support of her lover Étienne Balsan. Upon gaining the recognition he opened numerous stores and began producing everything from shoes, suits, and dresses to perfumes and accessories. One of the greatest contributions that this revolutionary designer left was the liberation of the woman from the rigid and stoned wardrobe of the belle époque, thus reflecting the struggle for equality and women's rights initiated by the women of the time.
Family and beginnings
Born into a humble family, Chanel had as parents the farmer Eugénie Jeanne Devolle and the seller Albert Chanel. Her childhood was marked by poverty, the alcoholism of her father and the illness of her mother, who left six orphaned children when she died in 1895. After the death of her mother, her father tried to leave the children to the care of their grandparents, but they refused, so he accommodated the three boys in farmers' homes and the girls sent them to an orphanage. At twelve, Chanel was left in the care of the nuns of the monastery of Aubazine (Corrèze), where she was strictly educated, learning to sew, embroider and iron.
During the six years that she remained in the monastery, Chanel was trained as a seamstress and began to create a fictional story about her birth and her family, which she hated after abandonment; She spent most of her life denying them and hiding any record that existed about them, as her past embarrassed her. Anxious to start a new life, she left the orphanage and began working as a saleswoman in a sewing shop and singer in La Rotonde, an entertainment place for army men, where she performed songs such as Ko ko ri ko and Qui qu'a vu Coconut?. It was in this place that she started being called Coco, a name she would use later to make herself known as a designer.
At age 22 she fell madly in love with Étienne Balsan, a wealthy young man who ripped her out of provincial life and introduced her to the world of the upper class, parties, and leisure, however, Chanel wanted to work, so he spoke with Balsan to finance the opening of her first business, a millinery. Well, by then she had started selling her first hats to wealthy ladies and ladies on the ground floor of Balsan's apartment, making himself known for her talent and particular informal and elegant style. In 1910, while Balsan was thinking about the project, Chanel ran away with Arthur Boy Capel, a polo player friend of Balsan, with whom she lived in Paris for a while. That same year she opened her first store in Paris, Chanel Modes, which was supported by Balsan and Capel.
The start of a dream
After opening her first store in Paris, Chanel began to gain recognition as a designer, reforming hats she bought at the Galeries Lafayette. Given the success achieved with the hats, Chanel decided to expand her business by designing her fashion line, which was well-received by her clients, who were mostly known from Balsan. In a short time, the fashion house attracted the attention of women of the time with its informal, elegant and revolutionary fashion, away from the bell-shaped and saturated style of the belle époque. The success of her designs led her to open more branches and hire more than 4000 workers, with whom she managed one of the biggest changes in the fashion world. With her stores on rue Cambo, Deauville, and Biarritz, Chanel imposed a new fashion style, between feminine and chic, which completely changed the way women of the time dressed, reflecting to some extent the change in the times and the struggle initiated by female activists in search of equal rights.
Being a model of her designs, Chanel became the image of the young and successful woman of the time: thin, stylized, with short hair, androgynous figure, and garçonne style. While her business was growing, Chanel was going through difficult moments in the love field, as she was abandoned by Capel, who married an aristocrat in 1919. At the end of World War I, Chanel settled in Hotel Ritz and focused entirely on her business, which prospered rapidly thanks to the dissemination of her designs and style in fashion magazines and newspapers around the world. The recognition she had gained allowed her to innovate and create new styles for the modern, elegant and free woman such as short skirts, female pants, Scottish tweed costume jewelry, round toe shoes a, the beach pajamas and her iconic bag with golden chains.
In 1929, the Wall Street crack forced Chanel to reduce the number of workers and the cost of their designs, however, this did not save the signature of the closure. Overwhelmed by loss, she moved to North America, where she began working designing clothes for big movie stars with the support of producer Samuel Goldwyn. After reopening the fashion house with the support of her new lover Duke Pierre Wertheimer and revolutionizing the world of perfumes with Parfums Chanel, the designer had to face the closing again due to the outbreak of World War II. She subsequently went into exile in Switzerland and stayed away from the world of fashion while attending the creation of the new Dior and Balenciaga look. She reopened her home in 1954, seventy-one years old and continued working on her designs even when her rheumatism and arthritis beset her. This prominent French designer died on January 10, 1971, in her bed at the Hotel Ritz, Paris.
Her funeral was attended by important figures such as designers Paco Rabanne, Balenciaga, and Yves Saint Laurent and the painter Salvador Dalí, among others. Three years after her death, Alain Wertheimer took command of the brand, skillfully leading the company and greatly promoting the sale of Chanel Number 5 and its different editions. Currently, the Wertheimer family are the owners of the company, which they have managed to keep up thanks to the work of great designers and the renewal of Coco Chanel's style. Among the designers that marked the history of the company is Karl Lagerfeld, who was responsible for recovering the brightness and importance of the brand.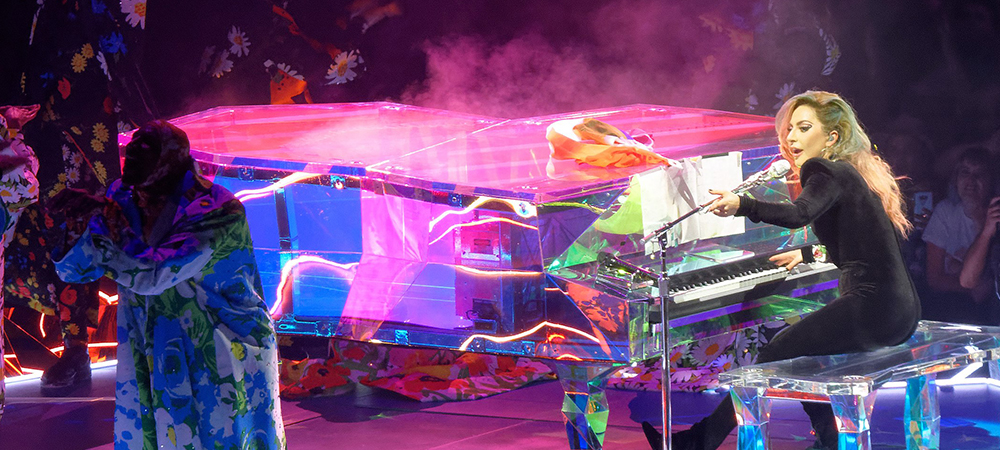 Lady Gaga Biography
Stefani Joanne Angelina Germanotta (March 28, 1986). Pop singer. Known worldwide as Lady Gaga. She was born in Manhattan, New York, United States. Her mother, Cynthia Louise Bissett, vice president of the mobile operator Verizon. Her father was businessman Joseph Anthony Germanotta, Jr. Director of an internet network company.
Early life
She grew up in the exclusive Upper East Side of Manhattan, in a Catholic family. For this reason, her parents enrolled her in the Convent of the Sacred Heart, a religious and elitist school. She was very fond of music since she was a child, she learned to play the piano and, at thirteen, she wrote her first song. She was a participant in open mic nights. Her favorite singers were Queen, Michael Jackson, Madonna, and David Bowie. Upon completion of high school, she entered New York University's Tisch School of Art to study music. But she did not finish her studies, she abandoned them to start her musical career.
Musical beginnings
She began by performing melodic songs on the piano in clubs and small bars in New York. Her first production was made by her with producer and composer RedOne, they called it: Boys, Boys Boys. This production was not successful. A little heartbroken, she decided to return to her parents' house and began to perform in a New York club, in burlesque, avant-garde, and dance performances. At that time, her life knew drugs and uncontrolled parties. In 2007 she began working with Lady Starlight, they began to perform in venues in downtown New York. They participated in the American music festival «Lollapalooza». Again, she focused her life on music, later, she got Sony / ATV to release her single. Using her writing skills, she wrote songs for Britney Spears. Also, she worked for Interscope, her role was to compose for the New Kids on the Block, Fergie, Akon, and the Pussycat Dolls. Simultaneously, Stefani was performing on the Lower East Side with cover bands such as Mackin Pulsifer and SGBand.
While she persisted, unsuccessfully, in contacting and seeking support in some record companies, the situation would change when meeting the music producer Rob Fusari. He promoted her musical career, thanks to his support they built a strong working relationship, and this led to a sentimental relationship. It was Fusari who gave her her stage name, Lady Gaga, in honor of the song Radio Gaga by Queen, one of Stefani's favorite groups.
At a recognized event, Akon, who already knew Lady Gaga as her songwriter, heard her sing and decided to offer her a contract for his record label, Kon Live Distribution. Gaga certainly accepted it. Thus began Lady Gaga to be known as a singer. At this stage, she had the collaboration of Fusari and other producers such as RedOne and Martin Kierszenbaum.
Debut and Career
The young singer debuted with her album, The Fame. A mix of electropop; the synthpop of the 80s and dance sounds. The success was imminent, it was one of the best-selling albums in 2009 worldwide, with more than 12 million copies, and it reached the Top 1 in countries such as the United Kingdom, Canada, and Ireland.
Her vision was great, she not only wanted to release a single, but an album. Lady Gaga's first album, Just Dance, appeared in April 2008, just around the time of her separation from Fusari, it caused a stir. It was number one in countries like the United States; more than 400,000 digital downloads are estimated, including Canada, Australia, and the United Kingdom. For this work, the brand new artist was nominated for a Grammy for the first time. In October 2009, she was awarded the Rising Star of 2009 award from Billboard magazine.
At the end of the same year, Lady Gaga released her second studio album, called The Fame Monster. Later, she presented her first single, Bad Romance, at Alexander McQueen's Spring / Summer 2010 fashion event. The impact couldn't have been better. Bad Romance was number one in countries such as the United Kingdom, Canada, Italy, Ireland, Spain, Peru, Germany, France, Sweden, Austria, and Denmark, and its promotional video, admired for the innovative elements and excellent paraphernalia, exceeded 200 million visits on YouTube, becoming the most viewed in history.
On the album The Fame Monster. There was the song Paparazzi. The video was a boom. Lady Gaga's songs were tuned in on radio stations and the artist was featured in well-known magazines. Thanks to her fame, she embarked on her first tour: The Fame Ball Tour; this tour had an admirable reception, it sold out stadiums and large venues. Later, she was nominated for the Grammy Awards. The videos of her were irreverent and gave a lot to talk about, they swept on television and especially on the Internet. Platinum blonde appears in Just Dance; with a lightning bolt on her cheek, inspired by David Bowie from Aladdin Sane, another of her references.
On the other hand, on Poker Face she incorporates her sexiest and most futuristic style. Poker Face won three nominations on MTV Video Music Awards 2009, including the best video of the year. His videos can be summarized as extravagant hairstyles, excessive makeup, sidereal or cosmic style wardrobes, or simply exuberant, increasingly sophisticated scenography, choreographies close to pornography.
Gaga style
Her way of being was linked to her music, she was an eccentric girl and eventually gave explosive statements to the press, she declared herself a hermaphrodite. All these scandals made her more and more popular, and she was the focus of all eyes on her. Her next single was Telephone, played in a duet with Beyoncé. She also premiered Alejandro and Dancer in the Dark. Gaga embarked on her second world tour, The Monster Ball Tour, she officially announced it on October 15, 2009. Described by Gaga as the "first electropop opera", the tour would be present on all five continents. It would end in Spain in two only concerts, in Barcelona and Madrid. The tickets were sold in just three days. Billboard announced that the song Telephone, from the album The Fame Monster, peaked at number one on the Pop Songs chart, being the only singer in history to get the sixth consecutive number one from it.
In 2010, the news spread that her ex-boyfriend and producer Rob Fusari sued for the company Rob Fusari Productions, demanding the payment of a total debt of 30 million dollars, for being the co-author and co-producer of Paparazzi, Beautiful, Dirty, Rich, Disco Heaven and Retro, Dance, Freak. On the other hand, Lady Gaga was the main protagonist of the MTV Video Music Awards gala, receiving eight Awards. In short, 'Time' chose her as the artist of the year.
Born This Way
Gaga began production on the album: Born This Way. A mix of electronic music with rock 'n' roll, and pop. It sold more than a million copies in its first week after its release in the United States, topping the Billboard 200. In addition, Born This Way received three Grammy Award nominations. Gaga separated from her manager Troy Carter, in June 2014, along with her new manager Bobby Campbell and she joined Artist Nation. This music star declared in a documentary about her life, Five Foot Two, that she suffers from fibromyalgia, a disease that attacks muscles and bones, and it has cost her time off stage. Although, she is still extremely optimistic.