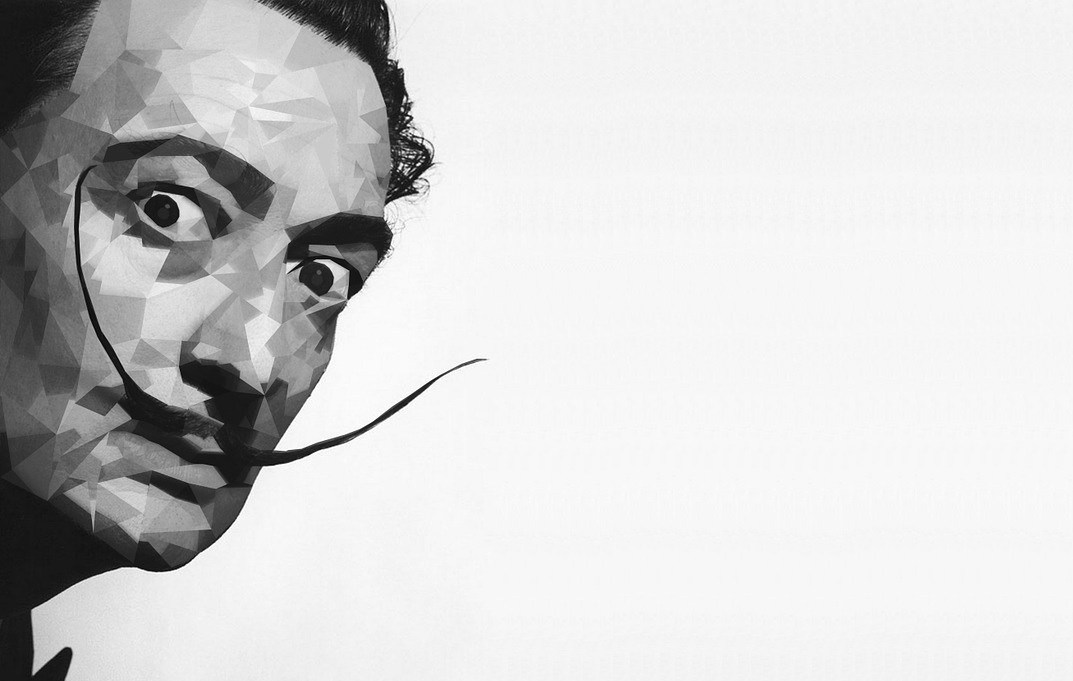 Salvador Dalí Biography
Salvador Domingo Felipe Jacinto Dalí I Domènech, Marquis of Dalí de Púbol, better known as Salvador Dalí, was born on May 11, 1904, in Figueras, Spain, and died on January 23, 1989, in the same place.
Salvador was a well-known set designer, sculptor, draftsman, engraver, writer and especially a great painter. He is considered to be the greatest representative of surrealism for his pictorial creations of dreamlike, eccentric and bizarre, loaded with symbolism.
Dalí was born as the second son of a bourgeois family, the first-born Salvador Galo Anselmo died nine months earlier. The fact that they shared the same name, added to that his parents indicated that he was a reincarnation of his brother, generated in Dalí the impression of being a copy that replaced his brother, which made him live with a strong personality crisis. In 1908, his father decided to enroll him in the Public School of Párvulos of Figueres. However, due to the school failure that his son presented, he transferred him to the Hispano-French School of the Immaculate Conception of Figueres, where he acquired knowledge about the language French, which would be of great help for his constant trips to France later on.
Around 1916, Salvador Dalí had his first approach to painting when he spent some time in Cadaqués, where he would meet the family of the local painter Ramón Pichot. These allowed him to see the artist's collection, bringing Dalí closer to impressionism. Besides this encounter, Dali would also attend the painting classes taught by Juan Núñez.
In 1918, Dalí's ingenuity had allowed him to learn quickly both Impressionism and Cubism. The following year, he presented his first works in a collective exhibition of local artists in the municipal theater of Figueres. In 1919, he also served as editor and writer in Studium magazine. He would also start writing a diary about his memories and reflections.
"Every morning, when I get up, I experience an exquisite joy, the joy of being Salvador Dalí, and I wonder enthusiastically 'what wonderful things will this Salvador Dalí achieve today?" Salvador Dalí
In 1921, Salvador Dalí's mother died because of uterine cancer, a fact that represents an emotional blow for Dalí, especially due to the fact that his father married Salvador's aunt. Besides this, there was the opposition from his father to allow him to study painting. Dali would have to do it in Madrid, in the Royal Academy of Fine Arts, in order to be granted the title of professor. When he accepted this and moved to Madrid in 1922, he stayed at the student residence, where he established a friendship with Federico García Lorca, Luis Buñuel, José Bello, among many others who would be considered recognized figures.
Since his arrival at the School of Fine Arts, Dalí stood out for his paintings as much as for his eccentric image similar to Josep Margarit and Diego Velázquez. Towards 1923, Dali was expelled from the academy because of an argument with one of his teachers, which made him return to Figueres to continue receiving instruction from Juan Núñez in the modality of engraving. In 1924, he returned to the academy, being forced to repeat courses. In 1925, he diminishes his attendance and for 1926 he would be expelled definitively after announcing that there was no teacher capable of evaluating him, emphasizing the incapacity of all of them.
In the same year of his expulsion, Dalí traveled to Paris where he interacted with Pablo Picasso and Joan Miró, joining the latter in a surrealist group. In 1927, Dalí presented some of his paintings in an individual exhibition at the Dalmau Gallery in Barcelona. At this time, he started showing the first features that would constitute his particular style, absorbing all influence of classical art and his contemporaries to mix and enhance their technique. Also, at that time he let his characteristic pointed mustache grow.
After an exhibition of art at the Goemas Gallery in 1929, Salvador Dalí gained greater recognition for a style of painting that seemed to go into the psychic depths of man. However, this got him expelled from the group of surrealists. Also in this year, Dali would collaborate with his friend Luis Buñuel for the creation of the short film Un Chien Andalou (an Andalusian dog) and in August of that same year he would meet the wife of Paul Éluard: Elena Ivanovna Diakonova, known as Gala, who, later on, would be his inspiration and wife. Dalí joined the surrealist group of the Montparnasse district of Paris, influencing the development of the artistic movement through the paranoiac-critical method, which consisted of using paranoia to create relations between objects that are not normally related.
Around 1930, Dalí stopped talking with his father, because of his father's opinion on his commitment to Gala, besides regretting the bond of his son with the surrealists, since they were blamed for the moral degeneration of the people. The issues with his father culminated after he kicked him out, disinherit him and forbade him to return to Figueras. The following year, Salvador Dalí would buy a small house that he would expand, located in Portlligat. In this year, he would create one of his most recognized works "The persistence of memory" which is known to be a representation that defies time.
"Bad taste is creative. It is the domain of biology over intelligence" -Salvador Dalí
In 1934, Dalí and Gala were married by civil ceremony and in 1958 they would do so again, but this time in a ceremony held by the Catholic Church. The devastating influence of the Second World War in the year 1940 forced the couple to flee to the United States, where they lived for eight years. In 1941, Dalí delivered a screenplay titled Moontide to Jean Gabin and also established a professional relationship with photographer Philippe Halsman. The following year, Dali would publish his autobiography under the name of The Secret Life of Salvador Dalí.
Towards 1944, motivated by García Lorca, Dalí published his only piece of literary production: Hidden Faces. This time, Dalí carried out various artistic works such as illustrations for some books, sets of films, the creation of sculptures and animated feature films with Walt Disney. Since 1949, Dalí moved to Catalonia after the war and a new artistic panorama was presented by Dalí in which he mixed the new techniques of optical illusion, the thoughts he had about religion and the fascination with the atomic bomb, resulting in an art that he called mystic-nuclear.
By 1980, his health and the progressive increase of his Parkinson's incapacitated him from continuing with his artistic activity. In 1982, Dalí was awarded the title of Marqués de Púbol, that same year his wife died. After a suicide attempt, he was transferred to Figueras, where he died on January 23, 1929, due to cardiorespiratory arrest while listening to his favorite album: Tristan and Isolde by Richard Wagner.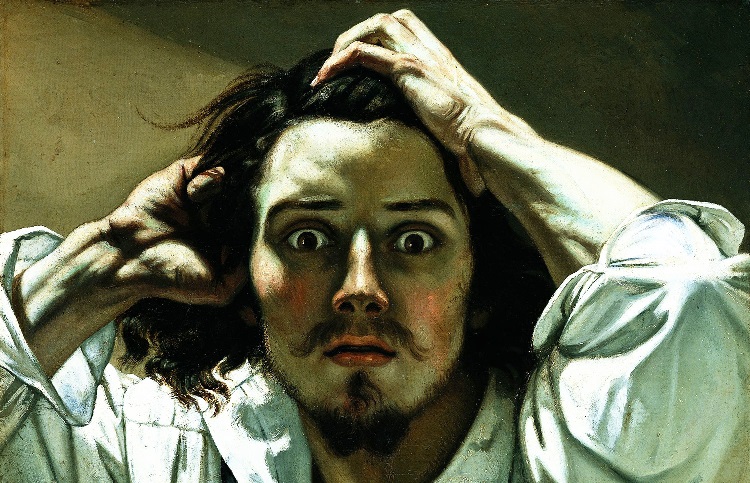 Biography of Gustave Courbet
Gustave Courbet, Jean Désiré Gustave Courbet (1819-1877) was a painter. Courbet was born in the French town of Ornans. His parents and family were landowners in Ornans. Courbet was influenced by his parents to study law, but his true passion was drawing. Therefore, while studying law, he began drawing under the tutelage of a student named Flajoulot. When he turned 20, he withdrew from his law studies and moved to Paris to complete his artistic training with the teachings of Steuben, Bonvin, and Père Baud, a student of Gros. There he became interested in the works of Chardin, the Le Nain brothers, and the Spanish painters Ribera, Zurbarán, Murillo, and Velázquez.
Based in Paris since 1839, he delved into the Realist painting trend of the 19th century. He studied at the Swiss Academy and extensively analyzed the works of some artists from the Flemish, Venetian, and Dutch schools of the 16th and 17th centuries. He achieved artistic maturity when he discovered the works of Rembrandt on a trip he took to the Netherlands in 1847. From then on, works such as L'après diner a Ornans (1849), El entierro en Ornans (1849) or Los paisanos de Flagey volviendo del campo (1850) emerged, where the characters are represented with all their vulgarity or a compromising sensuality.
Courbet's works caused a stir and controversy because the public was faced with a new realistic vision of everyday events. Additionally, his style as a revolutionary and provocative man, follower of the anarchist philosophy of Proudhon, and participant in the 1871 Paris Commune, led to his imprisonment for six months, until he sought refuge in Switzerland in 1873. All of this scandalized the public, who often criticized him but also admired him. His self-portraits were based on Romanticism. In 1846, he wrote a manifesto against Romantic and neoclassical tendencies with Bouchon. Courbet's realism was a protest against the sterile academic painting and exotic motifs of Romanticism. He focused on the revolutionary environments of the 19th century.
He traveled to Holland to study the works of Hals and Rembrandt and participated indirectly in the military uprising. During this period, two of his most important realist works were created: The Burial at Ornans and The Stone Breakers, this work was lost due to World War II. Courbet's paintings elicited all types of comments due to their realistic portrayal of the lives of ordinary people. After the coup d'etat of Louis Napoleon Bonaparte in 1852, the painter returned to his hometown.
While there, Courbet opened his own exhibition titled "Realism." It was born as a protest against the rejection of his works at the Paris Universal Exhibition in 1855. The central work was the enormous painting: "The Painter's Studio" (1855). It was presented as a "realistic allegory." Later, other figure and portrait paintings emerged: "Ladies by the Seine" (1857), the self-portrait "The Cellist" (1849) and "The Beautiful Irishwoman" (1866). The artist also created works related to the sea, landscapes of forests and mountains with their fauna, flowers and still lifes.
Courbet became a representative of the emerging realism of the time. Courbet was described as a conceited man, who claimed to be the most handsome and seductive of humans, due to his Assyrian profile, he boasted of his ability to illuminate new forms of truth and beauty to end the outdated trends of Paris. For this reason, we can understand why he was such a controversial painter and was often hated. Nevertheless, the magnificent works that this painter conceived during his life could not be denied.
Let's return to The Burial at Ornans (1849), it is his work of greatest dimensions and complexity, he wanted to bring a huge fragment of rural reality from his land to the refined environment of Paris. This composition can be seen as disordered and with little hierarchy. Courbet manages to make the viewer sit at the same level as the villagers of Ornans and symbolically attend the funeral of a humble peasant. In addition, the diversity of individual expressions tries to make a critical description and a study of the social categories of a population. This work is admired for its formal and coloristic stylization, and its horizontal composition.
Another great work of this French painter is Bonjour, monsieur Courbet (1854). The painting shows in great detail the local environment, as well as the light and characters, reflecting a real event with great objectivity. This painting has become a kind of standard-bearer of realistic art for many artists in recent decades. Courbet broke the mold with the work Señoritas a orillas del Sena (1857), because the Parisian public was used to paintings on mythological or historical themes; on the contrary, in Courbet's canvas, the two women represented in showy clothes are two prostitutes resting by the river.
Also impressive was the way it was painted, in opposition to the tastes and rules of the time; the thick brushstrokes, the color tones and the disregard for the canons of beauty. In that work both the composition and the color, want to reflect reality, each of the elements reflect the same importance, transmitting a certain sense of imperceptible objectivity. Courbet showed total uninhibitedness in front of the female sex. A reflection of this is the work The Origin of the World (1866), was made by order of Bey, this was the most transgressive painting of the 19th century.
Other paintings by this French painter include: Self-Portrait with Black Dog (1842), The Desperate Man (1845), The Meeting (1854), The Painter's Studio (1855), Woman with Parrot (1866), The Trout (1871) among others. These are just a few of the many works that this artist left for posterity and for future generations interested in realistic art. Courbet's radical stance, reflected in the realm of politics, specifically with the Paris Commune, led to him being accused of participating in the demolition of the Vendôme Column. He had to go into exile in 1875 in Switzerland, where he died two years later in solitude and poverty.