Becky G Biography
Rebecca Marie Gómez, better known by her pseudonym Becky G, was born in Inglewood, in the state of California, United States, on March 2, 1997. She is a singer, rapper, actress, composer and youth model, known for her single "Shower" for his collaborations with other artists such as Pitbull, J Balvin and Thalía, and for his appearances on television and film.
Rebecca Marie Gómez was born in the marriage formed by Alejandra and Francisco Gómez, known as Frank. In addition, it has two brothers and a sister. His family was based in Moreno Valley until he suffered a severe economic crisis, for which they had to move to the garage of his grandparents' house in Jalisco, Mexico. While he was studying, he worked making commercials to help his family. Because of this, she was a victim of bullying at school and decided to be educated at home to avoid bullying. She tells herself that on one occasion she was assaulted by some of her companions when she was in the bathroom. Despite her personal problems, she appeared in 2008 in the short film El Tux, and later she would act as Nina in La estación de la Calle, a movie made the same year for the Discovery Channel.
The following year she would join the group B.C.G, along with Cristal Guel, and the children's band G.L.A.M., with which she would record the video clip of the song JellyBean. When she was thirteen years old, she learned to play guitar and started composing songs. Later, in 2011, she would work with the duo The Jam singing famous songs of the moment, such as Otis, Kayne West, and Jay-Z, Lighters, Bad Meets Evil, Take Care, rapper Drake, and Boyfriend, Justin Bieber, which would be uploaded to YouTube. Although the original idea was to create a mixtape with the title of @itsbeckygomez, this never happened. However, Otis came into the hands of producer Dr. Luke, known for having collaborated with Miley Cyrus and Britney Spears. He contacted Rebecca Gómez and made a meeting to listen live. After convincing himself, he had her sign with Kemosabe Records, his record label. Dr. Luke confessed to the media that he was already enchanted with her since he saw her videos on YouTube, but that he was more surprised by the fact that she could play the guitar and sing simultaneously, apart from discovering that she composed the lyrics for her songs.
After starting to work from the moment she signed with Kemosabe, Becky G released in 2012 versions of the songs Oath, the singer Cher Lloyd, Wish U Were Here, Cody Simpson, and a remix of the song Problem, from the animated film Hotel Transylvania, in conjunction with William James Adam Jr. A year later, she would release her interpretation of Jenny from the Block, Jennifer López's song, changing the title to Becky from the Block. In the same 2013, would launch Play it Again, an EP conformed by four unpublished songs and a song in which she would collaborate with Pitbull. That same year, she said in the Access Hollywood program that she was already working on her debut album and that it would have pop style and Latin influences. While this was getting set up, Becky G. collaborated in the first single of the second album of the band 3BallMTY, titled All Through the Night; as well as participated with Katy Perry in her Prismatic World Tour in North America.
For 2014, she would release the first single for her debut album, Shower, with which she would win the Radio Disney Music Award in the category of the most catchy new song. Likewise, she would win in the Favorite Hit category in the Premios Juventud. The following year she would collaborate with J Balvin on her song Can not Stop Dancing, and with Thalía on Como tú no hay dos. In 2016, she would get more than 80 million hits with her first single sung in Spanish, Sola. By this time, she would participate in the television series Austin & Ally, like herself, and Empire, in the role of Valentina Galindo.
In 2017, she would participate in the film Power Rangers, written by John Gatins and directed by Dean Israelite, in which she would act as Trini Kwan, the yellow power ranger. This role would raise controversy, since Becky G. revealed to the media, before releasing the tape, that her character belonged to the LGBTI community and that she was proud to be the first heroine of this nature. Of course, fans of the saga did not agree. Later, in spite of the bad criticism on the part of the experts and of the public, besides that the tape was not a success in the box office, Becky G. was nominated as best actress of Science Fiction in the Teen Choice Awards, although the 13 of August it was learned that he had not won. Currently, her fans are waiting for the much-announced debut album of the singer.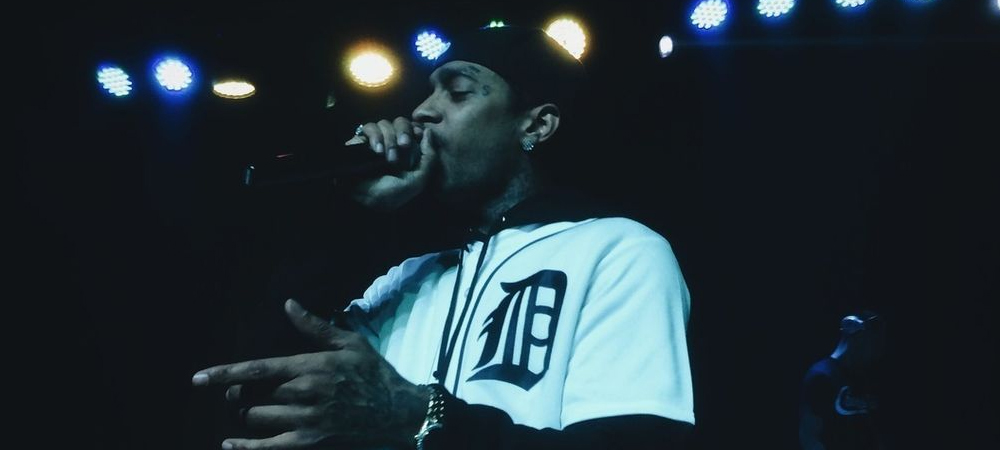 Nipsey Hussle Biography
Ermias Asghedom (August 15, 1985 – March 31, 2019), better known as Nipsey Hussle, was an American rapper, businessman, and community activist, who rose to fame in 2018 with his debut album Victory Lab. Nipsey began his career towards the mid-2000s releasing several successful mixtapes such as Slauson Boy Volume 1, Bullets Ain't Got No Name series and The Marathon. His fame came to him, along with his first Grammy nomination, with his debut album in 2018. He had previously created his label All Money In No Money Out (2010).
Following his death, he received two posthumous Grammys for the songs Racks in the Middle and Higher. He was known for his social work on behalf of the Crenshaw community.
Early years
He was born in Los Angeles, United States, on August 15, 1985. Son of Angelique Smith and Eritrean immigrant Dawit Asghedom, he grew up in Crenshaw, a neighborhood located south of Los Angeles, with his siblings Samiel and Samantha. He attended Hamilton High School but dropped out before graduating. Since he was little he looked for a way to help around the home, so over time, he began to work selling different products on the street.
After leaving school he became involved in the world of gangs, however, he turned away from it when he realized that it was not what he expected for his future. Decided then to dedicate himself to music, he sold everything that linked him to the gangs and worked for a time to buy his own production tools. After finishing his studies, he began to write and produce his own mixtapes, which he sold from a car. After finding inspiration from a trip he took to Eritrea with his father and spending time in prison, Nipsey turned fully to his career and business. He always looked for ways to start and help the community in which he grew up: giving jobs, helping students, renovating public spaces, etc …
Community activist
Nipsey was admired for his work at Crenshaw because instead of moving or investing in hedge funds, he preferred to help the community by boosting the local economy.
Career
In late 2005, Nipsey Hussle released his first mixtape, Slauson Boy Volume 1, independently, to great local success. By then he already had a fan base at the regional level, so it took him a while to sign a contract with the Epic Records and Cinematic Music Group labels. Later, the first volumes of the Bullets Ain't Got No Name series appeared, with which he expanded his popularity. Burner on My Lap, Ridin Slow, Aint No Black Superman, Hussle in the House and It's Hard out Here, were some of the songs included in the series.
By 2009, Nipsey would make a name for himself collaborating with Drake on Killer and with Snoop Dog on Upside Down. He also released Bullets Ain't Got No Name vol.3 and in 2010, he left Epic and opened his own label All Money In No Money Out. Under this label, he would soon release The Marathon, a mixtape in which hits such as Love ?, Mr. Untouchable, Young Rich and Famous and Late Nights and Early Mornings appeared. He also created The Marathon Clothing at that time, a sports and casual clothing brand that was based in his neighborhood. He then released the mixtape The Marathon Continues (2011), participated in the We Are the World 25 for Haiti campaign, and was featured in the popular XXL Magazine Annual Freshman Top Ten.
In 2013 came Crenshaw, a mixtape that would become famous because Jay-Z himself bought 100 copies for $ 100 each.
Victory Lap
After many delays, Nipsey would release his long-awaited debut album Victory Lap, on February 16, 2018, to great success. It was praised by critics and received a Grammy nomination for best rap album of the year. It was such a success that many singles entered the Billboard and Itunes charts. However, Nipsey did not enjoy much fame.
Death
Hussle was assassinated on March 31, 2019, outside his store in South Los Angeles. He was shot multiple times by a man he had previously clashed with, he was arrested and charged with murder on April 2 of the same year. After his death, many personalities expressed the pain caused by the news. It is worth mentioning that the Mayor of Los Angeles himself gave his condolences to the family, recognizing Hussle's social work in Crenshaw.
He was the partner of actress Lauren London and was the father of two children.
Sales strategies and greatest hits
Hussle was known for his sales strategies, since, he used to upload his singles in free download and then sell some limited editions for a cost of 100 to 1000 dollars. It promoted the sale of his work with campaigns such as Proud2Pay and Mailbox Money, in which he gave special incentives (autographed photos, dedication calls, tickets to his studio, and special events) to buyers. His revolutionary ideas promised him a fruitful career.
Some of his greatest hits
Rose Clique
Forever On My Fly Shit
Thas Wat Hoes Do Proud of That (with Rick Ross)
Face the world
Bless, 1 of 1
Where Yo Money At
Fuck Donald Trump
Higher
Young Rich and Famous