Niccolo Machiavelli Biography
Niccolo Machiavelli was a political philosopher, public official, diplomat and Italian writer, who was considered to be the father of modern political science, is also recognized as an important protagonist in the Italian Renaissance. He was born in Florence, Italy on May 3, 1469, and was the son of Bernardo Machiavelli and Bartolommea di Stefano Nelli.
In the year 1494, Machiavelli joined the public service, where he served as an official of important posts in Florence. At that time, he also served in military service. After working 4 years as secretary, he was appointed chancellor and secretary of the Second Chancellery.
For the year 1499, he had his first activity for Caterina Sforza, "my lady of Forli" in "The Prince" from where Machiavelli subtracted the moral:
"It is better to gain the confidence of people than to rely on force."
In the year 1500, he was sent to France to convince Louis XII that the war against Pisa should continue.
After the death of Alexander VI in 1503, Niccolo Machiavelli was sent to observe the election of the successor and realized the maneuvers of César Borgia to choose Giuliano Della Rovere (Pope Julius II), one of the most fearful cardinals of the duke. Realizing that he was looking for a forced election, Machiavelli said:
For the year 1507, he was sent to Germany as a diplomat, with the aim of parleying with Emperor Maximilian I on the expansionist measures that he wanted to take. The emperor was surprised by the intelligence and eloquence of Machiavelli, so he decided not to invade Italian territories and even less Florence. On his passage through Germany, Machiavelli said:
"The Germans are a great military force, but they have and will have a very weak policy."
Machiavelli also reported the constant failures of the emperor when he described him as a withdrawn man, without character and without enough arrests to carry out his plans or insist on the fulfillment of his orders. On September 1, 1512, the Medici returned to power, so Nicolás Machiavelli was revoked from public service on November 7 of the same year, ending his career as an officer.
After being dismissed from his post, he was arrested and tortured for belonging to a conspiracy against the Medici together with his friend Giovanni Battaini and 20 others. Later, the new pontiff Leon X interceded so that Machiavelli was freed, so he moved to his small house in San Casciano in Val di Pesa. He devoted himself to agriculture and livestock, learning from the workers, with whom he ate, played and talked, to feel good psychically. He also devoted himself to reading Dante, Petrarca, and Ovidio, from which he came up with ideas to carry out his works. Between the years 1513 and 1525 he wrote 8 books.
"The one who thinks that favors will make great characters forget past offenses deceives himself."
Machiavelli wrote his second most important work in his bibliography entitled Discourses of the first decade of Livy, where he showed his true political vision and described as a better form of government a republic and not an absolute monarchy, among other important information.
In the year 1521, he received the amnesty. However, later he was again accused of being involved in a coup against the Medici. He was tortured and imprisoned for a shorter time. After obtaining freedom, he released a group of workers who had been kidnapped, in gratitude, the union of employees gave him a large amount of money; with a part of that money he bought a lottery ticket and managed to win 20,000 ducats, with which he was able to pay some debts.
He worked in the humanist academy of Bernardo Rucellai, where he translated the Greek work of Polybius, and thanks to that he compiled several ideas about the government of a republic.
Niccolo Machiavelli died on June 21 of the year 1527 in Florence, at the age of 58 years. His legacy was more successful in the centuries after his death than in the time in which he lived. He was characterized by defending the collectivity against individuality and never forgot the cruel and unique truth about politics and the rulers.
The historical thought of Machiavelli was evidenced mainly in the works: The life of Castruccio Castracani de Luca (1520) and History of Florence (Istorie Fiorentine, 1520-1525).
WORKS
Speech on the court of Pisa: 1499.
Of the way di trattare i popoli della Valdichiana ribellati: 1502.
In the tenuto mode dal duca Valentino nell 'ammazzare Vitellozzo Vitelli, Oliverotto da Fermo, etc.: 1502.
Discorso sopra la provisione del danaro: 1502.
Decennale cousin (poem): 1506.
Portrait of the court of Germany: 1508-1512
Decennale secondo: 1509
Portrait of the court of France: 1510
Discourses on the first decade of Livy, 3 volumes: 1512-1517
The Prince: 1513
Andria, comedy: 1517
The Mandrake, comedy in prose of five acts, with a prologue in verse: 1518
Della lingua (dialogue): 1514.Clizia, comedy in prose: 1525.
Belfagor arcidiavolo (novel): 1515.
Asino d'oro (poem) : 1517.
Of the art of war: 1519-1520.
Discorso Sopra il riformare lo Stato di Firenze: 1520
Summary of the court of the city of Lucca: 1520
The life of Castruccio Castracani: 1520.
History of Florence, 8 books: 1520-1525Historias Florentines: 1521-1525.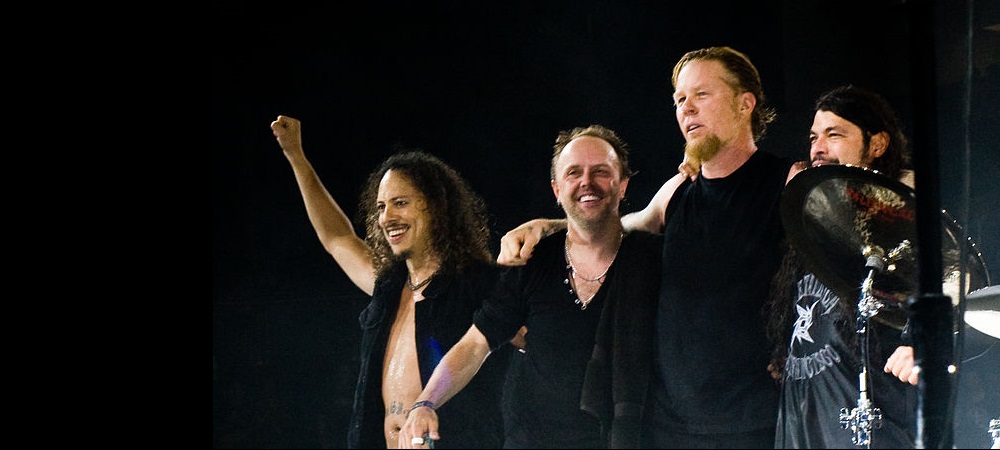 Metallica history
Metallica is an American thrash metal band from Los Angeles and based in San Francisco. It is considered one of the leading groups in the subgenre and throughout its 35-year career it has won numerous awards, including 9 Grammys, 2 American Music Awards, 2 MTV awards, 2 Billboard awards, and a star on the Hollywood Walk of Fame.
1980 – Beginnings
The history of the band begins in 1980 when Lars Ulrich, the son of tennis player Torben Ulrich, placed an ad in the magazine Recycler looking for a guitarist for a metal band influenced by the British New Wave of Heavy Metal. James Hetfield responded to the ad and joined Ulrich as the first members of the band. Ron McGovney joined as bassist and Lloyd Grant as lead guitarist. With this first formation, the band recorded its first demo, Hit the Lights, considered one of the first thrash metal songs. However, they soon realized that the lineup was not working and Lloyd was replaced by Dave Mustaine.
Despite the early disastrous performances due to the lack of experience of the members, the band continued and released No Life 'till Leather, showing a more aggressive sound. Additionally, Ron McGovney was replaced by Cliff Burton as bassist and Dave Mustaine was replaced by Kirk Hammett due to his alcohol addiction. Since then, James Hetfield has taken on both the role of rhythm guitarist and singer.
1983 – Release of 'Kill 'Em All'
With this new lineup and having Johnny Zazula as their manager, the band released in 1983 Kill 'Em All, which gained notoriety in the metal scene and sold more than 300,000 copies. After a tour of the United States and a concert in Holland where they reached their largest audience to date, with 5,000 people, the band released the album Ride the Lightening with Megaforce Records in 1984, which received critical acclaim for its melodic sound.
"1991 – Release of the 'The Black Album'"
After this work, the band released Master of Puppets in 1986 and embarked on a promotional tour that was cut short by an accident in which the bassist Cliff Burton died. After reflecting on their future, the band incorporated Jason Newsted and recorded …And Justice for All, an album with a denser sound that, despite its commercial success and a Grammy nomination, received criticism for being unoriginal and moving away from heavy metal. However, it wouldn't be until the release of their album Metallica in 1991, known as The Black Album, that they reached great success, selling half a million copies in the first week of sales in the United States and reaching the top of the Billboard chart. This work led to two similar albums, Load in 1996 and ReLoad in 1997, which received negative reviews for their proximity to alternative rock and their distance from traditional heavy metal, disappointing their older fanbase.
"2001 – Documentary, Tours, Awards"
In 2001, Jason Newsted left the band and Metallica struggled to find a suitable replacement for some time. Therefore, they had to record their next album, St. Anger, with their producer Bob Rock playing bass. However, Robert Trujillo soon joined the band's lineup. Three years later, the documentary Some Kind of Monster was released, which portrays the recording process of the last album and the internal conflicts that the band had with Dave Mustaine. After a tour in 2006 in which they played Master of Puppets again to celebrate its 20th anniversary, and the release of a compilation of their videos titled The Videos, Metallica was inducted into the Rock and Roll Hall of Fame. Later, they released Death Magnetic in 2008 and the conceptual album Lulu in 2011, which was poorly received by their fans. In 2012, the band founded their own record label, Blackened, and performed a concert in Antarctica to raise awareness about polar melting and environmental crisis. In 2016, they released Hardwired… to Self-Destruct. Currently, the band is still active.