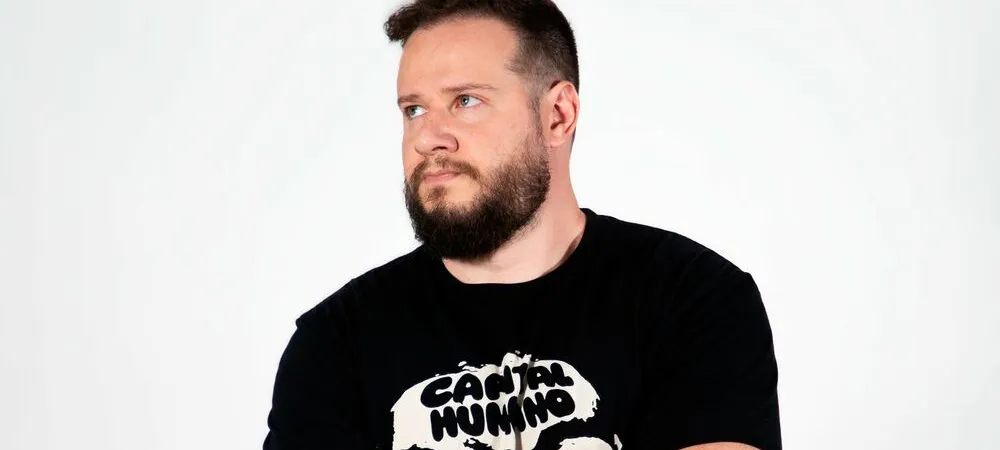 Personal information
Full name

Diego Bolson Ruzzarin

Birthdate

October 23, 1983

Age
39 years old
Occupation

Industrial designer, YouTuber, and author

Nationality

Brazilian

Spouse

Alejandra González Pugh

Zodiac sign
Scorpio
Biography of Diego Ruzzarin
Diego Bolson Ruzzarin is a Brazilian industrial designer, YouTuber, and author specialized in food design. He is the CEO and co-founder of Foodlosofia and Casanomo. He studied at the Tecnológico de Monterrey Institute and later obtained a master's degree at the Politecnico di Torino in Turin. He worked at PepsiCo Mexico for four years as a research and development coordinator. In 2011, he joined Enivrance. Four years later, he founded Foodlosofia. He is the author of "Mexico food & design" (2016), "Diálogos por el porvenir" (with Simon Levy; 2021) and "Incongruencias Pseudointelectuales" (2021).
Early years
Ruzzarin was born in Brazil to an Italian family. His love for philosophy began in adolescence when he read "Beyond Good and Evil" by Nietzsche while he was in the bathroom. Between 2000 and 2005, he studied industrial design at the Tecnológico y Estudios Superiores de Monterrey Institute. Upon graduating that same year, he began his master's in food design at the Politecnico di Torino in Turin. During his time in Italy, he met a chef who influenced his way of thinking about food differently.
Trajectory
Once his studies were completed, back in Brazil, he began his career in stage design and innovation at Marcopolo. Later, he moved to Mexico and in 2007 he began working for PepsiCo as a research and development coordinator at the Mexico City office. A year later, he was promoted to Brand Manager (2008-2009) and from 2009 to 2011 he served as R&D Manager.
In 2011, Ruzzarin left PepsiCo and became the director of Enivrance, a design and marketing agency focused on the Food and Beverage category. For the next three years, at Enivrance, he was the director and coordinator of offices in Paris, São Paulo, and Singapore. In 2013, he participated in Anuga, the most important food sector fair in Cologne, Germany.
Foodlosofia
Back in Mexico, along with businessman Ignacio de Zamacona, in 2014 he founded Foodlosofia. A design company focused on the food and beverage industry, whose goal is "to create profitable, scalable, and sustainable business models (…) that help transform basic products into experiences". Kellogg's, Heineken, and Cheetos are some of the company's clients. In 2016, the company published its first book "Mexico food & design" (2016), described as "a love letter about Mexico and its unique connection with food and drinks". The book is available for free reading on Issuu.
Over the years, Foodlosofia has become known for its innovative designs. In 2018, Zamacona and Ruzzarin were speakers at the TEDX talk "How design changes food".
YouTube, Podcast, and fame
In 2018, Ruzzarin began uploading individual content to YouTube. On his channel, he addresses aspects of pop culture and current events such as the analysis of movies, songs, memes, and news of various sizes. That same year, his podcast "The Ruzzarin Bros" was born, recorded with his brothers Mateus, Andrés, and Marcelo. The first episode of the podcast was titled "Do Mexicans deserve corruption?"
Podcast Diego Ruzzarin
In 2021, he began recording his solo podcast. In its episodes, it addresses themes ranging from philosophy, anime, politics, and business management. Some of the highlighted episodes are: "Final analysis of Envagelion. Does Shinji finally want to get on the eva? Hermeneutics and Freud", "Adrián Marcelo and Diego Ruzzarin vs Twitter Catholics" and "100 phrases of poetry and philology with Sharif | Why do you believe what you believe?".
His rise to fame occurred on March 19, 2021, after a debate with Carlos "Master" Muñoz on marketing. Since then, he has become a viral reference for critical thinking.
Personal life
Currently, he is married to psychoanalyst Alejandra González Pugh and is the father of two children. He speaks 4 languages: English, Spanish, Portuguese, and Italian. He has lived in various countries around the world due to his work.

Biography of Malcolm X
Malcolm Little, also known as El-Hajj Malik El-Shabazz (born May 19, 1925 and died February 21, 1965), better known as Malcolm X, was a speaker, religious minister, and revolutionary leader of the African American community in the United States. The son of a Protestant minister, he had to constantly move during his childhood due to attacks from racist groups. After the death of his father and the breakdown of his family, he struggled with drugs and common crime. In 1946, he was sentenced to seven years in prison. During his imprisonment, he left drugs and approached the Muslim religious movement, Nation of Islam (NOI). Upon release, he joined the NOI, changed his surname to "X" and began a strong political activism in defense of African American rights. Over time, he became a hero and spokesman for African Americans and a revolutionary reference of Islam. However, his activism and the intrigues that were aimed at him cost him his life.
Early Years
Malcolm X was born in Omaha, Nebraska. During his childhood, his family moved to Lansing, Michigan. He was six years old when his father, Reverend Earl Little, died as a result of an attack by a white supremacist group, being hit by a streetcar. His mother, Louise Little, had to resort to selling dandelion leaves on the street to feed the family. However, after a while she was institutionalized in a psychiatric hospital and Malcolm and his brothers were sent to foster homes and to the house of some relatives.
As a student, Malcolm excelled in his early years, but lost interest in education after one of his eighth-grade teachers told him that he should become a carpenter instead of a lawyer. Becoming a rebellious young man, in 1942 he moved to New York and began to become involved in criminal activities, such as drug trafficking, prostitution, and theft, until being sentenced to prison in 1946.
Prison and the beginnings in the NOI
With a seven-year sentence, Malcolm quit drugs, resumed his studies through correspondence and came into contact with the Nation of Islam (NOI), a Muslim religious movement created by Wallace Fard Muhammad and led by Elijah Muhammad, which considered the black minority as Allah's chosen people, while whites were the personification of the devil. Malcolm then moved from crime and marginalization, caused by circumstances, to political activism in defense of the African American community. After being released from prison in 1952, Malcolm joined the NOI, changing his surname from Little to "X". The X represented the African surname that African Americans had lost due to slavery.
In a short time, his oratory skills and activism extended the influence of the Nation of Islam in cities such as Detroit, Boston, and Philadelphia. Later, he founded the newspaper Muhammad Speaks and became the leader of the NOI in New York. His activism, sometimes radical, soon made him a target of persecution and criticism. By the late 1950s, Malcolm was portrayed by the media as a propagator of violence; his message of rejection of white domination and defense against racism was misconstrued. His popularity also caused problems within the NOI, such as rivalry with Elijah Muhammad, which ended with his departure in 1964. That year, Malcolm became aware of a plan to assassinate him.
Leaving the NOI and last years
For Malcolm, it was necessary for there to be more active participation in political struggle; he believed that individual reforms within the Nation of Islam or the civil rights campaign that was gaining momentum through the leadership of Martin Luther King, alone, would not lead to the liberation of blacks. In accordance with this, he founded his own movement: the Muslim Mosque Association (1964).
That same year, he completed his pilgrimage to Mecca, taking the opportunity to visit other Muslim countries. Through this journey, he converted to a more orthodox form of Islam, seeing the possibility of brotherhood among all races. He then abandoned the racism of the NOI and began preaching the idea of black nationalism, a style of emancipation that would give the black minority control over their own organizations and communities.
During a second trip taken in 1964, Malcolm had contact with important African leaders, such as the then presidents Gamal Abdel Nasser of Egypt, Julius Nyerere of Tanzania, Kwame Nkrumah of Ghana, and Jomo Kenyatta of Kenya. It was then that he added to his speech the struggle against American imperialism, reflected in the foundation of the Organization of African American Unity, also in 1964. The organization was secular and had a socialist tendency. However, these transformations were not successful as Malcolm was assassinated the following year, probably due to his rivalry with Elijah Muhammad.
Death
Malcolm X was assassinated on February 21, 1965, by men believed to be associated with the Nation of Islam, while giving a speech at the Organization of African American Unity in New York in front of 400 people and his family. Of the three men arrested, Thomas Hagan was the only one who acknowledged his involvement in the assassination.
His autobiography, The Autobiography of Malcolm X, which was published a year later, increased his fame, making him an ideological hero, especially among young black people.
Since then, several movies, TV series and works have been produced that depict his life. Notable examples include the 1992 movie Malcolm X, which adapted his autobiography; the 2020 Netflix series Who Killed Malcolm X?, and the 2021 documentary Blood Brothers: Malcolm X and Muhammad Ali.