Evangelista TorricelliBiography
Evangelista Torricelli (1608-1647) was an Italian physicist and mathematician who made great contributions in the fields of pure mathematics, integral calculus and the movement of projectiles and fluids. Evangelista Torricelli thought that mathematics was the language that allowed humans to understand nature.
Torricelli was the first man to recognize that air has weight and that atmospheric pressure is variable. From this idea, he created an artifact that was known as Torricelli's tube and that gave rise to the invention of the barometer. On the other hand, in the field of mathematics, Evangelista developed hat is called Torricelli's theorem which helps to calculate the flow of a liquid through an open hole at a certain depth.
Evangelista Torricelli was born on October 15, 1608, in Faenza, province of Ravenna, Italy, and grew up in a humble family. His parents were Gaspare Torricelli, a textile worker, and Caterina Angetti. When their parents realized his potential, they decided to send him to study humanities with his father's brother, Jacobo, who was a Camaldulense friar.
In 1624, he entered a Jesuit college where he was taught in mathematics and philosophy for two years. After his father died, between 1626 and 1627 he traveled to Rome with his whole family (his mother and two brothers) to study with the Benedictine friar, Benedetto Castelli.
Torricelli would be assigned the position of private secretary of Castelli. He used the money obtained with work to pay for his studies so he could stay in the position and studying at the University College of Sapienza until 1632. Later, Castelli appointed Torricelli to replace him as the teacher in mathematics, mechanics, hydraulics, and astronomy in the University College of Sapienza.
On September 11, 1632, Torricelli received a letter from Galileo addressed to Castelli. In his response, Torricelli besides explaining the reason for the absence of his teacher, he took the opportunity to express his admiration for the text Dialogue Concerning the Two Chief World Systems, Ptolemaic and Copernican that was written by Galileo six months earlier, and presented his support for the Copernicus theory that the earth revolves around the sun.
After Galileo was ordered to appear in Rome for his astronomy approaches, Torricelli decided to move his attention to less dangerous terrain, so he concentrated on mathematics.
In De Motu Gravium et Levium, Torricelli consigned some developments to the mechanical principles set forth by Galileo in his book Two New Sciences (1638). Shortly afterward, on April 10th, 1641, Castelli handed Galileo a copy of this work, and later, Torricelli became Secretary of Galileo. Unfortunately, after three months of coexistence with Galileo in Florence, Galileo passed away.
In spite of the death of Galileo, he remained in Florence as a philosopher and mathematician of the Grand Duke Ferdinand II and professor of mathematics at the Academy. Shortly after, he managed to answer the question that had haunted Galileo: the question of the veracity of Aristotle's theory, which said that Nature abhors a vacuum.
Torricelli achieved the answer by means of an experiment that consisted of filling a tube with mercury (liquid that is 13.5 times denser than water) covering one end of the container and inserting it into another container with more mercury. In this way, it was observed that a part of the mercury that filled the tube is transferred to the second container creating a space for the vacuum. In addition, his demonstration of the existence of emptiness included the clarity that it is not possible to find it in nature but it is necessary to generate it artificially.
In 1643, he demonstrated the existence of atmospheric pressure and developed the basis for the barometer.
The barometer was not Torricelli's only important discovery. For example, thanks to him we know that geometric curves are not limited to their theoretical form but are representations of real physical movements. From this idea, it was proposed to study the parabolic trajectories followed by the projectiles when being fired and reached two conclusions: the first was that "the envelope of all these parables is another parable" and the second was that "the locus of the vertices of all the parabolas is also another parabola." Apart from this, he showed that "the rotation of curves of infinite length can produce solids of finite volume." (Suma, 2009).
Undoubtedly Torricelli was one of the most productive and promising mathematicians of the seventeenth century. It is believed that if he had not died so young (he was only 39 years old at the time of his death) he would have formulated his methods mathematically and would have approached the concept of the limit. It is even believed that he could have invented the infinitesimal calculus. Unfortunately, he lost the battle against pleurisy in 1647, and died in Florence, Italy.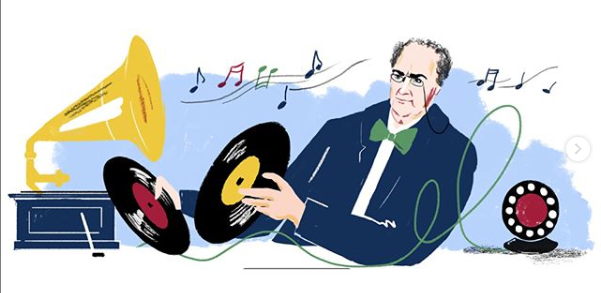 Emil Berliner Biography
Emil Berliner (May 20, 1851 – August 3, 1929) inventor. He was born in Hannover, Germany. He grew up in a Jewish environment. Due to a complex economic situation, he had to work to help his parents from a young age, so he did not attend school regularly. His first paid job was as a painter, for later, at age 16, to enter as a clerk in a food store.
According to his experience, he began to be interested in the production methods of the factory where he worked. He was a very versatile man since he built a weaving machine that improved existing ones; It was one of the many inventions of German. In 1869, when a system of repression against Jewish families was installed, Berliner obtained a position in a company located in Washington, United States. The family raised the money needed to support his trip and, especially, to prevent his son from being sent to the army ranks. Then, Emil settled in New York with the idea of ​​finding a job. He returned to Washington. Despite the economic difficulties, he studied at the Cooper Institute electricity and physics.
Motivated by scientists who were researching about the conversion of sound into electrical impulses that could be transmitted on wires; Berliner experimented with the electrical transmission of sound. Thanks to his research he was granted an assistant position of Dr. Constantine Fahlberg in his prestigious chemical laboratory. Soon he invented two electrical mechanisms that reproduced the sound more authentically and made it transmissible in the distance.
The responsibility for creating the prototypes of the microphone and the transformer was Berliner, the two basic mechanisms for electronic communication, in addition to building a carbon transmitter microphone and an iron diagram transmitter. It is clear that sometimes his inventions were inconvenient, but Berliner managed to solve these problems. Occasionally, he used objects that had not previously been used or integrated into an invention.
It was based on the telephone number of Reiss and Antonio Meucci and from there make some progress. Besides, he powered the device invented by Alexander Graham Bell. In this way, Berliner is identified as the inventor of the modern telephone. Berliner offered his invention to the subsidiary of the Bell Company in New York, the offer was finalized in the year of 1878 for $ 50,000. It was not long before the conflict with the Western Union arrived over the patent of the invention, the American courts appealed in favor of Berliner.
In 1881, together with his brother Joseph, he founded the Telephone-Fabrik Berliner, with branches in Vienna, Berlin, Budapest, London, and Paris. Later, he returned to Washington in 1883, where he advanced his independent research on the mechanical reproduction of sound. Berliner created new reproduction materials to improve his invention. One of his most significant contributions was the improvement of the phonograph, the first was patented in 1877.
I create a record player baptized gramophone, with a needle system that would be hegemonic until the end of the 20th century. In 1887 he patented his invention. A year later, the Franklin Institute in Philadelphia awarded him the Scott Medal for his contribution to the development of acoustics and sound reproduction. With collaboration, he founded the United States Gramophone Company in 1893; In 1897 he created the Berliner Gramophone Company in Montreal. He quickly arrived in Europe: he opened the Deutsche Gramaphon Gesellschaft and Britain's Gramophone Co.
We must indicate that Berliner worked in other areas such as aeronautics. Then, he was the first to use a light internal combustion engine. His work was very important because years later he joined the airplanes. His son, Henry Berliner, designed a helicopter that flew successfully in early 1919. His interest in the problems of sound reproduction was greater, which is why he strove to create acoustic tiles for use in auditoriums and concert halls. His contribution was recognized in 1913 and he was awarded the Elliot Cresson Medal in recognition of his scientific contribution to telephony and acoustics. He died on August 3, 1929, as a result of a heart attack.
WORKS
Conclusions
The Milk Question and Mortality Among Children Here and in Germany: An Observation
Some Neglected Essentials in the Fight against Consumption
A Study Towards the Solution of Industrial Problems in the New Zionist Commonwealth
Muddy Jim and other rhymes: 12 illustrated health jingles for children