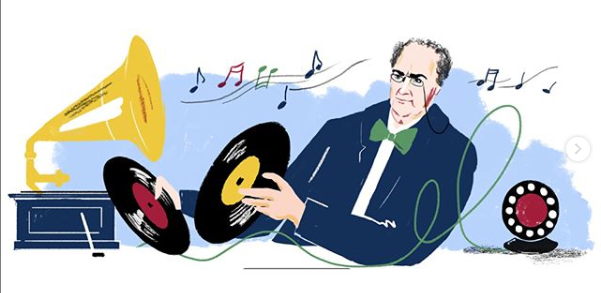 Emil Berliner Biography
Emil Berliner (May 20, 1851 – August 3, 1929) inventor. He was born in Hannover, Germany. He grew up in a Jewish environment. Due to a complex economic situation, he had to work to help his parents from a young age, so he did not attend school regularly. His first paid job was as a painter, for later, at age 16, to enter as a clerk in a food store.
According to his experience, he began to be interested in the production methods of the factory where he worked. He was a very versatile man since he built a weaving machine that improved existing ones; It was one of the many inventions of German. In 1869, when a system of repression against Jewish families was installed, Berliner obtained a position in a company located in Washington, United States. The family raised the money needed to support his trip and, especially, to prevent his son from being sent to the army ranks. Then, Emil settled in New York with the idea of ​​finding a job. He returned to Washington. Despite the economic difficulties, he studied at the Cooper Institute electricity and physics.
Motivated by scientists who were researching about the conversion of sound into electrical impulses that could be transmitted on wires; Berliner experimented with the electrical transmission of sound. Thanks to his research he was granted an assistant position of Dr. Constantine Fahlberg in his prestigious chemical laboratory. Soon he invented two electrical mechanisms that reproduced the sound more authentically and made it transmissible in the distance.
The responsibility for creating the prototypes of the microphone and the transformer was Berliner, the two basic mechanisms for electronic communication, in addition to building a carbon transmitter microphone and an iron diagram transmitter. It is clear that sometimes his inventions were inconvenient, but Berliner managed to solve these problems. Occasionally, he used objects that had not previously been used or integrated into an invention.
It was based on the telephone number of Reiss and Antonio Meucci and from there make some progress. Besides, he powered the device invented by Alexander Graham Bell. In this way, Berliner is identified as the inventor of the modern telephone. Berliner offered his invention to the subsidiary of the Bell Company in New York, the offer was finalized in the year of 1878 for $ 50,000. It was not long before the conflict with the Western Union arrived over the patent of the invention, the American courts appealed in favor of Berliner.
In 1881, together with his brother Joseph, he founded the Telephone-Fabrik Berliner, with branches in Vienna, Berlin, Budapest, London, and Paris. Later, he returned to Washington in 1883, where he advanced his independent research on the mechanical reproduction of sound. Berliner created new reproduction materials to improve his invention. One of his most significant contributions was the improvement of the phonograph, the first was patented in 1877.
I create a record player baptized gramophone, with a needle system that would be hegemonic until the end of the 20th century. In 1887 he patented his invention. A year later, the Franklin Institute in Philadelphia awarded him the Scott Medal for his contribution to the development of acoustics and sound reproduction. With collaboration, he founded the United States Gramophone Company in 1893; In 1897 he created the Berliner Gramophone Company in Montreal. He quickly arrived in Europe: he opened the Deutsche Gramaphon Gesellschaft and Britain's Gramophone Co.
We must indicate that Berliner worked in other areas such as aeronautics. Then, he was the first to use a light internal combustion engine. His work was very important because years later he joined the airplanes. His son, Henry Berliner, designed a helicopter that flew successfully in early 1919. His interest in the problems of sound reproduction was greater, which is why he strove to create acoustic tiles for use in auditoriums and concert halls. His contribution was recognized in 1913 and he was awarded the Elliot Cresson Medal in recognition of his scientific contribution to telephony and acoustics. He died on August 3, 1929, as a result of a heart attack.
WORKS
Conclusions
The Milk Question and Mortality Among Children Here and in Germany: An Observation
Some Neglected Essentials in the Fight against Consumption
A Study Towards the Solution of Industrial Problems in the New Zionist Commonwealth
Muddy Jim and other rhymes: 12 illustrated health jingles for children

James Watt Biography
The engineer and inventor James Watt was born on January 19, 1736, in the town of Greenock, belonging to the nation of Scotland, United Kingdom, and died on August 25, 1819, in the city of Birmingham, the nation of England, United Kingdom. His research inspired the creation of the first steam engines, which served to lay the foundations for the advent of the Industrial Revolution in the second half of the eighteenth century. Due to the contributions, he made in life, as an honor, the decision was made to give Watts (W) the power unit of measure.
He was born in a comfortable home as the son of the treasurer, naval engineer and carpenter, James Watt, and the high-born lady Agnes Muirhead. Because he was constantly affected by his weak state of health, his parents made the decision to educate him at home, being taught most of the time by his mother. When he was 14 years old, he was allowed to attend the Greenock grammar school, demonstrating at that time good skills for mathematics and crafts; possibly this was due to the influence of his grandfather who was a professor of mathematics and the work he saw and even carried out together with his father in the carpentry workshop, but evidenced at the same time little interest in learning Latin and Greek.
When he was 17 years old he became interested in the construction of complex machines that had the potential to be used in the field of mathematics, so he decided to enter the University of Glasgow, where in addition to study aspects of this field he would work as a specialist of the same. For the year of 1755 he moved to the University of London to continue with his research interests, but because the place drastically affected his health his stay lasted just over a year, returning to his previous university; Glasgow. Within the campus of the university began a modest business in which built, repaired and offered for sale mathematical measurement tools, while using these resources for the study on the practical uses of steam, without reaching a satisfactory result.
Approximately in 1764, he was commissioned to repair an atmospheric Newcomen steam engine, which after finishing his work with it, Watt began to think in different ways to improve its design, because he realized that the machine was wasting a lot of energy heating and cooling its pistons, performance being affected.
That same year he married one of his cousins: Margaret Miller, with whom he would have a total of six children. After several attempts, finally, Watt presented a new model of atmospheric steam machine, in which was added a condenser that made it consume less carbon and wasted less energy.
For the year of 1773 his wife died, and after spending three years overcoming his loss, he married Ann McGregor, with whom he would once again have six children. In the year of 1769, he managed to patent the first design of what would be a steam engine, but he would not succeed with it in the market until his association with Matthew Boulton, founding the Soho Foundry company in the year 1774, which would be dedicated completely to manufacture steam engines. Thanks to this he could have at hand better elements to improve his designs and investigate other steam applications, developing a steam pressure gauge in the machines, a rotary engine that improved the simple movement of pumping by a rotating one; serving to feed more than one machine with the energy that was produced, a double action motor that distributed the steam stored on both sides of the piston, and even made a theory to measure the capacity of a steam engine in a unit that he named horse steam.
Some of his lesser-known inventions were a device that could be added to telescopes to calculate distances and a photocopier that moistened texts to transfer his ink to a blank page, making a significant number of copies of the original document. In the year of 1875, he became part of the Royal Society of London for the advancement of natural science, in addition, he became a valuable member for the Lunar Society of Birmingham.
For the year 1800 Watt decided to retire, transferring his responsibilities with the Soho Foundry to his son James Watt Jr. What Matthew Boulton also did. He retired to his house "Heathfield Hall" from where he continued with his inventive interests until he died at the age of 83 years, on August 25 of the year 1819.