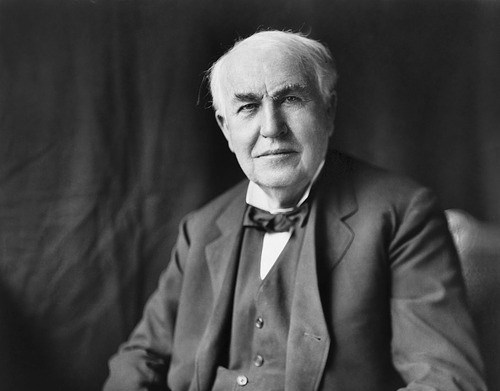 Thomas Alva EdisonBiography
Thomas Alva Edison was an American inventor and entrepreneur who created thousands of inventions which he managed to patent in Europe and the United States. He was born in the United States on February 11, 1847, in the town of Milan, Ohio. Thomas was the son of Samuel Ogden Edison, Jr. of Dutch ascendance and Nancy Matthews Elliott of Scottish ascendance.
Edison would begin his schooling in 1855 at the age of 8. During the first months, he tried to drop out of the school because one of his professors treated him as an unproductive and not very capable kid in his academic work. However, what really happened was that the great intelligence of Edison made him collide with the monotony of the school.
In 1859, when he was 12, he wanted to start earning money, so he started selling newspapers, butter, vegetables and blackberries on the train that ran from Port Huron to Detroit. The money he collected for sales, he would use it to buy scientific journals, books, and materials that he used to learn from and experience new things. He managed to learn to telegraph and that motivated him to get a used printing press to produce his own newspaper, which he called "Weekly Herald."
Sometime later, Thomas Edison was in several cities working as a telegrapher in several companies and in his free time he would conduct researches. Edison achieved a perfection of the automatic telegraph, invented an apparatus that transmitted the oscillations of stock values, contributed ideas in the construction of the first typewriter and perfected the telephone by means of the use of the carbon microphone.
At the end of 1871 Edison would get married, so he bought a piece of land in the village of Menlo Park that was near New York, which he devoted largely to the construction of his workshop and the remaining part for a home family. Thanks to his great capacity of work, in those years Thomas Edison concentrated in the creation of a new object to record the sound vibrations and although it was already invented, Edison wanted to improve that idea and make of it something much better. It was then in August 1877 when he finished one of his sketches and gave it to one of his technicians to start making it. When Thomas connected the machine, he realized that he could perfectly hear a song that one of his employees had sung a few minutes ago. This test would end the invention of the phonograph, one of Edison's greatest inventions.
After the invention of the phonograph, Thomas Edison began researching on the electric light in April 1879. Although he was credited with the invention of the incandescent lamp, Edison really only perfected it by initially finding that the problem of lamps at that time was finding a material that was able to keep the light of a light bulb on for a long time since he had tried with different materials without finding the expected result, until finally, he tried with the carbonized bamboo filament which had the necessary characteristics to keep the bulb lit by longer time.
On October 21, 1879, Edison would make the first bulb with the capacity to be on for 48 hours straight. Thanks to this perfection, Thomas Edison began to manufacture bulbs in large quantities, which he sold at a lower price than the production cost was, in order to increase the demand for light bulbs and reduce the costs per unit of them. This would give great results since at the end of that year the first lighting system built by Edison was put into operation in Menlo Park, which had 53 bulbs.
In 1880, Thomas would continue to grow as he achieved a partnership with J. P. Morgan to found the company Edison Electric.
On a scientific level, Thomas Edison discovered the so-called Edison effect in the year 1883, which consisted in the passage of electricity from a filament to a metal plate that was inside the bulb of an incandescent lamp.
Around 1889, Edison made a contribution to the world of cinema selling celluloid film in a 35-millimeter format, and although he could not patent his idea because George Eastman had made a film in this format years before, he could patent the lateral perforations that kind of movie had.
Two years later, in 1891, he invented the Kinetoscope Parlor, which was a rudimentary film machine composed of a mechanism to ensure the intermittent motion of the film. Three years after that, in Broadway, New York, Edison opened the Kinetoscope, where a single person could sit to look through a peephole that was in a wooden cabin, it was illuminated from the back by an electric lamp.
On October 18, 1931, Thomas Edison died in West Orange, New Jersey due to arteriosclerosis. In honor of this great inventor, the day of his funeral the lights went out for a minute in several cities of the United States.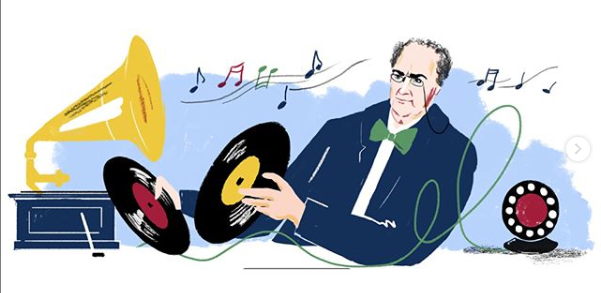 Emil Berliner Biography
Emil Berliner (May 20, 1851 – August 3, 1929) inventor. He was born in Hannover, Germany. He grew up in a Jewish environment. Due to a complex economic situation, he had to work to help his parents from a young age, so he did not attend school regularly. His first paid job was as a painter, for later, at age 16, to enter as a clerk in a food store.
According to his experience, he began to be interested in the production methods of the factory where he worked. He was a very versatile man since he built a weaving machine that improved existing ones; It was one of the many inventions of German. In 1869, when a system of repression against Jewish families was installed, Berliner obtained a position in a company located in Washington, United States. The family raised the money needed to support his trip and, especially, to prevent his son from being sent to the army ranks. Then, Emil settled in New York with the idea of ​​finding a job. He returned to Washington. Despite the economic difficulties, he studied at the Cooper Institute electricity and physics.
Motivated by scientists who were researching about the conversion of sound into electrical impulses that could be transmitted on wires; Berliner experimented with the electrical transmission of sound. Thanks to his research he was granted an assistant position of Dr. Constantine Fahlberg in his prestigious chemical laboratory. Soon he invented two electrical mechanisms that reproduced the sound more authentically and made it transmissible in the distance.
The responsibility for creating the prototypes of the microphone and the transformer was Berliner, the two basic mechanisms for electronic communication, in addition to building a carbon transmitter microphone and an iron diagram transmitter. It is clear that sometimes his inventions were inconvenient, but Berliner managed to solve these problems. Occasionally, he used objects that had not previously been used or integrated into an invention.
It was based on the telephone number of Reiss and Antonio Meucci and from there make some progress. Besides, he powered the device invented by Alexander Graham Bell. In this way, Berliner is identified as the inventor of the modern telephone. Berliner offered his invention to the subsidiary of the Bell Company in New York, the offer was finalized in the year of 1878 for $ 50,000. It was not long before the conflict with the Western Union arrived over the patent of the invention, the American courts appealed in favor of Berliner.
In 1881, together with his brother Joseph, he founded the Telephone-Fabrik Berliner, with branches in Vienna, Berlin, Budapest, London, and Paris. Later, he returned to Washington in 1883, where he advanced his independent research on the mechanical reproduction of sound. Berliner created new reproduction materials to improve his invention. One of his most significant contributions was the improvement of the phonograph, the first was patented in 1877.
I create a record player baptized gramophone, with a needle system that would be hegemonic until the end of the 20th century. In 1887 he patented his invention. A year later, the Franklin Institute in Philadelphia awarded him the Scott Medal for his contribution to the development of acoustics and sound reproduction. With collaboration, he founded the United States Gramophone Company in 1893; In 1897 he created the Berliner Gramophone Company in Montreal. He quickly arrived in Europe: he opened the Deutsche Gramaphon Gesellschaft and Britain's Gramophone Co.
We must indicate that Berliner worked in other areas such as aeronautics. Then, he was the first to use a light internal combustion engine. His work was very important because years later he joined the airplanes. His son, Henry Berliner, designed a helicopter that flew successfully in early 1919. His interest in the problems of sound reproduction was greater, which is why he strove to create acoustic tiles for use in auditoriums and concert halls. His contribution was recognized in 1913 and he was awarded the Elliot Cresson Medal in recognition of his scientific contribution to telephony and acoustics. He died on August 3, 1929, as a result of a heart attack.
WORKS
Conclusions
The Milk Question and Mortality Among Children Here and in Germany: An Observation
Some Neglected Essentials in the Fight against Consumption
A Study Towards the Solution of Industrial Problems in the New Zionist Commonwealth
Muddy Jim and other rhymes: 12 illustrated health jingles for children