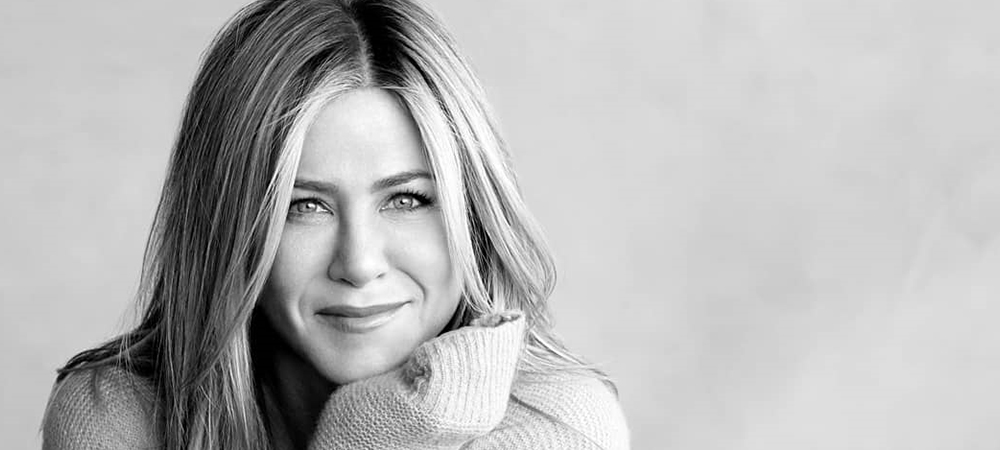 Personal information
Full name

Jennifer Joanna Aniston

Birthdate

February 11, 1969

Age
53 años
Occupation

Actress, producer, and director

Nationality

U.S

Spouse

Brad Pitt (2000-05); Justin Theroux (2015-17)

Height
5ft 4 ¾ (164.5 cm)
Parents

John Aniston and Nancy Dow

Zodiac sign
Aquarius
Jennifer Aniston Biography
Jennifer Joanna Aniston (February 11, 1969), better known as Jennifer Aniston, is an American actress, producer, and director. She was born in Sherman Oaks, Los Angeles, California. Her parents are John Aniston and Nancy Dow. Since she was little, she was raised among actors, her godfather was the actor Telly Savalas, a close friend of Jennifer's father. She lived in various areas of the country due to the acting work of her father. After living in New York, her parents divorced, and she was left in the custody of her mother. At age six, she began attending the Rudolf Steiner School, a Waldorf school of education that applies the theories of Rudolf Steiner. She excelled in the field of painting, she was presented and exhibited at the Metropolitan Museum of Art in New York.
Early life
Aniston decided that she would pursue acting when she went to see a Broadway show titled: Children of a Lesser God. At the age of 15, she was admitted to the New York High School for Actors. After finishing her studies, she worked in a hamburger franchise called The Jackson Hole, in Manhattan. Thanks to her good performance, she achieved several roles in Off-Broadway productions such as For Dear Life at the New York Public Theater and Dancing On Checker's Grave. In search of new opportunities, she moved to Los Angeles in 1989. Before beginning the 90's she acted in several television shows.
Career and rise to fame
In 1993, she was in Leprechaun. In 1996, she appeared in the Tom Petty & The Heartbreakers music video "Walls". We must mention that her recognition came with the American series called Friends (1994-2004). She was tested for the role of Monica, although she told the producers that she was more identified with the role of Rachel. She gained recognition in the 90s as Rachel Green. To bring her to life she had to lose several pounds. Her role allowed her to win several major awards, for example, an Emmy, a Golden Globe, and a Screen Actors Guild Award. She starred in 238 episodes of the series becoming one of the highest-paid actresses on television.
She also participated in film productions such as She's the One (1996), Office Space (1999), The Good Girl (2002), and Friends with Money (2006). The most famous films in which she acted were: Bruce Almighty (2003), Along Came Polly (2004), The Break-Up (2006), Marley & Me (2008) and He's Just Not That Into You (2009). Aniston began to be called for several films, many of them belonging to the comedy genre. She appeared in the comedy Wanderlust (2012). But, she not only focused on that aspect, but she managed to woo the public with performances such as when she gave life to Claire Simmons in the film directed by Daniel Barnz: Cake (2014).
She worked alongside Julia Roberts and Kate Hudson on Mother's Day (2016), she was the star of this production by director Garry Marshall. Her fame allowed her to participate in several commercials for Renault Clio, L'Oreal Ella shampoo (it is one of the most sought-after shampoo models), and Microsoft. Since 2007, she has worked on an advertising campaign for the SmartWater drink and a perfume brand, which was launched on July 21, 2010, at Harrods in London. The perfume was called Jennifer Aniston.
For this reason, for the year 2007, Forbes nominated her in the top 10 of the richest women in entertainment and approximated her net earnings at about $ 110 million.
She subsequently starred in Office Christmas Party (2016), a comedy with Jason Bateman, and played Maureen Murphy in the war drama The Yellow Birds (2017). She could also be seen in Anne Fletcher's Dumplin '(2018) and Criminals at Sea (2019), alongside Adam Sandler.
Since 2019, she has played host Alex Levy on Apple TV + The Morning Show. In the series, she shares credits with Reese Witherspoon, Steve Carell, Billy Crudup, and Gugu Mbatha-Raw, among others.
Personal Life
Aniston was dating Adam Duritz, leader of the band Counting Crow, and later with Charlie Schlatter, the actor with whom she worked on the series "Ferris Bueller." She lived in the Hollywood Hills with her boyfriend, actor Tate Donovan, a former romantic partner of Courtney Thorne-Smith. Later, she ended the relationship and eventually said yes to actor Brad Pitt.
On July 29, 2000, they celebrated their wedding in Malibu. On October 2, 2005, Pitt and Aniston got divorced. Later, she began a relationship with Vince Vaughn, with whom she co-starred in The Break-Up. She later dated British model Paul Sculfor for a few months in 2007. The following year, she began dating musician John Mayer until March 2009.
Over the years, she was the girlfriend of the American director and screenwriter Justin Theroux, with whom she got engaged in August 2012. They married on August 5, 2015, after four years of relationship and three as betrothed, the actor couple celebrated their union in a luxurious Bel Air mansion in Los Angeles. After two and a half years of marriage, and when the actress was 49 years old, they separated. Aniston assured that she is happy not to have children because it was a decision that she made and she has matured over the years.
Series and films
How I Spent My Summer.
Molloy (TV Series).
The Leprechaun.
Muddling Through (TV Series).
Friends (TV Series).
She's the One.
Picture Perfect.
Office Space.
Rock Star.
Bruce Almighty.
Friends With Money.
Rumor Has It.
Marley & Me.
Management.
The Bounty Hunter.
The Switch.
Horrible Bosses.
Wanderlust.
Life of Crime.
She's Funny That Way.
Mother's Day.
Office Christmas Party.
The Yellow Birds.
Dumplin
Criminals at sea.
The Morning Show.
Rami Malek Biography
Rami Malek (May 12, 1981) is an actor. He was born in Los Angeles, California, United States. His parents are of Egyptian origin. But they moved to the North American country to get better job opportunities. His father was a tour guide in Cairo and later in the United States worked as an insurance salesman. His mother was an accountant. His parents managed to give him and his siblings a good education, including his twin brother.
Early years
Rami Malek attended Notre Dame High School in Sherman Oaks, California, culminating in 1999. At the time, he entered theater classes with actress Kirsten Dunst. He graduated from the University of Evansville with a BA in Fine Arts in 2003. By 2004, Malek embarked on the difficult path to being a professional actor. So, he applied to be part of the series Gilmore Girls, appearing as a guest star. That same year he was a character dubber for the video game Halo 2. The following year, he earned his Screen Actors Guild card for his performance in the war drama Over There, where he appeared in two episodes. He later was in an episode of Medium and starred for two seasons on the series The War at Home.
Career
He made his big-screen debut with the production Night at the Museum (2006), playing the pharaoh Ahkmenrah.To the surprise of many, he did not reprise his role in the sequels: Night at the Museum: Battle of the Smithsonian (2009) and Night at the Museum: Secret of the Tomb (2014). He played Jamie in Keith Bunin's play The Credeaux Canvas at the Elephant Theater in Los Angeles. In 2010, Malek returned to television with the role of the terrorist Marcos Al-Zacar in the eighth season of the series 24. At that time, his work was highly applauded, critics praised him for his portrayal of Corporal Merriell "Snafu" Shelton on the 8 Emmys winning series, The Pacific. He has been highly sought after for difficult-to-play roles, such as misfits and intelligent characters with quirky and psychotic outlines.
Tom Hanks, after seeing his talent, asked him to participate in his movie Larry Crowne released in 2011. Later, we saw him in The Twilight Saga: Breaking Dawn – Part 2 giving life to the Egyptian vampire Benjamin. His Egyptian origin has been an important element because it has given him many opportunities in the world of cinema.
What awards has Rami Malek won?
He has been nominated for an Emmy Award, a Golden Globe Award, a Satellite Award, a Screen Actors Guild Award, two Dorians Awards, and won a Television Critics Award. For his starring role as Elliot Alderson in the acclaimed Mr. Robot series. He is an actor who has a successful path and has earned the love and admiration of the Hollywood world. He was part of the cast of Josh Washington, from the PlayStation 4 horror video game Until Dawn, to which he lent his voice and facial features. The video game was released on August 25, 2015.
He has had other supporting roles in film and television, such as Kenny in the Fox series The War at Home (2005-07), and Merriel "Snafu" Shelton in the HBO series The Pacific (2010). In short, he has appeared in the films Larry Crowne (2011), The Master (2012), The Twilight Saga: Breaking Dawn – Part 2 (2012), Short Term 12 (2012), Ain't Them Bodies Saints (2013) Need for Speed ​​(2014) and Buster's Mal Heart (2016).
Bohemian Rhapsody (2018)
Recently, the actor with Egyptian roots just finished filming as the protagonist in the biopic Bohemian Rhapsody (2018), where he plays the musician Freddie Mercury. This film will arrive in Colombia in November in the main cine venues. In the United States, it will be released on November 2nd. As for post-production, a trailer came out in May. The film was originally directed by Bryan Singer, but after various attitudinal problems, he was fired and replaced by English director and actor Dexter Fletcher. Within the cast, we can find important actors, for example, Ben Hardy, Joseph Mazzello, Allen Leech, and Lucy Boynton.
Malek's work is of great importance in the film because he must give life to one of the most recognized and important singers in the world. The actor must interpret it very well, such is the case that he had to make a dental prosthesis to resemble the character. Freddie Mercury had an overbite problem, which he never wanted to intervene for fear that his vocal register would change.
He won the Golden Globe for Best Actor, the Screen Actors Guild Award for Outstanding Performance in a Leading Role, the BAFTA Award for Best Actor and the Academy Award for Best Actor for his performance in Bohemian Rhapsody.
Malek starred in Mr. Robot from 2015 to 2019.