Alois Alzheimer Biography
Aloysius Alois Alzheimer, better known as Alois Alzheimer was a German neurologist and psychiatrist, recognized for being the first to identify the symptoms of Alzheimer's disease. He was born in Marktbreit, Germany on June 14, 1864, and was the son of Eduard Alzheimer and Barbara Theresia Busch. Since he was a child he was interested in everything related to science.
He completed his medical studies at the universities of Tübingen, Berlin, and Würzburg, so in 1887 he graduated as a doctor. A year later, he began work as a resident doctor in the hospital for the mentally ill and epileptic in Frankfurt, where he remained for 7 years and was promoted to the chief doctor. At that time, Alzheimer studied psychiatry and neuropathology. He also met the neurologist Franz Nissl, with whom he made several investigations on the pathology of the nervous system. This work gave rise to the six volumes of histological and histopathological studies of the cerebral cortex, published between 1906 and 1918.
For the month of April of the year 1894, he married Cecilia Alzheimer Geisenheimer, with whom he had 3 children.
In the year 1901, Alzheimer met Auguste Deter, a 51-year-old woman with strange behaviors and increased short-term memory loss. The patient became an obsession for Alzheimer, and he started doing many studies during the following years.
In search of a place to combine research with clinical practice, Alois Alzheimer became Emil Kraepelin's research assistant at the Munich School of Medicine, where he led a new laboratory for brain research. At that time, he published several articles related to brain conditions and diseases.
For the year 1906, after several analyzes and studies in the patient, Alzheimer identified an uncommon disease of the cerebral cortex, which caused loss of memory, disorientation, and hallucinations to finally reach death. This was what had caused Auguste Deter's death.
In the year 1907, he was at the psychiatric convention of Tubingen, where he explained the case of who had been his patient, emphasizing that of the post-death analysis of the brain, which showed a shortage of cells in the cerebral cortex and groups of filaments located between nerve cells."
Finally, in the year 1910 Emil Kraepelin, published his treatise "Psychiatry" where he defined the new form of dementia discovered by Alois Alzheimer, calling it "Alzheimer's disease."
For the year 1912, King William II of Prussia hired him to work at the University of Breslau, naming him professor of psychiatry and director of the Neurological and Psychiatric Institute.
He was co-founder and co-publisher of the journal "Zeitschrift für die Gesamte Neurologie und Psychiatrie." In his career, he did not write works by himself, he always chose to work in a group.
Alois Alzheimer died on December 18, 1915, in Wroclaw at the age of 51 years, because of an infection that he acquired from streptococcus during a train trip, which generated fever, kidney failure, and strong flu.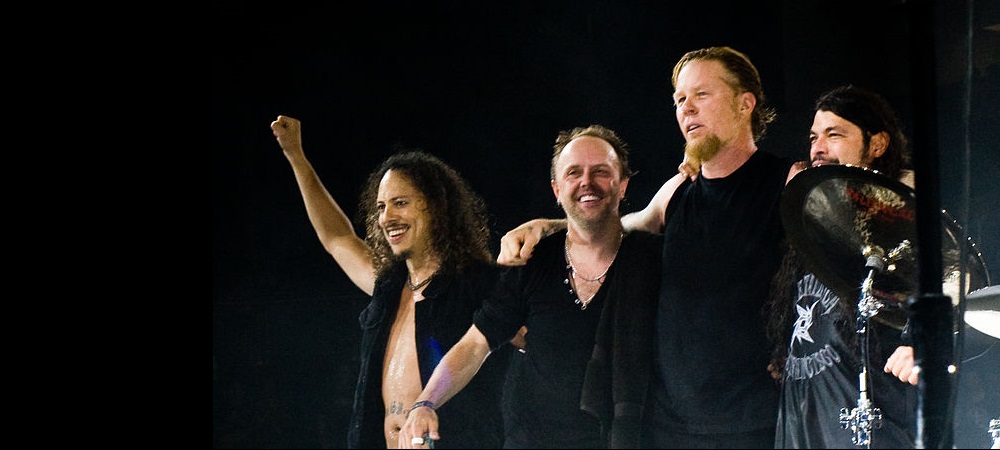 Metallica history
Metallica is an American thrash metal band from Los Angeles and based in San Francisco. It is considered one of the leading groups in the subgenre and throughout its 35-year career it has won numerous awards, including 9 Grammys, 2 American Music Awards, 2 MTV awards, 2 Billboard awards, and a star on the Hollywood Walk of Fame.
1980 – Beginnings
The history of the band begins in 1980 when Lars Ulrich, the son of tennis player Torben Ulrich, placed an ad in the magazine Recycler looking for a guitarist for a metal band influenced by the British New Wave of Heavy Metal. James Hetfield responded to the ad and joined Ulrich as the first members of the band. Ron McGovney joined as bassist and Lloyd Grant as lead guitarist. With this first formation, the band recorded its first demo, Hit the Lights, considered one of the first thrash metal songs. However, they soon realized that the lineup was not working and Lloyd was replaced by Dave Mustaine.
Despite the early disastrous performances due to the lack of experience of the members, the band continued and released No Life 'till Leather, showing a more aggressive sound. Additionally, Ron McGovney was replaced by Cliff Burton as bassist and Dave Mustaine was replaced by Kirk Hammett due to his alcohol addiction. Since then, James Hetfield has taken on both the role of rhythm guitarist and singer.
1983 – Release of 'Kill 'Em All'
With this new lineup and having Johnny Zazula as their manager, the band released in 1983 Kill 'Em All, which gained notoriety in the metal scene and sold more than 300,000 copies. After a tour of the United States and a concert in Holland where they reached their largest audience to date, with 5,000 people, the band released the album Ride the Lightening with Megaforce Records in 1984, which received critical acclaim for its melodic sound.
"1991 – Release of the 'The Black Album'"
After this work, the band released Master of Puppets in 1986 and embarked on a promotional tour that was cut short by an accident in which the bassist Cliff Burton died. After reflecting on their future, the band incorporated Jason Newsted and recorded …And Justice for All, an album with a denser sound that, despite its commercial success and a Grammy nomination, received criticism for being unoriginal and moving away from heavy metal. However, it wouldn't be until the release of their album Metallica in 1991, known as The Black Album, that they reached great success, selling half a million copies in the first week of sales in the United States and reaching the top of the Billboard chart. This work led to two similar albums, Load in 1996 and ReLoad in 1997, which received negative reviews for their proximity to alternative rock and their distance from traditional heavy metal, disappointing their older fanbase.
"2001 – Documentary, Tours, Awards"
In 2001, Jason Newsted left the band and Metallica struggled to find a suitable replacement for some time. Therefore, they had to record their next album, St. Anger, with their producer Bob Rock playing bass. However, Robert Trujillo soon joined the band's lineup. Three years later, the documentary Some Kind of Monster was released, which portrays the recording process of the last album and the internal conflicts that the band had with Dave Mustaine. After a tour in 2006 in which they played Master of Puppets again to celebrate its 20th anniversary, and the release of a compilation of their videos titled The Videos, Metallica was inducted into the Rock and Roll Hall of Fame. Later, they released Death Magnetic in 2008 and the conceptual album Lulu in 2011, which was poorly received by their fans. In 2012, the band founded their own record label, Blackened, and performed a concert in Antarctica to raise awareness about polar melting and environmental crisis. In 2016, they released Hardwired… to Self-Destruct. Currently, the band is still active.