50 Cent Biography
Curtis James Jackson III, known in the music world as 50 Cent, is an American rapper and entrepreneur, known for being one of the most prominent singers in rap and hip-hop. Curtis was born on July 6, 1975, in Queens, New York and is the son of Sabrina Jackson (drug dealer), and his father is not known.
In the decade of 1980, during the crack epidemic, 50 Cent began with the traffic of the substance, calling itself BooBoo. At the age of 8 he was already immersed in the world of drugs and weapons, and seven years later he was arrested for illegal possession of narcotics. For a while, he wanted to venture into boxing, where he was unsuccessful and quit at the age of 18. After a time of reflection, he left the drug business to begin work in rap and hip-hop.
MUSICAL CAREER
In 1996, a friend introduced him to Jam Master Jay of Run-DMC, who was starting his music label "Jam Master Jay Records." Jay taught him how to count the measures, write the choirs, structure the songs, and make the records.
The first official appearance of 50 Cent was in a song titled "React" with the group Onyx, on the album "Shut 'Em Down" released in 1998. A year later, after leaving Jam Master Jay, several producers of Trackmasters took notes on the rapper, whom they contacted to sign a contract with Columbia Records. Sometime later, he was sent to a studio in New York, where 36 songs were produced in two weeks, of which 18 were included in his unofficial release album, "The Power of the Dollar of 2000." A work that ended up canceled.
50 Cent began to become popular after the release of his single "How to Rob." Rappers like Jay-Z, Kurupt, Sticky Fingaz, Big Pun, among others, responded to the song. On the other hand, the rapper Nas received the theme in a positive way, so he invited 50 Cent to travel on a promotional tour of his album "Nastradamus." The song was also destined to be released as a single from the album along with other songs. However, on May 24, 2000, 2 days before recording the video for "Thug Love," the rapper was shot several times.
Despite having a publishing agreement signed with Columbia Records, he was expelled from the label and included in the blacklist of the recording industry, for his song "Ghetto Qu 'Ran" ​​("Koran of the ghetto"). He could not find a studio to record in the United States, so he traveled to Canada, where with his manager Sha Money XL, he recorded more than thirty songs for mixtapes. The recognition of 50 cent was increasing little by little, and in 2002, released the compilation album entitled "Guess Who's Back?"
Around 2002, the rapper Eminem listened to a copy of ¿Guess Who's Back?, which impressed him to the point that he decided to invite 50 Cent to Los Angeles, where he was introduced to Dr. Dre.
After signing a contract with Shady Records and Aftermath Entertainment, 50 Cent released the mixtape "No Mercy, No Fear" that included the track "Wanksta" which was used by Eminem in the soundtrack of 8 Mile.
In the month of February of 2003, 50 Cent released his debut album entitled "Get Rich or Die Tryin." The album was a success, so much that Allmusic described it as one of the best debut albums promoted by a rap artist in a decade; and other media cataloged the album as a total boom. It was in the position number 1 in the Billboard 200, for managing to sell 872,000 copies in the first four days. The main song of the album and the one played the most was "In da Club" managing to reach the position number 18 of the 100 best hip hop songs of all time of VH1. He also broke the Billboard record as the song most listened to in radio history in a week.
In March of 2005, the album "The Massacre" went on sale, and sold more than 1.1 million copies in the first four days. With that album, 50 Cent reached number one on the Billboard 200 for six weeks and was the first artist to have three singles in the top 5 of Billboard in the same week with "Candy Shop"; "Inferno Disc" and "How We Do."
On July 22, 2005, 50 Cent was sentenced to two years of probation, due to an incident in May 2004, on charges of three counts of assault and aggression.
Around September 2007, 50 Cent released his third studio album titled "Curtis." It was in the number 2 position of the Billboard 200, after selling 691,000 copies in the first week.
On May 18, 2009, the song entitled "OK, You're Right" was released, produced by Dr. Dre. This song was included on the album "Before I Self Destruct" as the first official single. That same year the rapper appeared in the new season of VH1 Behind the Music.
On November 16, 2011, Curtis released his song "Outlaw" to the internet, he was produced by Cardiak. By February 20, 2014, 50 Cent left Interscope Records, Shady Records, and Aftermath Entertainment, after an alliance that lasted 12 years. He and his label G-Unit Records signed a distribution agreement with Caroline Records and a recording contract with Capitol Records to date his fifth studio album Animal Ambition.
OTHER ACTIVITIES
In November 2003, he signed a 5-year contract with the sports brand Reebok to distribute a G-Unit Sneakers, his personal brand of the line as part of his G-Unit Clothing Company. That same year he released the video game, like 50 Cent: Bulletproof, which was created for PlayStation 2, Xbox and the PlayStation Portable.
In 2005, 50 Cent would make a cameo in the episode of The Simpsons "Pranksta Rap" in which his legal problems were shown. In that same year, he starred with Terrence Howard in the semi-autobiographical film Get Rich or Die Tryin'. In August 2005, he published an autobiography entitled "From Pieces to Weight: Once Upon a Time in Southside Queens," which showed the cultural and economic forces that led him to sell cocaine and crack, the details of his business as a drug trafficker and then as a rapper. He also founded the film production companies G-Unit Films in 2007 and Cheetah Vision in 2008.
On January 4, 2007, 50 Cent launched his G-Unit Books print shop in the Time Warner building. On September 8, 2009, he published his book The 50th Law. In March of 2011, he founded SMS Audio in the state of Delaware.
DISCOGRAPHY
2000: Power of the Dollar.
2003: Get Rich or Die Tryin.
2003: Beg for Mercy.
2005: The Massacre.
2007: Curtis.
2008: T·O·S (Terminate on Sight)
2009: Before I Self Destruct.
2014: Animal Ambition.
2014: The Beauty of Independence.
2015: The Beast Is G-Unit.
FILMOGRAphy
CINE
2005: Get Rich or Die Tryin'.
2006: Home of the Brave.
2008: Righteous Kill.
2009: Before I Self Destruct.
2009: Streets of Blood.
2009: Dead Man Running.
2010: Caught in the Crossfire.
2010: 13.
2010: Gun.
2010: Twelve.
2010: Morning Glory.
2011: Vengeance.
2011: Blood Out.
2011: Setup.
2011: All Things Fall Apart
2012: Freelancers.
2012: Fire with Fire.
2013: Escape Plan.
2013: Last Vegas.
2013: The Frozen Ground
2014: The Prince.
2015: Spy.
2015: Southpaw.
TELEVISION
2005: Los Simpson.
2008: 50 Cent: The Money and the Power.
2009: Entourage.
2013: Robot Chicken.
VIDEOGAMES
2005: 50 Cent: Bulletproof
2009: 50 Cent: Blood on the Sand
2009: Call of Duty: Modern Warfare 2
AWARDS
American Music Awards to Favorite Rap/Hip Hop Male Artist: 2003.
World Music Awards Best Artist of the Year: 2003.
World Music Awards Best New Artist: 2003.
Radio Music Awards Artist of the year, Hip Hop Radio: 2003.
Billboard Music Awards Album of the year, Get Rich or Die Tryin': 2003.
Billboard Music Awards Artist of the year: 2003.
Billboard Music Awards Artist of the year R&B/Hip Hop: 2003.
Billboard Music Awards Rap Artist of the year: 2003.
Billboard Music Awards Artist of the year Hot 100 Male: 2003
BET Awards Best new artist: 2003.
BET Awards Best Hip Hop Male Artist: 2003.
American Music Awards Favorite Rap/Hip Hop Album, Get Rich or Die Tryin': 2003.
MTV Video Music Awards Best Video Rap, In da Club: 2003.
MTV Video Music Awards Best new artist in a Video, In da Club: 2003.
Pop Music Awards Composer of the year: 2004.
International Dance Music Awards Best Rap/Hip Hop, In da Club: 2004.
Billboard Music Awards Single of the year Hot 100, In da Club: 2004.
Billboard Music Awards Ringtone of the year, In da Club: 2004
Rhythm & Soul Music Awards Composer of the year: 2004.
Rhythm & Soul Music Awards Top R&B/Hip Hop song, In Da Club: 2004.
Rhythm & Soul Music Awards Top Rap song, In Da Club: 2004.
World Music Awards Male artist with most sells: 2005.
American Music Awards Favorite Rap/Hip Hop album, The Massacre: 2005.
Pop Music Awards Best musical interpretation, In da Club and P.I.M.P.: 2005.
Billboard Music Awards Artist of the year Hot 100: 2005.
Billboard Music Awards Rap artist of the year: 2005.
Billboard Music Awards Artist of the year: 2005.
Billboard Music Awards Artist R&B/Hip Hop of the year: 2005.
Billboard Music Awards Best rap song, Candy Shop: 2005.
Billboard Music Awards Best Ringtone, Candy Shop: 2005.
Billboard Music Awards Best album, The Massacre: 2005.
Rhythm & Soul Music Awards Top ringtone of the year, In Da Club: 2005.
AVN Awards Best interactive DVD and Best music, Groupie Love: 2005.
Pop Music Awards Composer of the year: 2006.
MTV Video Music Awards Japan Best Hip-Hop video, Outta Control: 2006.
Rhythm & Soul Music Awards Composer of the year: 2006.
Rhythm & Soul Music Awards Top Rap song, How We Do: 2006.
Rhythm & Soul Music Awards Ringtone of the year, Candy Shop: 2006.
BET Hip Hop Awards Villain of the year: 2007.
World Music Awards Rap/Hip Hop artist with most sells: 2007.
Grammy Awards Best Rap Acting, Crack a Bottle» (50 Cent, Eminem y Dr. Dre): 2010.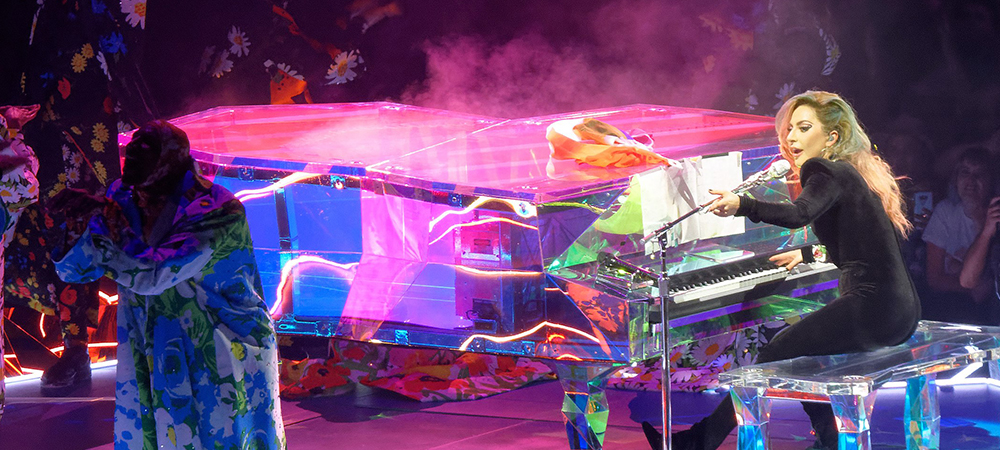 Lady Gaga Biography
Stefani Joanne Angelina Germanotta (March 28, 1986). Pop singer. Known worldwide as Lady Gaga. She was born in Manhattan, New York, United States. Her mother, Cynthia Louise Bissett, vice president of the mobile operator Verizon. Her father was businessman Joseph Anthony Germanotta, Jr. Director of an internet network company.
Early life
She grew up in the exclusive Upper East Side of Manhattan, in a Catholic family. For this reason, her parents enrolled her in the Convent of the Sacred Heart, a religious and elitist school. She was very fond of music since she was a child, she learned to play the piano and, at thirteen, she wrote her first song. She was a participant in open mic nights. Her favorite singers were Queen, Michael Jackson, Madonna, and David Bowie. Upon completion of high school, she entered New York University's Tisch School of Art to study music. But she did not finish her studies, she abandoned them to start her musical career.
Musical beginnings
She began by performing melodic songs on the piano in clubs and small bars in New York. Her first production was made by her with producer and composer RedOne, they called it: Boys, Boys Boys. This production was not successful. A little heartbroken, she decided to return to her parents' house and began to perform in a New York club, in burlesque, avant-garde, and dance performances. At that time, her life knew drugs and uncontrolled parties. In 2007 she began working with Lady Starlight, they began to perform in venues in downtown New York. They participated in the American music festival «Lollapalooza». Again, she focused her life on music, later, she got Sony / ATV to release her single. Using her writing skills, she wrote songs for Britney Spears. Also, she worked for Interscope, her role was to compose for the New Kids on the Block, Fergie, Akon, and the Pussycat Dolls. Simultaneously, Stefani was performing on the Lower East Side with cover bands such as Mackin Pulsifer and SGBand.
While she persisted, unsuccessfully, in contacting and seeking support in some record companies, the situation would change when meeting the music producer Rob Fusari. He promoted her musical career, thanks to his support they built a strong working relationship, and this led to a sentimental relationship. It was Fusari who gave her her stage name, Lady Gaga, in honor of the song Radio Gaga by Queen, one of Stefani's favorite groups.
At a recognized event, Akon, who already knew Lady Gaga as her songwriter, heard her sing and decided to offer her a contract for his record label, Kon Live Distribution. Gaga certainly accepted it. Thus began Lady Gaga to be known as a singer. At this stage, she had the collaboration of Fusari and other producers such as RedOne and Martin Kierszenbaum.
Debut and Career
The young singer debuted with her album, The Fame. A mix of electropop; the synthpop of the 80s and dance sounds. The success was imminent, it was one of the best-selling albums in 2009 worldwide, with more than 12 million copies, and it reached the Top 1 in countries such as the United Kingdom, Canada, and Ireland.
Her vision was great, she not only wanted to release a single, but an album. Lady Gaga's first album, Just Dance, appeared in April 2008, just around the time of her separation from Fusari, it caused a stir. It was number one in countries like the United States; more than 400,000 digital downloads are estimated, including Canada, Australia, and the United Kingdom. For this work, the brand new artist was nominated for a Grammy for the first time. In October 2009, she was awarded the Rising Star of 2009 award from Billboard magazine.
At the end of the same year, Lady Gaga released her second studio album, called The Fame Monster. Later, she presented her first single, Bad Romance, at Alexander McQueen's Spring / Summer 2010 fashion event. The impact couldn't have been better. Bad Romance was number one in countries such as the United Kingdom, Canada, Italy, Ireland, Spain, Peru, Germany, France, Sweden, Austria, and Denmark, and its promotional video, admired for the innovative elements and excellent paraphernalia, exceeded 200 million visits on YouTube, becoming the most viewed in history.
On the album The Fame Monster. There was the song Paparazzi. The video was a boom. Lady Gaga's songs were tuned in on radio stations and the artist was featured in well-known magazines. Thanks to her fame, she embarked on her first tour: The Fame Ball Tour; this tour had an admirable reception, it sold out stadiums and large venues. Later, she was nominated for the Grammy Awards. The videos of her were irreverent and gave a lot to talk about, they swept on television and especially on the Internet. Platinum blonde appears in Just Dance; with a lightning bolt on her cheek, inspired by David Bowie from Aladdin Sane, another of her references.
On the other hand, on Poker Face she incorporates her sexiest and most futuristic style. Poker Face won three nominations on MTV Video Music Awards 2009, including the best video of the year. His videos can be summarized as extravagant hairstyles, excessive makeup, sidereal or cosmic style wardrobes, or simply exuberant, increasingly sophisticated scenography, choreographies close to pornography.
Gaga style
Her way of being was linked to her music, she was an eccentric girl and eventually gave explosive statements to the press, she declared herself a hermaphrodite. All these scandals made her more and more popular, and she was the focus of all eyes on her. Her next single was Telephone, played in a duet with Beyoncé. She also premiered Alejandro and Dancer in the Dark. Gaga embarked on her second world tour, The Monster Ball Tour, she officially announced it on October 15, 2009. Described by Gaga as the "first electropop opera", the tour would be present on all five continents. It would end in Spain in two only concerts, in Barcelona and Madrid. The tickets were sold in just three days. Billboard announced that the song Telephone, from the album The Fame Monster, peaked at number one on the Pop Songs chart, being the only singer in history to get the sixth consecutive number one from it.
In 2010, the news spread that her ex-boyfriend and producer Rob Fusari sued for the company Rob Fusari Productions, demanding the payment of a total debt of 30 million dollars, for being the co-author and co-producer of Paparazzi, Beautiful, Dirty, Rich, Disco Heaven and Retro, Dance, Freak. On the other hand, Lady Gaga was the main protagonist of the MTV Video Music Awards gala, receiving eight Awards. In short, 'Time' chose her as the artist of the year.
Born This Way
Gaga began production on the album: Born This Way. A mix of electronic music with rock 'n' roll, and pop. It sold more than a million copies in its first week after its release in the United States, topping the Billboard 200. In addition, Born This Way received three Grammy Award nominations. Gaga separated from her manager Troy Carter, in June 2014, along with her new manager Bobby Campbell and she joined Artist Nation. This music star declared in a documentary about her life, Five Foot Two, that she suffers from fibromyalgia, a disease that attacks muscles and bones, and it has cost her time off stage. Although, she is still extremely optimistic.