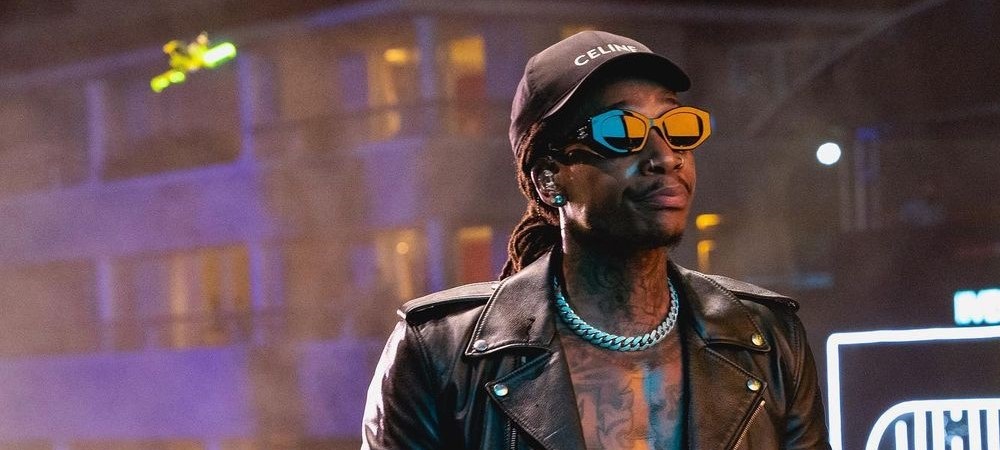 Personal information
Full name

Cameron Jibril Thomaz

Birthdate

September 8, 1987

Age
36 years old
Occupation

Rapper, singer, songwriter, actor

Pseudonym
Wiz Khalifa
Stage name
Wiz Khalifa
Nationality

American

Spouse

Amber Rose (marr. 2013-2016)

Parents

Laurence Thomas
Peachie Wimbush

Awards
BET Award for Best New Artist
Genders
Hip hop, R&B, trap, pop rap ,pop
Zodiac sign
Virgo
Biography in other languages
Biography of Wiz Khalifa
Wiz Khalifa, whose real name is Cameron Jibril Thomaz, is a rap singer born on September 8, 1987 in Minot, North Dakota, United States. His parents were members of the United States Armed Forces, which led him to frequently move to places like Germany, the United Kingdom, and Japan before settling in Pittsburgh, Pennsylvania. There he studied at Taylor Allderdice High School. At the age of three, his parents separated and his grandmother, who was Muslim, nicknamed him Khalifa.
Due to his mother's career in the military, Wiz had to be taken care of by his aunt during the Iraq War, which made him mature faster than his peers and made it difficult for him to make friends outside of his family circle. However, this experience inspired him to write his feelings in songs. At the age of 14, he already had several compositions and began to receive attention for his good voice and attractive lyrics.
Beginnings of his music career
Wiz Khalifa was inspired by musical idols such as Jay Z, Snoop Dogg, Cam'ron and Notorious B.I.G., but he set out to create his own musical identity rather than copying their styles. In search of a recording studio in Pittsburgh, he found ID LABS, where the owner Eric Dan immediately recognized his talent. Together with manager Chad Glick, they began to develop Khalifa's talent. Soon, he joined Benjy Grinberg's project at Rostrum Records, after hearing his contribution to a mixtape called Prince of the City2: Welcome to Pistolvania, featuring various emerging artists in Pittsburgh. Under Benjy's tutelage, Khalifa joined the Rostrum Records family. In 2006, Rostrum released his first mixtape called Show and Prove, followed by two more mixtapes: Grow Season, organized by DJ Green Lantern, and Prince of the City 2, released on November 20, 2007. With these releases, he began his ascent in the music world.
His first contract with Warner Bros Records label
At the age of 16, Wiz Khalifa signed a contract with the prestigious Warner Bros Records label, directed by Grinberg, who considered him a diamond in the rough despite his young age. For the next seven years, he developed his artistic career in an exceptional way within the label. His debut was with the single "Say Yeah", which led him to reach position 25 on the Billboard Rhythmic Top 40 and number 20 on the Billboard's Hot Rap Tracks. He also appeared in Rolling Stone magazine, being mentioned as an "artist to watch". In addition, he performed near the final of the Pittsburgh mash up 2008. In September 2008, Khalifa released the mixtape "Star Power" and in April 2009 he released "Flight School".
The reason for his departure from Warner Bros Records.
With "Flight School", Wiz Khalifa decided to part ways with Warner Bros Records due to repeated delays in the release of his debut album planned for the label, "First Flight". Despite this, Khalifa expressed his gratitude towards the record label as he learned and matured as an artist during his time there. After leaving Warner Bros Records, Khalifa resumed his association with Rostrum Records, releasing the single "Teach U to Fly" and the mixtape "How Fly". On August 9th, 2009, he also collaborated with New Orleans rapper Currensy. At this time, Khalifa was building a more melodic style, alternating singing with rapping.
Wiz Khalifa was the opening act for Wu-Tang Clan member U-God at the 2009 CMJ Music Marathon held in New York City. Later, he released the mixtape "Burn After Rolling" on November 2nd, 2009, which included songs such as "If I Were a Boy" and "Diva" by Beyoncé, and "Best I Ever Had" by Drake. Twenty days after "Burn After Rolling", Khalifa released his second album "Deal or No Deal".
Khalifa: included in the list of the best singers
Wiz Khalifa appeared on the cover of XXL magazine that same month, and was included in the list of the best singers along with other artists such as Donnis, J. Cole, Pill, Freddie Gibbs and Fashawn. In 2010, he was nominated by The Source Magazine, alongside Rick Ross, as Man of the Year. Khalifa released the mixtape "Kush and Orange Juice" on June 14th, 2010, which could be downloaded digitally and due to its high number of downloads and popularity on the radio, it became the #1 trending topic on Twitter. His fame was such that he signed with Atlantic Records in April 2010, although initially this was only a rumor. In addition, he began working on a new musical project with All Hip Hop. Khalifa confirmed to MTV on July 30th that he had signed an agreement with Atlantic Records.
His marriage with Amber Rose
It is no secret that Wiz Khalifa has a large amount of money, his net worth is estimated to be 45 million dollars. An example of this is that in 2012 he purchased a luxurious house in the vicinity of Canonsburg, Pennsylvania. In that same year, Khalifa proposed to model Amber Rose. On September 6th, 2012, at the MTV Video Music Awards, they announced their pregnancy. They planned to get married in the first semester of 2013. Amber gave birth to a son named Sebastian Taylor Thomas on February 21st, 2013. After the birth, Wiz Khalifa and Amber Rose got married in a private ceremony, a marriage that lasted until 2016.
Some interesting facts about Wiz Khalifa
Khalifa has had several legal issues with the Pittsburgh City Council due to his use of cannabis, the singer stated that he requires $10,000 per month to buy marijuana and he also smokes daily. In addition to being a great lover of rap and Hip Hop, he is a fan of all the city's sports teams, especially the Pittsburgh Steelers, and others such as the NHL's Pittsburgh Penguins, MLB's Pittsburgh Pirates, Arena Football League's Pittsburgh Power, and also the NHL Chicago Blackhawks.
Posthumous video tribute to actor Paul Walker
Charlie Puth and Wiz Khalifa are part of the soundtrack of the video "See You Again", which pays posthumous tribute to actor Paul Walker. It has been one of the most played videos in recent times, with this, they earned an average of $1,000 for each million visits.
Visit to Colombia in 2007
Wiz Khalifa visited Colombia in 2017 where he participated in a concert in the city of Medellín with Puerto Rican Tego Calderón, and then in Bogotá to attend the rock and pop festival Estéreo Picnic. However, his visit generated controversy due to his behavior in Medellín, where he visited the tomb of Pablo Escobar, taking pictures leaving flowers and smoking marijuana, he also visited the Hotel Mónaco, where Pablo Escobar lived. This generated great indignation among the inhabitants of Medellín and nationally. Later, the singer upon returning to his country apologized on his social media accounts, stating that his intention was not to offend anyone.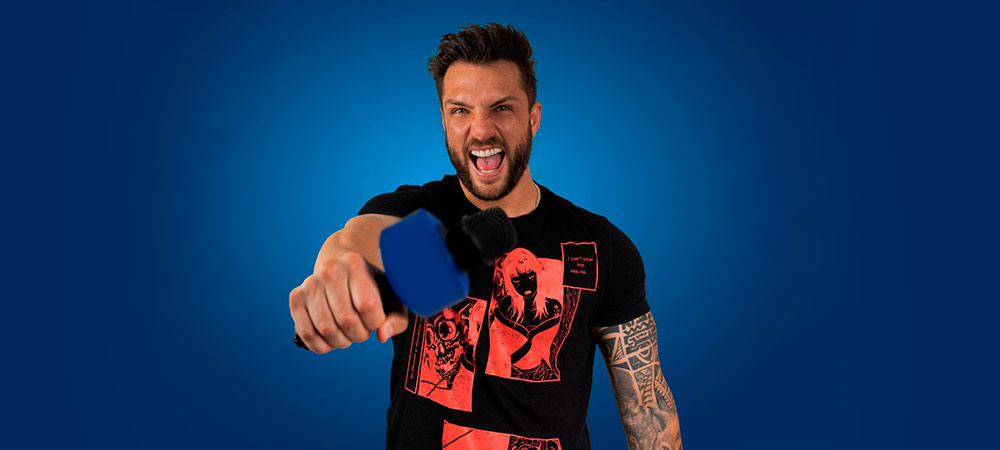 Nicola Porcella Biography
Nicola Emilio Porcella Solimano (February 5, 1988), better known as Nicola Porcella, is an actor and TV personality born in Lima, Peru. He is known for his controversies and for his appearances in various reality shows, including "La Casa de Los Famosos Mexico".
Early years
Nicola Porcella is a renowned Peruvian television personality and actor. He is the youngest son of Francesco Porcella and Fiorella Solimano. His family has Italian roots and he has two older siblings.
He attended primary school at Colegio Carmelitas. Later, during his secondary studies, the family moved to Argentina for a period of time. In this country, Nicola began training in football. Upon returning to his homeland a few years later, he resumed his studies at Colegio Agnus Dei.
Nicola Porcella studied law, communications, hotel management, international business administration, and aviation, but only completed the latter. In order to obtain his pilot's license, he had to fulfill certain requirements and flight hours, but he did not do so.
Beginnings
Before jumping into television fame, Nicola tried his luck with the sport he trained for. He began his football career in the youth division of Circolo Sportivo Italiano, winning youth tournaments. In 2006, he made his professional debut at FBC Melgar. Later, he joined Deportivo Municipal in 2008 and Sport Boys in 2010. Despite his talent, he decided to retire from football in 2010 to work as a cabin crew member. His image became popular in media campaigns for the chalaco team, of which he is a fan. Afterward, he ventured into aviation as a pilot and later into television.
Career
Nicola began his career as a model and later ventured into television. His first television appearance was in a cameo role in the series "Así Es La Vida" in 2006. His participation in "Combate", a sports competition show between teams, allowed him to gain popularity and be recognized by the youth audience. Later, his success continued with his participation in "Esto Es Guerra", another competition show where participants face physical and mental challenges. He was the first contestant to win the program, achieving this feat alongside the participant and former romantic partner, Angie Arizaga.
Throughout his television career, Nicola Porcella has been a controversial figure due to various controversies that have arisen in his personal and professional life. However, he has also been one of the most recognized faces on Peruvian television and has amassed a large number of followers and fans.
In 2013, he had a guest appearance in the miniseries "Vacaciones en Grecia". The following year, in 2014, he was part of the Peruvian version of "Are You Smarter Than a 5th Grader?" and also appeared in "The Choice". He also joined as a co-host on the show "Estás En Todas" in 2014, and later became a permanent presenter in 2017.
In 2015, Nicola made a special appearance in the telenovela "Ven, Baila, Quinceañera" and took the opportunity to receive acting classes. That same year, he had his debut as a presenter on the reality show "Esto Es Guerra Teens". A year later, alongside Rafael Cardozo, he was part of the program "El Búnker", where he continued participating until 2018.
In 2018, he joined the cast of the telenovela "Te Volveré A Encontrar" as Nicolás Valdemar. The following year, Porcella changed channels after being with the television network América for seven years. In this new channel, he participated in hosting the program "Todo Por Amor", alongside Karina Rivera. Subsequently, Nicola traveled to Mexico to take part in the reality show "Guerreros" by Televisa, where he stood out with a 54% victory rate in the challenges and was among the top 10 contestants of the first season.
In 2021, he led the Peruvian delegation in the confrontation against a similar program from Puerto Rico in "Esto Es Guerra", but his team lost. He also resumed hosting duties on "El Show De Los Sábados" and participated in the second season of "Guerreros". In September, he joined the team of the Mexican reality show to face the Peruvian counterpart and ultimately emerged victorious. Afterwards, he returned to acting for the Mexican network and took part in the third season of "Reto 4 Elementos". Additionally, he started hosting a talk show on YouTube featuring personalities from the Peruvian and international entertainment industry.
In February 2023, Nicola Porcella received an invitation to participate in the renowned reality show "La Casa De Los Famosos México". The program is broadcasted on TelevisaUnivision and EndemolShine Boomdog channels, including Las Estrellas, Canal 5, and the streaming service Vix. During his stay in the show, rumors of a possible relationship with Wendy Guevara emerged, although, up to this point, they have only shown a friendship with great chemistry.
The Peruvian was the first finalist of the famous reality show, "La Casa de Los Famosos México".
Personal life
The love life of the celebrity has been a subject of curiosity for many people. He had a relationship with Francesca Lazo, a professional makeup artist and influencer, with whom he has a son named Adriano Porcella Lazo.
He has also been romantically linked to Angie Arizaga, Romina Lozano, and Ale Campaña. During his participation in a reality show, he was linked with his fellow contestant Catherine Civerio.
Currently, Nicola Porcella appears to be single. During his time on "La Casa de Los Famosos México", he openly declared himself pansexual.
Controversies
Nicola Porcella has been the subject of public criticism due to his questionable behavior and controversial actions.
Horror Party
In 2019, Nicola was involved in a media scandal during a party in the district of Asia, in the southern part of the Lima department. It was said that two celebrities, Claudia Meza and Paula Ávila, were drugged and apparently abused. Both of them filed complaints.
Claudia Meza, former beauty queen, stated that after trying a drink that was offered to her, she felt sick and passed out. Upon waking up, she saw Nicola, Daniela, and Paula Ávila beside her.
Paula Ávila also gave her testimony to the press, stating that she was drugged without her consent with amphetamines. The following day, she underwent a toxicological examination that confirmed the consumption of amphetamines.
As a consequence of these events, Nicola was removed from the reality show "Esto Es Guerra" and the program "Estás En Todas". Later, he attended the program "El Valor De La Verdad" to deny his involvement in the incidents. Months later, he resumed his work on the programs but filed a defamation lawsuit against the presenter Magaly Medina, which he eventually won. However, the verdict in his favor was overturned in 2021. The lawsuit also affected his participation in the reality show, but after resolving the conflict, he was able to return in 2016.
Angie Arizaga
The relationship between Nicola and his reality show partner, Angie Arizaga, was highly controversial due to the problematic attitudes of the Peruvian. The situation became public after a friend of Angie leaked a call where she confessed that Nicola had allegedly physically assaulted her and even attempted to strangle her.
Later on, a video surfaced in which Nicola was addressing Arizaga in a rude manner. Initially, she denied the abuse and tried to justify it as a relationship matter, but later changed her stance and claimed to be a victim of mistreatment. After several conflicting statements, Angie once again denied the mistreatment. Subsequently, Nicola accepted an invitation to participate in the show "El Valor De La Verdad", where he publicly admitted to having engaged in verbal abuse.
In 2018, the couple decided to end their romance amicably, as stated by the model. Three years later, Nicola publicly apologized for the incident involving Angie on the program "La Academia: Desafío Y Fama". Since then, he has chosen to stay away from Peruvian television.
Filmography
Projects that Nicola Porcella was a part of:
TV
"Así Es La Vida" (2006).
"Vacaciones En Grecia" (2013).
"Al Fondo Hay Sitio" (2013).
"Ven, Baila, Quinceañera" (2015-2018).
"Los Vílchez" (2019).
"Te Volveré A Encontrar" (2020).
Reality shows
"Very Verano" (2011).
"Canta Si Puedes" (2011).
"Combate" (2011).
"Esto Es Guerra" (2012-2016).
"Esto Es Guerra De Verano" (2013/2017).
"Minuto Para Ganar VIP" (2013).
"Esto Es Guerra: Apertura" (2014).
"¿Sabes Más Que Un Niño De Primaria?" (2014).
"Esto Es Guerra: Clausura" (2014).
"Gisela, El Gran Show" (2014).
"Fase Final" (2014).
"Estás En Todas" (2014/2016/2017-2019).
"Esto Es Guerra Teens" (2015).
"EEG: El Origen De La Lucha" (2016).
"EEG: La Revancha" (2016).
"EEG: Pretemporada" (2017).
"EEG: De Regreso Al Origen" (2017).
"EEG: El Gran Juego" (2018).
"Mi Mamá Cocina Mejor Que La Tuya" (2018).
"EEG: El Gran Clásico" (2018).
"EEG: La Lucha Por El Honor" (2019).
"El Valor De La Verdad" (2019).
"EEG: El Gran Clásico" (2019).
"Todo Por Amor" (2020).
"Guerreros 2020" (2020).
"Guerreros 2021" (2021).
"Guerreros, Esto Es Guerra: Perú Vs. Puerto Rico" (2021).
"Guerra México Vs. Perú" (2021).
"El Show De Los Sábados" (2021).
"Reto 4 Elementos: Naturaleza Extrema" (2022).
"La Casa De Los Famosos México" (2023).