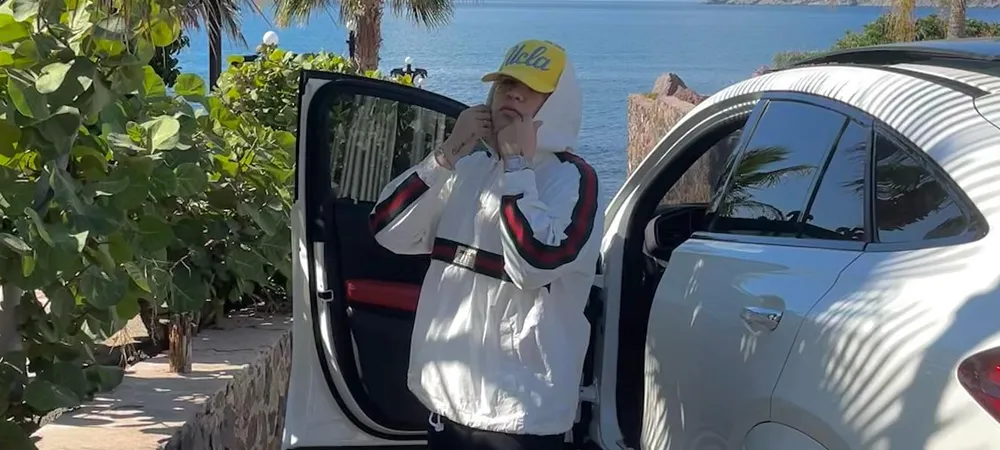 Personal information
Full name

Antonio Herrera Pérez

Birthdate

February 7, 2000

Age
23 years old
Occupation

Singer and songwriter

Stage name
Junior H
Nationality

Mexican

Height
1.70 m
Genders
Corrido tumbado
Zodiac sign
Aquarius
Biography in other languages
Biography of Junior H
Antonio Herrera Pérez (February 7, 2000), better known professionally as Junior H, is a Mexican singer and songwriter, emerging artist of the corrido tumbado genre. He began his music career at the age of 14, releasing a few songs online before debuting with "Mi vida en un Cigarro" in 2019. That same year, Junior went viral on YouTube with "No he Cambiado," leading him to sign with Rancho Humilde. His second album, "Atrapado en un Sueño," was released in 2020. "No he Cambiado," "Mente Positiva," "Dicen," and "Atrapado en un Sueño" are some of his hit songs.
Early Life
Born in Guanajuato, Mexico, Junior started composing at the age of 12 alongside a friend. He didn't know how to play any instruments at the time, but had an easy time writing. It took him another two years to learn how to record and by the age of 15, he had a few songs circulating online. Like many other artists, Junior started uploading songs and covers to YouTube, where he quickly gained notoriety.
However, it wasn't all easy; the artist had to start over after his family decided to move to Utah in the United States. It was another reality, another language and a completely different place from his home, but that didn't stop him. Junior learned to play the guitar by watching YouTube tutorials, continued recording and writing his own songs, and worked at a sandwich shop for a while.
Junior H: Debut, Fame, and Career
After a few years on YouTube, Junior jumped into the scene in February 2019 with the release of his first album, a nine-song demo titled "Mi vida en un Cigarro." The album included songs such as "A los 19," "El Barbero," "El de la Chevy," and his first big hit, "No he cambiado." However, the song would take several months to become a trend on YouTube. The success was such that Junior, then 17 years old, was discovered by his now manager, Jimmy Humilde, of Rancho Humilde.
It didn't take long for Junior to sign a contract and begin recording with the label. He was included in the successful compilation of Natanael Cano, "Corridos Tumbados," in the songs "Ella," "El AK," "Disfruto lo Malo," and "El M4." Thanks to this work, Junior's popularity continued to grow. Later came the singles "El de la H," "Vivo a Mi Manera," and "En Mis Dedos un Gatillo" (ft. Gabriel Esteban).
Trapped in a Dream
His second album, "Atrapado En Un Sueño," arrived in March 2020 and immediately became a success. So much so, that it debuted at #5 on the Billboard Top Latin Albums chart, being the second to reach the top after Natanael. The album consisted of a total of seven songs; among these were: "Atrapado en un Sueño," "Mente Positiva," "Dicen," "Me siento," and the collaboration "Si Mañana" with Natanael.
In June 2020, the deluxe edition of "Atrapado en un Sueño" was released, which included a new song, "Tengo Motivos." Junior also collaborated with Natanael on the single "Seca tus lagrimas" from his EP "Corazón Tumbado."
MUSICA <3 and Cruisin' with Junior H
Later, in September 2020, Junior released two albums on the same day titled: "MUSICA <3" and "Cruisin' with Junior H." Both albums would include 12 songs. In "MUSICA <3" (2020), the hits "No Cap," "Días Nublados," and "Psicodélica" appeared, as well as the collaborations "Hey CJ" with Compa Steve and "Suena" with José Mejía. In "Cruisin' with Junior H," songs such as "No Me Pesa," "Se Amerita," and "Clave Ali" came out, along with the collaborations "Ojos Colorados" with Alto Linaje and "Con Un Presidente" with Esteban Gabriel.
The 3 Towers
Also in 2020, specifically on December 18th, Junior premiered the collaborative album "Las 3 Torres," along with Natanael Cano and Ovi. The album featured the participation of various artists such as Snoop Dogg, Ñengo Flow, and Snow Tha Product, in songs such as "Crónicas de un Gallo" and "Felling Good." From the album, the songs also stood out "Pienso en Ella," "Las Tres Torres," "Verdes Verdes," and "En el Cora."
2021: $ad Boyz 4 Life
In February 2021, Junior H returned with "$ad Boyz 4 Life," an album of 16 songs, whose lyrics spoke of love and heartbreak. In less than 24 hours, it managed to position itself in the Top 10 of Latin albums on Apple Music. Some of the most well-known songs from the album were the singles: "La Bestia," "160 Gramos," and "Me Consume."
A few months after "$ad Boyz 4 Life," Junior released the single "Corrido Tumbado." In December 2021, "Nací Para Amarte" and "Empresa Fly Club" were released. These were his last releases in 2021.
2022: Mi Vida En Un Cigarro 2
Following the example of 2021, Junior released his seventh studio album "Mi Vida En Un Cigarro 2" in February 2022. The album referenced the name of his first album, which was released in February 2019. "Mi Vida En Un Cigarro 2" includes 21 songs, among them several collaborations such as "Los Botones Azules" with Luis R Conrique, "Pa que te Duela" with Eslabon Armado, and "El Pana" with Compa Steve. Other songs from the album were "Nunca Tristes Simpre Locos," "Esta Vida," "Que Siga La Mata Dando," and "Como Jordan."
Later, in April, Junior premiered "12 Rifles," a single that features a live music video accompanied by a band.
Discography
Albums
Mi Vida En Un Cigarro (2019)
Atrapado En Un Sueño(2020)
MUSICA <3 (2020)
Cruisin' with Junior H(2020)
Las 3 Torres(2020)
$ad Boyz 4 Life(2021)
Mi Vida En Un Cigarro 2(2022)
Songs
Se amerita (2020)
Mente positiva
Ella
1004 kilómetros
Disfruto lo malo
Jueves 10
Paso en Culiacán
No me pesa
Días nublados
Atrapado en un sueño
Los 4 ases
Clave ali
La vi llorar
Tengo motivos
Psicodélica
Se quedanviendo
Pakas en las rakas
El chachito anda alegre
Ojos colorados
Verdes verdes
El de la H
Si mañana
El Ak
La bestia
160 gramos
Me siento
Me consume
Venadeando
Dicen
No cap
El F

The history of Los Inquietos Del Norte
Los Inquietos Del Norte is a Mexican regional music group formed in 1995. The group is composed of 5 members: Felipe, José, and Rosalio Mesa; Jorge Torres, and Manuel Acevedo. They are known for their aggressive style corridos and have earned the title of the Fathers of Corridos. For years, they struggled to secure a good contract until they signed with EAGLE MUSIC in 2002. That same year, they released their first official work, Los Mal Encachados. In 2005, they released Los Padres del Corrido and with La Clika in 2007, they earned their first Gold record. The group was nominated for the Premios Lo Nuestro in 2010.
Musical beginnings
The history of Los Inquietos del Norte cannot be told without the Meza brothers, as it all started with them. Born in the land of tequila, Guadalajara, Jalisco, the three brothers began their music careers at a very young age. By the time they were less than ten years old, they were singing on trucks. After finishing their studies, regional music became their focus. They began by singing in bars, restaurants, and racetracks. After various adventures, they arrived in California, where they met Jorge and Los Inquietos was born. Later, Manuel joined the group, bringing his special touch with the violin.
Since their beginning, the group has been oriented towards two well-defined styles within regional music. On one hand, there are the aggressive, fast or heavy-style corridos, and on the other hand, there are the romantic songs similar to ballads. The name of the group emerged unexpectedly during the recording of Me cayó el FBI, one of their first songs, in the 90s. This decade includes several works, including the album La Limosina Blanca, released in 1999. The album included songs such as Mujeres Malas, El Postre de Michoacán, Un Buen Pericazo, El Compa Julio, and Dando y Dando.
Contract with Eagle Music and the release of Los Mal Encachados
In 2002, the group signed a contract with Eagle Music, a record label that opened its doors to them and where they have been able to showcase their unique style. That same year, Los Inquietos released their first album, Los Mal Encachados, which featured 15 songs, including Pedro y Mingo, El Corrido de Fernando, and Arriba Guanajuato. The following year, they released Tierra de Traficantes (2003), Soy quien soy con Banda, and Entre Gallos Finos, which were released in 2004.
Los Padres del Corrido
It was with Los Padres del Corrido that the group achieved fame in 2005. This album of 15 songs also gave them their nickname, as from then on, the group was known as the Fathers of Corridos. The album included songs such as Pedos Hasta La Chingada, Ya no puedo vivir sin ti, El Primazo Martin, Parranda de Gallos, Pa Cocineros, and Soy de Colima.
With lyrics filled with emotions, love, passion, and lust, the group has achieved great success. They have triumphed on countless tours, mainly in Mexico and have also been a huge success in various cities in the United States, such as Washington, Texas, Illinois, and California.
Among the lyrics that have propelled them to the top are hits like Ya no puedo vivir sin ti (2005), Hasta la madre de borracho (2007), La borrachera (2008), and 90 millas (2009). Fans have also significantly influenced their success. That's why the group named their eighth album La Clika, in 2007. La Clika, as their fans are known, featured 17 songs, including the hit La Clika, El Compa Tony, Amor Mortal, Te amo tanto, El Endiablado, and Las Parrandas. Other notable songs include El Maldito, La Teibolera, and El Plebe y el Primo.
Other hits
The album 4:20 Mi vicio, released in 2008, followed in success. Later came La Borrachera (2008), Locos Desde Ayer (2010), and Febrero 14 Románticas (2010). Also in 2010, they released Vamos a Darle Con Todo and the collection of hits, Serie Diamante. That year, the group was nominated for the first time for the Premios Lo Nuestro in the category "Norteño Group of the Year." In 2012, the album La Gritera was released with songs such as Carne Quemada, La Gritera, El Diablo Encabronado, 2 Besos, and La Consigna.
With Sin ti, from the album Con El Corazón Inquieto (2013), Los Inquietos entered the national Top 10 in 2013. Later that year, they released Los Psychos Del Corrido (2013) and were nominated for the Billboard Mexican Music Awards.
Without taking a break, since 2002, Los Inquietos have released one to two albums per year. In 2014, they released 12 Favoritas; a year later, Mi Amigo El De Arriba (2015) and De Noche Enfiestado (2015) came out, and in 2017, Firme Y Pa' Delante. Casa de Dragones was released in 2019 and Adrenalina in 2020.
Among their recent singles, it's worth mentioning ¡México México! (2020), La Pesadilla (2020), Qué Bonita La Noche De Anoche (2021) and Me Sacaron Coraje (2021).
Since their beginnings, the group has identified with the phrase Algún Pinche Problema (A.P.P.).
Members of Los Inquietos del Norte
José Meza (bajo sexto and vocals)
Felipe Meza (electric bass and vocals)
Rosalio Meza (accordion and vocals)
Jorge Torres (drums)
Manuel Acevedo (violin)