John Forbes Nash Biography
John Forbes Nash Jr was a mathematician from the United States, recognized for his specialty and contributions in game theory, differential geometry and partial differential equations, which earned him a Nobel Prize in Economics. He was born on June 13, 1928, in Bluefield, West Virginia, and is the son of Margaret Virginia Martin and John Forbes Nash.
In 1941, he began his studies at the Bluefield College. In his childhood, he liked to be alone since he preferred to spend time reading than playing with children. From the age of 14, he became interested in mathematics and chemistry.
He managed to win a scholarship to pursue higher studies and in the month of June 1945, he enrolled at Carnegie Mellon University where he studied chemical engineering. One of his teachers realized his excellent math skills and managed to convince him to specialize in them. For the year 1948, he graduated, and also accepted a scholarship from Princeton University to do a Ph.D. in mathematics.
In the course of his doctoral studies, John Forbes Nash became interested in topology, geometric algebra, and game theory. For the year 1949, as part of his research, he published in the Annals of Mathematics an article that he called "Non-cooperative Games" where he explained important points of his thesis, which he presented the following year at Princeton. The document explained the elementary points about the strategies and the possibilities of predicting the behavior that occurs in non-cooperative games with little information. Forbes also defined the Nash equilibrium, which referred to a solution concept for games with two or more players, in which he assumed that each player knows and has adopted his best strategy and that everyone knows the strategies of the others.
After finishing his work, he entered to work with the RAND, an institution of the Air Force of the United States that was dedicated to strategic research, which was interested in John Forbes applying his knowledge on game theory in the military strategy that they drove.
For the year 1952, he joined the faculty of the Massachusetts Institute of Technology (MIT), where he made a recognized research on multiple real algebraic variables. Two years later, he was arrested during a police crackdown on homosexuals.
In 1957, John Forbes Nash married Alicia Lardé López Harrison, a former student of the Massachusetts Institute of Technology. Between April and May of the year 1959, he was admitted to the McLean Hospital, where he was diagnosed with paranoid schizophrenia.
For the year 1961, he was taken to the Psychiatric Hospital of Trenton in New Jersey. The following 9 months he was in several psychiatric hospitals, where he was treated with antipsychotic drugs and shock therapies with insulin.
Since 1970, he did not go back to psychiatric hospitals, since he did not want to consume more drugs, stating that he used them against his will.
After long treatments in psychiatric, in the 1990s he managed to control his disease, so he returned to scientific research activity. He carried out several works related to differential equations and their analytical resolution through numerical methods, which had a great impact on the international scientific community.
For the year 1994, John Forbes Nash won the Nobel Prize in Economics, thanks to his research work in game theory.
In the year 1998, Sylvia Nasar published the novel "A Beautiful Mind" which told the life of John Forbes Nash; for the year 2001, the film of the same novel was released.
John Forbes Nash died with his wife on May 23, 2015, at age 82, in a car accident after receiving the Abel Award.
AWARDS
The John von Neumann Theory Award for his fundamental theoretical contributions to operational research: 1978.
Nobel Prize in Economics for his analysis of the balance in the Theory of Non-Cooperative Games: 1994.
Leroy P. Steele Award from the American Mathematical Society, for his fundamental contribution to mathematical research.
Medal of the Double Helix of the Cold Spring Harbor Laboratory for its work defending the rights of the mentally ill: 2010.
Abel Prize, for his work in partial differential equations: 2015.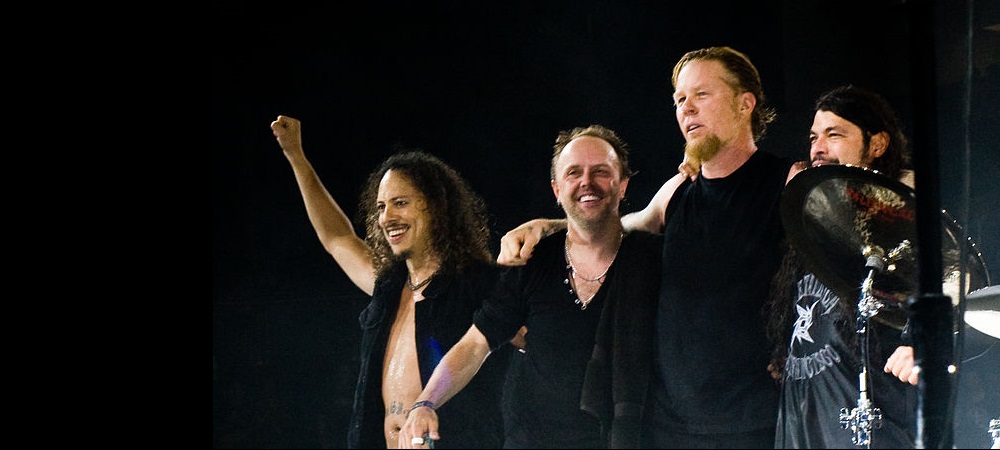 Metallica history
Metallica is an American thrash metal band from Los Angeles and based in San Francisco. It is considered one of the leading groups in the subgenre and throughout its 35-year career it has won numerous awards, including 9 Grammys, 2 American Music Awards, 2 MTV awards, 2 Billboard awards, and a star on the Hollywood Walk of Fame.
1980 – Beginnings
The history of the band begins in 1980 when Lars Ulrich, the son of tennis player Torben Ulrich, placed an ad in the magazine Recycler looking for a guitarist for a metal band influenced by the British New Wave of Heavy Metal. James Hetfield responded to the ad and joined Ulrich as the first members of the band. Ron McGovney joined as bassist and Lloyd Grant as lead guitarist. With this first formation, the band recorded its first demo, Hit the Lights, considered one of the first thrash metal songs. However, they soon realized that the lineup was not working and Lloyd was replaced by Dave Mustaine.
Despite the early disastrous performances due to the lack of experience of the members, the band continued and released No Life 'till Leather, showing a more aggressive sound. Additionally, Ron McGovney was replaced by Cliff Burton as bassist and Dave Mustaine was replaced by Kirk Hammett due to his alcohol addiction. Since then, James Hetfield has taken on both the role of rhythm guitarist and singer.
1983 – Release of 'Kill 'Em All'
With this new lineup and having Johnny Zazula as their manager, the band released in 1983 Kill 'Em All, which gained notoriety in the metal scene and sold more than 300,000 copies. After a tour of the United States and a concert in Holland where they reached their largest audience to date, with 5,000 people, the band released the album Ride the Lightening with Megaforce Records in 1984, which received critical acclaim for its melodic sound.
"1991 – Release of the 'The Black Album'"
After this work, the band released Master of Puppets in 1986 and embarked on a promotional tour that was cut short by an accident in which the bassist Cliff Burton died. After reflecting on their future, the band incorporated Jason Newsted and recorded …And Justice for All, an album with a denser sound that, despite its commercial success and a Grammy nomination, received criticism for being unoriginal and moving away from heavy metal. However, it wouldn't be until the release of their album Metallica in 1991, known as The Black Album, that they reached great success, selling half a million copies in the first week of sales in the United States and reaching the top of the Billboard chart. This work led to two similar albums, Load in 1996 and ReLoad in 1997, which received negative reviews for their proximity to alternative rock and their distance from traditional heavy metal, disappointing their older fanbase.
"2001 – Documentary, Tours, Awards"
In 2001, Jason Newsted left the band and Metallica struggled to find a suitable replacement for some time. Therefore, they had to record their next album, St. Anger, with their producer Bob Rock playing bass. However, Robert Trujillo soon joined the band's lineup. Three years later, the documentary Some Kind of Monster was released, which portrays the recording process of the last album and the internal conflicts that the band had with Dave Mustaine. After a tour in 2006 in which they played Master of Puppets again to celebrate its 20th anniversary, and the release of a compilation of their videos titled The Videos, Metallica was inducted into the Rock and Roll Hall of Fame. Later, they released Death Magnetic in 2008 and the conceptual album Lulu in 2011, which was poorly received by their fans. In 2012, the band founded their own record label, Blackened, and performed a concert in Antarctica to raise awareness about polar melting and environmental crisis. In 2016, they released Hardwired… to Self-Destruct. Currently, the band is still active.