Gonzalo Rodríguez Gacha "El Mexicano"
Gonzalo Rodríguez Gacha "El Mexicano" biography
Gonzalo Rodríguez Gacha (May 14, 1947 – December 15, 1989). He was born in a town called Pacho, Cundinamarca, Colombia. He was formed into a humble peasant family. Better known with the alias "El Mexicano" because of his fascination with the Mexican nation and its culture. Rodríguez Gacha decided to interrupt his high school studies to work with Gilberto Molina, the "Tsar" of the emeralds in the Boyacá area. Gonzalo, with only 15 years old, had an admirable performance, quickly promoted in the structures of Molina.
At that time, a wave of violence was taking place, now known as the Green War, which hit the emerald zones of Colombia in the 70s and 80s. The government's response to Misael Pastrana was to try to take the business away from the mafias and get an agreement with mining concessions in order to legalize emerald exploitation. At that point, there was already a new Tsar in the business, before it was the "Goose" Ariza Molina, Víctor Carranza and Gonzalo Rodríguez Gacha, began to manage the business, the first always with the vision of not mixing it with the world of drug trafficking.
Gacha, on the other hand, thought that relating to the drug lords was a good strategy. So, he left the trio and began to interact with drug dealers in Medellín. Her first contact was through Veronica Rivera de Vargas, a friend of Pablo Escobar. He was also related to José Ruperto Córdoba Mariño, alias "el colmillo", Pedro Orejas and Luis Murcia, who were part of his band. With time Molina lashed out against Gonzalo Rodríguez Gacha, for having betrayed him, as well as removing control of the emeralds. Gacha came to one of his properties in Sasaima, Cundinamarca and attacked the Tsar with firearms along with 19 other people, on February 27, 1989.
His fortune increased rapidly, at the same rate as the number of his enemies. In 1976, Gonzalo Rodríguez Gacha joined Pablo Escobar, Carlos Ledher and the Ochoa brothers to give life to the famous and attacked "Cartel de Medellín" the Cartel that 5 years later sponsored economically and logistically the creation of the first self-defense group called MAS. The cartel soon opened new drug trafficking routes through Mexico, Haiti, Los Angeles, Texas, Houston, and Nicaragua. All this became reality with the help of police authorities from different countries, for example, the American pilot Barry Seal was one of his henchmen, and who would later be killed when he agreed to testify against the cartel.
His power took Cundinamarca and Boyacá, the eastern plains and the Magdalena Medio, contacting the FARC and the self-defense groups. Some guerrilla fronts in the east of the country provided a surveillance service for the Mexican crops and laboratories. In 1983, he ended up confronted with this organization for theft of coca base paste and cash. Also supported by paramilitaries, he undertook a brutal extermination campaign against the UP, a party he considered an ally of the guerrillas.
By 1988, his fortune was such that he had hired Israeli and British mercenaries to train teams of assassins. Gonzalo Rodríguez Gacha thus became the main commander of Narcoparamilitarism in Colombia. His actions were hidden by government forces that gave him enough impunity to act with total freedom. At least 800 members of the UP were killed.
The government of President Virgilio Barco began Operation Apocalypse, attacked the leaders of the cartel, offering 500 million pesos for Rodriguez Gacha. Subsequently, his son was captured for illegal possession of weapons in Bogotá. He was held for longer trying to pressure his father, this did not work. However, Jorge Velasquez alias El Navegante, the Mexican's trusted man, betrayed him by revealing his location in Cartagena. The authorities arrived there. Upon warning of the presence of the authorities, they took a boat to Tolú. However, the authorities followed Rodriguez's trail.
On December 15, 1989, 30 elite police commandos on board, two helicopter gunships landed on the El Tesoro property between Coveñas and Tolú, where they were hiding. A strong shooting started, El Mexicano and his men started the escape. On the route to Sincelejo, they were intercepted. Skillfully Gonzalo Rodríguez Gacha and a bodyguard went into the banana plantations adjacent to the road. When it seemed that he managed to flee, he fell when he was wounded in the leg. At that moment another impact of a caliber bullet impacted his face, ending his life. Next to him died his son Freddy and the bodyguards that accompanied him.
Two days later, his body and that of his son were buried in his hometown in the middle of a mass funeral. Many in his village saw him as a benefactor of the poor, and they also assured him that he was a kind man.
Gonzalo Rodríguez Gacha, according to Forbes magazine, has been one of the richest men in the world. Owner of more than a hundred properties, farms, houses, apartments, lots and vehicles, valued at 40 billion Colombian pesos. The Mexican was seen as the generous idol of his native town. His immense fortune was a legend, as a result of the stories of guacas or buried money in his properties: cars full of gold bars, bags of dollars and emeralds were hidden in the haciendas. It is not a secret, that as a football fan and supporter of Millonarios F.C, he was the biggest investor of this team, financing hiring and salaries of the players. It is also claimed that he bought several championships in favor of his team.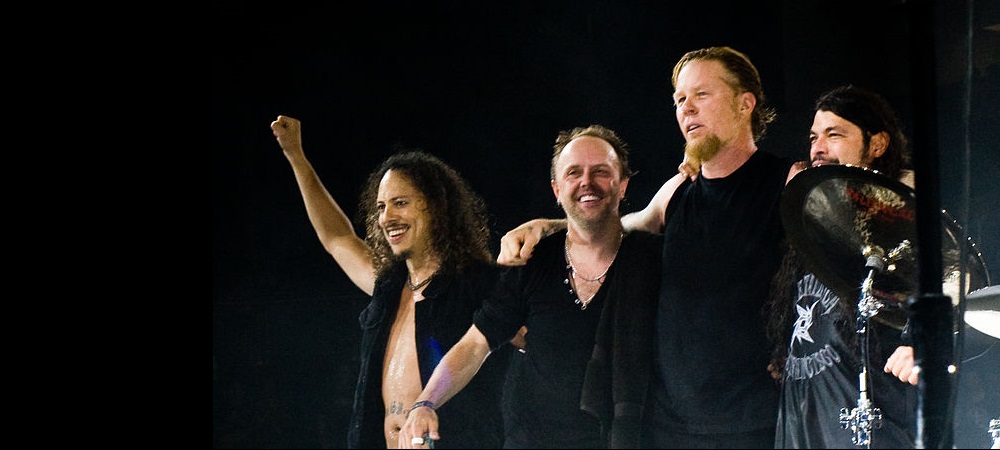 Metallica history
Metallica is an American thrash metal band from Los Angeles and based in San Francisco. It is considered one of the leading groups in the subgenre and throughout its 35-year career it has won numerous awards, including 9 Grammys, 2 American Music Awards, 2 MTV awards, 2 Billboard awards, and a star on the Hollywood Walk of Fame.
1980 – Beginnings
The history of the band begins in 1980 when Lars Ulrich, the son of tennis player Torben Ulrich, placed an ad in the magazine Recycler looking for a guitarist for a metal band influenced by the British New Wave of Heavy Metal. James Hetfield responded to the ad and joined Ulrich as the first members of the band. Ron McGovney joined as bassist and Lloyd Grant as lead guitarist. With this first formation, the band recorded its first demo, Hit the Lights, considered one of the first thrash metal songs. However, they soon realized that the lineup was not working and Lloyd was replaced by Dave Mustaine.
Despite the early disastrous performances due to the lack of experience of the members, the band continued and released No Life 'till Leather, showing a more aggressive sound. Additionally, Ron McGovney was replaced by Cliff Burton as bassist and Dave Mustaine was replaced by Kirk Hammett due to his alcohol addiction. Since then, James Hetfield has taken on both the role of rhythm guitarist and singer.
1983 – Release of 'Kill 'Em All'
With this new lineup and having Johnny Zazula as their manager, the band released in 1983 Kill 'Em All, which gained notoriety in the metal scene and sold more than 300,000 copies. After a tour of the United States and a concert in Holland where they reached their largest audience to date, with 5,000 people, the band released the album Ride the Lightening with Megaforce Records in 1984, which received critical acclaim for its melodic sound.
"1991 – Release of the 'The Black Album'"
After this work, the band released Master of Puppets in 1986 and embarked on a promotional tour that was cut short by an accident in which the bassist Cliff Burton died. After reflecting on their future, the band incorporated Jason Newsted and recorded …And Justice for All, an album with a denser sound that, despite its commercial success and a Grammy nomination, received criticism for being unoriginal and moving away from heavy metal. However, it wouldn't be until the release of their album Metallica in 1991, known as The Black Album, that they reached great success, selling half a million copies in the first week of sales in the United States and reaching the top of the Billboard chart. This work led to two similar albums, Load in 1996 and ReLoad in 1997, which received negative reviews for their proximity to alternative rock and their distance from traditional heavy metal, disappointing their older fanbase.
"2001 – Documentary, Tours, Awards"
In 2001, Jason Newsted left the band and Metallica struggled to find a suitable replacement for some time. Therefore, they had to record their next album, St. Anger, with their producer Bob Rock playing bass. However, Robert Trujillo soon joined the band's lineup. Three years later, the documentary Some Kind of Monster was released, which portrays the recording process of the last album and the internal conflicts that the band had with Dave Mustaine. After a tour in 2006 in which they played Master of Puppets again to celebrate its 20th anniversary, and the release of a compilation of their videos titled The Videos, Metallica was inducted into the Rock and Roll Hall of Fame. Later, they released Death Magnetic in 2008 and the conceptual album Lulu in 2011, which was poorly received by their fans. In 2012, the band founded their own record label, Blackened, and performed a concert in Antarctica to raise awareness about polar melting and environmental crisis. In 2016, they released Hardwired… to Self-Destruct. Currently, the band is still active.