Personal information
Full name

Guillermo Kunno

Birthdate

May 8, 2000

Age
22 years old
Occupation

TikToker and influencer

By-name

Daddy Kunno

Nationality

Mexican

Parents

Lucy
Guillermo

Zodiac sign
Taurus
Biography of Kunno
Guillermo Kunno (born May 8, 2000), also known as Kunno or Papi Kunno, is a Mexican TikToker and influencer who gained fame in 2020 after his video "Kunno Caminata" went viral on TikTok. Kunno started his adventure on TikTok in February 2019. He is known for being controversial; he has a large number of followers and detractors. In 2020, he ventured into acting, appearing in one of the episodes of "Como dice el Dicho." Later, he made his singing debut with the single "Tal vez No" and in 2022, he appeared as a guest on the series "Wild Rhythm."
Who is Kunno?
He is a singer, TikToker, and social media celebrity of Mexican origin. He was born in Monterrey, Nuevo León, on May 8, 2000. His first name is Guillermo. His parents are Lucy and Guillermo, and he has a brother named Chris. His parents named him Kunno after actor Kuno Becker, who is known for playing Santiago Muñoz in the Goal movie series (2005-08). Kunno is a member of the LGBTQ+ community and openly displays his identity on social media. From a young age, he became interested in makeup.
Kunno: TikTok Star
Like other young stars, Kunno found fame on the TikTok platform in February 2019. He quickly gained followers with his reaction videos, choreographies, and other content, though he also became known for his controversial statements. In the course of 2020, Kunno was heavily criticized for his unfavorable comments about women and his reactions to videos of younger individuals. Because of this, he has been accused of misogyny and normalizing pedophilia.
Despite the controversy, Kunno achieved fame in mid-2020 after his video "Kunno Caminata" to the song "4k" by El Alfa and Noriel went viral. The video became so popular that his number of followers surpassed 11 million. By 2021, his number of followers reached 19 million. At the time, the "Kunno Caminata" was copied by several celebrities such as Thalia, Erika Buenfil, and Livia Brito. The video and its choreography remained popular for several months.
@.kunno

Quien se iba a imaginar todo lo que lograría esta caminata🤩
Controversial HolaFan!
After achieving fame, controversy did not leave Kunno behind. In September 2020, the TikToker was heavily criticized for joining the HolaFan! platform, where artists charge for special mentions, greetings, etc. The cost of his greeting was 1,200 Mexican pesos, which fans considered excessive. Later that month, he left the platform.
Kunno as an actor
Also in September 2020, Kunno achieved one of his biggest dreams: to be an actor. he made his acting debut on September 26, 2020, in one of the episodes of the series "Como Dice el Dicho," where he played the role of Gabo. Two months later, in November 2020, Kunno appeared in the music video for "Bichota" by Colombian singer Karol G.
In 2021, he appeared in the music video for "Chupable" by El Alfa "El Jefe" with Chicky Bom Bom and Ryan Castro. In the video, Kunno appeared several times dancing with the singers and other invited dancers.
Debut and musical career of Kunno
On January 13, 2021, he made his singing debut with the release of the single "Tal vez no" on Spotify and YouTube, as well as other digital platforms. The song quickly gained millions of plays on both sites, becoming very popular on social media. In less than a year, the song surpassed 20 million views on YouTube.
In June 2021, he released his second single "Crush" and in September, "Que perra soy" was released. Both singles were popular on social media, especially on TikTok where several challenges and trends appeared.
@.kunno

Ya estamos a nada de comenzar a grabar el videoclip de #QPS 😍🔥 a quienes hagan el trend… SERÁN PARTE DE EL😳✨ seguiré reaccionando🤩
The following month, Kunno collaborated with El Cherry Scom and Rodrigo Rodríguez on the single "Hoy Te Toca."
"I consider myself what I am: a celebrity and an artist" – Kunno
In February 2022, Kunno appeared in the music video for "Suelta" by Dimelo Flow with Rauw Alejandro, Mr. Vegas, María Becerra, and Fatman Scoop. After its release, the song quickly reached a million plays on YouTube. Later, in May, Kunno released the single "Yo Nunca Nunca," an EDM track by Poncho de Nigris, with Fano, Finisho, and Dj Cobra Monterrey.
Grammys 2021
In March 2021, the young TikToker announced that he would make a small appearance at the special Grammy Awards 2021 broadcast on E!. The news sparked a wave of reactions, both positive and negative, as many fans thought the TikToker would be present at the awards ceremony. However, Kunno did not participate in the awards ceremony but in the special on the red carpet: E! Front Row. The program saw him participate from social media and with a dress designed by Benito Santos.
Wild Rhythm
On March 2, 2022, Kunno appeared as a guest artist in two episodes of the series "Wild Rhythm": "To Hell with It" and "The Barrio." In the series, his participation was brief, as he was limited only to dancing, sharing scenes with dancers Luisa and Carolina Eusse and actress Paulina Dávila. In addition to Dávila, the series was starred by Greeicy Rendón.
30 facts about Kunno
He is homosexual, and, as he says himself: "Even if you don't believe it, I'm gay."
His real name is Kunno, although many people think it is just his artistic name.
His mother was inspired by actor Kuno Becker and gave it her own touch by adding an "n." Kunno is not his only name, he has a composite name… His name is Guillermo, like his dad, although he hates being called: Memo, Memin.
He has 16 tattoos on his body (2019).
He loves makeup.
He does not eat cheese in any of his presentations, that is to say: he does not eat pizza.
He does not like Michael Jackson.
He has never eaten beets or beets. He does not like their earthy smell.
His favorite animal is the Lion, he has it tattooed on his chest.
He is hyperactive, he has a lot, but a lot of energy.
He considers himself a little apathetic. One of his favorite words is: No!
His lucky number is 13.
He has it hidden in a tattoo.
His favorite drink is Strawberry-Kiwi Electrolite.
He has broken his head 3 times.
His biggest fear is a tsunami.
He speaks English and French. He says so.
He does not like shorts. He does not like that garment at all.
He loves the sun too much.
He was born in 2000.
According to Kunno himself, he never sweats his face.
He has many piercings.
His favorite series is Glee.
He is always dancing.
He has a huge ego, in his own words: He shines with his own light!
On TikTok he has collaborated with Rod Contreras and other Mexican influencers
He is close with Domelipa, he even recorded her proposal to Dekko.
He has a YouTube channel for vlogs, challenges, and content about his life.
He got to walk in the New York Fashion Week.
He talks about his experience with liposuction and his recovery on TikTok.
Songs
Tal vez no (2021)
Qué perra soy (2021)
Crush (2021)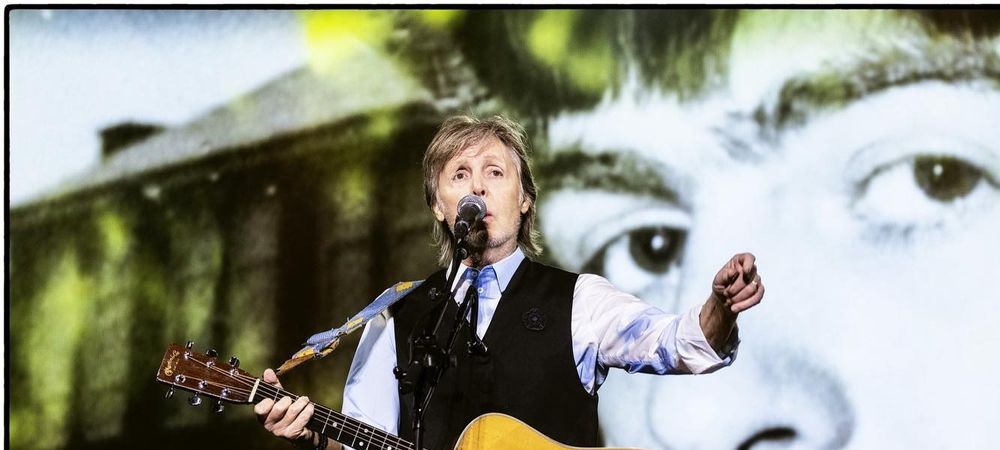 Biography of Paul McCartney
Paul McCartney (born June 18, 1942) is a singer. He was born in Liverpool, England. His mother, Mary Patricia, was a nurse, while his father, James McCartney, was a volunteer firefighter. During Paul's birth, his father was not present as he was fighting in the Battle of England during World War II. Paul grew up in a religious and strict environment, with his mother Catholic and his father Protestant, but later became agnostic. After returning from the war, his father devoted himself to selling cleaning products and, in his free time, played in bars.
Death of his mother
That's why his son developed a deep love for music. He stood out in school for his intelligence and discipline and studied at Liverpool Institute secondary school, a good free secondary school. In 1954, he met George Harrison, with whom he quickly formed a strong friendship. At the time, McCartney's mother was the one who kept the household and for work reasons they moved to Allerton, where they lived until 1964. On October 31, 1956, when McCartney was 14 years old, his mother died from a stroke.
After his mother's death, McCartney was devastated. It took some time for him to return to normal. His father saw music as a refuge to help his son feel better, so he took him to listen to the Jim Mac's Jazz Band, where his father played trumpet or piano. He also gave him a trumpet, but when rock and roll became popular, he chose an acoustic guitar. The first song he composed was "I Lost My Little Girl" on that guitar, a Zenith. He also composed "When I'm Sixty-Four" on the home piano.
1957 – Met John Lennon
He met Lennon on July 6th, 1957. McCartney joined The Quarrymen, a school band led by Lennon, in 1958 as the lead guitarist. The band mixed rock and roll and skiffle, a popular music style, with jazz and blues. After several name changes, the band decided to call themselves The Beatles in August 1960 and recruited drummer Pete Best for their move to Hamburg. In 1961, one of its members, Sutcliffe, left the band and McCartney was forced to take over as bassist. They recorded as a backing band for English singer Tony Sheridan on the single My Bonnie.
1963 – "Beatlemania"
They managed to attract the attention of Brian Epstein, who became their manager in January 1962 and a key figure in their later success. With their first hit, "Love Me Do" in 1963, the "Beatlemania" began. John Lennon and Paul wrote a large number of songs together, but later their egos collided and they preferred to write separately. In 1970, The Beatles disbanded. But Paul continued his successful career with songs that reached number one. He recorded his first solo LP, "McCartney", with songs very different from those that Lennon would write, with commercial melodies for varied tastes.
1980 – Paul McCartney Guinness Records
In 1980, he entered the Guinness Book of Records as the highest-selling songwriter in the world. His theme Yesterday, one of the most celebrated by The Beatles, has around 2,500 versions in the most diverse musical styles. Some of his solo hits are: Uncle Albert/Admiral Halsey, Live and Let Die for the James Bond film received the Oscar for best musical theme; Coming Up from his solo album Paul McCartney II. He joined George Martin and Ringo Starr in 1982 for the recording of Tug of War. On Press to play, his next album, was recorded with Eric Stewart.
Awards, arrest, record.
Winner of 18 Grammy Awards, including two Lifetime Achievement Grammy Awards (one with the Beatles and another as a solo artist). He is a vegetarian and an animal rights advocate. He was arrested for marijuana possession in Tokyo in 1980 and was briefly in jail. He participated in the "Live Aid" concert against hunger in Ethiopia in 1985. In 1990, he achieved the record for the largest attendance at a concert with 184,000 people in Rio de Janeiro. Since 1997 he is Sir Paul McCartney, invested as a knight by Queen Elizabeth II.
2013 – Other awards, marriages.
On February 10, 2013, he received a Grammy for "Best Traditional Pop Album" for his album "Kisses On The Bottom". Later, he received a special award from PRS for Music in commemoration of the 50th anniversary of the composition of his most famous song, "Yesterday". These songs, as well as "And I Love Her," "You Will Not See Me," and "I'm Looking Through You," were written inspired by his relationship with British actress Jane Asher. After five years of engagement, the couple broke up due to his infidelity with Francie Schwartz. He married Linda Eastman on March 12, 1969, and together they formed the musical group Wings after the dissolution of the Beatles. In 1999, he presented his collection of poems entitled "Blackbird Singing: Poems and Lyrics (1965-1999)". After the death of his wife, McCartney experienced deep sadness.
In 2002, Paul McCartney married former model Heather Mills in an Irish castle. After a long legal battle in the London Supreme Court, in 2008 Mills was authorized to collect one fifth of the 250 million dollars she had demanded from McCartney for their four-year marriage. In 2011, McCartney married Nancy Shevell in a civil ceremony in London on October 9th of that year.
Relevant aspects of his life and musical career
With 60 gold records and the sale of over 100 million albums and singles as a solo artist and with The Beatles, McCartney is recognized as one of the most successful composers and artists of all time.
As a solo artist in 1999 and as a member of The Beatles in 1988, he has been inducted into the Rock and Roll Hall of Fame twice.
As a solo artist and with The Beatles, he has been recognized with twenty-one Grammy Awards.
32 of the songs that McCartney has written or co-written have reached number one on the Billboard Hot 100.
As of 2014, he had sold over 15 million certified units by the RIAA in the United States.
In 1997, McCartney was elevated to the rank of knight for his services to music.
In 1965, McCartney, Lennon, Harrison and Starr were named members of the Order of the British Empire.
He has been married three times and is the father of five children.
He has participated in projects to help international charities related to issues such as animal rights, seal hunting, landmine cleaning, vegetarianism, poverty and musical education.
He ranks 11th on Rolling Stone's list of 100 Greatest Singers.
He ranks first on Rolling Stone's list of 100 Greatest Artists as a member of The Beatles.
He ranks third on Rolling Stone's list of 100 Greatest Bassists.
Only surpassed by Bob Dylan, he ranks second on Rolling Stone's list of 100 Greatest Songwriters.