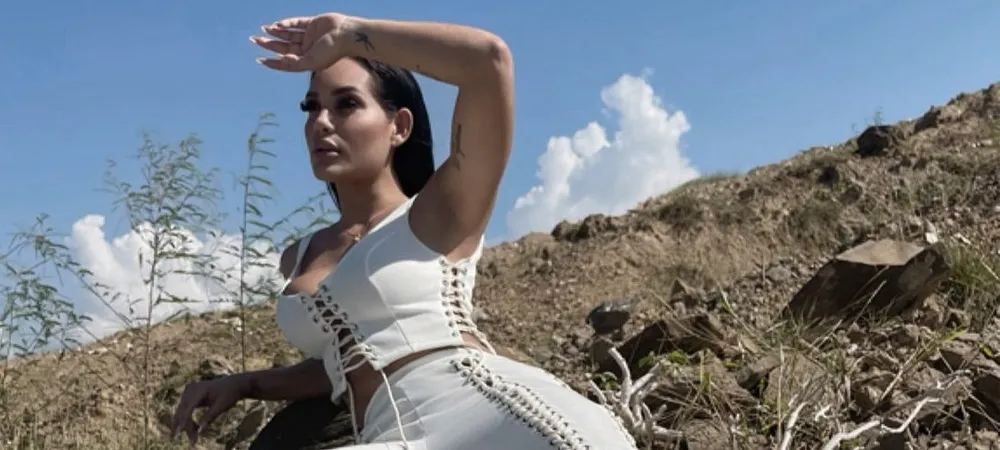 Personal information
Full name

Andrea Ospino Valdiri

Birthdate

July 23, 1991

Age
31 years old
Occupation

Modelo, bailarina, instagramer, cantante y empresaria

Nationality

Colombiana

Spouse

Felipe Saruma (m. 2022)

Couple

Lowe León (until 2021)

Height
1, 62 m (approximate)
Parents

Eduardo Ospino y Carmen Valdiri

Awards
Miss Colombia 2015; Award for Influencer Dancer of the Year at the 2018 Digital Stars Awards.
Genders
Urban, Latin fusion
Zodiac sign
Leo
Andrea Valdiri biography
Andrea Ospino Valdiri (born July 23, 1991) is a Colombian model, dancer, Instagram star, and singer. She was Miss Colombia in 2015 and is known on social media for her beauty, dancing, and fashion sense. She also has a line of women's clothing and swimwear. In 2017, she gained recognition on social media for the Bella y Sensual challenge, and a year later she became famous for the Dura Challenge, being recognized by Daddy Yankee himself. Her debut single, "Violento," was released in 2019.
Early years
Andrea was born and raised in Barranquilla, Colombia, and is very close to her family. Her parents are Eduardo Ospino and Carmen Valdiri, and she has two sisters: Shujam and Fairuz. According to her, she suffered abuse at the hands of her father, who was addicted to drugs and alcohol. She showed an interest in sports from a young age, and was a member of a skating team. She began modeling at the age of fourteen. After finishing high school, she received a sports scholarship to study Radio and Television Production and Direction at the Autonomous University of the Caribbean.
When Andrea was 19 years old, her partner died in a traffic accident while they were expecting their daughter, Isabela. After the loss, she focused on moving forward for her daughter's sake. She resumed her modeling career with determination and launched her own swimwear brand, La Valdiri. She also finished her degree and began appearing in music videos and popular events. Gradually, she gained recognition.
Andrea Valdiri: Miss Colombia and Instagram fame
Five years after the birth of her daughter, Valdiri represented the Atlantic region in the Miss Colombia Beauty Pageant and won the crown among 17 other beautiful contestants. Once chosen as queen, she carried out her duties at events and social works throughout the country excellently.
Although she gained recognition during her time as queen, fame came years later through Instagram, where she is known for her sensual dances and outfits. It was in 2017 when she began to draw attention from the public with her videos when she participated in the Bella y Sensual challenge, proposed by Romeo Santos. The challenge had as its goal to choose three fans who would appear in the music video, performed alongside Nicky Jam and Daddy Yankee. Of course, Valdiri was chosen.
After appearing in the video, her popularity grew, as did her number of followers. Later, she drew attention again with her video of the Dura Challenge by reggaeton artist Daddy Yankee. The success of her choreography was unprecedented, and she was even recognized by the singer himself, who didn't hesitate to repost her video on his social media.
Since then, she has been a trend on several occasions for her choreographies, challenges, outfits, and character imitations. On her Instagram, Valdiri has appeared dressed as Freddie Mercury, Mystique, and Jessica Rabbit, among others.
The success on social media has not prevented her from continuing her work as an entrepreneur. She now not only owns her La Valdiri brand, but also a dance academy and a fitness center. In addition, as an influencer she promotes various lines and products.
Debut as a singer
In March 2019, Valdiri made her debut as a singer with the release of the single "Violento".
2020: Pregnancy with her second child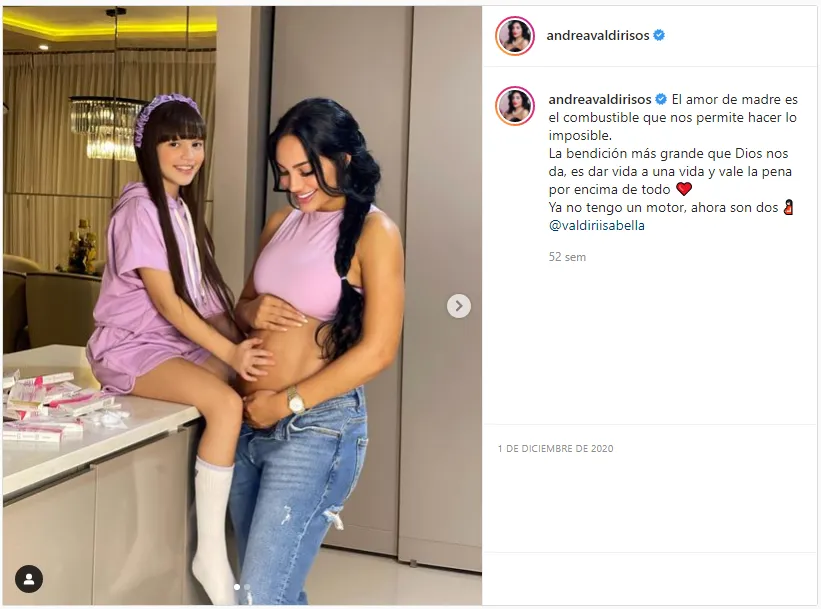 On June 9, 2021, Adhara was born, her second daughter.
Marriage to Felipe Saruma
On April 16, 2022, Valdiri married digital content creator Felipe Saruma. The celebration took place at the Hotel El Prado in Barranquilla with a large number of attendees, mainly family, friends, and people from the media close to La Valdiri's circle. Among the influencers invited to the wedding and subsequent celebration were Epa Colombia, Karen Lizarazo, La Jessu, Yuranis León, and Beele. The dress and all the designs used by La Valdiri were in charge of Venezuelan designer Armando Maya.
Some photos and special moments of the wedding went viral on social media, such as Instagram and Twitter.
Palabras de Andrea #Valdiri luego de casarse con Felipe #Saruma 🥰 pic.twitter.com/0T4Z9iYrwA

— El Barba Roja ⚽️ (@PedroJoseFCB) April 17, 2022
Recognitions
On May 31, 2018, she won the award for Influencer Dancer of the Year at the Digital Stars Awards
Curiosities about Andrea Valdiri
He rented a amusement park to celebrate his 30th birthday with his friends and family.
His sister Fairuz is an industrial engineer.
His daughter, Isabella, was born on March 3, 2011.
She dated soccer player Michael Ortega until 2017.
She was in a relationship with singer Lowe León in 2021.
In April 2020, Valdiri was injured in a fight with her sister Shujam.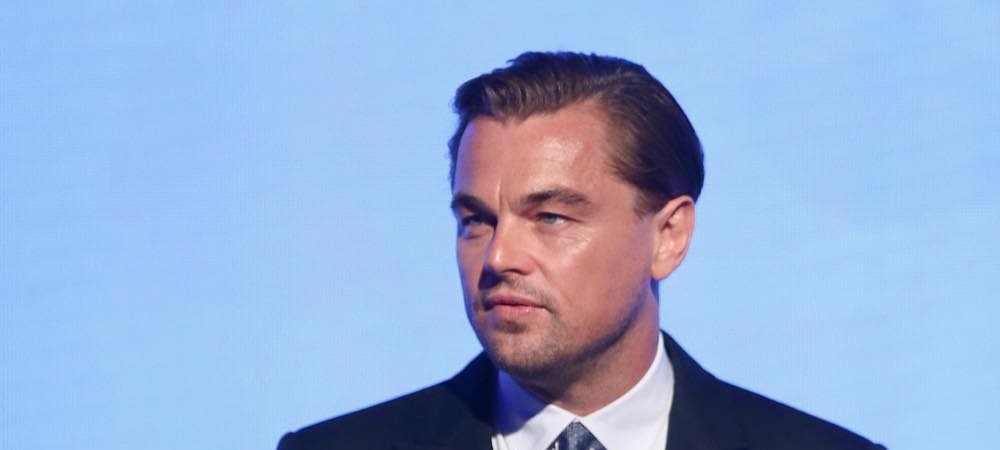 Biography of Leonardo DiCaprio
Leonardo Wilhelm DiCaprio is a renowned actor and film producer who has won numerous awards within the film industry. He was born on November 11, 1974, in Hollywood, Los Angeles, California, United States.
DiCaprio is an only child of Irmelin Indenbirken, a secretary born in Germany, and George DiCaprio, an underground comic artist and producer/distributor of comics. On his father's side, he has half-Italian (from Naples) and half-German (from Bavaria) ancestry. On the other hand, on his mother's side, his grandfather Wilhelm Indenbirken was German and his grandmother Helene Indenbirken was a German citizen born in Russia under the name Yelena Smirnova.
He was named Leonardo because, while his pregnant mother was looking closely at a painting by the great artist Leonardo da Vinci in a museum, DiCaprio gave a strong kick inside her belly. His parents divorced when he was only one year old, and they shared custody of Leonardo until 1997.
Studies, beginnings in acting.
As for his education, he did not attend university and only took basic courses at John Marshall High School in Los Angeles. His career in the world of image and acting began when he followed his older stepbrother, Adam Farrar, in television advertising, starring in a commercial for the Matchbox car brand at the age of fourteen and subsequently participating in educational films. At the age of five, he was also part of the children's television series "Romper Room", but had to leave it as it was detrimental to him.
"1990 – 1991: Debut in television and cinema"
In 1990, he made his true television debut when he was cast to be a part of the "Parenthood" ensemble, a series based on the film of the same name. He then landed minor roles in several series, including "The New Lassie" and "Roseanne," as well as a brief part in "Santa Barbara." His work in "Parenthood" and "Santa Barbara" earned him a nomination for the Young Artist Award for Best Young Actor. His big screen debut came in 1991 with the science fiction and horror movie "Critters." Later on, he became a recurring member of the cast of the ABC sitcom "Growing Pains," playing Luke Brower. However, DiCaprio didn't achieve success in the film industry until 1992, when he was selected by Robert De Niro from among 400 young actors for the lead role in "This Boy's Life," which also starred Ellen Barkin and De Niro himself.
1993 – 1996
Later, in 1993, DiCaprio played the mentally disabled younger brother of Johnny Depp in "What's Eating Gilbert Grape." The film's director, Lasse Hallström, admitted that he initially sought a less attractive actor, but he decided on DiCaprio because he had become "the most observant actor" among all who auditioned. The film was a great financial and critical success, resulting in Leonardo being highly praised for his performance, which led to him being awarded the National Board of Review for Best Supporting Actor and nominated for an Academy Award and a Golden Globe. Subsequently, he had roles in films such as "The Quick and the Dead" (1995) and was one of the leads in "Romeo + Juliet" (1996).
But his big break came with director James Cameron, who offered him the lead male role in Titanic (1997), a movie that not only won a considerable number of Academy Awards but also became a social phenomenon. Afterwards, DiCaprio gained greater acceptance in the cinematic world, so he was part of numerous films such as:
The Man in the Iron Mask (1998)
The Beach (2000)
Catch Me If You Can (2002)
The Aviator (2004)
The Assassination of Richard Nixon (2004)
Blood Diamond (2006)
Gardener of Eden (2007)
Body of Lies (2008)
Orphan (2009, as producer)
Shutter Island (2010)
Inception (2010)
Django Unchained (2012)
The Great Gatsby (2013)
Runner Runner (2013)
The Wolf of Wall Street (2013)
The Revenant (2015)
The Audition (2015).
Curiosities
Interestingly, he was nominated for an Oscar five times: Best Supporting Actor for What's Eating Gilbert Grape, Best Actor for The Aviator, Blood Diamond and The Wolf of Wall Street. This generated a lot of jokes and talk of a supposed "curse" in Hollywood. But in 2015, he finally won the award thanks to his great performance in "The Revenant".
It should also be noted that DiCaprio is a committed environmentalist who has received praise from environmental groups for choosing to fly on commercial flights instead of private planes like most celebrities, and for driving an electric hybrid vehicle and having solar panels in his home.